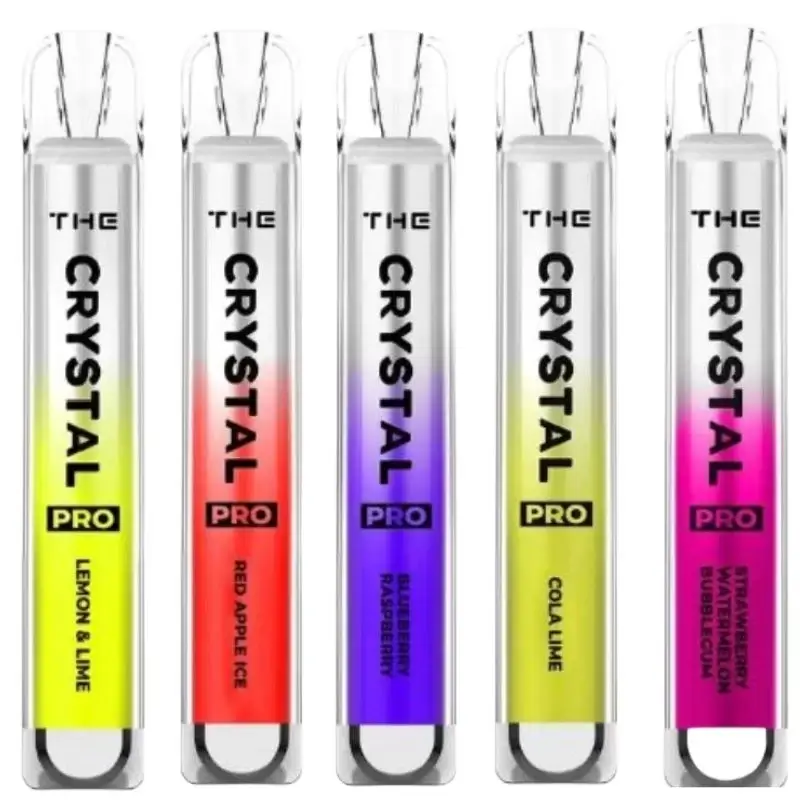 In the ever-expanding universe of vape brands, SKY has made a grand entrance with its latest creation – the Crystal Pro disposable vape. Its striking crystalline exterior has already turned heads and captured the attention of the vaping community. Even if you haven't heard of SKY before, you've likely come across their eye-catching disposables in your local vape shop or convenience store. The question is, does the quality and performance of the Crystal Pro match its premium appearance? As a dedicated reviewer, I've taken it upon myself to thoroughly test these disposables over the past few weeks to provide you with an insightful review.
Specification
Choice of Many Flavours
Draw Activation
Nicotine content: 2% Nic Salt
Pod capacity: 2ml pre-filled juice
Puffs: 600 Puffs
Slimline, Compact and Easy to Pocket
Unique style design
Design and Build Quality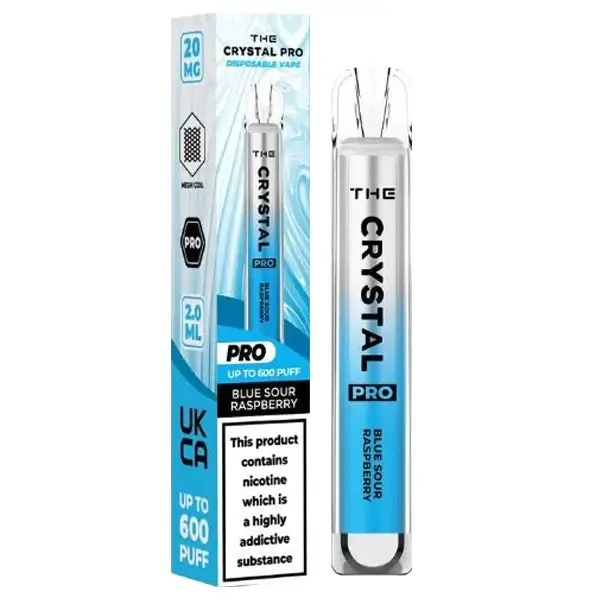 In terms of appearance, the Crystal Pro disposable vape is nothing short of impressive. I have a soft spot for eye-catching design, and this disposable vape delivers just that. Much like its predecessor, the SKE Crystal Bar, the Crystal Pro features a metallic inner tube encased in a transparent crystalline exterior. This combination results in a device that looks futuristic and attractive, making it a real head-turner. Rectangular 'Bar' Shape: The Crystal Pro sports a sleek rectangular shape. Metallic Look with Transparent Exterior: The device's metallic inner tube is complemented by a transparent exterior, giving it a distinct appearance. Duckbill Mouthpiece: An ergonomic duckbill mouthpiece ensures a comfortable vaping experience. Lightweight and Pocket-Sized: The device's dimensions are 16mm x 105mm, making it pocket-sized and perfect for on-the-go vaping. However, it's not just about looks; it's also about comfort. The Crystal Pro manages to strike a balance between style and ergonomic design, a rare feat in disposable vapes. Its bar-style shape, combined with the duckbill mouthpiece, makes for a comfortable vaping experience that's perfectly suited for on-the-go use. One standout feature is the small light at the base of the device that illuminates blue with each inhale, giving the Crystal Pro a premium and somewhat magical feel. This feature adds an extra layer of sophistication to the overall design.
Performance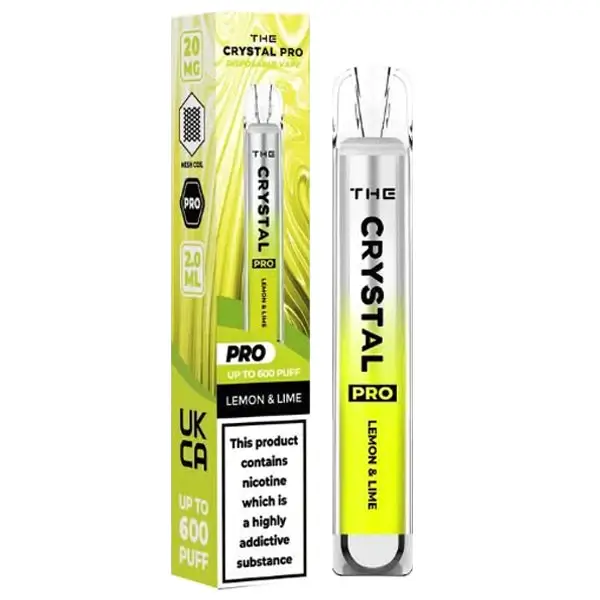 Just as you'd expect from a disposable vape, the SKY Crystal Pro is ready for action straight out of its vibrant packaging. Each Crystal Pro comes pre-filled with 2ml of e-liquid and pre-charged, eliminating any hassle associated with filling or charging. This instant usability makes it a convenient choice for vapers of all levels.
The box boldly claims up to 600 puffs per Crystal Pro device, and I'm delighted to confirm that this estimate is remarkably accurate. Each unit consistently delivered around 2 days of vaping, even when the 550mAh internal battery was running low. This extended usage ensures you can enjoy your vape without the constant need for replacements.
The Crystal Pro boasts a robust 500mAh internal battery. This substantial capacity provides ample power for prolonged vaping sessions. Whether you're out and about or relaxing at home, you won't find yourself constantly searching for a charging cable.
These disposables come pre-filled with a 2% nic salt formula, delivering a punchy and potent nicotine hit. This high nicotine content, combined with the user-friendly disposable design, makes the Crystal Pro an excellent choice for beginners and recent ex-smokers seeking a satisfying alternative to traditional cigarettes.
The Crystal Pro disposables are not only pre-filled but also pre-charged. This means you can start vaping right away without any downtime. It's the epitome of convenience for those looking for a hassle-free vaping experience.
The Crystal Pro offers a mouth-to-lung (MTL) vaping experience that closely mimics the sensation of smoking a traditional cigarette. Each draw provides a satisfying and smooth throat hit, which is ideal for vapers seeking an e-cigarette that replicates the familiar smoking experience.
Flavors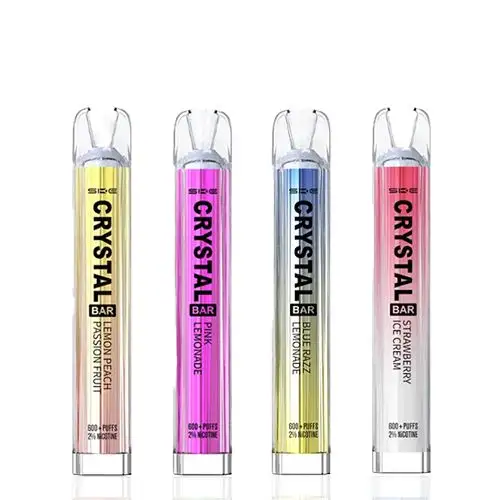 Testing new brands often means limited flavor options. However, SKY defies this trend with its Crystal Pro disposable vape, offering a remarkable 20 flavor profiles right from the start. These flavors span various categories, ensuring a diverse range to cater to different tastes:Fruit,Ice Fruit,Soft Drink,Sweet,Classic.
Among these options, you'll find beloved classics like Watermelon Ice and Blueberry Sour Raspberry. But what sets SKY apart are its innovative blends, including Skittles, Fizzy Cherry, and Vimbull Ice—choices you won't encounter from many other brands.
Even if you prefer traditional flavors, the classic Fresh Mint option offers a simple and refreshing alternative. Looking ahead, it would be exciting to see SKY introduce more traditional profiles, such as Tobacco.
With this extensive flavor lineup, the Crystal Pro ensures there's a choice for everyone, whether you lean toward fruity delights or seek more intricate and unique taste adventures.
In Conclusion
The SKY Crystal Pro disposable vape has made a dazzling entrance into the world of disposables. With its premium appearance, impressive battery life, and a wide range of flavors, it caters to both beginners and experienced vapers alike. The combination of a high nicotine content and user-friendly design makes it a valuable tool for those looking to transition from smoking to vaping.
Its unique design, featuring a crystalline exterior and a glowing light, sets it apart from the crowd, adding an element of sophistication to your vaping experience. The Crystal Pro strikes a perfect balance between style, comfort, and performance.
Whether you're a flavor chaser, a former smoker seeking a satisfying alternative, or simply looking to try something new, the SKY Crystal Pro is a disposable vape that shines bright in the world of disposables. With a plethora of flavors to choose from and a comfortable, ergonomic design, it's an excellent choice for vapers on the go.The SKY Crystal Pro is a stylish and reliable companion for your vaping journey, offering a touch of magic with every inhale.