Hello there, vape enthusiasts! Today, I've got something special for you. We're diving deep into the Medusa Vape Knockout Blend Disposable 2 Gram, one of the most powerful disposables on the market. If you thought you knew your hemp vapes, prepare to be blown away.Medusa is not a new player in the vaping world. Known for their quality hemp products, they've now introduced their 2 gram Knockout Blend. This baby comes with premium Delta-8 THC, THC-O, and THC-P, all sourced from 100% legal hemp in the United States. So what's the big deal? Well, you're getting 2000mg of top-shelf material that promises an experience like no other.
Specifications
Blend of Live Resin Delta 8, Delta 10 and THC-P
2000mg Disposable Vape
7 Flavors Available
Cereal Milk– Hybrid
Cheetah Piss – Indica
Apple Fritter – Sativa
Purple Barnie – Indica
Green Crack – Sativa
Sour Diesel – Sativa
God's Gift – Indica
USB-C Rechargeable (cable not included)
Design and Build Quality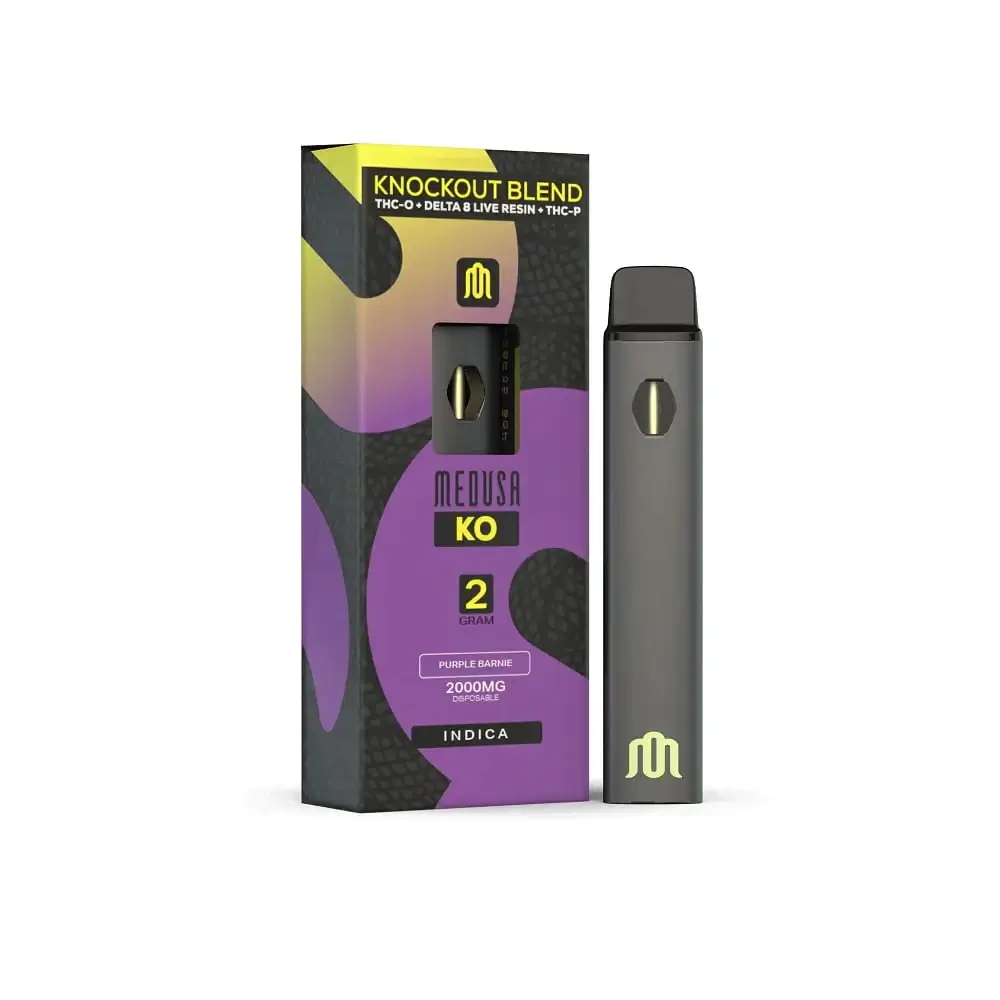 The Medusa Knockout Blend Disposable is adorned with a unique serpentine design, giving a nod to its brand name. This intricate detailing is not just visually pleasing but also offers a textured grip that makes the device even more comfortable to hold. The overall design features a soft-touch finish, making your vaping session as tactilely pleasant as it is visually satisfying.
Don't be fooled by its intricate design and powerful performance; the Medusa disposable vape is compact and lightweight, easily fitting into your pocket or purse. It's an ideal choice for those who are always on the go and don't want to carry around bulky vaping devices. You can discreetly take a puff whenever you desire, without drawing unnecessary attention.
Convenience is one of the major selling points of disposable vapes, and Medusa capitalizes on this by incorporating a viewing window. Through this, you can monitor the resin level, so you're never caught off guard when the device runs out of juice.It offers a perfect blend of aesthetic allure and robust construction, ensuring that each vaping session is as delightful as the last.
Battery Life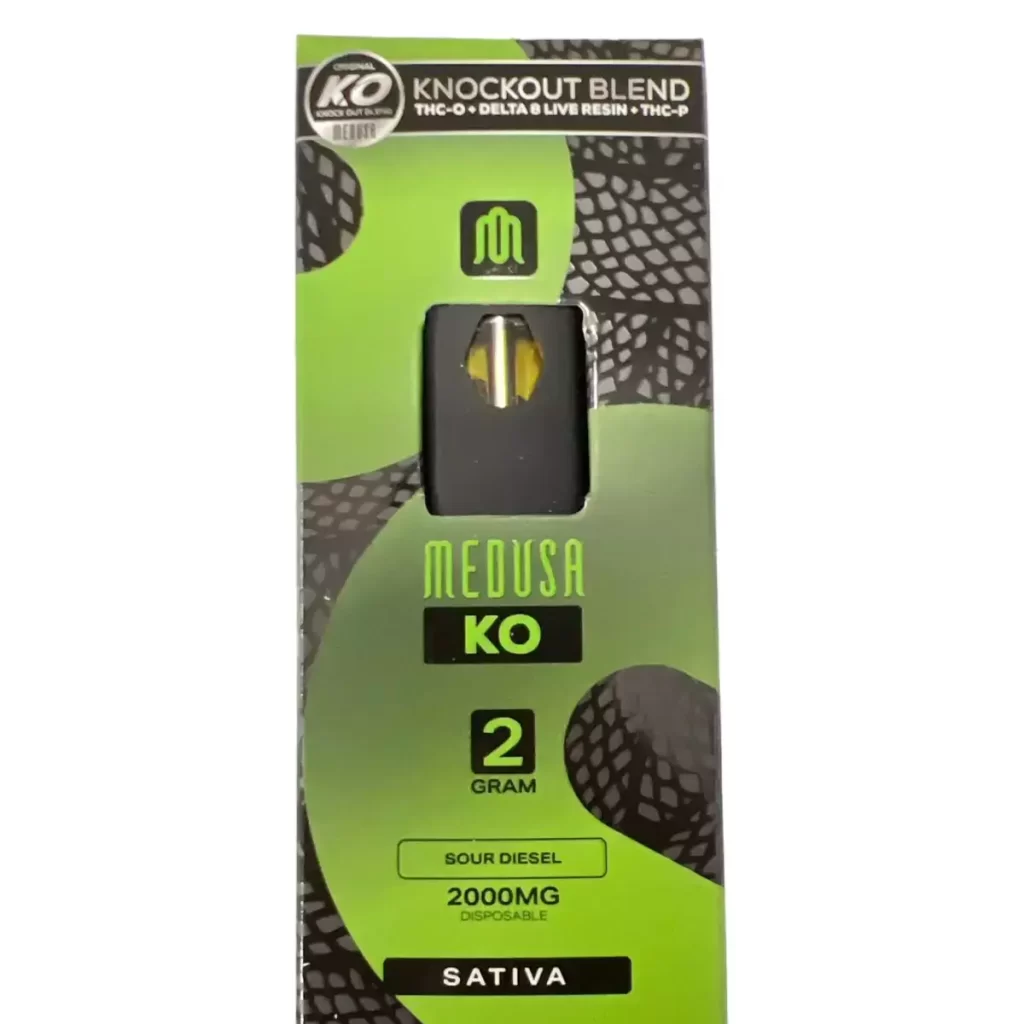 Rechargeable aspect of this disposable device. Unlike many disposables that you have to throw away once the battery is dead, Medusa's Knockout Blend features a USB-C charging port. This not only gives the device a second lease on life but also serves as an eco-friendly feature that minimizes waste.
Charging the device is quick and easy; it took me only around 45 minutes to go from empty to full battery. Once fully charged, the device reliably offered a day's worth of moderate-to-heavy use. If you're a lighter vaper, you could easily stretch that to a day and a half or even two days.
The indicator light at the bottom of the device offers a visual cue about the remaining battery life, a handy feature to gauge when it's time to recharge. It's intuitive and straightforward: green means you're good to go, yellow suggests you might want to think about recharging soon, and red means it's time to plug in.
Another commendable aspect is how the battery performance does not degrade the quality of the vapor as it gets low. In many devices, a dying battery often coincides with weaker pulls and less flavorful vapor. But not with this one; even as the battery started showing the red indicator, I still enjoyed robust, flavorful puffs, testament to the unit's consistent performance.
So, for those worried about battery life, put your concerns to rest. The Medusa Knockout Blend Disposable 2 Gram delivers not just in potency and flavor but also in battery longevity. Its rechargeability, quick charging time, and consistent performance make it a device you can count on, whether you're vaping at home or on the go.
Flavors
Now, we can't forget about the flavor. Whether you're into fruity notes or something more earthy, Medusa's got you covered. From Cereal Milk to God's Gift, the terpene-specific strains offer a truly unique experience for every palate.
Cereal Milk: This evenly balanced Hybrid strain is well-known for its flavor that is reminiscent of everyone's favorite breakfast treat. Cereal Milk has a sweet, milky flavor. It also presents hints of fruits and berries.
Cheetah Piss: Cheetah Piss is a Hybrid strain that was inspired by the Cat Piss strain. It is known for its strong ammonia-like odor, which is where it gets its name from. Despite its name, Cheetah Piss has a sweet, creamy, fruity flavor with hints of citrus.
Apple Fritter: This is a potent, evenly balanced Hybrid strain with a delicious flavor. Apple Fritter has a characteristic apple flavor with hints of vanilla and underlying earthy-herbal notes.
Green Crack: This Sativa strain is famous for its potent effects and the fact that it got its name from legendary Hip Hop artist Snoop Dogg. Green Crack has a skunky, earthy, fruity flavor with clear hints of citrus and mango.
Sour Diesel: This Sativa strain is known for its peculiar flavor. Sour Diesel has a skunky, citrusy flavor that is similar to the smell of diesel.
God's Gift: This Indica strain is known for its heavenly flavor. God's gift has sweet grape notes with hints of earthiness. There's also a bit of spiciness to the flavor.
Purple Barnie: This Indica strain, which is also known as Purple Barney, is known for its sweet grape flavor with skunk undertones.
Performance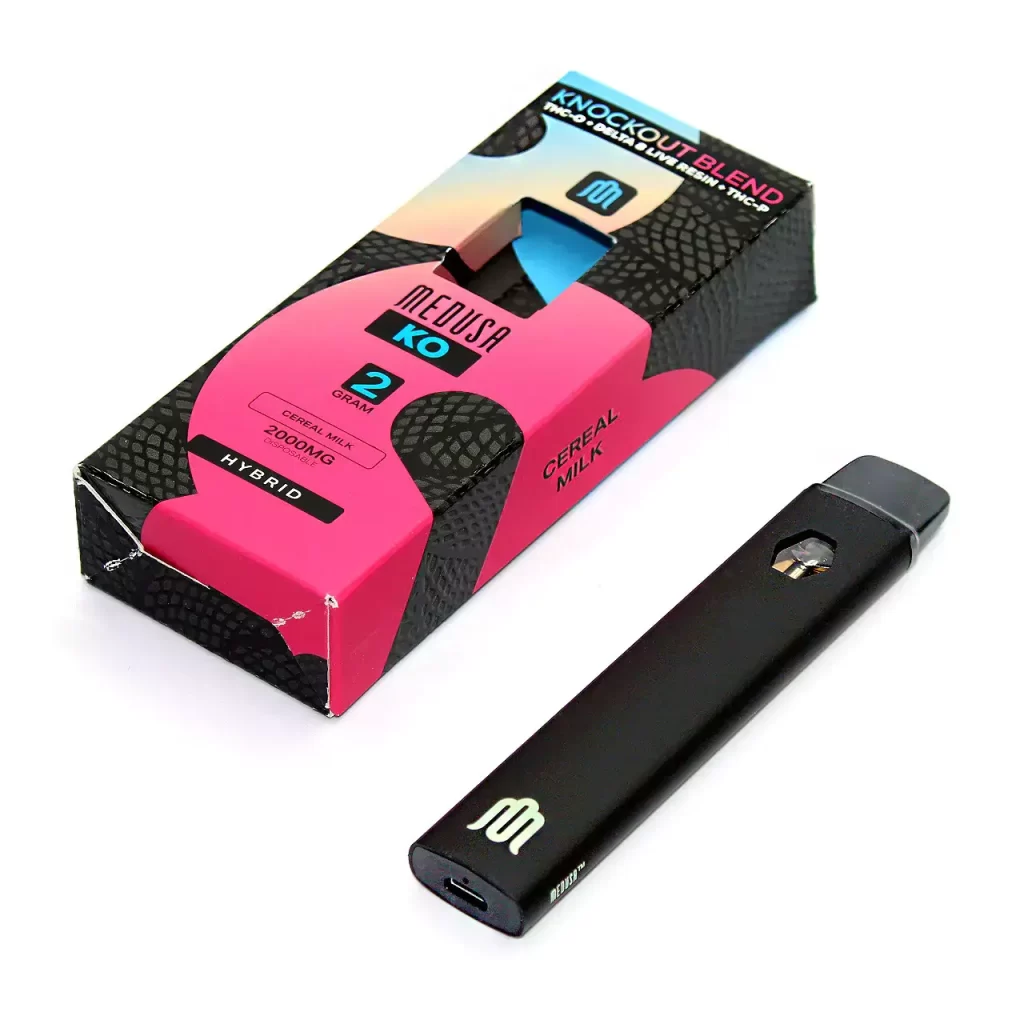 Thanks to the device's optimal heating temperature, the Medusa Knockout Blend delivers each puff with precision, allowing you to fully experience the unique flavors of the terpene-specific strains. Whether you're going for the creamy, fruity notes of Cheetah Piss or the skunky, citrusy tang of Sour Diesel, you're in for a treat.
Battery life is another area where this disposable vape shines. It's rechargeable via a USB-C cable, so you can easily give it a boost if you're running low on power. This feature adds a layer of convenience that you don't always get with disposables.
When it comes to the device's effects, they're rapid and long-lasting. Just a few puffs were enough to send me into a state of elevated relaxation and mental clarity. The blend of cannabinoids works synergistically to offer a well-rounded high that is potent without being overwhelming, assuming responsible use, of course.
However, given its potency, I would recommend this device more for seasoned Delta Hemp or THC users rather than novices. The effects are quite intense and can catch you off guard if you're not prepared. For those who are looking for something a little less potent, Medusa also offers traditional Delta 8 single source devices that may be more up your alley.
In Conclusion
The Medusa Vape Knockout Blend Disposable 2 Gram is a beast in the best way possible. It's powerful, beautifully designed, and gives you flavors you didn't even know you wanted. However, it's not for everyone. The potency might be too overwhelming for novices, so keep that in mind before diving in.
There you have it, folks! A thorough review of a vape device that truly delivers on its promise. If you're looking for something potent and don't want to compromise on quality or flavor, this is the vape for you.