If you're like me, the word 'discreet' holds a special place in your vaping vocabulary. Gone are the days when a cloud of vapor was a blatant announcement of your vaping presence. Now, the vaping industry is teeming with options that offer both high-quality performance and low-key profile. I've scoured the market and tried a plethora of devices to bring you the ultimate list of the top 5 discreet vapes that marry power with subtlety. From pocket-sized wonders like the PAX 3 to the super-sleek JUUL Starter Kit, these vapes promise to deliver an exceptional experience without drawing unwanted attention. So, sit back and relax as we delve into the ins and outs of each device, focusing on key features like size, performance, and versatility.
PAX 3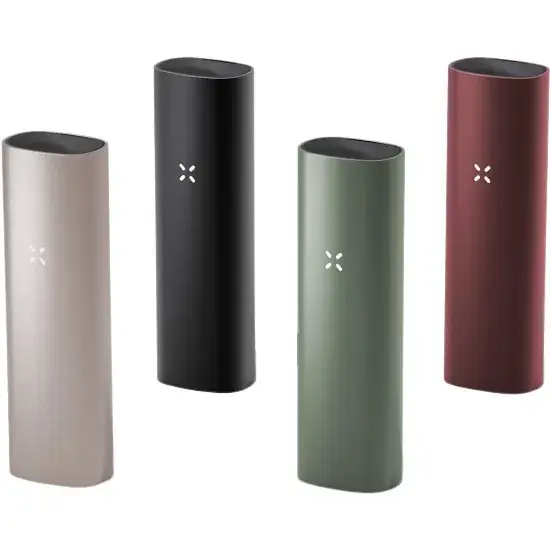 Features
Newest version! (2023.09)
Pocket-sized
Fast heat-up time (15 sec.)
Accompanying smartphone app
Compatible with herbs & concentrates
Vibration feedback
Quick charging (1 hour)
10-year warranty
When it comes to delivering an all-in-one package of discretion, power, and versatility, the PAX 3 is unparalleled. Building upon the strong foundation set by the PAX 2, this model takes everything up a notch. With an enhanced oven, a faster heating time, and even an app to personalize your vaping experience, the PAX 3 raises the bar for what a pocket-sized vaporizer can do.
Fast Heating Time: One of the standout features that instantly grabbed my attention was its rapid heating time. Offering twice the heating power of its predecessor, the PAX 3 heats up in an astonishing 15 seconds depending on your selected temperature. No more standing around waiting; you can dive right into your session.
Discreet Size & Stylish Finish: The PAX 3's size and finish offer the perfect blend of style and discretion. The matte finish gives it an air of sophistication, while its compact size allows for stealthy, on-the-go use. For someone like me who values both aesthetics and discretion, it's a match made in heaven.
Vaporizes Herbs & Concentrates: Adding to its versatility, the PAX 3 comes with a concentrate insert, allowing you to switch between herbs and concentrates effortlessly. The device maintains the flavor and quality of both, offering an all-encompassing vaping experience.
Automatic Sensors: The PAX 3 is designed with user experience in mind, featuring motion sensors that notify you with a subtle vibration when it's heated up and ready. Even better, it detects when it's brought to your lips to engage the heating element, saving the battery when set down.
Smartphone App: Perhaps one of its most innovative features is the accompanying smartphone app. Compatible with both Apple and Android, the app allows for fine-tuning your vaping sessions. From temperature control to LED customization and even device locking, the app places full control right at your fingertips. And if apps aren't your thing, that's fine too; it's entirely optional.
JUUL Starter Kit
Features
Height: 95mm
Width 15mm
Battery Size: 280mAh
Easy to use, NO BUTTONS NO SWITCHES
Rechargeable JUUL Device
Includes USB charging Dock
Includes four JUUL Pods UK (18mg/ml Nicotine)
As a veteran vaper and reviewer, I've sampled an array of e-cigarettes, but none have come as close to replicating the authentic cigarette experience as the JUUL. The brand has ingeniously engineered a "mouth suction mode," which creates a compact suction process that emulates traditional smoking. In simpler terms, it lets you inhale vapor into your mouth first, and then guide it into your lungs, mimicking the two-step inhalation you'd perform with a regular cigarette. For smokers looking to switch, this offers an uncannily familiar and thus more comfortable gateway to vaping.
But it's not just the inhalation mechanism that sells it. JUUL also manages to pack this technology into an incredibly lightweight and conveniently sized device. With a fully assembled weight of just over 14 grams, it's comparable to holding a standard ink pen. Its dimensions, too, are only slightly larger than a regular cigarette, making it an easy carry for daily use.
Also, can we talk about the battery? The JUUL comes equipped with a built-in 280mAh battery that's activated merely by inhaling. No need for buttons or complicated settings. Charging takes barely an hour, and the LED indicators keep you in the know about your battery levels. Plus, changing its 2ml e-liquid-containing pods is as easy as a snap, literally.
The flavor offerings are the cherry on top. They offer four primary flavors: Golden Tobacco, Glacier Mint, Mango Nectar, and Menthol. Each is true to its name without being overpoweringly sweet—perfect for any time of the day.
Suorin Air V2 Pod System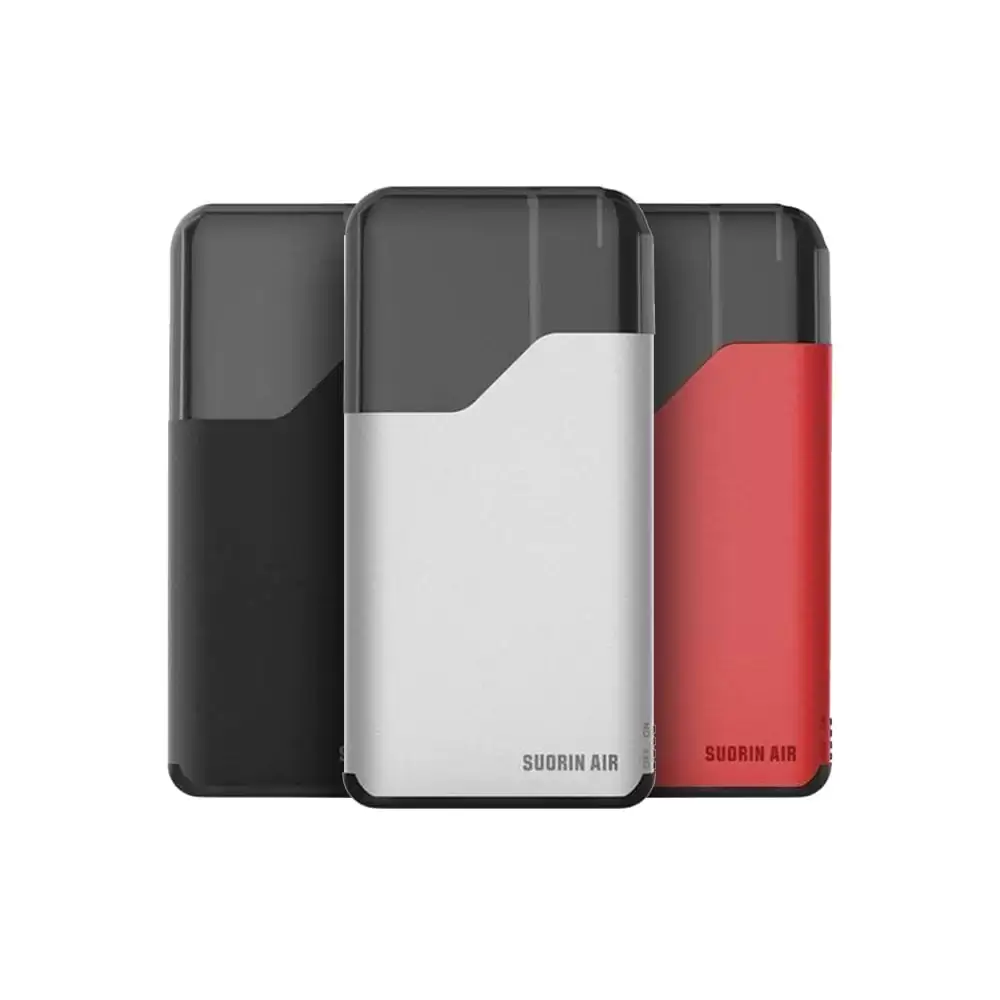 Features
Dimensions: 88mm by 45mm by 8mm
2mL Juice Capacity
Plug-and-Play Ecosystem
Integrated 400mAh Rechargeable Battery
Direct Voltage-Based Output
Draw-Activated Firing Mechanism
Refillable Cartridge – Plug Seal
Replaceable Cartridge Design – Two-Piece
On/Off Switch
MicroUSB Charging Port
Note: Install and Prime Coil Before Use
Available in Black, Silver, Gunmetal Grey, Shark Gray, Rose Gold, Red, Blue, Green, Pink
It's a statement in vaping evolution. Engineered for ultimate portability without compromising on performance, this sleek device brings together a 400mAh rechargeable battery and a 2mL juice reservoir in an exquisitely designed two-piece structure. Manufactured by Foxconn—the same minds behind Apple products—the Suorin Air V2 carries a legacy of high-quality electronics, neatly packed in a minimalistic rectangular form that's just 88mm by 45mm by 8mm.
The design doesn't just stop at aesthetics. One of the Suorin Air V2's standout features is its two-piece structure: a 2mL replaceable cartridge that can be easily refilled via a seal plug at the bottom. This convenience extends to its intuitive LED light indicator, which helps you keep track of the battery level. Firing the device is a breeze with its draw-activated mechanism, offering top-notch performance in each puff.
Originally released when nic salts were still gaining ground, the Suorin Air V2 set new standards in the industry, thanks in part to its card-style design that slips easily into pockets and purses. And don't let its slim profile fool you; this device produces vapor clouds that are surprisingly robust for its size.
Aimed at busy vapers who crave efficiency, the Suorin Air V2 offers prefillable pods for those who are always on the move. With a range of colors available, it's not just a vape device—it's a lifestyle accessory. Forget about fuss; focus on flavor and cloud quality with the Suorin Air V2.
SMOK Novo 2 POD KIT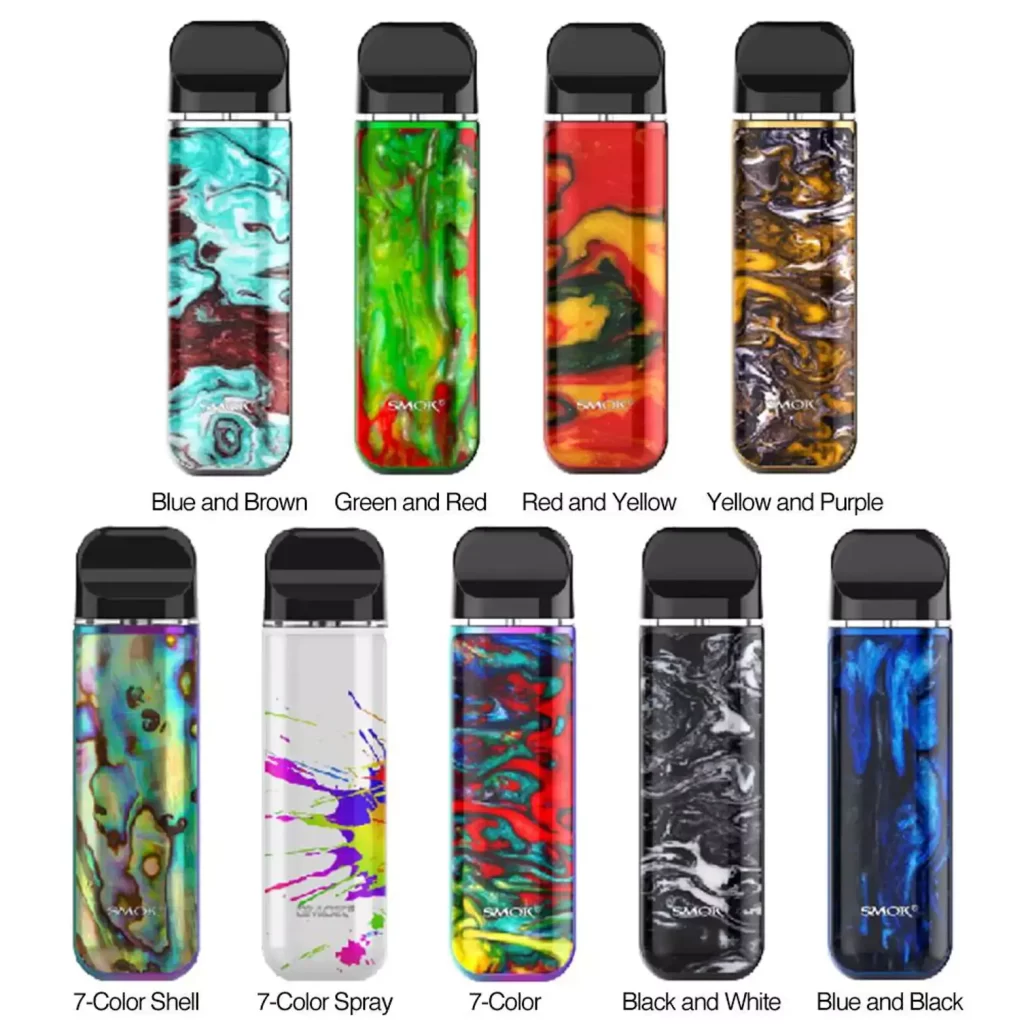 Features
800mAh Built-In Battery
Stylish, Zinc Alloy Construction
Pocket-Friendly
MTL Inhale
Draw Activated
LED Battery Life Indicator
Range Of Protection Features
2ml Refillable Pods
Side Fill System
Fixed Dual Airflow
1.0 Ohm / 1.4 Ohm Resistance
The SMOK Novo 2 Pod Kit isn't just an upgrade; it's a revolution in the pod vaping scene. Building upon the success of the original Novo kit, the Novo 2 comes packed with an 800mAh built-in battery, offering a long-lasting vaping experience specifically designed for salt nicotine e-liquids. Available in 1.0 Ohm mesh, 1.4 Ohm Quartz, and 1.4 Ohm MTL coil options, this device provides unparalleled flexibility for vapers of all experience levels.
Where the Novo 2 truly shines is in its design. Constructed from a stylish and durable Zinc Alloy, this draw-activated device sports a pleasing exterior that combines aesthetics with functionality. No buttons, no hassle—just a straightforward draw-activated mechanism enhanced by a host of protection features including Low Voltage and Short Circuit Protection, as well as an 8-second cut-off.
An LED battery life indicator ensures you're never caught off-guard, allowing for easy tracking of battery levels. Charging the device is a breeze with the side-mounted micro USB port. The pod system itself is ingeniously designed with Push Fit Pod connections for hassle-free cartridge swaps. Two fixed air-intake grooves ensure a consistent vaping experience, while a side-fill system makes refilling these 2ml pods a piece of cake.
With the Novo 2, SMOK has focused on optimizing every detail—from its whistle-shaped mouthpiece designed for comfort to its newly added air-intake grooves that elevate vapor quality. This device successfully combines cloudy vapor with a purer taste, all encased in a design that you'd be proud to show off.
Aspire Breeze 2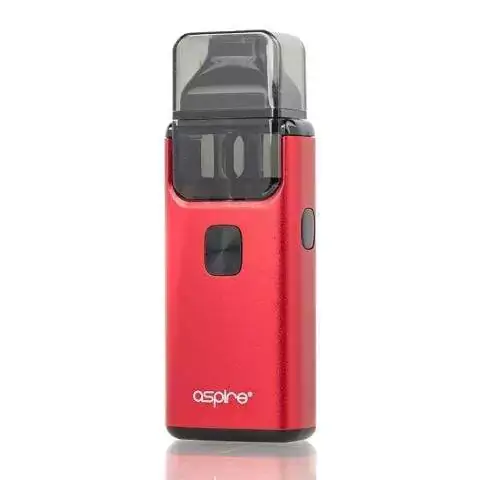 Features
Dimensions: 3-5/8″ x 1-5/16′ x 3/4″ (Including Mouthpiece)
All-in-One Design
Simple One-Button Design
Bypass Output
Built-in 1000mAh Battery
3.0ml e-Liquid Capacity
Improved Refilling Design
LED Battery Life Indicator Light
Aluminum Alloy Construction
Pod Release Button
Adjustable Airflow Design with Knurled Airflow Control Ring
Protective Drip Tip Cap
Side Micro USB Charging Port
Utilizes Aspire Breeze U-Tech Coil Atomizer Heads (Not Compatible with any other Aspire Product)
New Breeze 2 1.0ohm Atomizer Head Designed for Nicotine Salt-Based E-Liquid
Includes (1) Aspire Breeze 2 NS 1.0ohm Atomizer Head
Includes (1) Aspire Breeze 0.6ohm Atomizer Head
Automatic Cutoff
Short Circuit Protection
Low Voltage Protection
Overcharge Protection
The Aspire Breeze 2 Starter Kit isn't just an upgrade; it's a revolutionary step forward in the world of pod vaping. Coming from the success of its predecessor, the Aspire Breeze, this new kit takes everything up a notch. With a larger 1000mAh built-in battery and an increased 3.0ml e-liquid capacity, the Aspire Breeze 2 promises longer vaping sessions and less frequent refilling.
What truly sets the Breeze 2 apart is its new and improved refilling design that minimizes messes and leaks. The adjustable airflow design, featuring a knurled control ring, gives you the freedom to customize your vaping experience. With a simple one-button design for activation and firing, the device remains as user-friendly as ever.
One of the most impressive features is its coil technology. The device uses the same Breeze U-Tech Coil atomizer heads known for delivering excellent flavor and vapor. Now it comes with the new Breeze 2 NS 1.0ohm atomizer head, designed specifically for nicotine salt-based e-liquids. This makes the Aspire Breeze 2 a versatile choice for both regular e-liquids and nicotine salts.
The pod system of the Breeze 2 is also more convenient. Available in two capacities—a 2ml TPD compliant and a 3ml standard version—the pod is easily removable with a simple squeeze of the release buttons. Coil installation is a breeze, and charging the device is straightforward with a maximum charge current of up to 800mA.