Ready to elevate your vaping experience to unparalleled heights? Look no further! We've sifted through the noise to curate the ultimate list of TOP 5 10000 Puffs Disposable Vapes that are not just long-lasting but also remarkably advanced in flavor, design, and technology. Say goodbye to the woes of constant recharging and bothersome liquid refills. These handpicked disposable vapes are programmed to impress, offering a mesmerizing experience from puff one to puff 10,000. Whether you're a weekend vaper or a certified cloud aficionado, this guide is a gateway to next-level vaping. Dive in as we unfold a plethora of mind-blowing capacities, enticing flavors, and cutting-edge features that cater to the discerning vaper in you.
TOP 5 10000 Puffs Disposable Vapes
TOP 1: Keystone FAT BOY 10000 Puffs

Crazy Capacity, Long-Lasting Ever: If you're tired of vaping devices that seem to run out just when you're getting into the groove, the FAT BOY is your answer. Its e-liquid capacity is an industry game-changer, offering more than 10,000 puffs. This isn't just about the sheer volume but also value for your money. Plus, the airflow control allows you to tailor your vaping experience to your preference, making each of those 10,000 puffs truly your own.
Smooth Hits Till the Last Puff: Nothing ruins a vaping session faster than inconsistent hits. That's why the FAT BOY employs dual mesh coil technology. Dual mesh coils are renowned for their ability to distribute heat more evenly, ensuring that every hit is as good as the first. You get a robust flavor and ample vapor production from the first puff to the last, no compromise.
Adjustable Airflow: Personalization is the key to a satisfying vape, and the FAT BOY takes it seriously. The adjustable airflow feature enables you to control the draw resistance, allowing for either a tighter or looser draw depending on what you're in the mood for.
Type-C Fast Charging Port: Modern problems need modern solutions. The FAT BOY adopts a Type-C fast charging port, allowing for quicker charging times. So even if you manage to drain the device's large battery, you can get back to vaping in no time.
Fancy Artwork:When it comes to aesthetics, the Keystone FAT BOY doesn't disappoint. Far from being a utilitarian vaping tool, this device is designed to impress. At first glance, you'll notice its glass-imitation shell, which is not just smooth but intricately textured with streaks, adding a tactile dimension to the vaping experience. But the visual treat doesn't stop there.
Look closer, and you'll see the interior's remarkable gradient-color artwork. This isn't your run-of-the-mill design; it's an aesthetic feature crafted to bring joy every time you take a puff. Each hue transitions beautifully into the next, creating a visual spectacle that's hard to take your eyes off of.
Excellent 5 Flavours To Choose From
Strawberry Watermelon: A blend of summer's most loved fruits.
Blueberry Raspberry Ice: A cool berry mix with a hint of ice.
Mango Pineapple: A tropical explosion in every puff.
Banana Ice: The smooth taste of banana with a cooling after-effect.
Grape Bull: A bold grape flavor that packs a punch.
Features
Mesh Coils
600mAh Battery Capacity
30MG/ML
UP to 8000 puffs
15ML E-liquid Capacity
Unexpected Clouds
Pros
Unmatched Capacity: Over 10,000 puffs with adjustable airflow for customized vaping.
Consistent Hits: Dual mesh coil technology ensures smooth, flavorful hits from start to finish.
Custom Airflow: Dial in your perfect draw with adjustable airflow controls.
Quick Charge: Type-C fast charging port minimizes downtime.
Artistic Design: Textured glass-like shell and gradient interior artwork elevate the aesthetic.
Flavor Choices: Five distinct, expertly crafted flavors to choose from.
Extra Features: Mesh coils, 600mAh battery, and surprising cloud production add to the allure.
TOP 2: RandM Tornado 10000 Puffs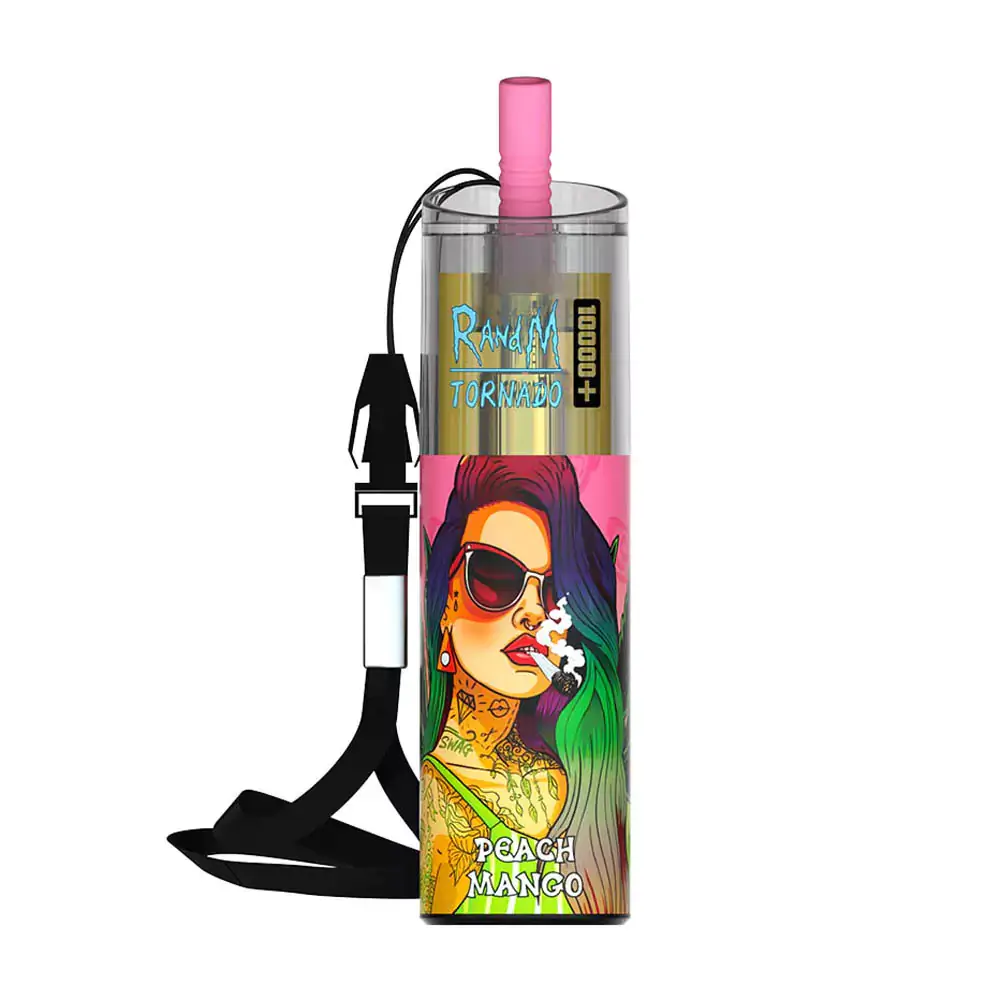 RandM Tornado 10000 Puffs: Get ready to be blown away by the sheer performance of the RandM Tornado 10000, a disposable vape device that brings a whirlwind of features to elevate your vaping experience. Built with both longevity and quality in mind, this is not your average disposable vape. With airflow control and rechargeability, this device promises to be your trusty companion throughout its impressive 10,000 puff life span.
Nicotine Choices: First off, let's talk about flexibility. The RandM Tornado 10000 gives you options with nicotine salt levels—0/2/3/5%. This means you can tailor your vaping experience to match your nicotine preference, a feature not commonly found in disposable devices.
E-liquid Capacity: It houses a staggering 20ml of e-liquid, guaranteeing that you'll be puffing away for quite some time before needing a new device. It's all about giving you more value for your money.
Battery Life: Powered by an integrated 850mAh battery, this device is rechargeable via a Type-C port at the bottom. This ensures that you can enjoy every last drop of e-liquid without worrying about the battery dying on you.
Airflow Control: For those who like to tinker, the adjustable airflow lets you find your personal "sweet spot" for inhaling, making each puff your own customized experience.
Flavor Explosion: Are you the indecisive type when it comes to flavors? Worry not! The RandM Tornado 10000 comes in a dazzling array of 24 flavors, from fruity concoctions like Raspberry Strawberry and Mango Passion Fruit to refreshing mixes like Mint Menthol and Grape Ice.
RGB Light & Packaging: To add a touch of flair, the device also features 6 Colors RGB Light, giving you a visual spectacle with each puff. It's also conveniently packed with 10 pieces in a display box and 200 pieces in a carton for bulk buyers.
Features
0/2/3/5% Nicotine Salt.
20 ML of E-liquid.
10000 Puffs per Device.
6 Colors RGB Light
Battery Rechargeable
Non Refillable
Integrated 850mAh Battery.
24 Flavors Available.
10pcs in a display box.
200pcs in a carton.
TOP 3:  VOLTBAR 10,000 Puffs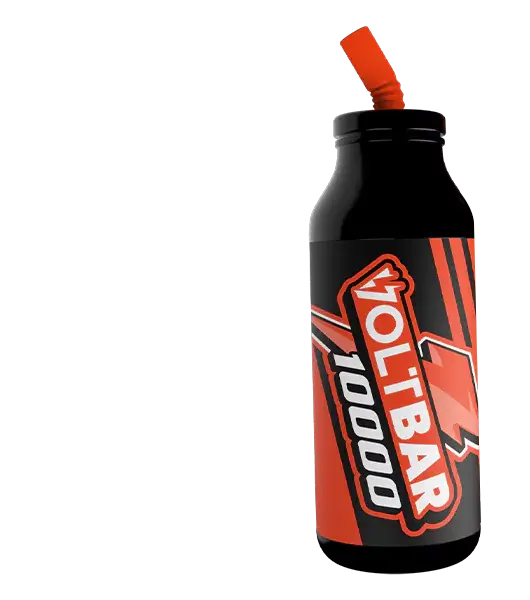 Fast Charging: Never miss a moment with the Voltbar 10,000's fast charging feature. Using a Type-C port, the device ensures you're back to vaping in no time, letting you focus on enjoyment rather than wait times.
Ergonomic Design: The Voltbar 10,000 elevates user experience with its ergonomic shape. Every curve and contour is designed with the user in mind, making it not just functional but also enjoyable to hold and use.
Unbeatable Puff Count: Step up your vaping game with a staggering 10,000 puffs. This long-lasting disposable vape doesn't just give you more puffs; it offers unparalleled cost savings. Switching from a few hundred puffs to thousands will make you wonder why you didn't upgrade sooner.
Comfortable Rubber Tip: Vaping has never felt better with Voltbar's signature rubber tip design. The soft mouthpiece enhances each inhale, making your vaping sessions an all-around pleasant experience.
Enhanced Battery Life: Forget about frequent recharging. The Voltbar 10,000 comes with an improved battery capacity, ensuring you get more puffs and fewer interruptions.
Timeless, Stylish Design: Introducing a new style that's as vibrant as it is modern. The Voltbar 10,000's design is timeless, complementing any style or setting. Whether you're out and about or relaxing at home, this device adds a touch of class to your vaping experience.
Features
Puffs: 10,000
Coil: mesh coil
50mg / 5% strength
TOP 4: Horizo​​n Binaries Cabin 10000 Puffs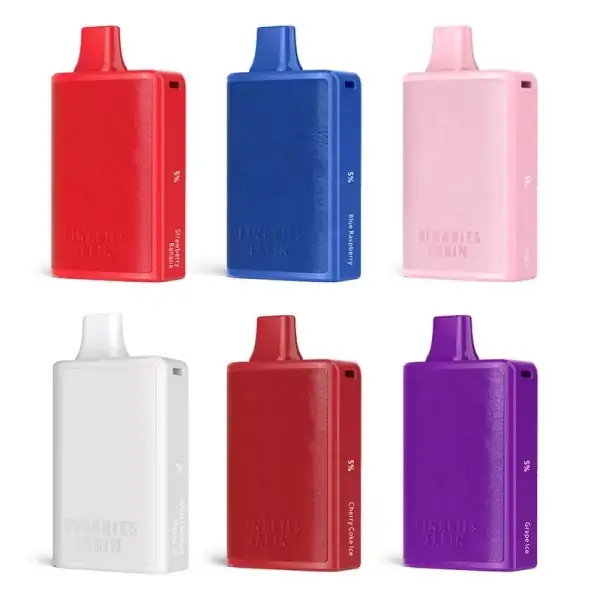 The HorizonTech Binaries Cabin Disposable is a landmark in disposable vape technology, designed for both longevity and quality of experience. This cutting-edge vape device boasts a dual mesh coil system, a first in the disposable vape market, offering adjustable airflow tailored to your cloud-chasing desires. Alongside this, the Binaries Cabin features an astonishing 20mL e-juice reservoir, allowing for a record-breaking 10,000 puffs per device. This kind of capacity ensures that you're never left wanting, especially with 21 flavors to tickle your taste buds.
The 650mAh battery is rechargeable via a USB Type-C input, a convenient addition that keeps you vaping without interruption. What truly sets the Binaries Cabin 10,000 Puffs apart from competitors is its phenomenal value for money. Despite its low price point, the device's longevity and quality features make it a standout option in today's saturated market. The Binaries Cabin is not just another disposable vape; it's a game-changer that redefines expectations for what a disposable device can offer. With its potent combination of flavor variety, puff longevity, and quality construction, the Horizon Binaries Cabin is an unparalleled choice for those seeking the next level in vaping.
Features
Available in 3% (30mg) or 5% (50mg), flavor depending
Puff Count: 10,000
E-Liquid Capacity: 20mL
USB-C Rechargeable (not included)
TOP 5: Aroma King Dark Knight 10000 Puffs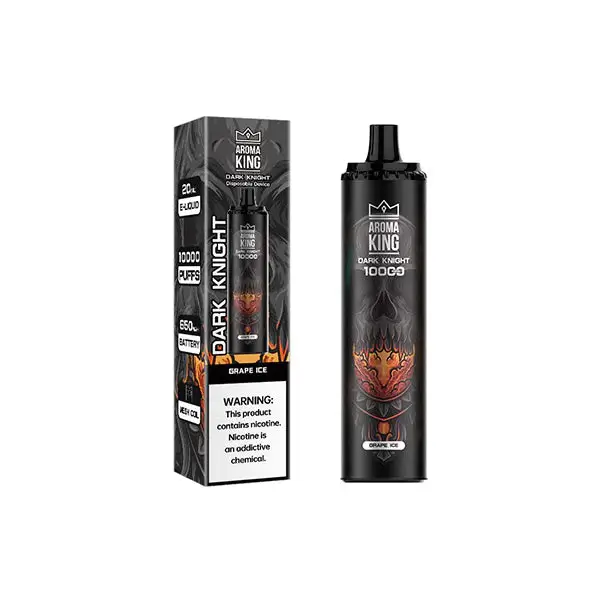 The Aroma King Dark Knight 10000 Disposable Device is not your average disposable vape; it's a pocket-sized powerhouse of flavor and convenience. Boasting a slim, light, and portable design, this device is as easy to carry as it is satisfying to use. With a 650mAh rechargeable battery and 20mL e-liquid capacity, you're looking at an incredible 10,000 puffs per device, available in 0mg and 20mg nicotine strength options.
Perhaps one of the most striking features is its compact design, ideal for those always on the move. Despite its small size, the Dark Knight doesn't compromise on quality. It promises an unmatched flavor experience, offering a range of delicious flavors in its line-up. Its constant power output and consistent taste system elevate it above other disposable options on the market, guaranteeing a superior vaping experience from first puff to last.
The device also features a built-in 1000mAh battery, adding to its long-lasting attributes. Pre-filled with a 2mL pod of e-liquid, the Dark Knight is perfect for both quitting smokers and social vapers looking for a hassle-free night out. Whether you're new to vaping or simply need a reliable backup, the Aroma King Dark Knight 10000 offers a purer, smoother taste that will undoubtedly surprise you. With its blend of portability, longevity, and exceptional flavor, it's a clear standout in the crowded field of disposable vapes.
Features
Battery Capacity: 1000mAH built-in Rechargeable Battery
Type C Cable Required to charge (not included)
Nicotine content: 2%Nic Salt
Mesh coil 0.5 Ohm Sub Ohm (more smoke & better taste)
Air Adjustable
Draw Activation
Unique style design
Slimline, Compact and Easy to Pocket
Supports Lung Suction (DTL)
In Conclusion
And there you have it—the crème de la crème of 10,000 puff disposable vapes! We've dissected every feature, from incredible flavor options to advanced airflow controls, leaving no stone unturned in our quest to find the best in the business. These high-endurance vaping devices are designed to satiate your cloud cravings without a constant need for a charger or additional e-liquid. As the vaping landscape continues to evolve, these power-packed disposables are making a definitive statement: long-lasting quality and supreme satisfaction are the new norms. Don't settle for less when you can have the best. With these TOP 5 10000 Puffs Disposable Vapes, every puff is a ticket to a euphoric vaping voyage. Happy vaping!