In a market flooded with choices, finding the ultimate disposable vape can be a daunting task. But if you're searching for a perfect blend of performance, convenience, and longevity, look no further. Welcome to our definitive list of the "TOP 5 12000 Puffs Disposable Vapes," where each device delivers at least 12,000 puffs, allowing for an extended and fulfilling vaping experience. Kicking off our list is the innovative Keystone Crater 12000 Puffs, a device that revolutionizes vaping with its real-time display screen—banishing guesswork on e-juice levels and battery status. With an aesthetic inspired by celestial bodies and an array of features like premium mesh coils and adjustable airflow control, this vape is nothing short of a cosmic journey. From design innovation to booming vaping experiences, we have curated a list that checks all boxes for both novice and seasoned vapers. So, sit back and discover which 12000-puff disposable vape earns the right to be your next purchase.
TOP 5 12000 Puffs Disposable Vapes
TOP 1: Keystone Crater 12000 Puffs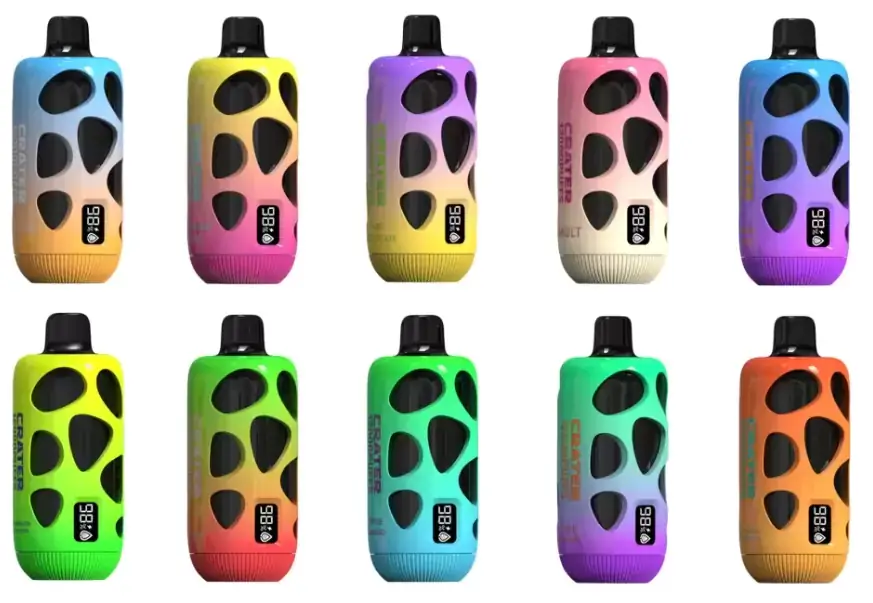 Display Screen: No More Guesswork:When you vape, one of the most common worries is how much e-juice you have left or when you'll need to recharge the battery. With the Keystone Crater 12000puffs, those worries are a thing of the past. The device comes with an innovative and energy-efficient built-in display screen that tells you in real-time just how much e-juice is left and what your battery status is. This feature is a game-changer, ensuring that you're never caught off guard and allowing you to vape with peace of mind.
Inspired Design: A Cosmic Beauty:The design inspiration for the Keystone Crater 12000puffs comes from the mesmerizing craters formed by aerolites in outer space. The device flaunts a special porous design that mimics these craters. Complemented by a colored pierced outer shell and inner shell, the vape offers an unlimited range of color matches through its layering color scheme. The result is not just a vaping device but a piece of art that you would proudly flaunt.
Booming Vaping Experience:When it comes to vaping, the experience is all that matters, and the Keystone Crater 12000puffs doesn't disappoint. It comes fitted with premium mesh coils that provide a booming vaping experience. The cloud production is rich and dense, delivering a pleasurable sensation to your throat. But what sets this apart is the ability to feel the realistic and refreshing flavors, whether you're into fruit, beverages, or traditional tobacco. It's truly a delightful experience that fulfills all your vaping desires.
Airflow Control: Customize Your Hit:Another standout feature is the device's well-designed bottom ring for airflow control. With just a simple turn of the dial, you can adjust the air flow to enjoy a looser or tighter draw as per your liking. One of the most consistent aspects of the Keystone Crater 12000puffs is that every hit is smooth, thanks to this feature. Plus, the variety in flavors adds to the whole experience, offering something for everyone, whether you're a fan of fruity flavors, beverages, or even classic tobacco.
Features
puffs: 12000
DimensIon: 039×93.6MM
Capacity: 18ML
Battery: 600MAH
Resistance: 1.0Ω
Pros
Innovative Display Screen: Real-time monitoring of e-juice level and battery status.
Design Inspiration: Unique porous design inspired by aerolite craters, with a colored pierced outer and inner shell and layering color schemes.
Premium Mesh Coils: Offers a booming vaping experience with rich and dense clouds.
Airflow Control: Customizable bottom ring to adjust the air flow, allowing for a looser or tighter draw.
Flavor Variety: A wide range of flavors from fruit to beverages to traditional tobacco.
Ease of Use: The display screen eliminates guesswork, making it easy to manage e-juice and battery life.
Stylish Design: The unique, cosmic-inspired design sets it apart from conventional vaping devices.
Exceptional Vaping Experience: The premium mesh coils ensure satisfying cloud production and authentic flavors.
Personalized Vaping: The airflow control allows you to customize your vaping experience according to your preferences.
TOP 2: Bang King 12000 Puffs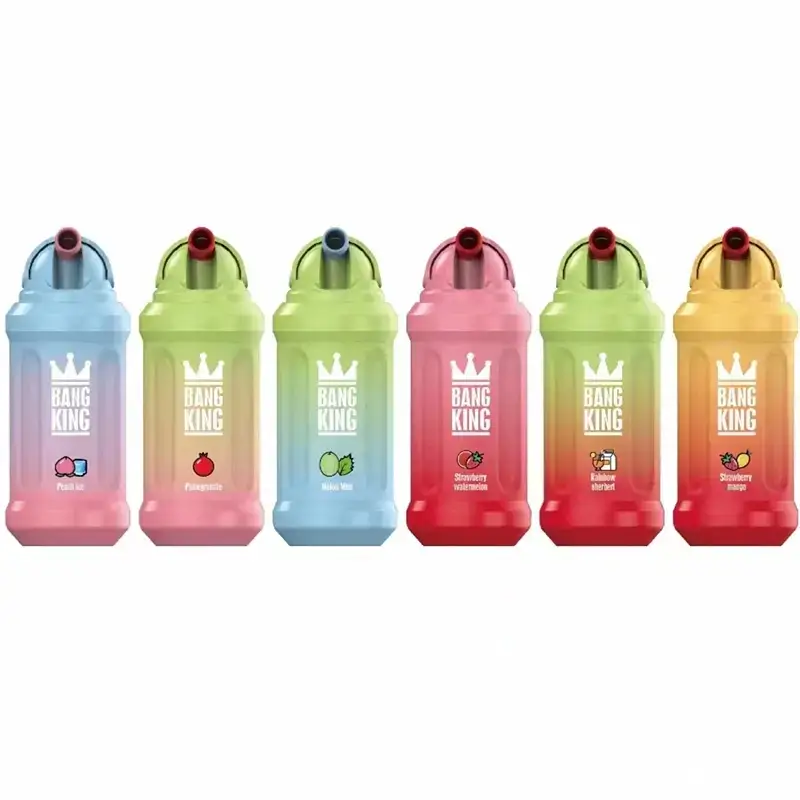 The Bang King 12000 sets a high bar in the disposable vape market. With an impressive 23ml e-liquid capacity and a long-lasting 650mAh battery, this device guarantees up to 12,000 puffs, making it a reliable choice for vapers. Its high-performance mesh-coil system ensures a premium vaping experience, delivering pure, intense flavors with every puff.
Flavor enthusiasts won't be disappointed either. With a range of options from tropical mixes to classic favorites, it caters to a broad spectrum of palates. Nicotine concentrations vary from 0% to 5%, making it versatile for both novice and experienced vapers.
What sets it apart further is its affordability. Priced at just $5, the Bang King 12000 delivers a high-quality, durable vaping experience without hurting your wallet. Despite its feature-rich profile, it remains lightweight and portable, thanks to its 110g weight and built-in Type-C rechargeable battery. All in all, it's an all-around performer that's as cost-effective as it is satisfying.
Features
850mAh Built-in Battery
Rechargeable
Efficient And Consistent Power Delivery
23ml Pre-filled E-juice
0% 2% 3% 5% Nicotine Level
Satisfy Almost 12000 Puffs
Adjustable airflow
TOP 3:  IPLAY BOX 12000 Puffs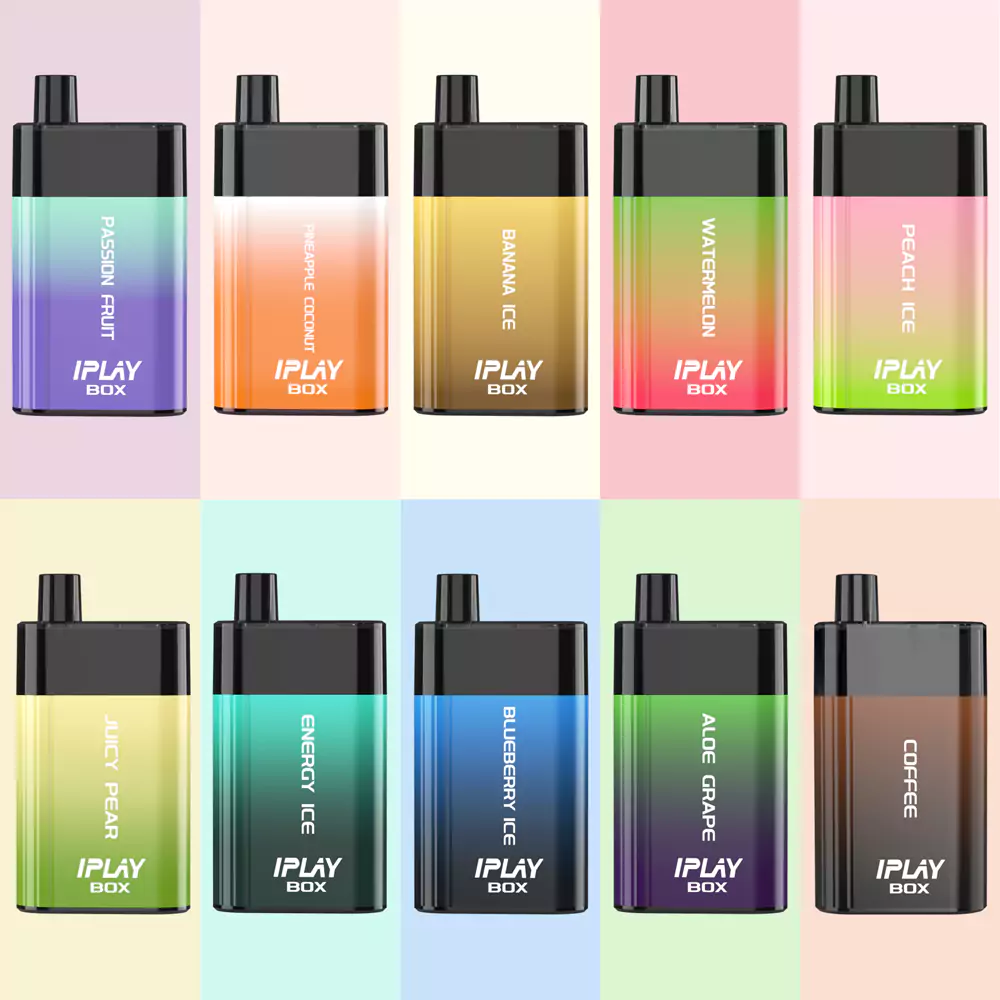 The IPLAY BOX 12000 offers a unique blend of versatility and convenience that sets it apart in the disposable vape market. One of its standout features is the option between pre-filled and empty pods. For those who want a no-fuss, ready-to-use device, the pre-filled pods are a dream come true. Just pick it up, and you're immediately ready to start vaping, eliminating the often tedious setup process.
However, what really caught my eye was the empty pod option. This is a feature rarely seen in disposable vapes. It allows a degree of customization that's typically reserved for more complex, non-disposable devices. You can simply remove the silicon plug and fill it with an e-liquid of your choosing. This means you're not limited to the manufacturer's flavor options and can experiment with different e-liquids to find your perfect match. This flexibility is ideal for seasoned vapers who like to mix and match flavors or even create their own blends.
This pod system is not just versatile but also highly functional. With a hefty 25ml e-liquid capacity and a robust 1250mAh built-in battery, the IPLAY BOX is designed for all-day vaping. And it's not just about quantity; the quality is there too. The 0.3Ω Mesh Coil ensures that every puff is flavorful and satisfying.
Features
Size:96.5*50*22mm
Battery:1250mAh
E-juice Capacity:25ml
Nicotine:3mg
Charger:Type-C
Puffs:Up to 12000
TOP 4: Vape Tape 12,000 Puffs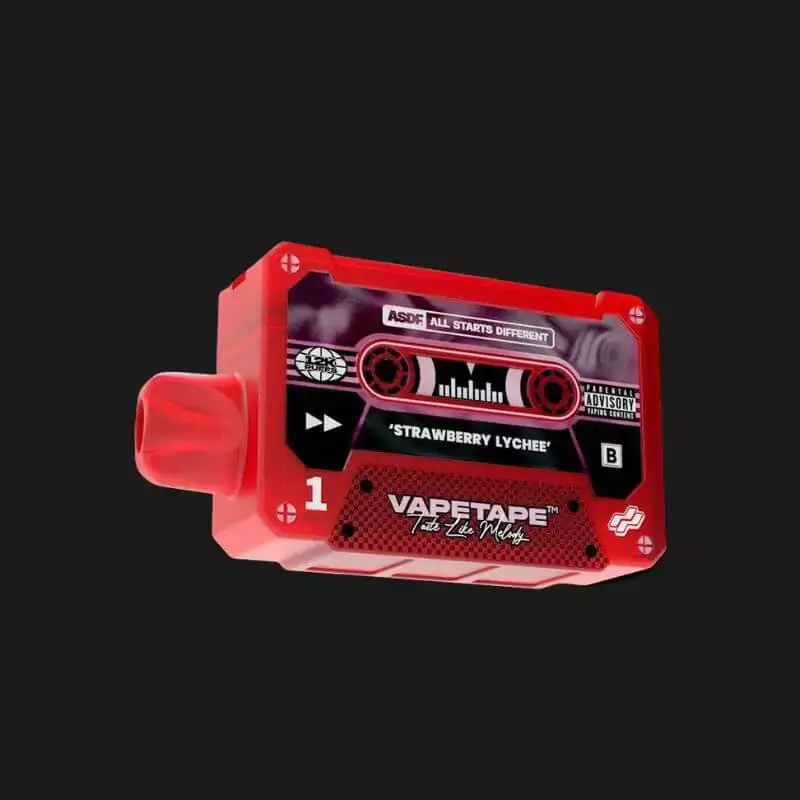 The Vape Tape 12,000 takes vaping to a whole new level with its upgraded version from the previous 8,000 puffs model. Imagine not worrying about recharging or refilling your device as often, thanks to its whopping 12,000 puffs and 25ml of e-liquid. This game-changing vape pod comes with the latest in charging technology, offering a Type-C port that fully charges your device in just 25 minutes. Talk about efficiency!
Flavor is where the Vape Tape 12,000 truly shines. With an extensive line-up of new and unique flavors like Banana Custard and Strawberry Lemon Tart, each puff feels like an indulgent treat. If you have a sweet tooth, flavors like Gummy Bear and Solero Lime offer candy and dessert-like experiences that will delight your palate. More traditional flavors like Peach Lychee and Lemon Cola cater to vapers who prefer classic combinations.
Built with a mesh coil, you can expect a seamless and high-quality vapor output. The 5% nicotine strength ensures that you're satisfied without being overwhelmed. Whether you're new to vaping or a seasoned aficionado, the Vape Tape 12,000 offers an unrivaled experience that makes it stand out in a crowded market.
Features
Puff : 12000 Puffs
Volume : 25ML Flavour
Charging : Rechargeable With Type C
Coil : Mesh Coil
Fully Charged Time : 25mins
Nicotine Strength : 5%
TOP 5: Tugboat Super 12000 Puffs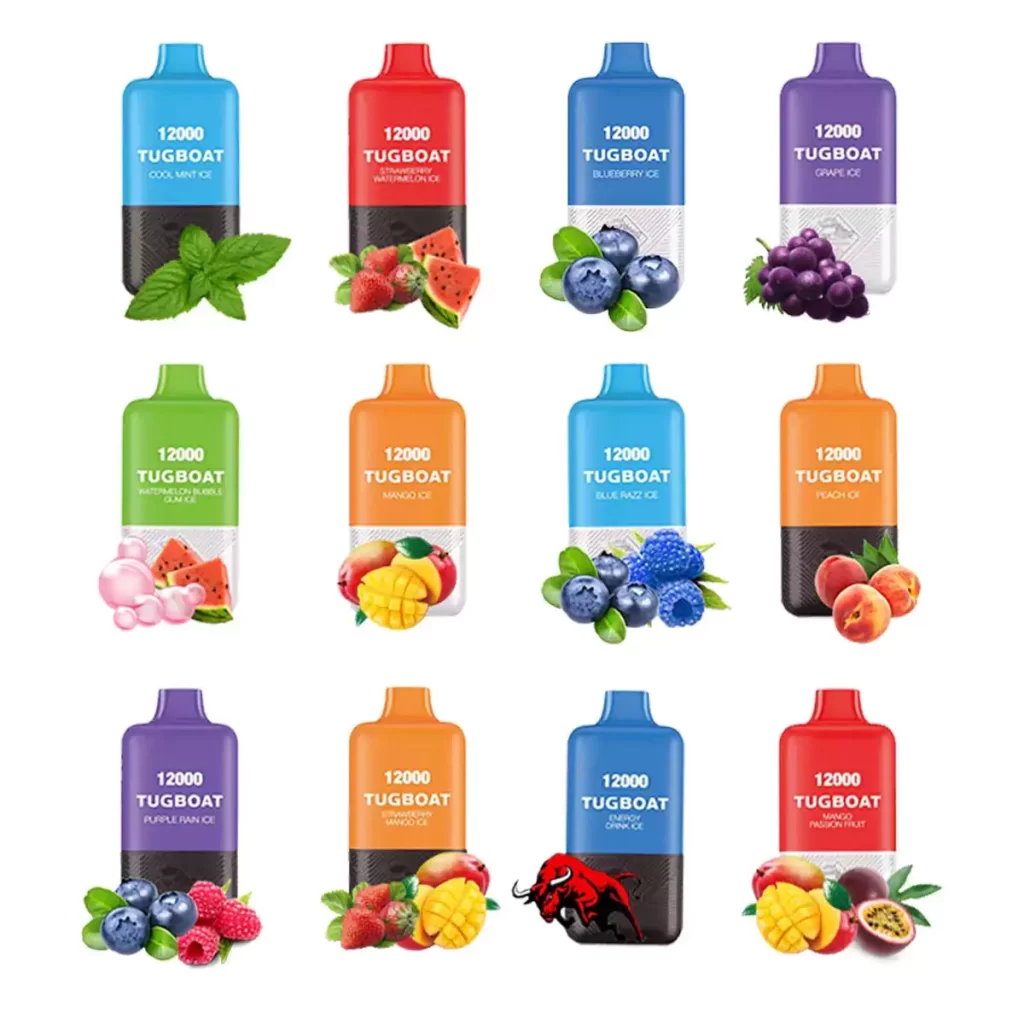 The Tugboat Super 12000 Puffs Disposable Vape is a cut above the rest for those who crave an uncomplicated, yet rewarding vaping experience. With an impressive 14ml e-juice capacity, you can vape all day without worrying about running out of liquid. The device's 5% nicotine strength hits that sweet spot between satisfying and overpowering, making it perfect for vapers of all levels.
What sets this vape apart is its 1.0ohm Mesh coil. This innovative coil system ensures a consistent, flavorful vapor with each puff. But what good is a great coil system without a reliable battery? Fear not; the Tugboat Super comes with a 500mAh battery, offering both longevity and performance.
Charging is also a breeze with its Type-C charging port, allowing for fast and efficient recharging. Whether you're always on the go or simply seeking a straightforward vaping option, the Tugboat Super 12000 Puffs Disposable Vape has got you covered. With approximately 12,000 puffs at your disposal, this device not only delivers in terms of performance but also in lasting value.
Features
Brand: TUGBOAT
Puffs: Appro 12000 Puffs
Ejuice Capacity: 8ml/14ml
Nicotine Strength: 5%
Resistance: 1.0ohm Mesh Coil
Battery Capacity: 500mAh
Charging Port: Type-C
In Conclusion
The vaping world has never been more exciting, especially when it comes to disposable vapes that offer 12,000 puffs. We've walked you through the "TOP 5 12000 Puffs Disposable Vapes," each exceptional in its unique way—from the real-time monitoring features of the Keystone Crater to the unmatched battery longevity and flavor variety in the Tugboat Super. Whether you're a beginner exploring your options or a seasoned vaper looking for a hassle-free experience without sacrificing quality, there's a 12,000-puff disposable vape out there that's perfect for you. So go ahead, make your pick, and elevate your vaping experience to cloud nine. Happy vaping!