If you're like me and you're keen on finding a healthier yet satisfying vaping experience, then you're in for a treat. We all know that too much nicotine can be a deal-breaker for some vapers. So, what's the solution? Enter the world of low-nicotine vaping, a veritable paradise for those who crave a smoother, more balanced experience. In my quest for the ultimate vaping nirvana, I've painstakingly sampled a wide array of disposables, pod systems, and even box mods that offer low nicotine levels. Today, I bring you the definitive list of the "Top 10 Low Nicotine Vapes" that not only deliver on reduced nicotine content but also provide an exceptional overall vaping experience.
Top 10 Low Nicotine Vapes
1.Evo Drip SO4500 Disposable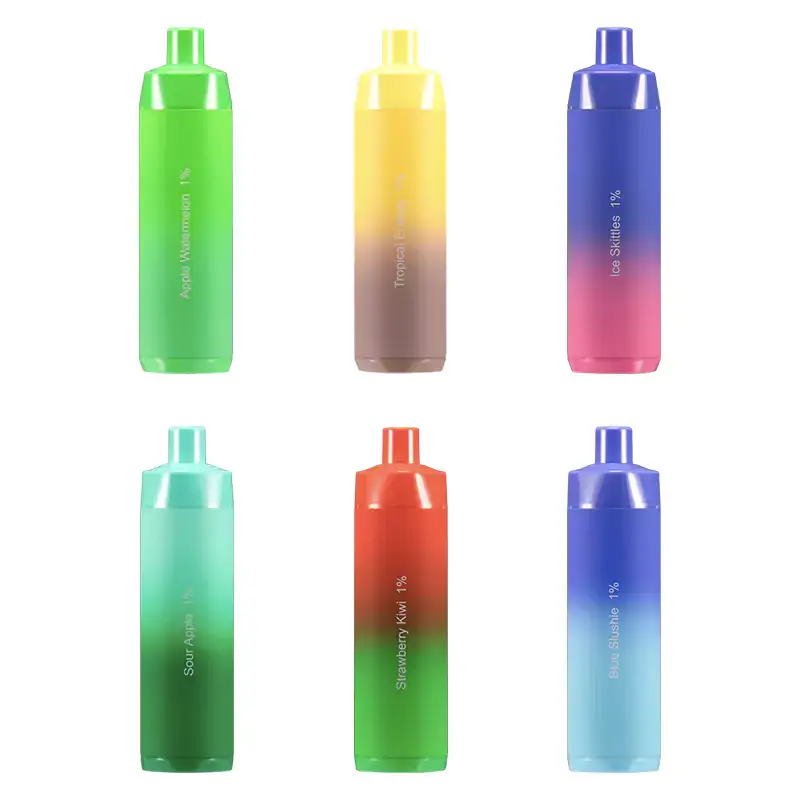 With its low nicotine content of just 1% or 10mg, this device offers a healthier alternative without skimping on the experience. I was particularly blown away by its wide range of mouth-watering flavors, which is a breath of fresh air in a market often limited in taste profiles. Additionally, its long-lasting 850mAh battery equipped with USB-C charging ensures that you can vape all day long without any interruptions.
However, it's worth mentioning that the device doesn't feature adjustable airflow. This might be a bit of a drawback for vapers who like to tailor their airflow settings.
Its combination of low-nicotine e-liquid and an efficient 0.5-ohm coil produces a direct-to-lung (DTL) hit that's unparalleled in the disposable market. The high airflow and 10mg e-liquid deliver deep, satisfying puffs that offer an extended vaping session. With a whopping 17 flavors, each impressively authentic, this vape delivers on all fronts. The only small hiccup is the lack of adjustable airflow, but if you're a fan of big, smooth DTL hits, this limitation will hardly be a deal-breaker for you.
2.Lost Mary BM600 Disposables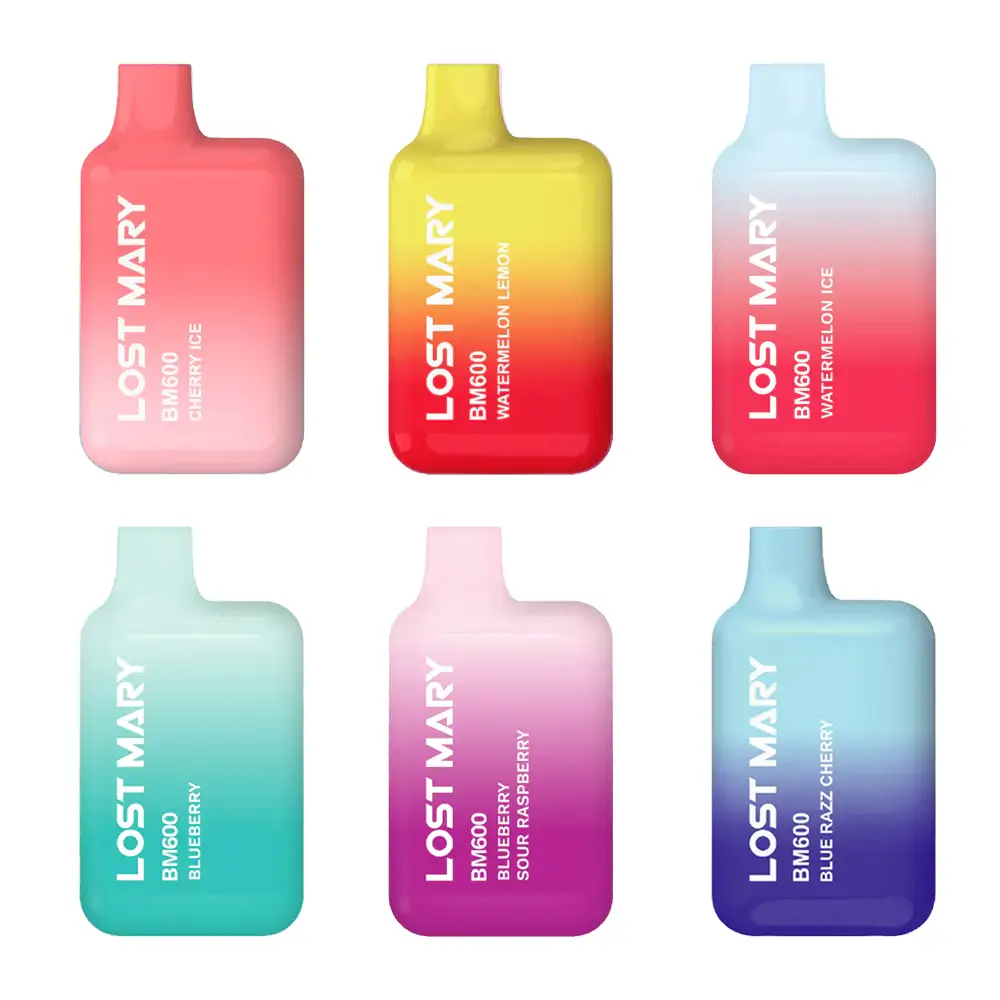 The Lost Mary BM600 is the epitome of convenience and versatility in the realm of disposable vapes. It grabbed my attention instantly with its unique, sleek design that's not just eye-catching but also ultra-portable. Available in a medley of more than 30 flavors—from fruit to tobacco to ice—this device offers something for every palate. I was captivated by its performance, delivering a smooth, satisfying vape with a 360mAh built-in battery that can churn out up to 600 puffs, perfect for all-day vaping.
What's more, this tiny beast comes pre-filled with 2 ml of e-liquid, and you have the freedom to choose between 20 mg nicotine salt or go completely nicotine-free with 0 mg. Given that the device is draw-activated, it offers a hassle-free experience that's perfect for vapers on the go.
3.SKE Crystal Bar Disposables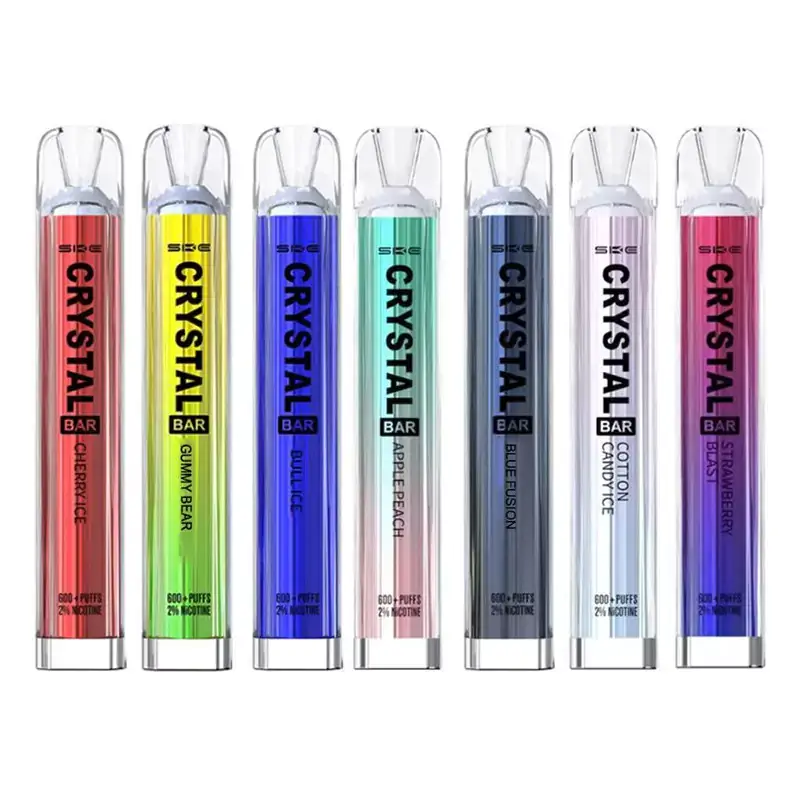 The Crystal Bar series offers more than 35 flavors, and the device has a long-lasting 500mAh battery that guarantees up to 600 fulfilling puffs. Initially launched in 20mg nicotine strength, the brand has been responsive to consumer demands by releasing a 0mg version.
The features don't just stop at aesthetics and flavor variety. These devices come pre-filled with 2ml of 20mg nicotine salt e-liquid, ensuring each puff is as satisfying as the last. The unique mesh coil mechanism is specifically built for the Crystal Bar, enhancing the flavor and cloud production to new heights. Furthermore, it's incredibly compact and portable, making it the ideal companion for vaping on the move.
4.EscoBar Mesh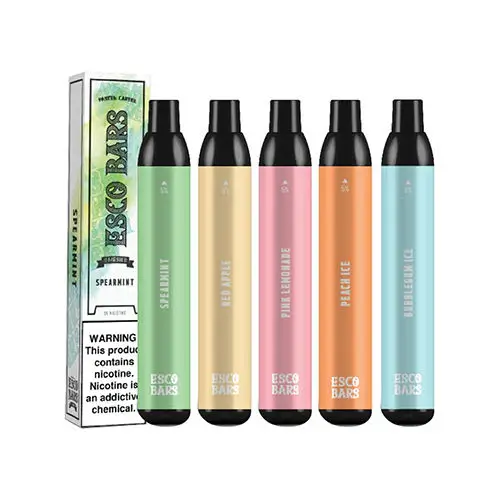 The EscoBar Mesh by Pastel Cartel is a standout in the disposable vape category, particularly for its longevity and lower nicotine content. Its sleek, cigar-like design gives it a mature, stylish aesthetic that I personally found appealing. Unlike other disposable vapes, it's built to last with a leak-proof design and a 1000mAh battery that pumps out up to 2500 puffs. The device's mesh coil technology ensures a consistent and enhanced flavor experience that's downright impressive.
However, if you're someone who likes to fiddle with airflow settings, you might be a tad disappointed, as the device doesn't offer that option.
What really sets the EscoBar Mesh apart is its moderate 3% nicotine level, which offers a pleasant middle ground between the more common 5% and 0% options. This makes it an ideal choice for vapers who want to lower their nicotine intake without sacrificing performance or flavor. During our testing, a single EscoBar lasted between 3-4 days of regular use, showing it's not just a pretty face but a long-lasting device that you can rely on. With a variety of flavors available, from the fruity Rainbow to the tantalizing Watermelon Ice, this vape ensures that every puff is a delight.
5.Cloud Nurdz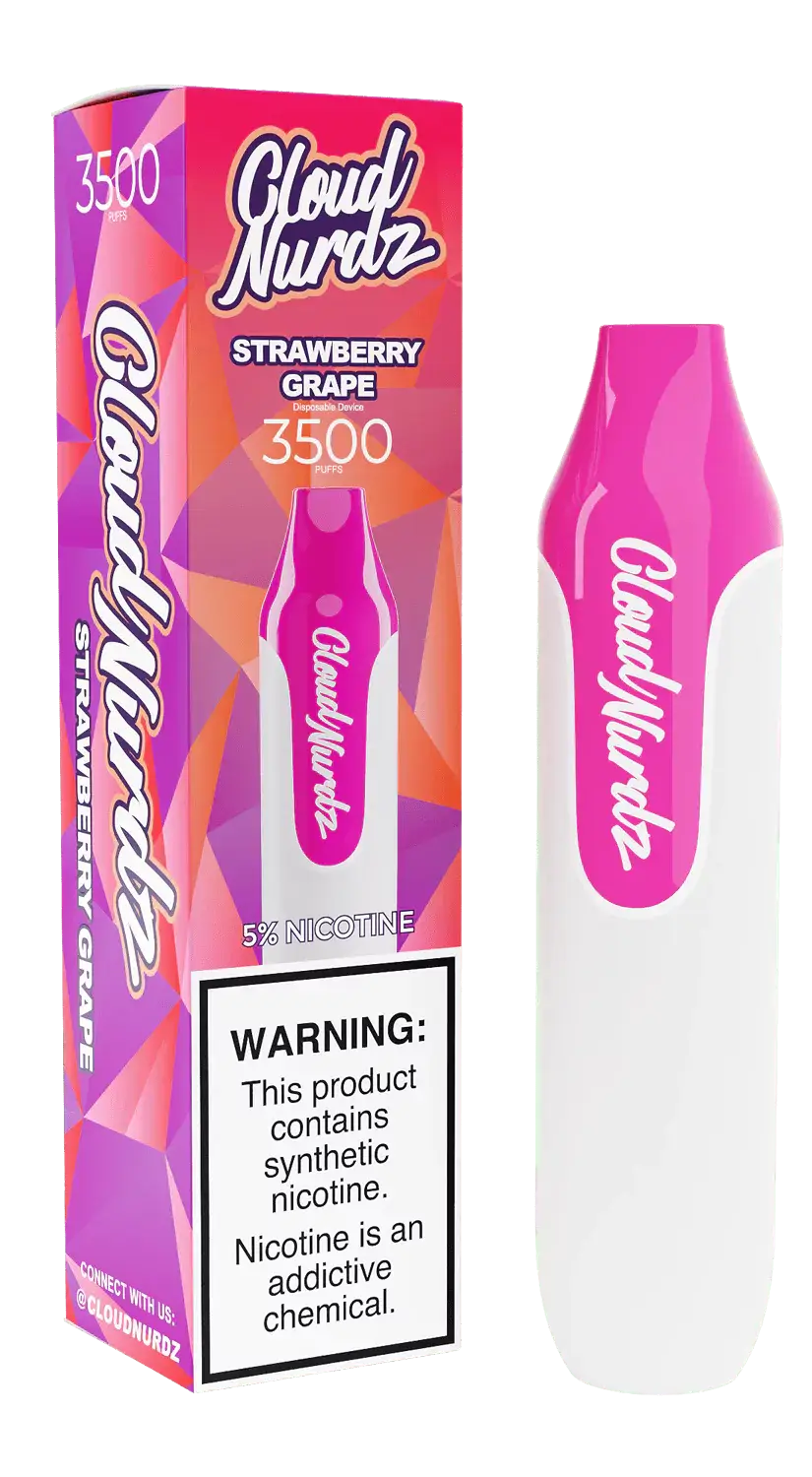 Cloud Nurdz's disposable vape is a dream come true for vapers who enjoy candy-flavored experiences. As someone who appreciates the smaller things in life, I can't get over how portable and sleek this device is. Not only is it a visually appealing piece, but it's also built with a considerable 10ml vape juice capacity and an integrated Type C charging port. That means up to 3500 puffs per device! And let's talk about those flavors: Watermelon Berry, Apple Grape, Melon Kiwi, and Blue Raspberry Peach — all delivered via a mesh coil for consistent, full-bodied flavor from start to finish.
While it's almost perfect, the lack of airflow controls could be a minor drawback for some. However, given its other features, this is easy to overlook.
Having been a fan of candy-flavored vape juices, I can attest that the brand's collection offers a complex yet uncomplicated experience. Each flavor is an expertly blended two-flavor mix that defies the typical pitfalls of clashing or overpowering notes. Even in a crowded market, Cloud Nurdz stands out. The brand's dedication to creating a superior vaping experience is evident, making it a go-to for anyone who seeks a discreet yet flavorful vaping experience.
6.Riot Bar Disposables
When you think of vaping, you don't often associate it with being eco-friendly. Riot Bar Disposables challenge that notion head-on. Created by the UK brand Riot Squad, these vapes are not only high-quality but also kind to the environment. They are carbon negative and made from bioplastics, which is a win-win situation for the vaper and Mother Earth.
The Flavors: Sweet, Fruity, and Eco-Conscious
As a sucker for fruity and sweet profiles, Riot Bar Disposables don't disappoint. With options like Cherry Fizz and Blue Burst 0mg, you're in for a treat. Cherry Fizz offers a whimsical dance of sweet and fizzy-tasting cherry sherbet, while Blue Burst combines blue raspberry and cool menthol for a balanced vape. Not to forget the zero-nicotine option of Strawberry Blueberry Ice, which is a berry bonanza with a frosty finish.
With a pre-charged, non-rechargeable 500mAh battery, you can enjoy up to 600 puffs without any hassle. The auto-draw feature ensures there are no complicated buttons to figure out. Plus, the vape juice is UK-made and contains either 10mg or 20mg of super smooth nicotine salts. For those who prefer just the flavor, there's a 0mg option as well.
7.E.B Design (Elf Bar) TE6000 Disposable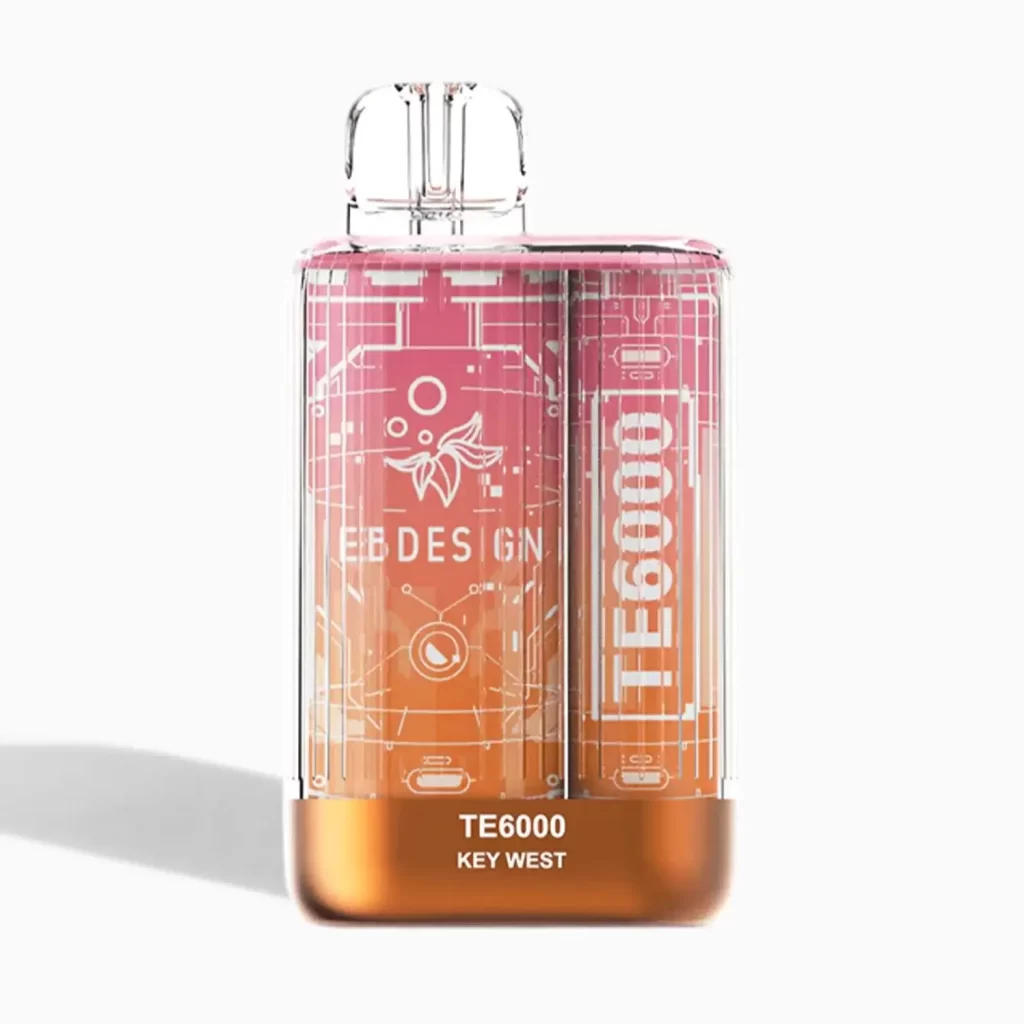 The TE6000's nicotine level is at 4%, slightly lower than the standard 5% found in most disposables. This nuance caters to users like myself who prefer a milder yet still gratifying nicotine hit.
This isn't just a pretty face; it's a device that delivers. One of its standout features is the QUAQ Mesh coil design, ensuring that every draw gives you consistent and authentic flavors. And let's not overlook the safety features; it's equipped with overcharge and short-circuit protection for that extra peace of mind.
What I absolutely adore about the TE6000 is its robust 550mAh battery, which guarantees up to 6000 puffs. When it's time to recharge, the Type-C charging port comes into play, making the process quick and efficient.
8.Cube Zero Disposables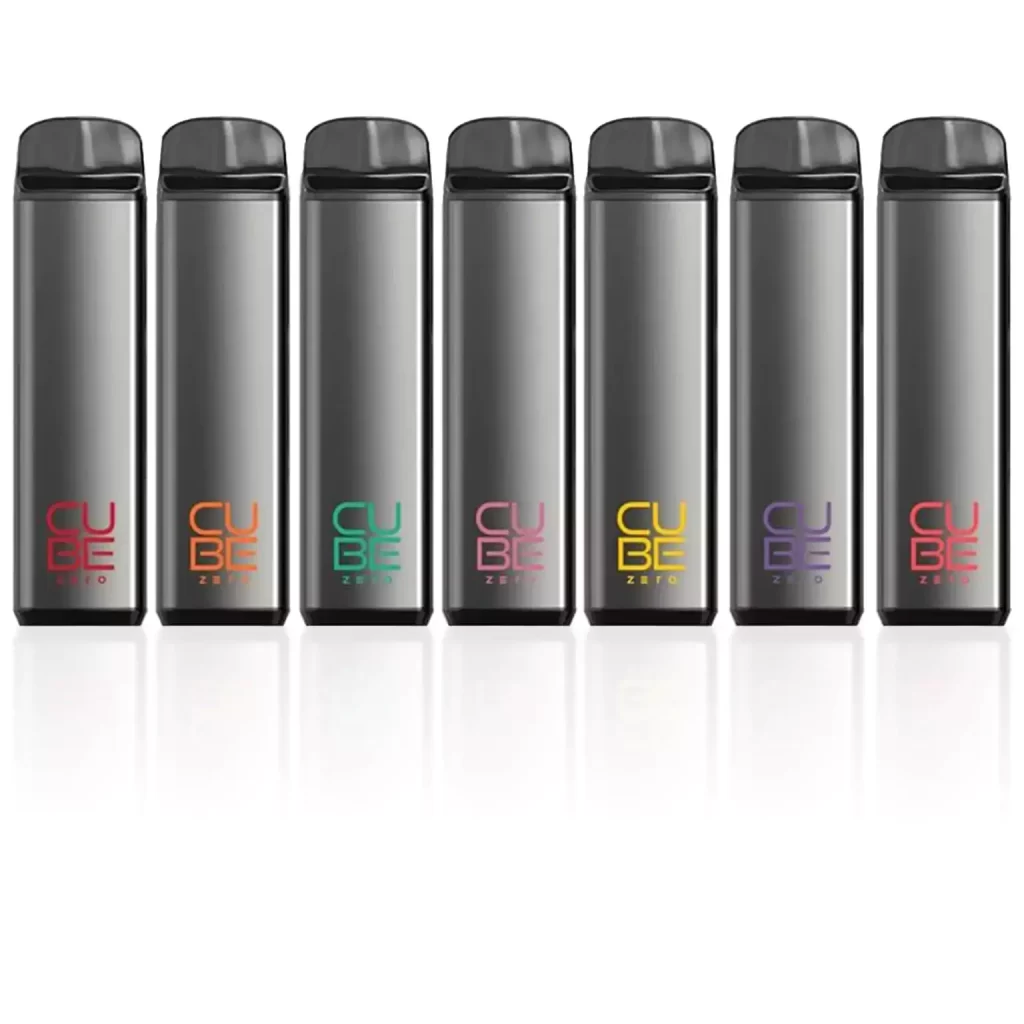 Cube Zero Disposables offer an array of unique flavors that can satisfy virtually any palate. From the fruity burst of Strawnana and Wild Berry to the refreshing coolness of Summer Menthol, the Cube Zero lineup ensures that vapers like me have ample choices. What caught my attention was the Mango Colada, a unique blend that marries tropical flair with a dash of creaminess.
What makes the Cube Zero particularly interesting is its nicotine-free formulation. This sets it apart as an excellent choice for those of us looking to steer clear of nicotine altogether.
With 11ml of vape juice, the Cube Zero stands as one of the longest-lasting disposables I've ever tried. Offering approximately 3000 puffs, this disposable vape is designed to last, making it ideal for those who don't want to bother with frequent refills or recharges.
Another feature that sets the Cube Zero apart is its adjustable airflow. This means you can tailor each puff to your liking, whether you prefer mouth-to-lung hits or direct-to-lung inhales.
9.Zaero Disposables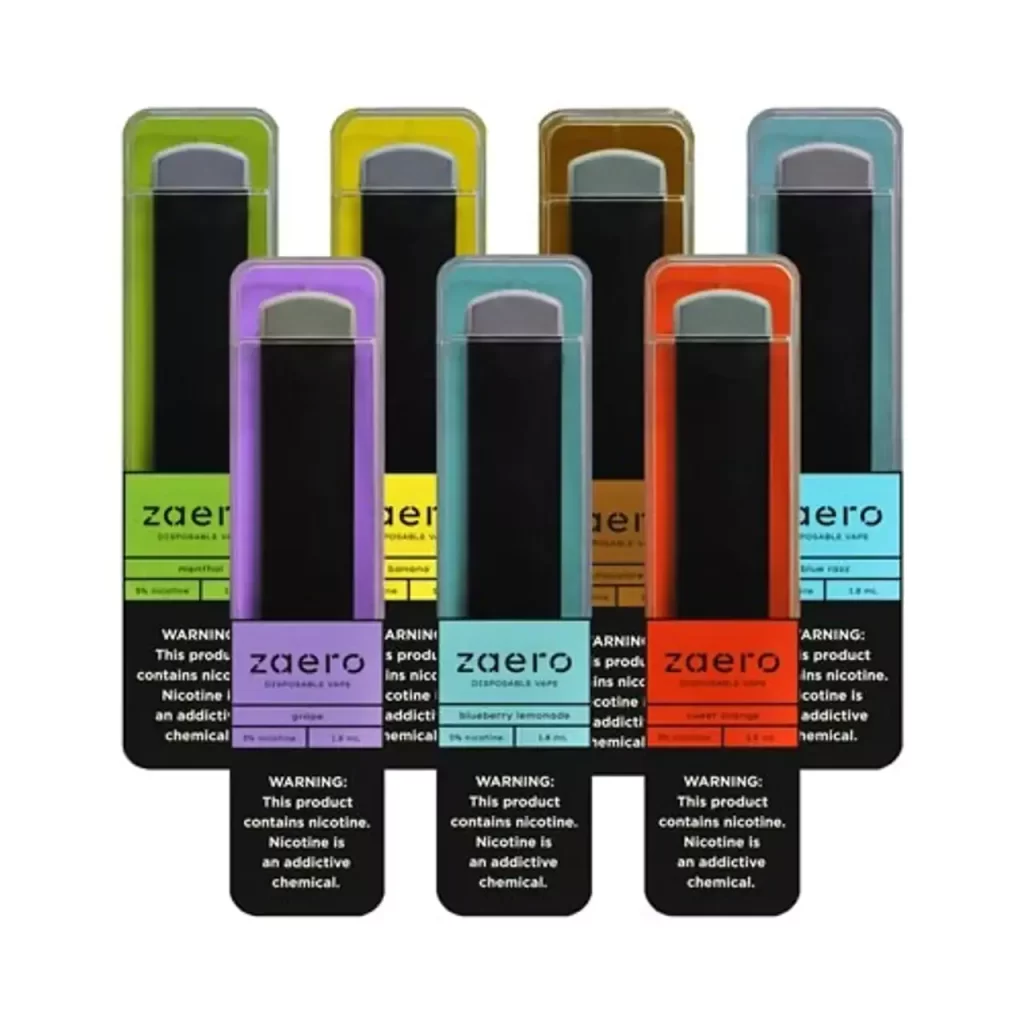 One thing I adore about Zaero disposables is their wide array of nicotine strengths. With options ranging from 0% to 5%, they offer something for everyone. Whether you're a newbie trying to transition away from smoking or a seasoned vaper wanting to cut back on nicotine, Zaero accommodates your needs. Their nic salt formulas, at 1.8%, 3%, and 5%, ensure that each hit is as smooth as it is satisfying.
When I first held the Zaero, its all-black exterior and sleek, metallic frame caught my eye. Perfect for stealth vaping, it's incredibly compact at just under 4 inches in length and just over a half-inch wide. The rounded mouthpiece adds to its comfortable, high-quality feel, clearly setting it apart from the flimsy, plastic disposables flooding the market.
Flavor-wise, Zaero doesn't disappoint. Blueberry Lemonade and Grape are among my personal favorites. However, I must note that some flavors can be a bit hit or miss, but with nine to choose from, you're likely to find your perfect match.
Although its 280mAh battery may seem small compared to other disposables, Zaero impressively balances it with a 1.8ml e-juice capacity to ensure the juice runs dry before the battery does. However, it's a bit disappointing that it can't be recharged, and the battery life is, frankly, mediocre for regular use.
10.Elux Legend 3500 0mg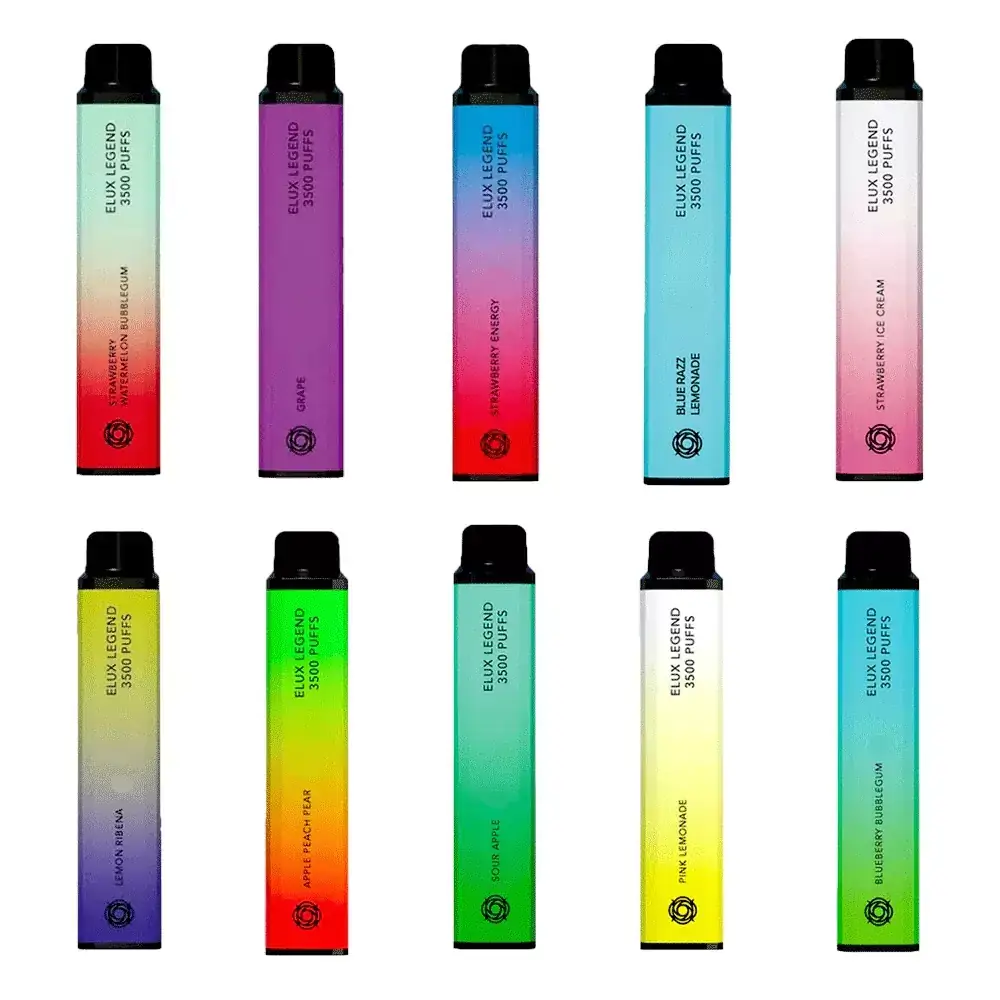 Boasting a 0mg nicotine level, this device offers an array of scrumptious flavors that cater to all palates
Its slim, pocket-friendly design is something I appreciate for on-the-go vaping. Its 1500mAh built-in battery, along with its 2ml e-liquid capacity, ensures that you get up to 3500 puffs. This means fewer worries about running out of juice or battery mid-day.
The Elux Legend excels in delivering satisfying mouth-to-lung hits, mimicking the feel of a traditional cigarette. It offers a straightforward, inhale-to-activate mechanism, making it incredibly user-friendly, especially for vaping newcomers.
No refilling, no charging, no fuss. This is as low-maintenance as it gets, which is perfect for those of us who want to enjoy vaping without the intricacies of tweaking settings or maintaining a device.