The vaping world is awash with a plethora of flavors that help you enjoy a mood-enhancing blend to your liking, but there's something uniquely enticing about mango vapes. These tropical treats have captured the essence of succulent mangoes, transporting you to a sunny paradise with each puff. If you're a fan of this heavenly fruit, here are the top 10 mango vapes that you must try.
Top 10 Mango Vapes
1.Pineapple Peach Mango Disposable Vape by Elf Bar 600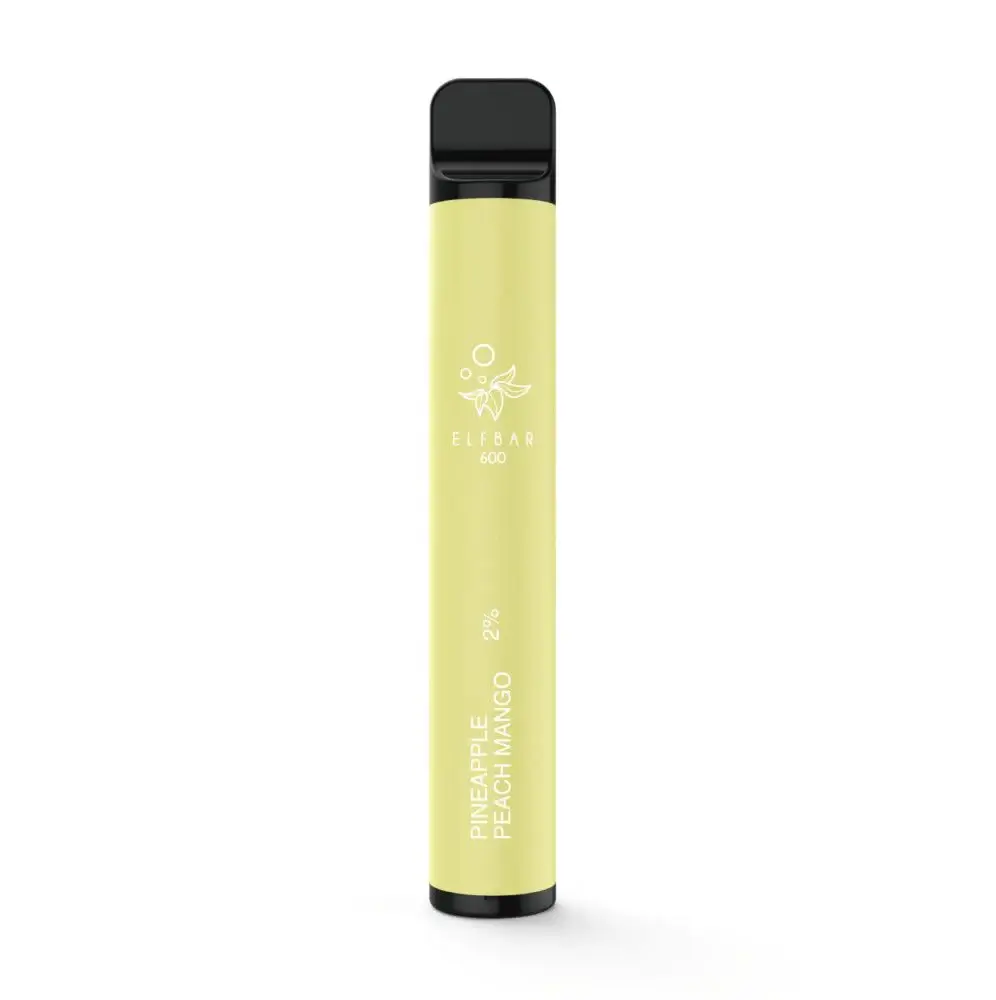 Features
Compact Disposable Kit
Beginner-Friendly
600 Puffs Per Bar
Inhale Activated
10mg Or 20mg Nic Salt
Smooth Throat Hit
If you've ever fantasized about a tropical escape, the Elf Bar 600 Pineapple Peach Mango Disposable Vape brings that dream straight to your lips. Picture this: each inhale is like biting into a fresh pineapple, its zesty tang dancing across your tongue. As you savor that initial burst, the delicate sweetness of ripe peach follows, smoothing out the experience with its velvety richness. And just when you think you've reached the crescendo, a wave of mango sweeps in, adding its luscious, sun-soaked essence to this exotic fruit medley.
But the beauty of this vape doesn't stop at the flavors. Engineered for simplicity, the Elf Bar 600 is a godsend for those who want to vape without the fuss. With its pre-filled 2ml nicotine salt e-liquid and powerful 550mAh battery, this compact device delivers between 500 to 600 satisfying puffs. The inhale activation feature frees you from fumbling with buttons, making it a straightforward experience from the first puff to the last.
2.Triple Mango Disposable Vape by Lost Mary BM600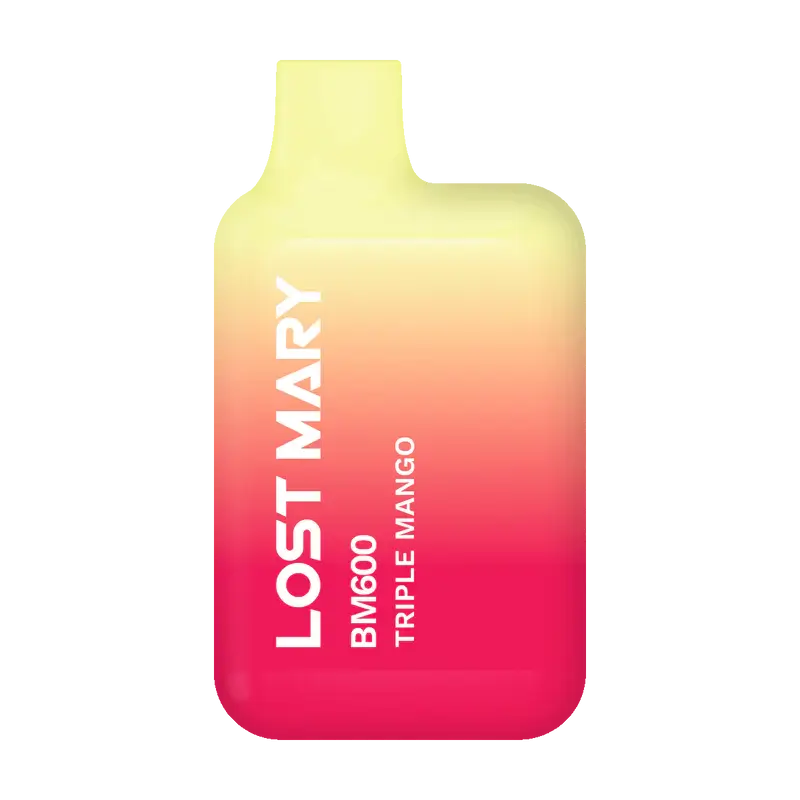 Features
Beginner-Friendly Disposable Vape
600 Puffs – Outlasts 20 Cigarettes
Inhale Activated
Range Of Flavours
20mg Nic Salt or 0mg Nicotine-Free
2ml E-Liquid
The Triple Mango Disposable Vape by Lost Mary BM600 is an ode to the king of tropical fruits: the mango. When you take that first inhale, it's as if you've bitten into a perfectly ripe mango—juicy, sweet, and with just the right amount of tang. But this vape doesn't stop at mere imitation; it elevates the mango experience by adding a refreshing icy exhale, transforming a simple fruit flavor into a well-rounded, luxurious vaping experience.
Crafted to perfection, the Lost Mary BM600 doesn't compromise on the quality of its flavors. From the first puff to the last, you're enveloped in layers of rich mango goodness, each layer heightened by a cool, icy finish. It's not just a vape; it's a flavor journey that takes you through the depths of mango nirvana.
But let's not overlook the device itself. Compact and elegantly designed, this disposable vape offers approximately 600 puffs, all of them saturated with 20mg of nicotine for that satisfying hit. Easy to use, beautifully packaged, and filled with the essence of tropical paradise, it's the perfect companion for any mango aficionado.
3.Vaporesso Lush Ice——The Ultimate Summer Vape Experience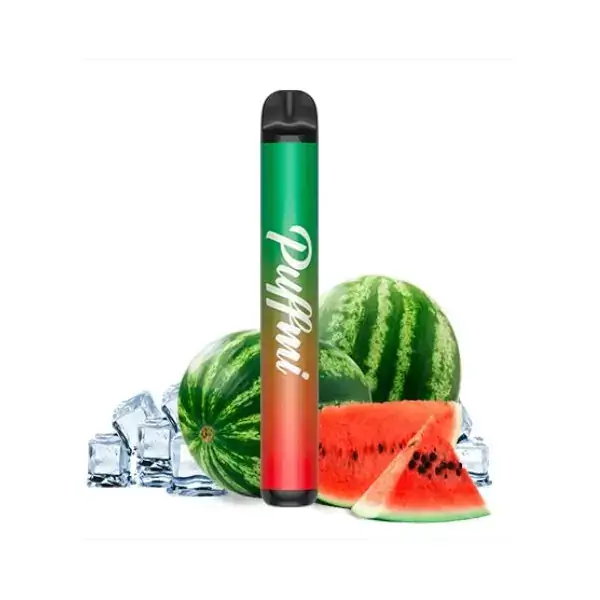 Features
E-liquid Capacity: 5.5ml Pre-filled E-liquid
Lifespan: 2000 Puffs
Nicotine Concentration: 20mg/50mg
Battery Capacity: 850mAh Built-in Battery
Activated Way: Draw-activated
When the heat of summer hits, there's nothing like a cool, refreshing vape to take the edge off, and Vaporesso Lush Ice delivers on that front in spades. This unique vape juice is a perfect blend of tropical mango, juicy watermelon, and a hint of menthol to add that icy kick.
Starting with the mango, Vaporesso Lush Ice offers an authentic, ripened mango taste that is both sweet and slightly tart, capturing the tropical essence beautifully. Next comes the watermelon, adding a layer of refreshing juiciness that's synonymous with summer. This watermelon flavor is so crisp, it feels like you're biting into a freshly cut slice.
But what sets this vape juice apart is the menthol finish. Just when you think the experience is complete, in comes a cooling sensation that invigorates your senses. The menthol doesn't overpower; instead, it enhances the fruitiness, making Vaporesso Lush Ice an ideal choice for hot summer days or whenever you need a burst of chilling refreshment.
4.Geek Bar Mango Ice Disposable Vape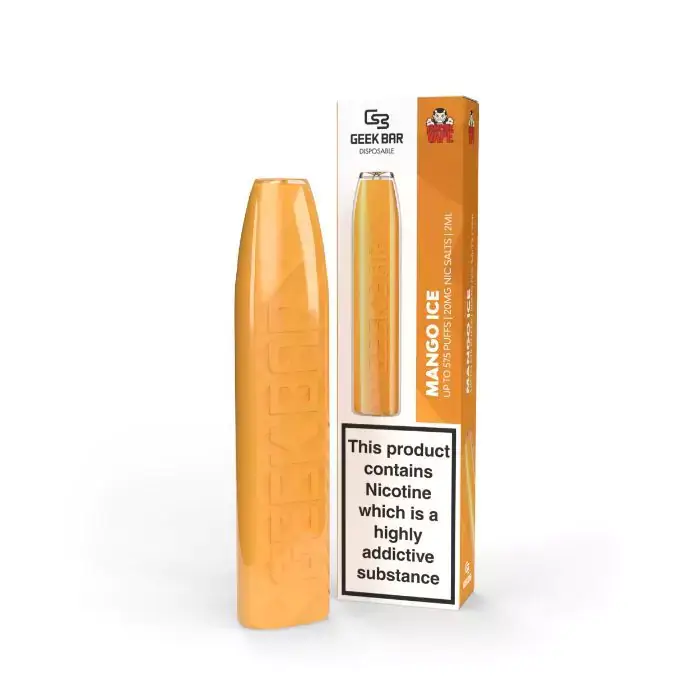 Features
Beginner-Friendly Disposable Vape
575 Puffs – Outlasts 20 Cigarettes
Inhale Activated
Range Of Flavours
10mg & 20mg Nic Salt
2ml E-Liquid
The Geek Bar Mango Ice Disposable Vape is where convenience meets flavor. This device is a stellar collaboration between GeekVape, a global leader in all-in-one disposable vapes, and Vampire Vape, the UK's top e-liquid manufacturer. The result? A perfect vaping experience that's as straightforward as it is delicious.
This no-fuss, no-muss vape device is all about easy vaping. With no buttons to press, settings to fiddle with, or need for refills or recharges, it's the epitome of plug-and-play. The built-in 500mAh battery is designed to deliver approximately 550 puffs, making it a great choice for those new to vaping or for anyone who wants a straightforward vaping experience.
But the star of the show here is the flavor. Pre-filled with Vampire Vape's legendary Mango Ice e-liquid, every puff offers a burst of ripe, succulent mango elevated by a touch of refreshing menthol. It's a tropical escape in every inhale and a cool breeze on every exhale.
5.Pineapple Mango Lost Mary OS5000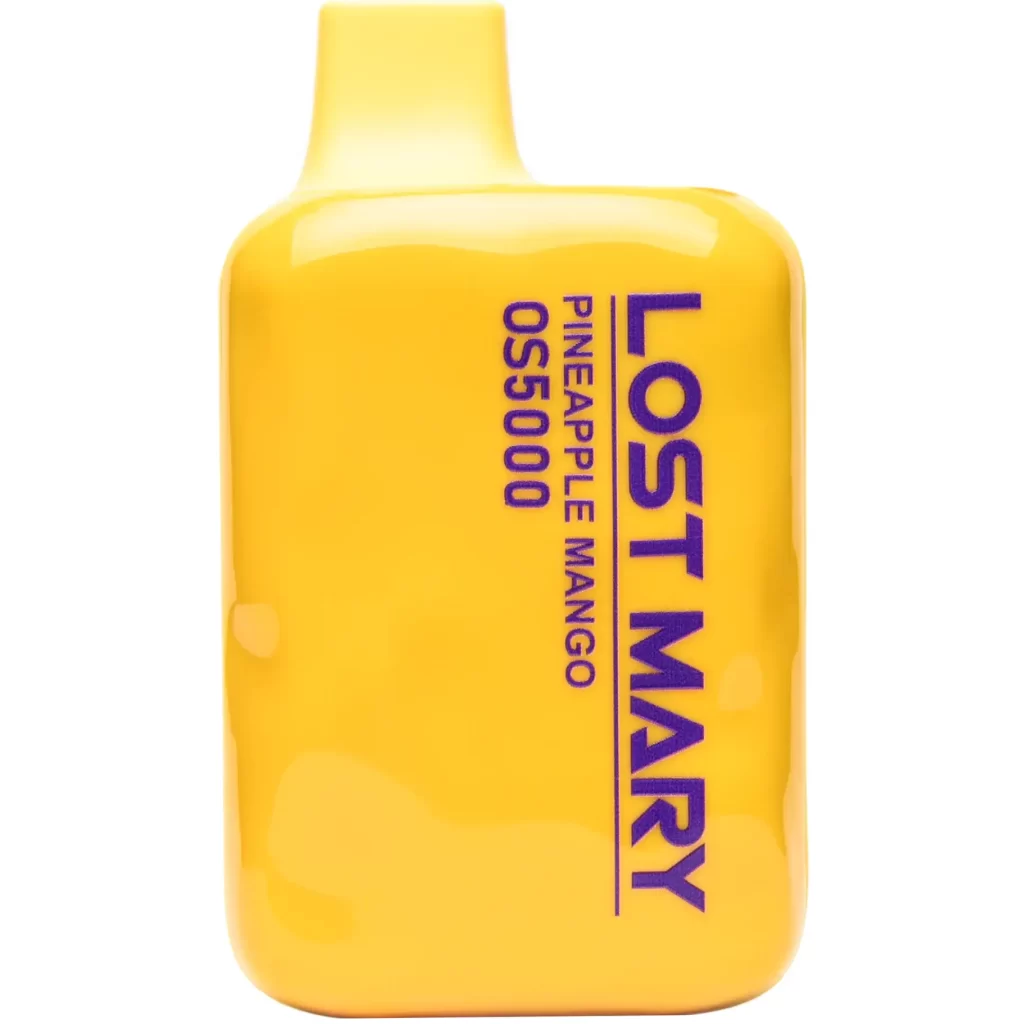 Features
E-liquid contents: 10ml
Nicotine Level: 40mg
Coil: Mesh Coil
Puffs per Device: +5000
Battery: 650mAh, rechargeable via USB-C
The Pineapple Mango Lost Mary OS5000 elevates the vaping experience by combining the tropical sweetness of pineapple and the smooth richness of mango into one harmonious blend. Born from a collaboration with Elf Bar, this device is akin to the popular ElfBar BC5000 but with some noteworthy distinctions. The Lost Mary OS5000 is slightly larger, and uniquely features its charging port on the top, adding a touch of convenience to the overall design.
The device boasts a sturdy 650mAh battery, rechargeable via USB-C, ensuring you're never left high and dry. The flavor is the real standout, offering a satisfying journey from the first puff to the last. You'll be greeted with the fresh sweetness of pineapple that seamlessly transitions to a luscious mango undertone, each flavor amplifying the other in a delightful dance on your palate. Whether you're a pineapple ice enthusiast or a mango ice aficionado, this vape offers the best of both worlds, wrapped in a refreshingly chilled finish.
6.Peach Mango Watermelon Orion Bar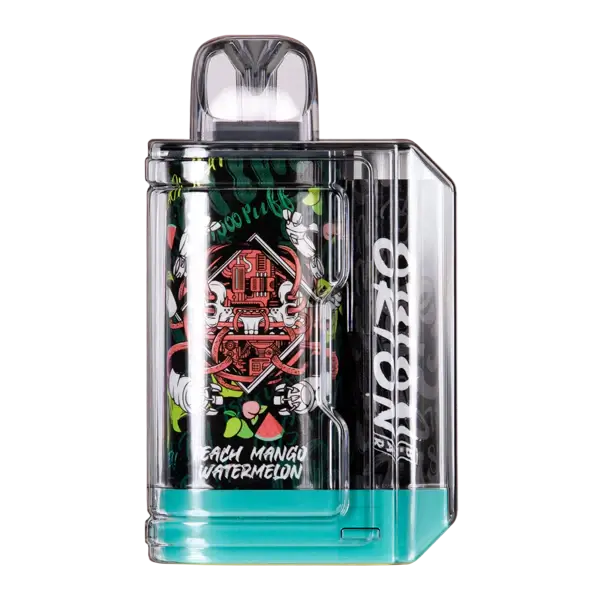 Features
Flavor: The Peach Mango Watermelon Orion Bar vape blends a ripe peach with a sweet mango and watermelon mix.
E-liquid contents: 18ml
Nicotine Level: 50mg
Puffs per Device: +7500
Battery: 650mAh (Rechargeable via USB-C)
The allure starts with the peach, so luscious it dances on your palate, setting the stage for what's next. As you delve deeper into this vaping journey, mango makes its grand entrance. The tropical tang transports you to faraway beaches, where the sun kisses the ocean and palm trees sway in the breeze. Just when you think it can't get any better, watermelon comes into play. It's not merely an afterthought but a refreshing conclusion to a symphony of flavors, each note perfectly balanced to offer a mouthful of paradise.
Convenience is another hallmark of this disposable vape. Forget fumbling with refills or carrying bulky equipment; this sleek device fits right into your pocket, always at the ready for your next vaping session. Whether you're navigating the daily grind or exploring the great outdoors, the Orion Bar 7500 is your effortless ticket to vaping satisfaction.
7.Fizzy Juice Tropical Cocktail Disposable Vape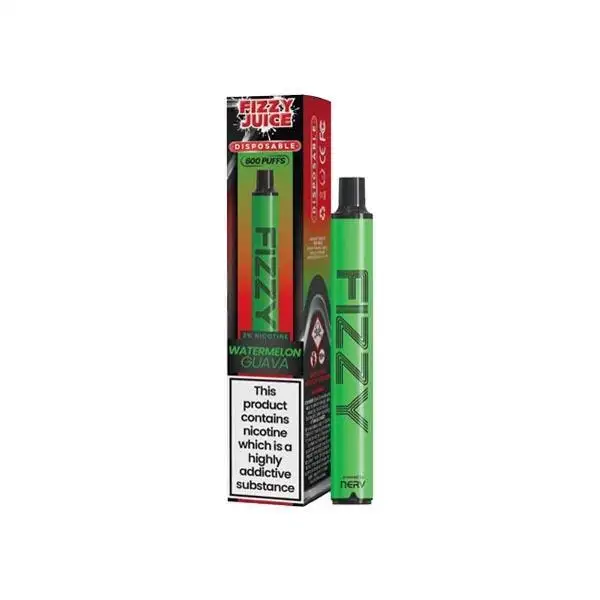 Features
Puffs: Up to 600
Battery: Integrated 550mAh Battery
Vaping Style: Mouth to Lung
Contains: 2ml Nicotine Salt E Liquid
Nicotine Strength 20mg
Controls: Draw Activated
Step into a world of mystery and delightful complexity with Fizzy Juice's Tropical Cocktail Disposable Vape. The name alone is an invitation to let your imagination roam free. Picture yourself on an idyllic island, the sky painted with shades of sunset, your lips sipping on a cocktail that's both sophisticated and refreshing.
This vape is like that cocktail—complex, hard to pinpoint but absolutely rewarding. Though Fizzy Juice keeps the exact blend under wraps, the medley of tropical flavors like lychee and mango tantalizes the palate, leaving you guessing and wanting more with each puff.
The device itself mirrors the quality of the experience. Boasting a sleek metal body coated with rubber paint, it's as much a pleasure to hold as it is to vape. And with its FDA-certified food-grade materials, you can be confident that you're vaping safely.
Designed for the modern vaper, this Fizzy Juice Disposable Vape offers the convenience of portability without sacrificing flavor complexity. With about 600 puffs of 20mg nicotine salt e-liquid, this is a no-fuss, draw-activated device, ready to elevate your vaping experience straight out of the box. Whether you're an adventurous flavor chaser or a newbie eager to explore, this tropical cocktail blend is a gamble worth taking.
8.Geek Bar Green Mango Disposable Vape
Features
500mAh battery.
2ml e-liquid capacity.
~500 puffs – equivalent to around 40 cigarettes.
Draw activated.
20mg (2%) Salt Nicotine strength.
Ready to Vape.
This device perfectly encapsulates the tart and invigorating flavor of green mangoes, transporting your senses to a sun-soaked beach with every puff.
The device itself is designed for convenience and quality. The Geek Bar's 500mAh battery and 2ml pre-filled tank provide roughly 575 puffs, equivalent to about 40 cigarettes—ensuring you get the most out of every charge. With a 20mg salt nicotine concentration, it offers a potent and satisfying nicotine hit tailored for MTL (Mouth To Lung) vaping.
What sets this apart is its no-fuss design. No buttons, no settings, just effortless vaping. The auto-draw feature mimics the experience of smoking a cigarette, making it an excellent choice for newcomers to vaping or anyone who appreciates simplicity and portability.
This vape device isn't just convenient; it's also stylish. Its colorful, crystal-like finish adds a touch of sophistication, while the 50/50 VG and PG blend promises a balanced and flavorful vape experience.
9.Dinner Lady Vape Pen 400 Puffs Mango Ice Disposable Vape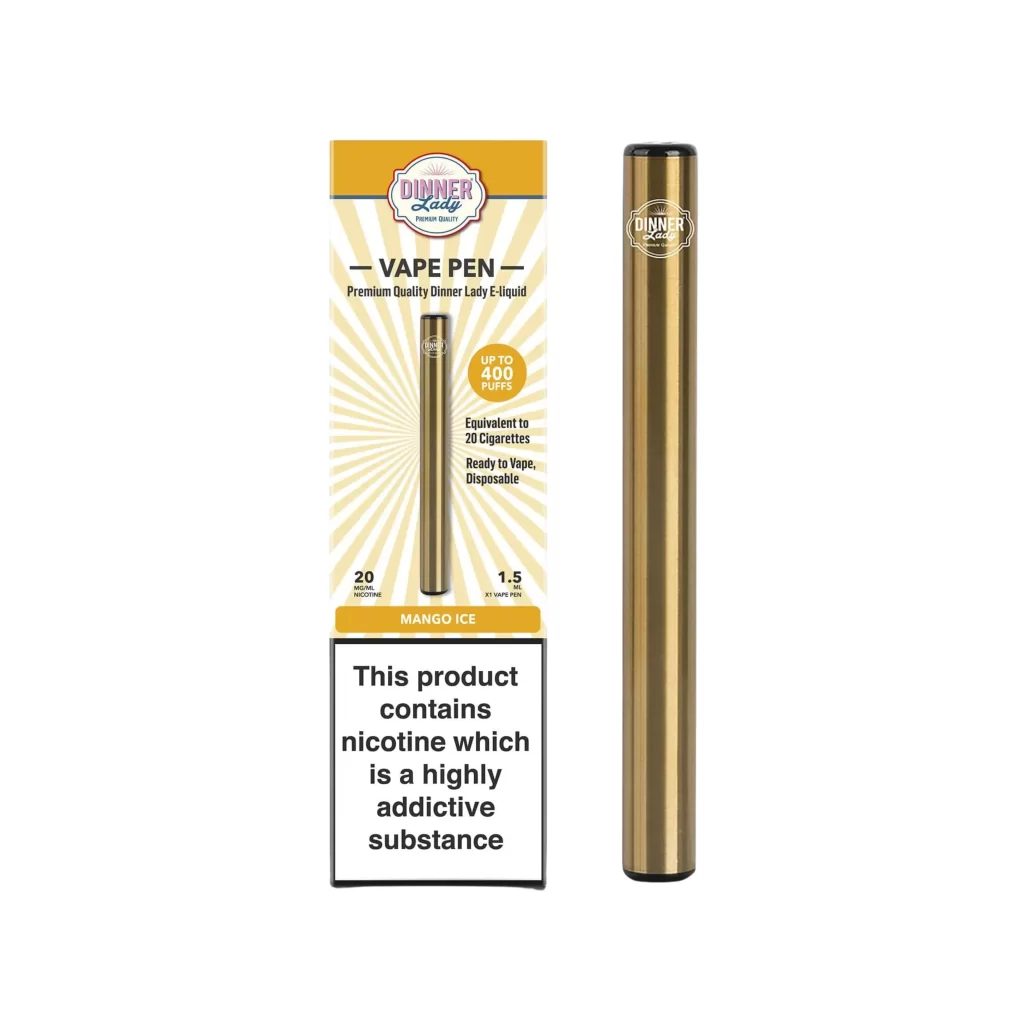 Features
Disposable Pen-Style Vape
Beginner-Friendly
Inhale Activated
400 Puffs
Outlasts 20 Cigarettes
20mg Nic Salt
When it comes to portable vaping with a touch of luxury, the Dinner Lady Vape Pen in Mango Ice delivers. Housed in a premium stainless-steel casing that mimics the form factor of a traditional cigarette, this disposable vape offers a level of elegance along with functionality.
You're in for a treat with up to 400 puffs, which is akin to smoking 20 cigarettes. But what truly captivates is the exquisite blend of flavors. The device comes pre-filled with 1.5ml of 20mg nicotine salts, offering a potent and satisfying nicotine hit. The mango flavor bursts onto your palate, dripping with tropical sweetness, and just when you think it can't get better, a wave of icy koolada sweeps in for a refreshing exhale.
With its blend of Ice & Cool and Mango flavors, the Dinner Lady Vape Pen in Mango Ice is a harmonious marriage of fruit and chill, and a perfect on-the-go vaping companion.
10.IVG Bar Plus Mango Lychee Disposable Vape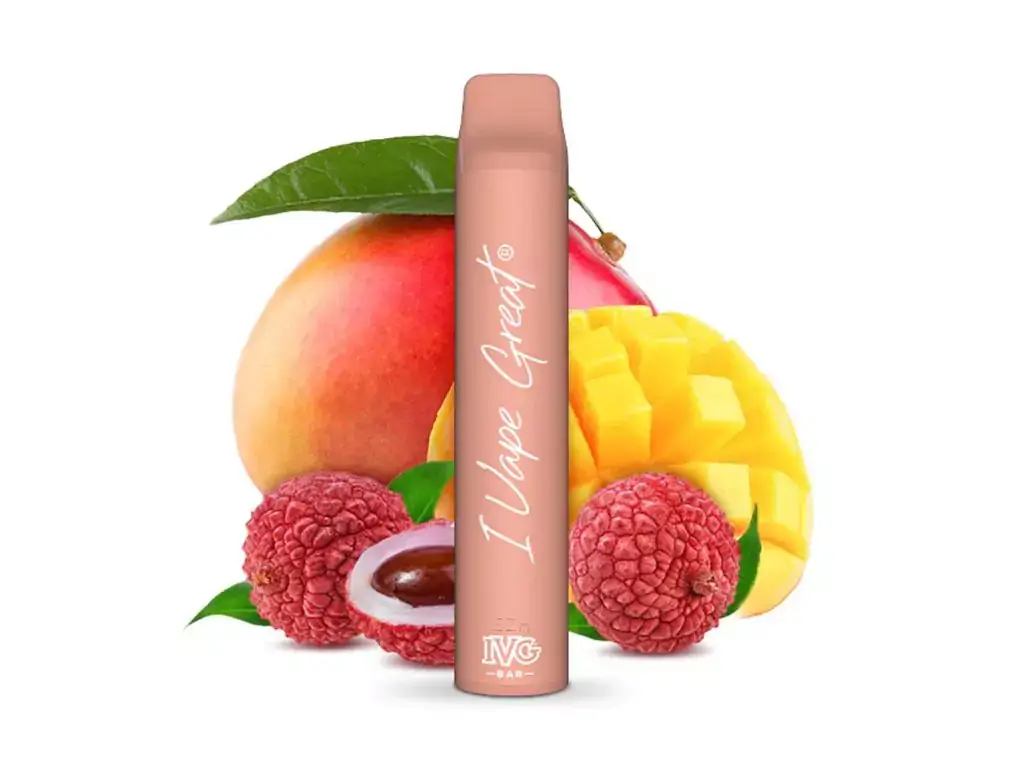 Features
600 Puff Disposable Vape
Beginner-Friendly
Zero-Maintenance
Inhale Activated
20mg Nic Salt
For those seeking a vaping experience that perfectly mimics the nuanced flavors of the tropics, the IVG Bar Plus Mango Lychee Disposable Vape is a dream come true. This elegant device is engineered with nic salt e-liquid, delivering a satisfying yet smooth throat hit despite its potent 20mg strength. The real stars of the show, however, are the flavors of mango and lychee, which dance together in a harmonious blend that promises a juicy, sweet vape with every puff.
The delicate notes of lychee are beautifully balanced by the robust and exotic mango flavors, offering a delightful contrast that makes each puff an adventure. This isn't just about flavors, though. The device is designed to feel like a cigarette, producing a limited amount of vapor for an authentic MTL (Mouth To Lung) experience. With inhale activation and no buttons to fiddle with, the IVG Plus Bar is incredibly user-friendly. If you've never vaped before, this device makes for an easy entry point into the world of vaping.
Adding to its appeal is its pocket-friendly design, allowing you to take this tropical paradise with you wherever you go. The IVG Bar Plus Mango Lychee offers about 600 flavorful puffs, thanks to its 500mAh battery and 2ml e-liquid tank. Overall, it's a compelling package that combines ease of use, flavorful satisfaction, and portability into one. With its unique blend of juicy mango and sweet lychee, this vape promises not just a smoke, but an experience.