Vaping has become an increasingly popular alternative to traditional smoking, offering users a satisfying and convenient way to enjoy their favorite flavors without the harmful effects of tobacco. The Breeze Smoke brand has made waves in the vaping industry with its innovative and high-quality devices, and in this article, we'll take a closer look at two of their most sought-after products: the Breeze Vape Pro and the Breeze Pro Zero Nic. These disposable vapes are designed to provide a seamless vaping experience, whether you prefer the nicotine-infused version or a nicotine-free alternative.
Flavors: A World of Delightful Choices
Both the Breeze Vape Pro and Breeze Pro Zero Nic offer a wide array of delicious flavors that cater to diverse taste preferences. Let's explore the top flavors available for each version:
Breeze Vape Pro Flavors:
Anejo: A tropical fusion of exotic fruits with a hint of tangy sweetness, perfect for fruit enthusiasts.
Orange Mango Watermelon: A refreshing blend of juicy oranges, ripe mangoes, and luscious watermelon, ideal for those who enjoy a fruity vape.
Blueberry Mint: The perfect balance of succulent blueberries and cool mint, delivering a burst of freshness with every puff.
Pina Colada: Transport yourself to a tropical paradise with the classic combination of pineapple and coconut.
Cherry Lemon: Sweet cherries paired with zesty lemon create a delightful flavor fusion that tingles the taste buds.
Gum Mint: A nostalgic flavor that replicates the experience of chewing minty gum, leaving a crisp taste in the mouth.
Mint Breeze: Pure minty goodness, perfect for vapers who crave a cool and invigorating experience.
Strawberry Peach Mint: A harmonious blend of ripe strawberries, juicy peaches, and refreshing mint.
Cotton Candy: A trip down memory lane with the sugary sweetness of cotton candy in a vape.
Lemon Mint: Zingy lemons combined with the coolness of mint create a revitalizing vape experience.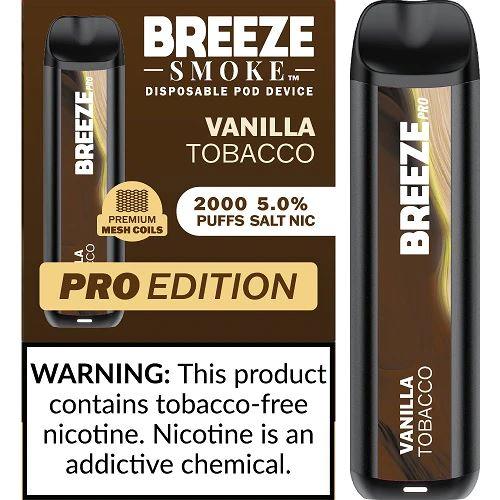 Breeze Pro Zero Nic Flavors:
Blueberry Mint: The same delightful combination of blueberries and mint, now available without nicotine.
Cherry Lemon: A nicotine-free version of the sweet cherry and zesty lemon blend for a guilt-free vaping experience.
Gum Mint: Enjoy the minty gum flavor without any nicotine content, perfect for a light and relaxing vape.
Lush Ice: A refreshing watermelon flavor with a cooling menthol twist, now nicotine-free for all-day enjoyment.
Menthol: Pure, icy menthol without nicotine for vapers who prefer a straightforward, minty experience.
Mint: The classic mint flavor without nicotine, provides a fresh and invigorating vape.
Tobacco: A nicotine-free alternative for those who appreciate the robust taste of traditional tobacco.
Price: Affordable Luxury
One of the major highlights of the Breeze Vape Pro and Breeze Pro Zero Nic is their affordability. The price point for these top-notch disposable vapes makes them accessible to a wide range of vapers, from beginners to seasoned enthusiasts.
The Breeze Vape Pro is available at approximately $13.99, providing an impressive 2000 puffs per device. With such an affordable price, vapers can indulge in high-quality vaping without breaking the bank.
The Breeze Pro Zero Nic comes at a slightly higher price of $15.99, considering its premium features, including the advanced Premium Mesh Coil and the option of enjoying 2000 puffs without any nicotine.
Features: A Vape Experience Like No Other
The Breeze Vape Pro and Breeze Pro Zero Nic come loaded with a host of features that elevate the vaping experience to a whole new level. Here are the key features for each version:
Breeze Vape Pro Features:
2000 Puffs per 1 disposable device: Vapers can enjoy an extended vaping session without worrying about recharging or refilling.
Fully charged: Ready to use straight out of the box, ensuring a hassle-free experience.
6ML Capacity liquid: A generous e-juice capacity that lasts throughout the device's lifespan.
5% Nicotine: For vapers who prefer a satisfying nicotine hit in their vape.
Battery: 1000 mAh: The long-lasting battery ensures that the device remains operational for the duration of the e-juice.
Breeze Pro Zero Nic Features:
2000 Puffs per device: Same as the Breeze Vape Pro, providing extended enjoyment without nicotine.
Zero Nicotine: Perfect for those looking to enjoy the flavors without any nicotine content.
6mL Vape Juice Capacity: A generous amount of e-juice to last throughout the device's usage.
1,000mAh internal battery: Ensures a reliable and powerful performance.
All-in-one system: A user-friendly design that requires no additional components or setup.
Fully Disposable: Convenience at its best; no need to worry about maintenance or cleaning.
Draw-activated firing mechanism: Simply inhale, and the device activates automatically, making vaping effortless.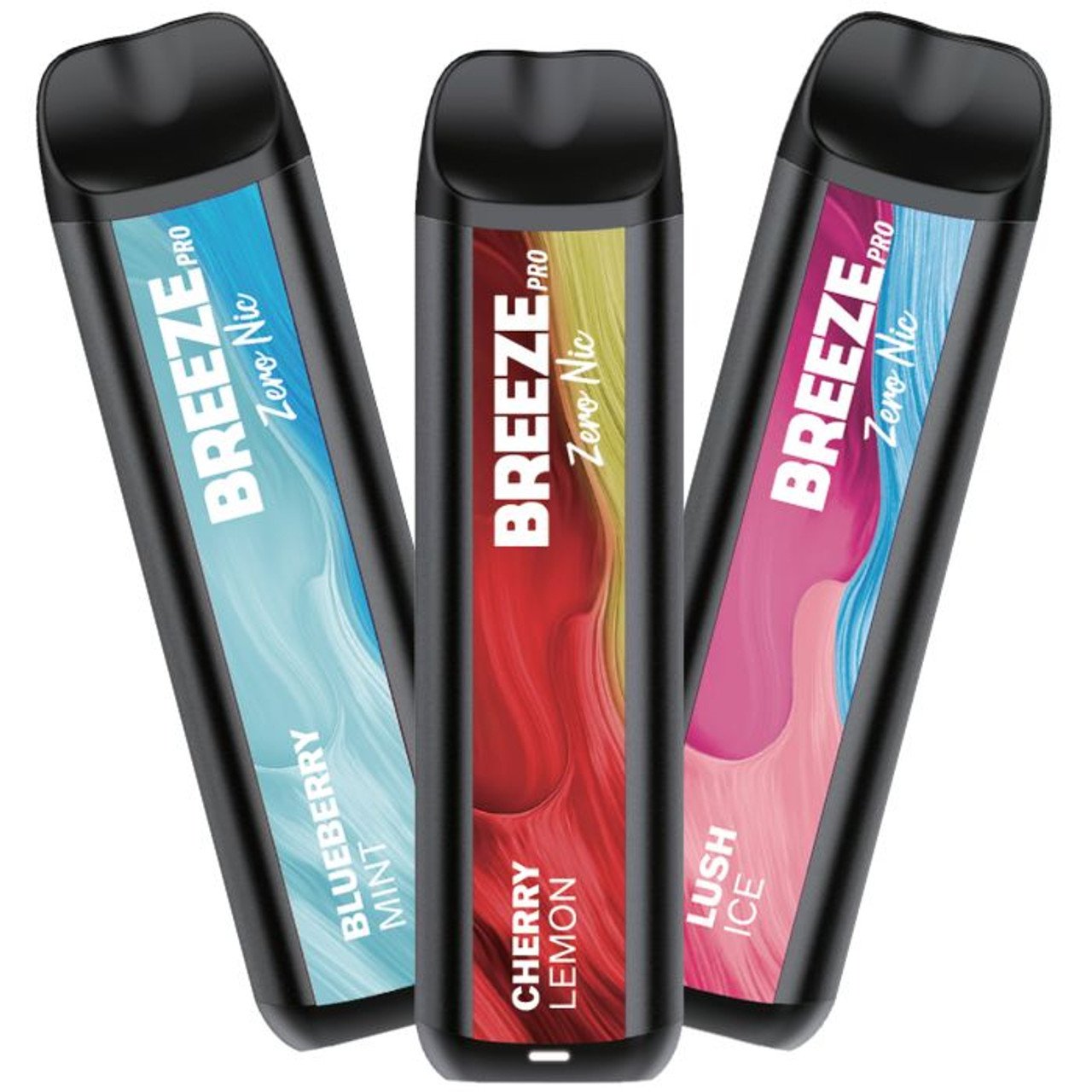 Customer Reviews: A Testimony to Excellence
The true testament of a product's quality lies in the experiences and feedback shared by its users. Both the Breeze Vape Pro and Breeze Pro Zero Nic have garnered praise from vapers worldwide for their performance, flavors, and affordability.
Vapers have lauded the Breeze Vape Pro for its smooth draw, satisfying nicotine hit, and wide selection of delectable flavors. Many have praised the device's compact size and lightweight design, making it the ideal choice for on-the-go vaping.
The Breeze Pro Zero Nic has also received glowing reviews, particularly from vapers who sought a nicotine-free vaping option without compromising on flavor or vapor production. The premium mesh coil and draw-activated firing mechanism have been commended for providing an unparalleled vaping experience.
FAQs: Addressing Common Inquiries
Q1: Are the Breeze Vape Pro and Breeze Pro Zero Nic truly disposable?
A: Yes, both devices are fully disposable, eliminating the need for maintenance or refilling. Once the e-juice is depleted or the battery runs out, simply dispose of the device responsibly.
Q2: How long will the Breeze Vape Pro last in terms of battery and e-juice?
A: The Breeze Vape Pro boasts an impressive 1000mAh battery, which is sufficient to last for approximately 2000 puffs. The 6mL e-juice capacity also ensures a long-lasting vape experience.
Q3: Can I expect the same flavor quality from the Breeze Pro Zero Nic?
A: Absolutely! Breeze Smoke takes great care to ensure that the flavors in the Breeze Pro Zero Nic are just as satisfying and true to taste as their nicotine-infused counterparts.
Q4: Is the Breeze Pro Zero Nic suitable for beginners?
A: Yes, the Breeze Pro Zero Nic is designed to be user-friendly and intuitive, making it an excellent choice for beginners who wish to explore vaping without nicotine.
Conclusion:
In conclusion, the Breeze Vape Pro and Breeze Pro Zero Nic are two outstanding disposable vapes that cater to the diverse preferences of vapers worldwide. With a plethora of mouth-watering flavors, affordable pricing, and a range of features, these devices deliver an unforgettable vaping experience. Whether you prefer the satisfaction of nicotine or a nicotine-free alternative, the Breeze Vape Pro and Breeze Pro Zero Nic have you covered. Embrace the world of delightful flavors and convenience with these exceptional devices from Breeze Smoke. Happy vaping!