In the fast-paced world of vaping, finding the perfect disposable vape device can be a daunting task. With so many options flooding the market, vapers often seek a powerful, reliable, and flavorful device that offers long-lasting performance. Look no further as we introduce the SKE Crystal Super Max 4500 disposable vape – the industry's most powerful and reliable device, tailored to meet all your vaping needs.
This revolutionary vape packs a whopping 4500 puffs of pure vaping bliss with its long-lasting battery, giving you hours of uninterrupted enjoyment. With its sleek design, advanced chipset, and innovative technology, this is the perfect choice for both new and experienced vapers alike. In this article, we will delve into the finer points of the SKE Crystal Super Max 4500, including its delightful flavors, competitive pricing, exciting features, rave customer reviews, and frequently asked questions.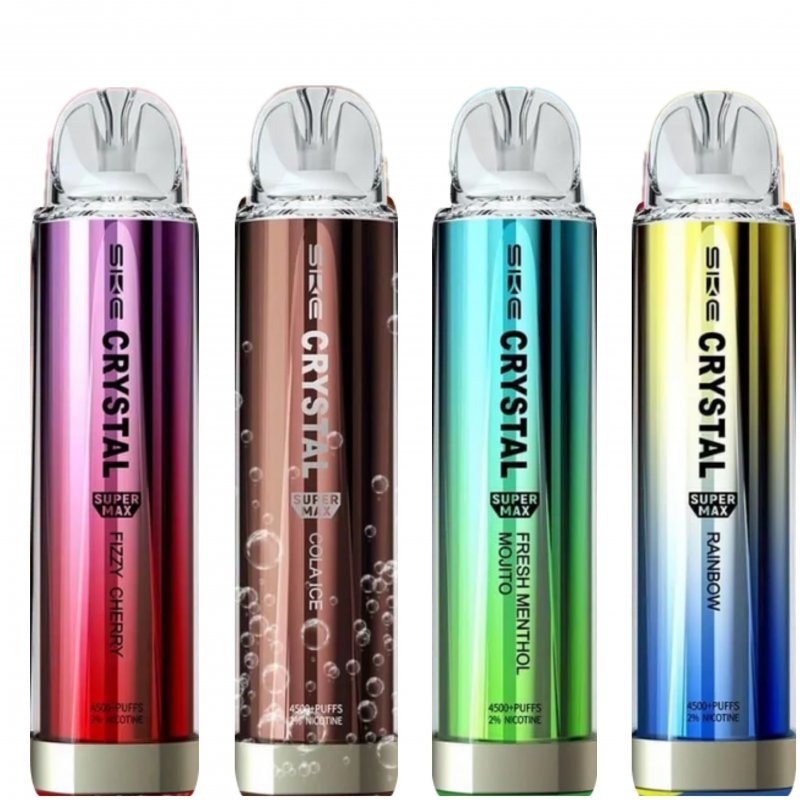 SKE Crystal Super Max 4500 Flavors: A Burst of Sensations
The flavor is at the heart of every vaping experience, and the SKE Crystal Super Max 4500 boasts an extensive range of fantastic flavors to choose from. Here are some of the tantalizing flavors available:
Blueberry Raspberries: A perfect blend of sweet blueberries and tangy raspberries, providing a delightful fruity fusion.
Blueberry Sour Raspberry: For those who crave a more intense tanginess, this flavor combines the sweetness of blueberries with the sourness of raspberries.
Blueberry Cherry Cranberry: A symphony of flavors with the sweetness of blueberries, the richness of cherries, and the tartness of cranberries.
Blue Razz Lemonade: A refreshing concoction of blue raspberries and zesty lemonade, ideal for hot summer days.
Blue Fusion: Experience the fusion of various blue fruits, resulting in a harmonious and captivating taste.
Cherry Ice: Cool off with this icy cherry flavor that leaves a lingering sweetness on your taste buds.
Cola Ice: A nostalgic flavor reminiscent of your favorite cola, enhanced with a cooling menthol twist.
Fizzy Cherry: Get a fizzy burst of cherry goodness that tickles your palate with effervescence.
Fresh Menthol Mojito: Enjoy the invigorating blend of mint, lime, and a hint of sweetness, inspired by the classic mojito cocktail.
Gummy Bear: Relish the taste of your favorite gummy bears in a vape form, bringing back memories of childhood.
Kiwi Passion Fruit Guava: Embark on a tropical journey with this tropical trifecta, combining kiwi, passion fruit, and guava.
Lemon & Lime: Experience the zesty freshness of lemon and lime, a tangy and revitalizing flavor.
My Blue: A mysterious blend of mixed berries, leaving vapers intrigued with each inhale.
Pink Lemonade: The perfect balance of sweet and tart, capturing the essence of pink lemonade.
Rainbow: A medley of fruity flavors, resembling a rainbow of taste sensations.
Strawberry Burst: Dive into the sweetness of ripe strawberries with each puff, a true burst of flavor.
Watermelon Ice: Juicy watermelon flavor infused with a chilling blast of icy menthol.
Pricing: Unbeatable Value for Money
When it comes to vaping devices, price is often a critical factor for vapers. The SKE Crystal Super Max 4500 strikes the perfect balance between quality and affordability. With prices ranging from £10.45 to £11.99, this disposable vape offers unbeatable value for money. Vapers can enjoy a premium vaping experience without breaking the bank.
Key Features: The Perfect Blend of Innovation and Functionality
The SKE Crystal Super Max 4500 is not just about flavors and affordability; it also boasts a host of impressive features that enhance the overall vaping experience. Let's take a closer look at the key features that make this disposable vape stand out from the crowd:
Flavored 20mg Nicotine Salt E-liquid: The SKE Crystal Super Max 4500 is powered by 20mg nicotine salt e-liquid, providing a smooth and satisfying nicotine delivery that closely mimics the sensation of smoking traditional cigarettes.
Draw Activated: This device is draw-activated, eliminating the need for buttons or complicated settings. Simply take a puff, and the device will automatically activate, making it user-friendly and hassle-free.
Ideal for Both New and Seasoned Vapers: Whether you're a vaping novice or a seasoned enthusiast, the SKE Crystal Super Max 4500 caters to all levels of experience. Its simplicity and performance make it an excellent choice for beginners, while its powerful performance satisfies even the most discerning vapers.
Dual 1.2 Ohm Mesh Coil: The incorporation of a dual 1.2 Ohm mesh coil ensures a consistent and flavorful vaping experience. The mesh coil technology provides better heating and a larger surface area, resulting in bigger clouds and intense flavor with each puff.
Up to 4500 Puffs: With an astonishing 4500 puffs, the SKE Crystal Super Max 4500 surpasses many other disposable vapes in terms of longevity. You can enjoy extended vaping sessions without worrying about running out of battery life or e-liquid.
1500 mAh Battery: 1500 mAh battery capacity ensures that the device can keep up with your vaping demands throughout the day. Whether you're out and about or relaxing at home, the battery will last, providing you with continuous enjoyment.
Customer Reviews: Rave About the SKE Crystal Super Max 4500
Customer reviews are a vital aspect of any product, as they provide insight into the real-world experiences of users. The SKE Crystal Super Max 4500 has received overwhelmingly positive feedback from vapers worldwide. Vape enthusiasts are raving about its impressive battery life, rich flavors, and ease of use. Many vapers have expressed their satisfaction with the device's long-lasting performance, which ensures that they can vape throughout the day without any interruptions.
The delicious flavors have also received high praise, with vapers commending the authentic taste and smoothness of each puff. Additionally, the draw-activated feature has been well-received, as it provides a more natural and convenient vaping experience. Overall, the SKE Crystal Super Max 4500 has garnered a loyal following of satisfied customers who continue to choose it as their go-to disposable vape.
FAQs: Addressing Your Queries
How long does the SKE Crystal Super Max 4500 last?
The SKE Crystal Super Max 4500 offers an impressive 4500 puffs, ensuring an extended vaping experience that lasts throughout the day.
What nicotine strength is available in the SKE Crystal Super Max 4500?
The SKE Crystal Super Max 4500 is powered by 20mg nicotine salt e-liquid, delivering a smooth and satisfying nicotine hit.
Is the SKE Crystal Super Max 4500 suitable for beginners?
Yes, the SKE Crystal Super Max 4500 is designed to cater to both new and seasoned vapers. Its draw-activated feature and user-friendly design make it an excellent choice for beginners.
Can I recharge the SKE Crystal Super Max 4500 battery?
The SKE Crystal Super Max 4500 is a disposable vape and cannot be recharged. However, with its long-lasting 1500mAh battery, it is designed to provide ample power for the entire duration of its 4500 puffs.
Are the flavors natural and authentic?
Absolutely! The SKE Crystal Super Max 4500's flavors are crafted with precision to deliver natural and authentic tastes. Vapers have praised the device for its true-to-life flavors that make each puff enjoyable.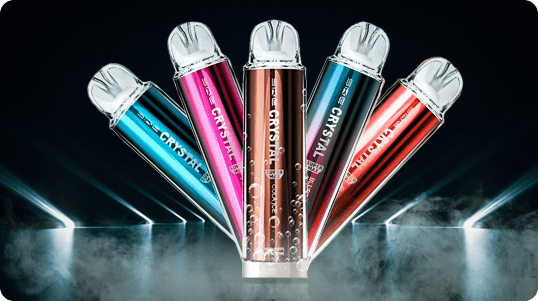 In Conclusion: Embrace the SKE Crystal Super Max 4500 Experience
In conclusion, the SKE Crystal Super Max 4500 disposable vape is a game-changer in the vaping industry, offering vapers the ultimate vaping experience. With its vast selection of delightful flavors, affordable pricing, advanced features, and glowing customer reviews, it's no wonder that vapers around the world are embracing this incredible device.
Whether you're new to vaping or a seasoned pro, the SKE Crystal Super Max 4500 promises to deliver big clouds, intense flavor, and a smooth draw with every puff. Say goodbye to tedious refills and complicated settings – the SKE Crystal Super Max 4500 is your perfect companion for hours of uninterrupted vaping bliss. Try it today and elevate your vaping journey to new heights!