As vaping continues to gain popularity among smokers and non-smokers alike, the market is flooded with a wide array of vape devices, flavors, and accessories. Among the leading brands, SKE stands out as a top-notch manufacturer, renowned for its innovative and high-quality vaping products.
In this comprehensive guide, we will explore some of the best SKE vaping devices available, including the SKE Crystal Bar, Crystal Plus, Crystal Duo, and Crystal Super Max. Each device offers a unique vaping experience, catering to different preferences and needs. Whether you're a vaping novice or an experienced enthusiast, SKE has a solution for you. Let's dive into the world of SKE vaping and discover the perfect device for your vaping journey!
SKE Crystal Bar: The Simple Pleasures of Vaping
The SKE Crystal Bar is a premium disposable vape device that epitomizes simplicity and quality. With a sleek design and a variety of flavors, the Crystal Bar offers a fuss-free vaping experience. These bars come prefilled with a unique e-liquid formulation containing 2% nicotine by volume, delivering a satisfying nicotine hit without overwhelming the senses. What sets the SKE Crystal Bar apart is its plug-and-play nature – it requires no maintenance, charging, or refilling. Once you open the package, you can immediately start vaping and indulge in the delightful flavors it offers.
Key Features of SKE Crystal Bar:
Premium Disposable Vape Device: The Crystal Bar is designed to be a convenient and enjoyable disposable vaping option, perfect for on-the-go vapers who appreciate simplicity.
Diverse Flavor Options: Mango Ice, Watermelon, Blueberry Ice, Grape, and Strawberry Banana are among the popular flavors available, catering to a range of palates.
2% Nicotine Content: The Crystal Bar provides a smooth and satisfying nicotine experience with a 2% nicotine content, striking the right balance for most vapers.
Sleek Design: The elegant and compact design of the Crystal Bar ensures a comfortable grip and a sleek look, making it an attractive accessory while you vape.
SKE Crystal Plus: The Pinnacle of Simplicity and Quality
The SKE Crystal Plus Pod Kit & Replaceable Prefilled Pods offer both new and experienced vapers an excellent and straightforward pod kit experience. Powered by an internal 400mAh rechargeable battery, optimized for Mouth to Lung (MTL) vaping, the Crystal Plus Kit provides a smooth and enjoyable draw. The replacement pods come in a delightful array of mouthwatering flavors such as Blueberry Raspberry, Strawberry Burst, and Cherry Ice, offering an enticing vaping experience.
Key Features of SKE Crystal Plus:
Easy-to-Use Pod Kit: The Crystal Plus Pod Kit is designed with simplicity in mind, making it a fantastic choice for vapers who prefer a hassle-free setup.
Rechargeable Battery: With a built-in 400mAh rechargeable battery, you can enjoy multiple vaping sessions without worrying about running out of power.
Mouthwatering Flavor Options: The Crystal Plus replacement pods come in a variety of delectable flavors, allowing vapers to explore new taste sensations.
Excellent Value Bundle: SKE offers an attractive bundle that includes the Crystal Plus Pod Kit and a pack of two replacement pods at an affordable price of £12.99, ensuring a cost-effective vaping experience.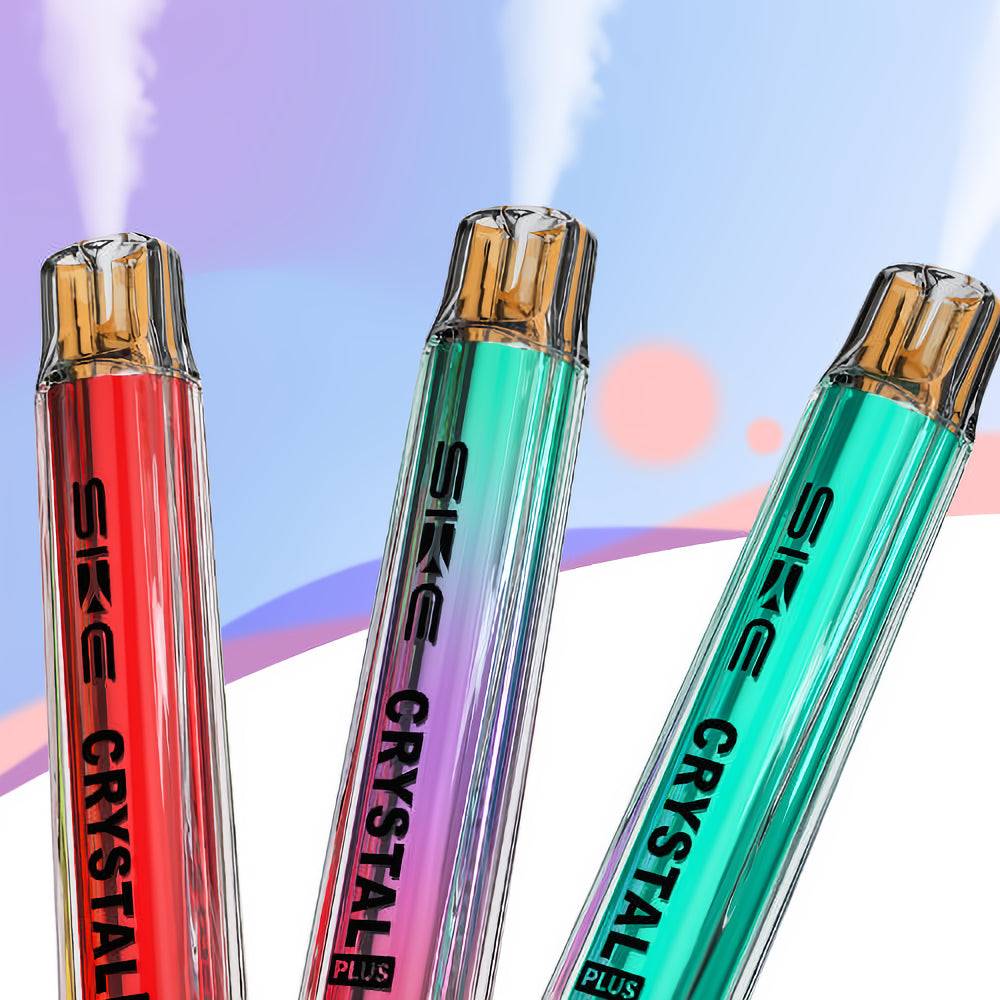 SKE Crystal Duo: Power and Capacity in One Device
The SKE Crystal Duo stands out as the first high-capacity disposable electronic device from SKE, featuring an impressive 15ml e-liquid capacity that ensures long-lasting enjoyment. This rechargeable disposable device provides the best of both worlds – a high-capacity reservoir without the worry of battery depletion. With its striking design, digital stickers, and powerful performance, the Crystal Duo is an eye-catching vaping device. Additionally, it offers ten enticing flavors, ranging from various fruits to cater to diverse preferences.
Key Features of SKE Crystal Duo:
High-Capacity Disposable Device: The Crystal Duo boasts a remarkable 15ml e-liquid capacity, ensuring that you can enjoy vaping for an extended period.
Rechargeable Battery: Unlike typical disposable devices, the Crystal Duo features a rechargeable battery, allowing you to recharge the device whenever needed.
Striking Design: The Crystal Duo's special design, adorned with digital stickers, adds a touch of style and personality to your vaping experience.
Diverse Flavor Options: With ten delightful flavors to choose from, the Crystal Duo provides a wide range of fruit-based and enticing taste options.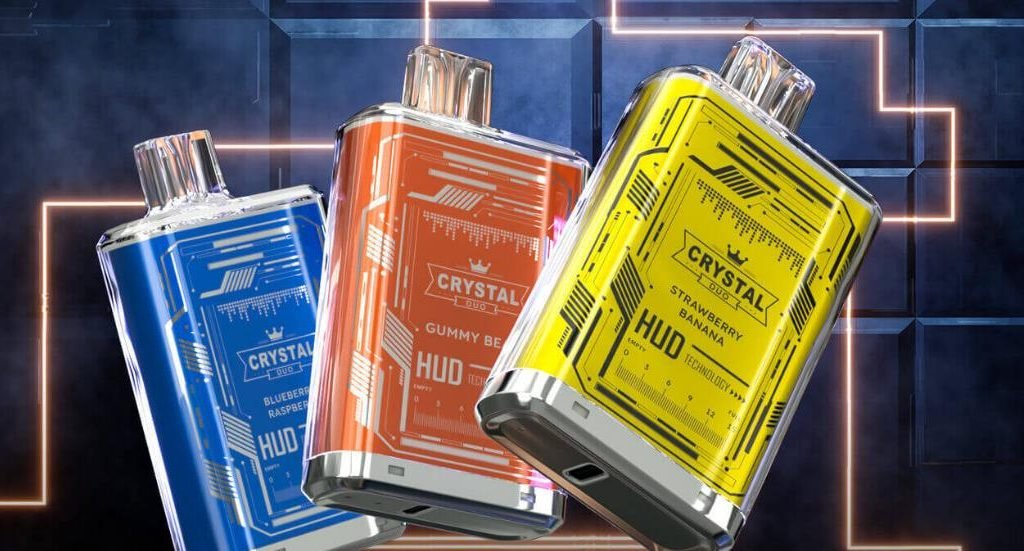 SKE Crystal Super Max: A Vape Powerhouse
If you're seeking a vaping solution that's convenient, easy to use, and powerful, the SKE Crystal Super Max 4500 Puffs Disposable Vape is the perfect choice. This device is designed for vapers who desire a hassle-free experience without compromising on performance. With no need for complicated setups or maintenance, the Crystal Super Max offers a smooth and satisfying vaping experience. Let's take a closer look at the SKE Crystal Super Max 4500 Puffs Disposable Vape, its exceptional features, and why it's an ideal choice for vapers everywhere.
Key Features of SKE Crystal Super Max 4500:
Convenient and Powerful: The Crystal Super Max is a disposable vape device that requires no charging, refilling, or maintenance. Simply unbox and start vaping for up to 4500 puffs.
Seamless Performance: The device is designed to deliver big clouds, intense flavor, and a smooth draw with each puff, ensuring a delightful vaping experience.
20mg Nicotine Salt E-liquid: Powered by 20mg nicotine salt e-liquid, the Crystal Super Max provides a satisfying and authentic nicotine hit, making it an excellent alternative to traditional cigarettes.
Dual 1.2 Ohm Mesh Coil: The incorporation of a dual 1.2 Ohm mesh coil enhances the vaping experience, providing better heating and a larger surface area for more flavor and vapor production.
Ideal for All Vapers: Whether you're a beginner or an experienced vaper, the Crystal Super Max caters to all levels of experience, making it an inclusive and user-friendly choice.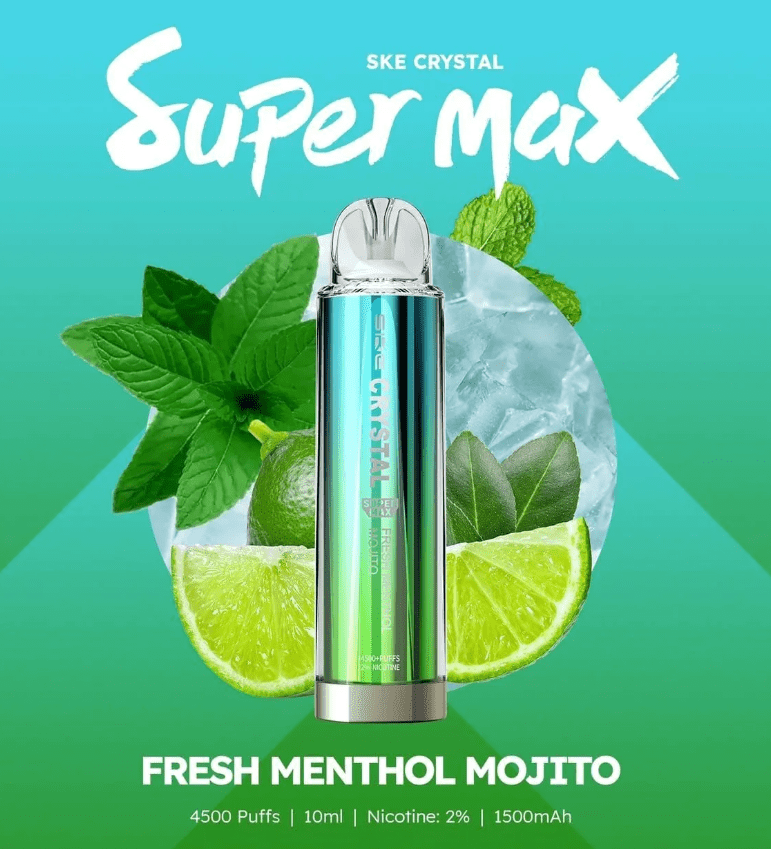 Conclusion: Choose Your Perfect SKE Vaping Companion
In conclusion, SKE has firmly established itself as a leader in the vaping industry, offering a diverse range of high-quality and user-friendly devices. The SKE Crystal Bar, Crystal Plus, Crystal Duo, and Crystal Super Max each provide a unique and enjoyable vaping experience, ensuring there's something for every vaper's preference.
Whether you're looking for a convenient disposable vape, a rechargeable pod kit, or a high-capacity device, SKE has you covered. Choose your ideal SKE vaping companion today and embark on a vaping journey filled with flavor and satisfaction. Remember to explore the wide array of enticing flavors and indulge in the delight of premium vaping with SKE!