ELF BAR Hookah TE5000 is a revolutionary rechargeable hookah that offers an unparalleled vaping experience. Designed with precision and innovation, this extraordinary device boasts an array of impressive features that elevate it above its competition. From its long-lasting battery life and intelligent overheat protection to a myriad of delightful flavors, ELF BAR Hookah TE5000 is poised to satisfy both beginners and seasoned vaping enthusiasts alike.
In this comprehensive article, we will explore the remarkable aspects of ELF BAR Hookah TE5000, highlighting its main characteristics and the tantalizing flavors it offers. We will delve into the essence of the product, focusing on its battery capacity, producing country, cartridge volume, nicotine level, and management type. Additionally, we will discover why ELF BAR Hookah TE5000 stands out from the rest, emphasizing its ease of use, powerful performance, and intelligent safety features.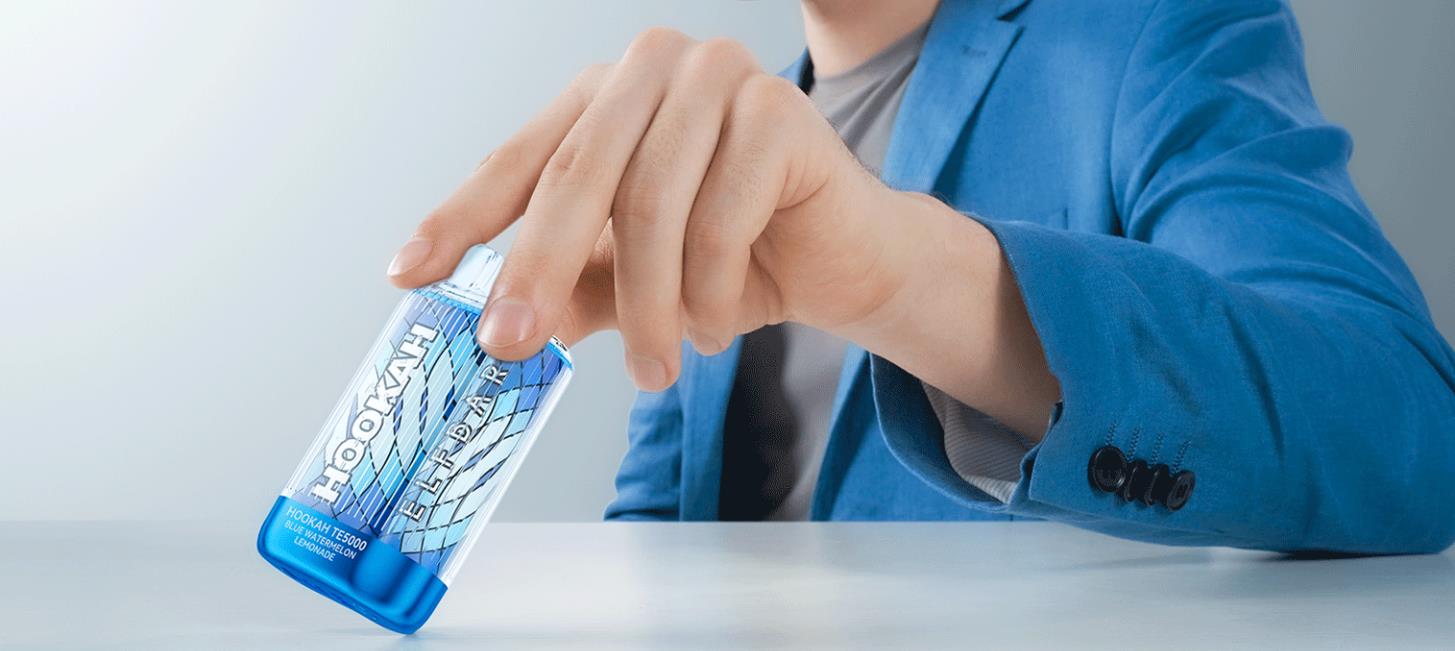 Main Characteristics of ELF BAR Hookah TE5000
Ease of Use
ELF BAR Hookah TE5000 has been thoughtfully crafted to ensure a user-friendly experience, even for those new to vaping. Its compact size and lightweight design make it incredibly convenient to carry and use on the go. Whether you're relaxing at home or enjoying an outdoor adventure, the ELF BAR Hookah TE5000 will always be ready to provide you with a satisfying vaping session.
Power-Packed Performance
One of the standout features of ELF BAR Hookah TE5000 is its high power output, which allows you to enjoy rich and thick smoke with every puff. This powerful performance ensures that you get the most out of your vaping sessions, delivering an exceptional flavor profile and dense vapor clouds.
Long-Lasting Battery Life
ELF BAR Hookah TE5000 is equipped with a high-quality battery that offers an impressive capacity of 550 mAh. This means that you can enjoy extended vaping sessions without the constant need for recharging. Whether you're at home or on the move, the ELF BAR Hookah TE5000 will accompany you throughout the day, making it an ideal choice for both casual and heavy vapers.
Intelligent Overheat Protection
Safety is paramount when it comes to vaping devices, and ELF BAR understands this well. The ELF BAR Hookah TE5000 comes with a built-in overheat protection system that ensures your safety by preventing potential damage caused by high temperatures. This intelligent feature adds an extra layer of security, giving you peace of mind while indulging in your vaping pleasure.
Hookah TE5000 Flavor Options
ELF BAR Hookah TE5000 boasts an impressive array of delightful flavors, catering to diverse taste preferences. Each flavor is crafted with precision, promising a unique and satisfying vaping experience. Let's explore the tantalizing flavor options available:
Blue Watermelon Lemonade Indulge in the freshness of aromatic lemonade blended with juicy watermelon sweetness. This harmonious combination creates a rich and refreshing taste that appeals to both beginners and experienced vapers.
Blueberry Enjoy the light and juicy notes of ripe blueberries, offering a delightful and refreshing taste that will leave you craving for more.
Mango Frosty Experience tropical bliss with the sweet and rich flavors of ripe mango, complemented by a cool and refreshing frosty touch.
Ice Cream Immerse yourself in the world of sweet vanilla ice cream, blended with delicate cream notes to create a sophisticated dessert-like vaping experience.
Choco Mint Indulge in the richness of chocolate combined with the cool freshness of mint, delivering a delightful and unique flavor profile.
Siberian Forest Embark on an exciting journey to the cold forests of Siberia with this flavor, combining cool mint freshness with hints of the wild natural atmosphere.
Pinkman Dive into a tropical paradise with bright notes of ripe citrus and juicy watermelon sweetness, creating a fresh and cheerful vaping experience.
Watermelon Savor the natural and sweet taste of ripe watermelon, perfect for satisfying your instant need for refreshment.
Strawberry Lychee Experience the exquisite combination of ripe sweet strawberries with the exotic taste of juicy lychee, creating a unique and delightful vaping bouquet.
Juicy Peach Enjoy the juiciness of ripe peaches, with their sweet and bright notes providing an incredibly pleasurable vaping experience.
Cheesecake For those with a sweet tooth, this flavor is a delightful temptation. The sweet and creamy taste of aromatic cheesecake combined with rich dessert notes offers a truly indulgent vaping delight.

Conclusion
In conclusion, ELF BAR Hookah TE5000 is a top-tier vaping device that caters to both beginners and experienced vapers. Its ease of use, powerful performance, and intelligent safety features make it an exceptional choice for anyone looking to elevate their vaping experience. Moreover, the broad range of delectable flavors ensures that there's something for everyone.
Whether you're seeking a refreshing fruit-infused vaping experience or a rich and indulgent dessert flavor, ELF BAR Hookah TE5000 has you covered. So, take a puff, sit back, and allow ELF BAR Hookah TE5000 to transport you to a world of vaping bliss, where every draw is a moment of pure pleasure. Experience the elegance of vaping with ELF BAR Hookah TE5000 today!