This article will give a comprehensive introduction to Flum Gio Disposable Vape 3000 puffs in terms of taste, price, characteristics, and features. Hope you can get useful information to help you better experience and journey of vaping.
Flum Gio Flavors Rank List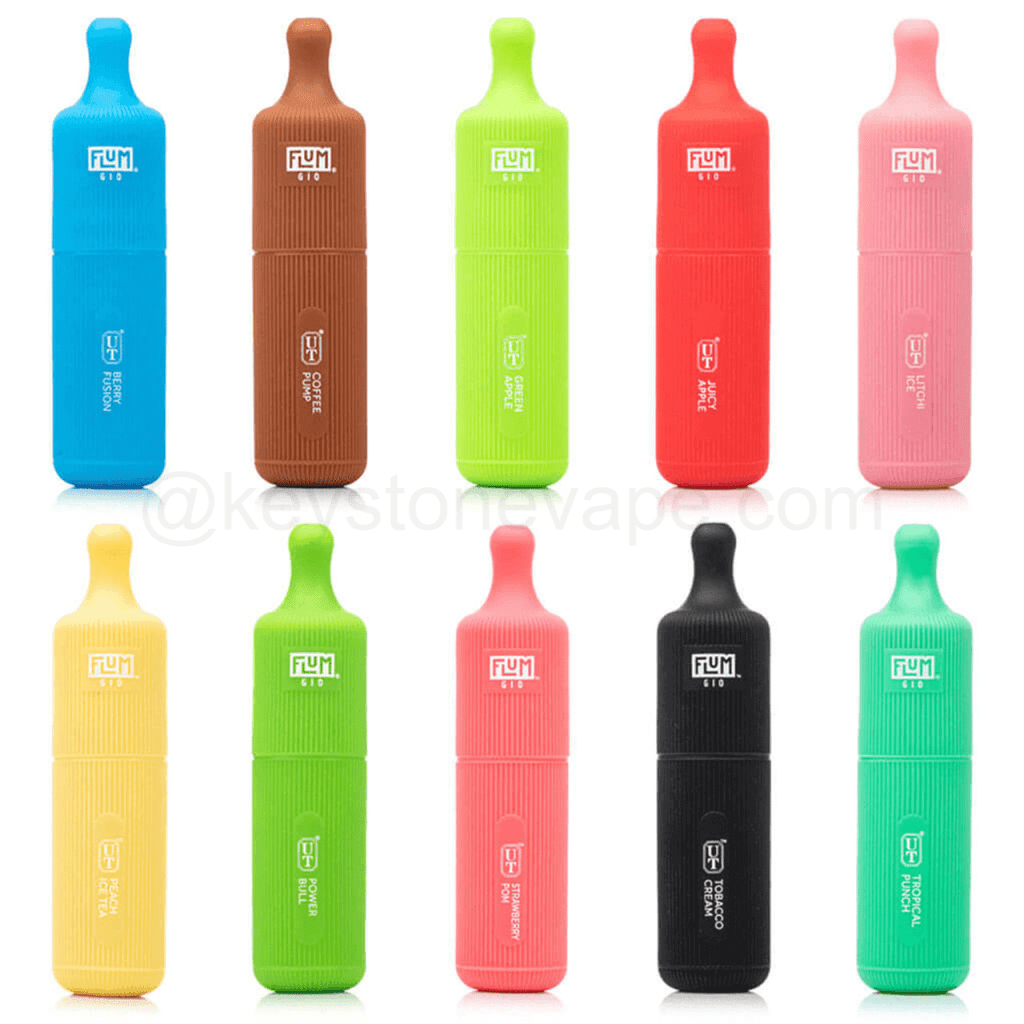 Berry Fusion: At the pinnacle of the Flum Gio Flavors Rank List is the beloved Berry Fusion. With its mesmerizing blend of mixed berries, including strawberries, blueberries, and raspberries, this flavor offers a symphony of fruity goodness that vapers simply can't resist. Its delightful sweetness and rich berry notes make it an enduring favorite.
Green Apple: Securing the second spot is the crisp and refreshing Green Apple flavor. Capturing the essence of freshly picked green apples, this vape delivers a burst of tangy goodness that appeals to vapers seeking a zesty and revitalizing experience.
Litchi Ice: Taking the third position is Litchi Ice, offering a taste of the exotic with the unique litchi (lychee) fruit combined with a cooling menthol twist. The sweet and slightly floral litchi flavor, complemented by the icy menthol, creates a refreshing and invigorating vape.
Juicy Apple: In fourth place is Juicy Apple, a delightful rendition of ripe and succulent apples. Its juicy and sweet flavor profile appeals to vapers who enjoy the pure essence of a delicious apple vape.
Strawberry Pom: Securing the fifth spot is Strawberry Pom once again. The sweet and tangy fusion of strawberries and pomegranate is a crowd-pleaser, making it a popular choice among vapers who crave a well-balanced and fruity vape.
Peach Ice Tea: Sliding into sixth place is Peach Ice Tea, which tantalizes the taste buds with the delightful combination of juicy peaches and the refreshing essence of iced tea. This flavor offers a smooth and relaxing vape experience that's perfect for all-day enjoyment.
Power Bull: Claiming the seventh spot, Power Bull delivers a bold and energizing energy drink flavor. Ideal for vapers seeking an invigorating and lively vape to keep them going throughout the day.
Tobacco Cream: In eighth place, Tobacco Cream presents a sophisticated blend of rich tobacco and creamy undertones. This flavor caters to vapers who appreciate a more refined and complex vaping experience.
Tropical Punch: Just before the last spot, Tropical Punch offers a burst of exotic fruit flavors, including juicy pineapple, ripe mango, and tangy passionfruit. While still enjoyable, it ranks lower due to the popularity of other flavors in the lineup.
With such a diverse array of flavors, the Flum Gio lineup ensures that every vaper can find their perfect match, whether they prefer the sweetness of berries, the tanginess of apples, the refreshing taste of iced tea, or the allure of exotic fruits.
Flum Gio Vape Features Review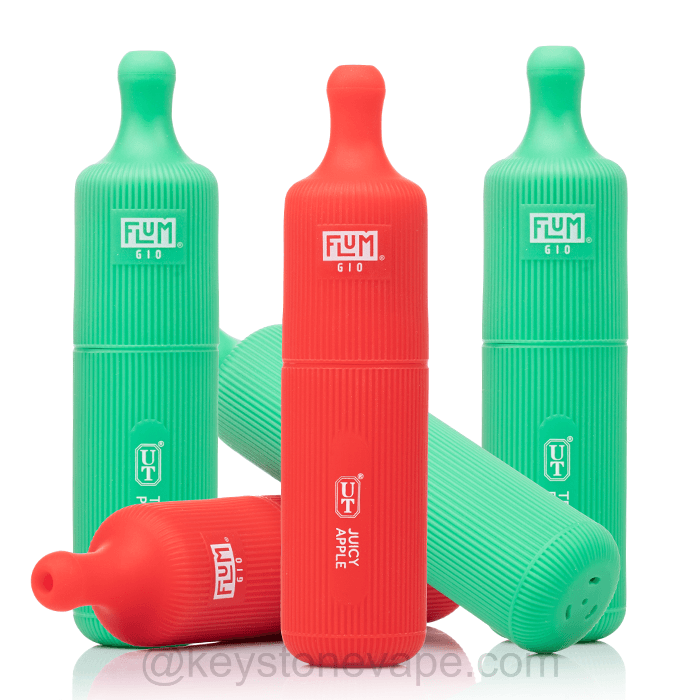 When it comes to enjoying an unparalleled vaping experience, the Flum Gio Disposable E-Cigarette stands out as a top-tier option. Designed with precision and sophistication, this device offers vapers a host of exceptional features that elevate their vaping journey to new heights.
Premium Build and Comfort: Crafted with a soft rubberized coating, the Flum Gio Disposable E-Cigarette boasts a luxurious and comfortable feel. Whether you're holding it in your hand or taking a satisfying draw, the device's ergonomic design ensures a seamless and enjoyable vaping session.
Abundant E-Liquid Capacity: With a generous 8mL e-liquid capacity, the Flum Gio provides vapers with an extended vaping experience that surpasses many other disposable e-cigarettes on the market. The ample e-liquid reservoir ensures you can vape without constant refilling, allowing for maximum enjoyment.
Potent Nicotine Strength: The Flum Gio caters to vapers seeking a more substantial nicotine hit. Packed with 5% nicotine by weight, the device delivers a satisfying and robust throat hit, offering a gratifying vaping experience for those who prefer a higher nicotine concentration.
Salt Nicotine Formula: Crafted with salt nicotine, the e-liquid in the Flum Gio Disposable E-Cigarette is formulated to provide a smooth and flavorsome draw. Salt nicotine allows for quicker nicotine absorption, ensuring a more satisfying vaping experience with every puff.
Hassle-Free Pre-Filled and Pre-Charged Design: Flum Gio takes convenience seriously. The device comes pre-filled and pre-charged, ready to use straight out of the box. There's no need to deal with messy refills or the hassle of charging – simply unbox, inhale, and relish in the smooth vapor.
Impressive Puff Count: The Flum Gio's exceptional performance is reflected in its impressive puff count. With approximately 3000 puffs, this disposable e-cigarette outlasts many others, ensuring vapers can indulge in their favorite flavors for an extended period before needing a replacement.
Draw-Activation Firing Mechanism: Seamless and user-friendly, the Flum Gio features a draw-activation firing mechanism. No buttons to press – just inhale, and the device springs to life, delivering a consistent and effortless vaping experience.
Quality Assured: Manufactured in China, the Flum Gio Disposable E-Cigarette adheres to strict quality standards, ensuring a reliable and safe product for vapers worldwide. The brand's commitment to excellence guarantees a product that vapers can trust and enjoy.
The Flum Gio Disposable E-Cigarette delivers an ultra-smooth and premium vaping experience that exudes sophistication and convenience. With its comfortable design, generous e-liquid capacity, potent nicotine strength, and long-lasting performance, the Flum Gio stands as a remarkable choice for vapers seeking a satisfying and hassle-free vaping solution.
Flum Gio Disposable Price Range
The Flum Gio Disposable E-Cigarette falls within an affordable and competitive price range, making it an attractive choice for vapers looking for a budget-friendly yet high-quality vaping option. The price range for the Flum Gio Disposable E-Cigarette typically spans from $12.00 to $14.00, offering excellent value for the features and performance it delivers.
With its premium build, comfortable design, abundant e-liquid capacity, and potent nicotine strength, the Flum Gio provides vapers with an enjoyable and satisfying vaping experience without breaking the bank. Its draw-activation firing mechanism and pre-filled, pre-charged convenience add to its overall value, making it a cost-effective and user-friendly choice for both new and experienced vapers.
Whether you're on a tight budget or simply appreciate affordable vaping solutions without compromising on quality, the Flum Gio Disposable E-Cigarette offers a compelling option within the $12.00 to $14.00 price range. It represents an excellent investment for those seeking a smooth and enjoyable vaping journey without the need for complicated setups or constant refilling.
FAQs
Does Flum Gio have nicotine?
Yes, Flum Gio Disposable Vape do contain nicotine. Each Flum Gio device comes pre-filled with e-liquid that contains 5% nicotine by weight. This concentration of nicotine is higher than what is commonly found in standard e-liquids, making Flum Gio an appealing choice for vapers who prefer a stronger nicotine hit.
What is a Flum Gio?
The Flum Gio is a disposable vape designed to offer vapers a convenient and hassle-free vaping experience. It comes ready to use right out of the box, pre-filled with e-liquid, and pre-charged for immediate vaping enjoyment. Flum Gio devices are sleek and ergonomically designed, featuring a soft rubberized coating that enhances comfort during use. They are draw-activated, meaning users only need to inhale to activate the device, eliminating the need for buttons or complicated settings.
How long does a Flum Gio last?
The longevity of a Flum Gio Disposable Vape depends on individual vaping habits. On average, a single Flum Gio device is estimated to provide approximately 3000 puffs. However, this estimate can vary depending on factors such as the frequency and duration of vaping sessions. Some vapers may find that their Flum Gio lasts around 8 to 12 days before needing replacement, while others may finish it sooner or later.
Overall, the Flum Gio offers an extended vaping experience with its generous e-liquid capacity and efficient design, providing vapers with ample puffs to enjoy their favorite flavors before the device is depleted. Once the e-liquid is used up, or the battery life reaches its end, users can dispose of the Flum Gio and opt for a new one to continue their vaping journey.