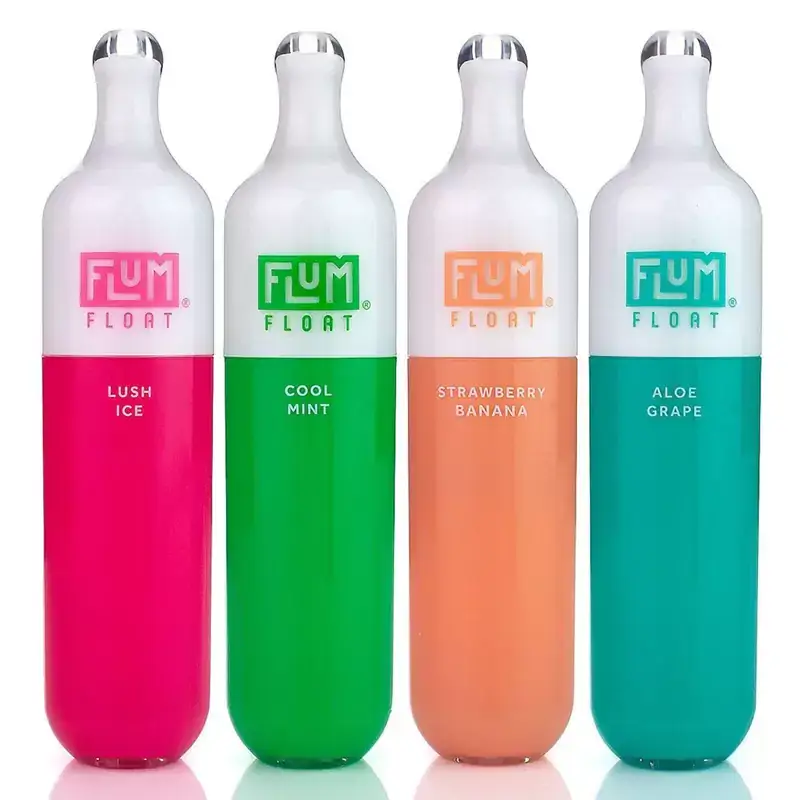 The Flum Float Vape 3000 Puffs is a true standout in the world of disposable vapes, offering a unique design that not only catches the eye but also ensures a comfortable vaping experience. With a distinctive cylindrical shape, this device breaks away from the standard look to provide a vaping device that's both enjoyable and visually appealing. Delivering a remarkable 3000 puffs per device, it goes above and beyond to ensure a long-lasting and flavorful experience.
Preview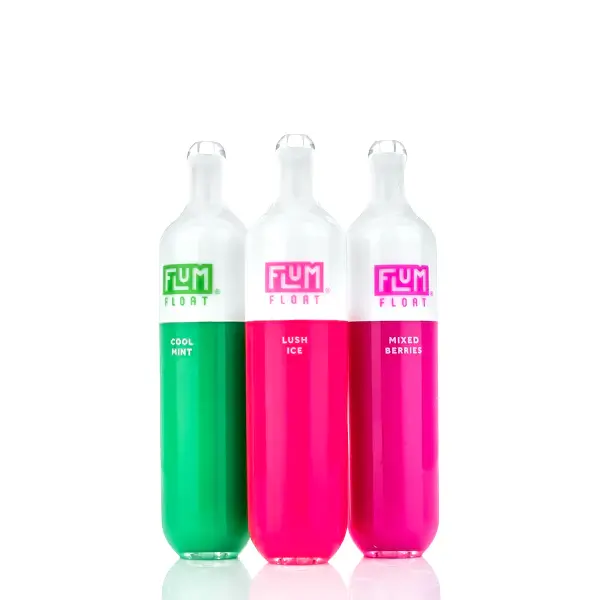 One of the most impressive features of the Flum Float Disposable Vape is its substantial 8mL vape juice capacity, filled with 50mg salt nicotine and available in seven delectable flavors. With this ample capacity, you can expect numerous satisfying vape sessions, and each unit promises a consistent draw thanks to its draw-activated firing mechanism. Pre-filled and pre-charged, it's ready to use right out of the box.
The Flum Float has quickly become a standout in the disposable vape market, garnering attention for its unique shape, large puff count, and enticing flavor variety. Its compact size ensures portability, fitting snugly in your hand for an enjoyable on-the-go vaping experience. Whether you're looking to expand your collection or simply try something new, the Flum Float Disposable Vape offers a compelling option.
The Flum Vapor collection boasts a range of disposable vape options, each catering to different preferences. From high puff counts to various vape juice capacities and sizes, there's something for every vaper to explore. The Flum Float, with its premium quality and impressive performance, is a testament to the brand's commitment to delivering enjoyable and convenient vaping experiences.
Features
8.0 mL per e-cigarette
5% nicotine by weight
Made with salt nicotine
Pre-charged
Draw-activation firing mechanism
Convenient, compact, and hassle-free design
Pre-filled and ready to vape instantly
No buttons or settings to adjust
Enjoy up to 3000 puffs of vaping pleasure
Indulge in a wide variety of delectable flavors
Fruity blends, refreshing menthol, and more
Generous e-liquid capacity for extended enjoyment
Long-lasting battery for prolonged vaping sessions
Sleek and ergonomic design for comfortable handling
No maintenance or refilling required
High-quality construction and impressive performance
Top Flavor Review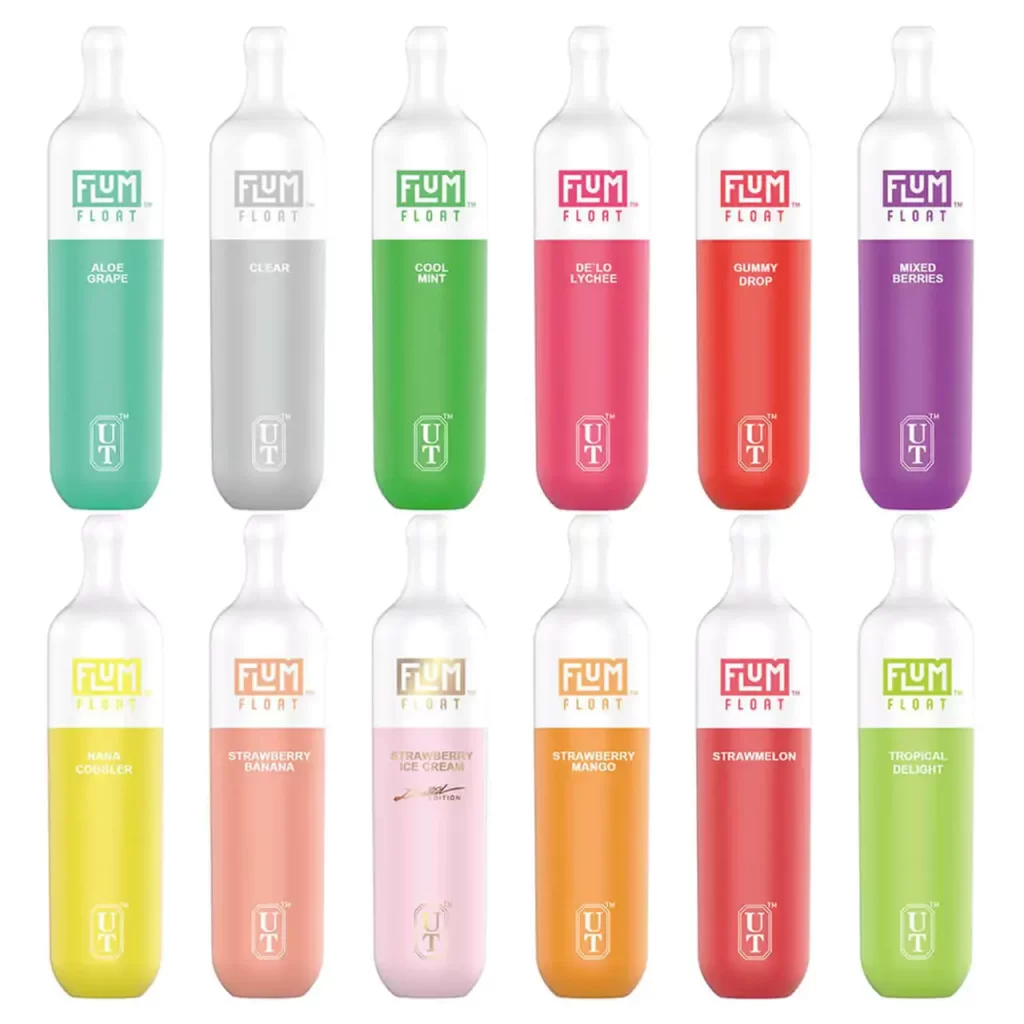 Mixed Berries
Flum Float Mixed Berries offers an exciting blend of flavors that will surely keep you coming back for more. It blends together a variety of berry flavors, confusing the taste buds, yet dazzling them enough to make your mouth water and keep you coming back for the most satisfying vape.
Lush Ice
Flum Float Lush Ice gives way to a luscious flavor experience by bringing you one of the industry's most popular flavor combinations. It pairs a mouthwatering watermelon flavor with a frigid menthol to create an exhilarating vape. This duo has taken the market by storm in the most flavorsome way.
Red Bang
Flum Float Red Bang is a unique flavor concoction that combines the two flavors from your favorite energy beverages. By mixing these two together, Flum Vapor has created a wonderfully unique and flavorsome experience that thrills the taste buds and leaves a lingering taste to keep you coming back.
Strawberry Mango
Flum Float Strawberry Mango provides a fascinating flavor experience that many will find as one of their favorite vapes. By blending together two tasty flavors, which consist of juicy strawberry and sweet mango, you'll come to discover that this mixture is one of your newfound all-day vapes.
Cool Mint
Flum Float Cool Mint is a phenomenal flavor that exists in nearly every line of vape juice. It provides the traditional taste of mint that is universally loved. With every puff that you take, your taste buds will be overcome by the cool, sweet, and refreshing taste of mint.
Aloe Grape
Flum Float Aloe Grape is a remarkably unique addition to the market of flavors that no other vape juice company has yet to provide. Flum Vapor took the notion to bring together an oddly satisfying blend of aloe and grape to create one of the most exhilarating flavor experiences you've had yet.
Strawberry Banana
Flum Float Strawberry Banana is an all-time classic blend that offers mouthwatering flavor. The juiciest of strawberries are perfectly blended with a sweet and creamy banana flavor to a fun-filled vape you won't forget. To make a promise of it, the taste continues to linger, urging you to revisit it for more.
Strawberry Ice Cream
Providing a delicious mix of flavors, there is nothing that will complete your vaping experience as this amazing addition to the Flum Float collection. It is a blend that combines luscious strawberries with a creamy ice cream flavor, recreating the taste now in a vapor form.
Price
The Flum Float 3000 Puffs Disposable Vape offers an affordable option for vapers seeking extended usage. With a price range of $13-$14 USD, it delivers around 3000 puffs fueled by 5% salt nicotine e-juice. Its cylindrical design and draw-activation firing mechanism make vaping quick and hassle-free. Ideal for those on the go, this disposable vape combines convenience and cost-effectiveness.
FAQs About Flume Vape
1.What is a flum float?
A Flum Float is a premium vaping device that features a convenient disposable design, giving users the ability to enjoy the satisfaction of nicotine vaping and toss it in the trash when finished. The device sports a unique cylindrical shape that makes it incredibly portable, it features an integrated battery, and comes pre-charged, pre-filled, and can be used at your convenience and thrown away when you've finished using it.
2.How many hit are in a flum float?
The Flum Float Disposable Vape boasts an integrated non-rechargeable battery and is pre-filled with a large 8mL vape juice capacity, giving it the capability of providing a massive 3000 puff count. It is a device that offers one of the highest puff counts, giving you more time to enjoy the device and more for your money's worth.
3.Can you recharge a flum float?
No, the Flum Float Disposable Vape is not a rechargeable device. The battery that is integrated into the device is not rechargeable. There are two types of devices; the kind that has a large non-rechargeable battery to provide a large puff count and the kind that has a small rechargeable battery to provide a large puff count. The Flum Float uses a larger than average battery capacity in an effort to provide more puffs for its users.
4.How long does a flum vape last?
The Flum Float Disposable Vape provides upwards of 3000 puffs per unit. With that said, the device will last you 3000 puffs on average. Of course, the puff count is based on an average 2-3 second draw and it can vary significantly based on how long of a vape that you take. The Flum Float vape is considered to be one of the longest-lasting disposable vaping devices on the market and has quickly gained a reputable status for its long-lasting satisfaction and flavor.