Vaping has steadily ascended in popularity over the past decade, giving birth to a myriad of brands and products. Amidst this extensive variety, Fume Extra Vape has made its mark, commanding attention with its budget-friendly price, abundant flavor choices, and outstanding features. In this comprehensive review, we will delve deeper into what Fume Extra Vape brings to the table, aiming to help consumers make a well-informed decision.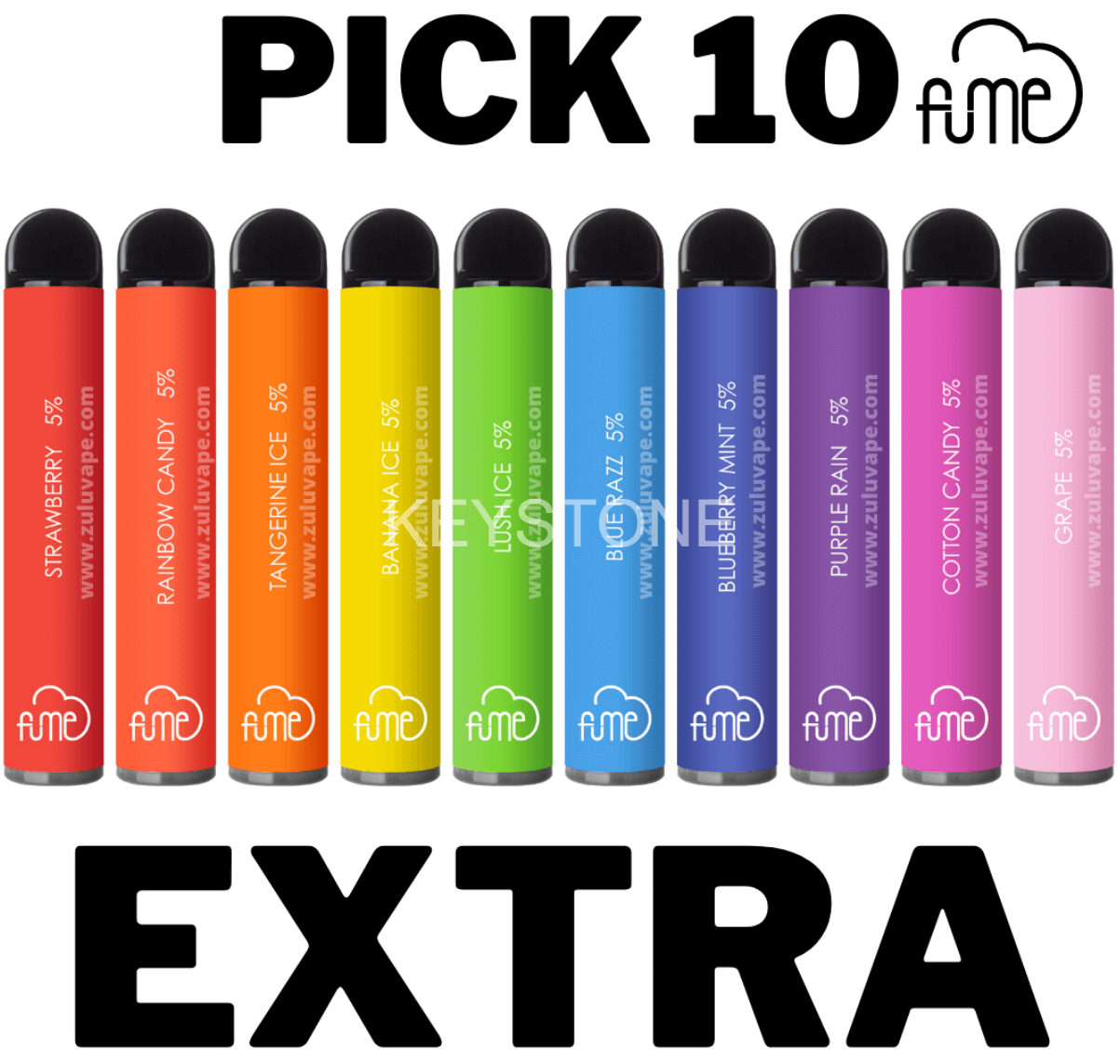 The Affordability Factor: Price of Fume Extra Vape
When it comes to vaping devices, the price often becomes a deciding factor, especially for those who vape regularly. The Fume Extra Vape offers an attractive balance between cost and quality. Priced between $10.49 and $14.95 per unit, it stands as a cost-effective solution for most vapers. But it doesn't stop there – buyers interested in bulk purchases can tap into wholesale prices, further bringing down the cost per unit. This appealing price structure renders Fume Extra Vape an attractive option for both individual users and retailers.
Diving into Details: Noteworthy Features of Fume Extra Vape
Fume Extra Vape comes packed with several salient features designed to elevate your vaping experience:
1. Disposable Convenience: In today's fast-paced world, convenience is king. Fume Extra Vape is a disposable device, which means no fuss over recharging or refilling. Once you've exhausted its juice, simply replace it with a new one.
2. Nicotine Salt Strength: Every Fume Extra Vape comes with a 5% nicotine salt formulation. This strength offers a satisfying hit, closely mimicking the sensation of traditional cigarette smoking but without the unpleasant aftertaste.
3. Long-Lasting Performance: Offering approximately 1,500 puffs per device, Fume Extra Vape is built to last. Depending on your vaping frequency, it can deliver 3-4 days of use before you need a replacement.
4. Draw-Activated Firing Mechanism: Simplicity is at the heart of Fume Extra Vape. With a draw-activated firing mechanism, you won't have to grapple with buttons or complex settings. Just draw on the device, and it fires up – as simple as that.
5. Powerful Battery: The integrated 850mAh rechargeable battery guarantees consistent and reliable performance throughout the device's lifespan.
6. Generous E-liquid Capacity: With a substantial 5ml juice capacity, Fume Extra Vape ensures you have enough to keep you puffing for days.
Exploring the Flavor Palette: Flavor Spectrum of Fume Extra Vape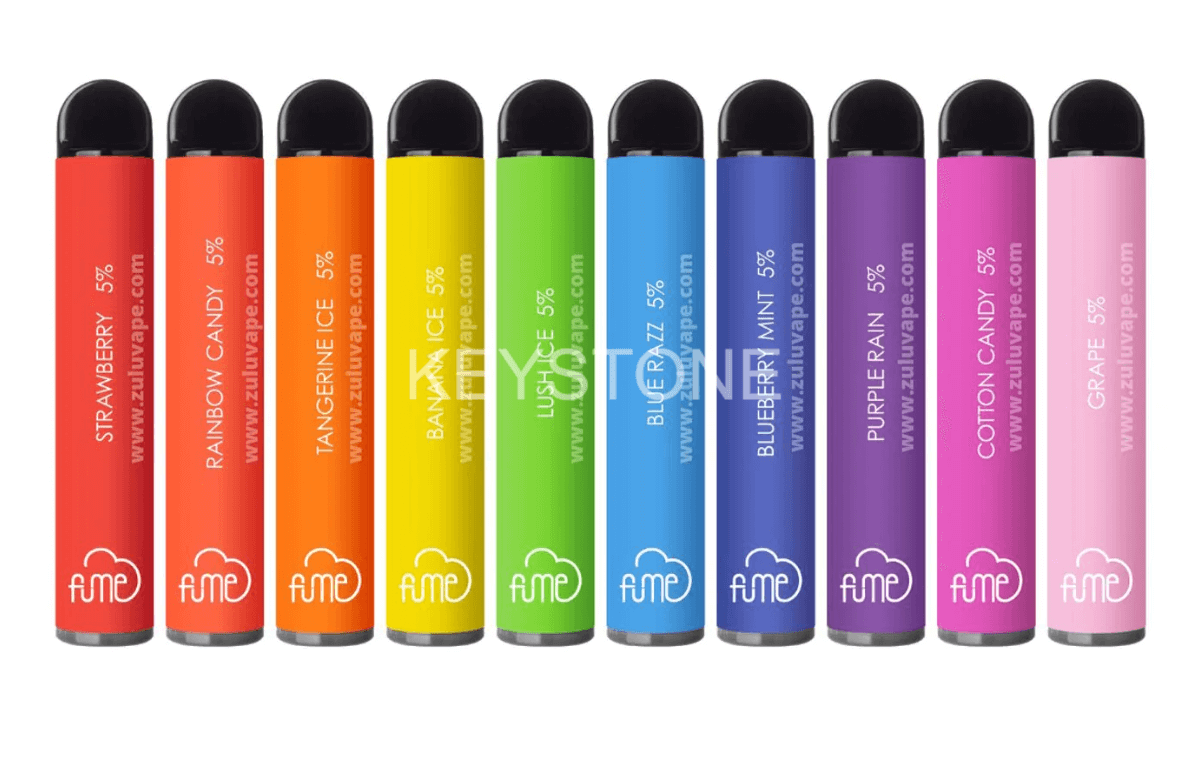 If the range of flavors is a canvas, Fume Extra Vape is an artist. The brand offers an impressive array of flavor profiles to suit varied taste preferences:
1. Fruity Pleasure: Classics like Strawberry Banana, Mango, Melon Ice, Pineapple Ice, and more pack the juicy goodness of fruits in every puff.
2. Minty Freshness: Mint Ice and Blueberry Mint deliver a cool, refreshing burst, proving that minty freshness never goes out of style.
3. Creativity Unleashed: Unique blends like Purple Rain, Bubblegum, and Rainbow Candy balance sweet and tart notes, creating a symphony of flavors that dance on the palate.
4. Sweet Indulgences: For dessert lovers, flavors like Cotton Candy, Fresh Vanilla, and Yogurt Ice Cream replicate the rich, indulgent taste of their favorite sweet treats.
5. Novel Adventures: For those who like to venture off the beaten path, intriguing flavors like Cuban Tobacco, Desert Breeze, and Coffee Tobacco offer an exciting exploration.
Fume Extra Vape User Guide
Step 1: Purchase from a Reliable Source
Ensuring you have an authentic Fume Extra Vape is a critical starting point. The device can be purchased both online and at physical retail locations. Whether you decide to buy directly from the manufacturer's website, an authorized online retailer, or a local vape shop, always verify the authenticity of the product. This ensures not only the quality and performance of the device but also your safety.
Step 2: Unpack Your Device
Once you have your Fume Extra Vape in hand, remove it from its packaging. The device comes fully charged and ready to use, so you won't have to worry about charging or setting it up.
Step 3: Understand How to Use
Operating a Fume Extra Vape is incredibly straightforward. It features a draw-activated firing mechanism, which means there are no buttons to press or settings to adjust. Simply draw from the mouthpiece, and the device activates, producing flavorful vapor.
Step 4: Enjoy the Vaping Experience
Take a slow, steady draw from the mouthpiece and savor the rich flavors. Remember, each device is pre-filled with 5ml of e-liquid, and it's designed to deliver approximately 1,500 puffs. This equates to about 3-4 days of regular vaping.
Step 5: Dispose of Responsibly
Once you've used up all the e-liquid in your Fume Extra Vape, it's time to dispose of it. Remember that electronic devices should not be thrown in regular trash due to their components. Check your local regulations for electronic waste and dispose of your device responsibly.
Step 6: Repeat the Process
Once your device is disposed of, you can purchase a new one and repeat the process. With a multitude of flavors available, consider exploring different options each time for a diverse vaping experience.
Addressing Queries: Frequently Asked Questions (FAQs)
When considering the purchase of a Fume Extra Vape, certain questions frequently arise:
1. How long should a Fume Extra Vape last?
While the lifespan of a Fume Extra Vape depends largely on individual vaping habits, its capacity for approximately 1,500 puffs typically translates to around 3-4 days of use for an average user.
2. Is Fume a good vape brand?
Yes, Fume has earned a reputation as a reliable and trusted brand in the vaping industry. Known for their commitment to quality and variety, they offer sturdy devices, a broad array of flavors, and a satisfying vaping experience, earning them a favored status among many users.
In conclusion, Fume Extra Vape serves as a testament to the fact that a quality vaping experience doesn't have to come with a hefty price tag. Its easy-to-use design, vast flavor assortment, and solid performance make it an ideal choice for both vaping beginners and seasoned enthusiasts.