Geek Bar E600 Disposable Vape by Geek Vape is the latest addition to the Geek Bar range, offering a delightful selection of 20 exceptional flavors. With its 400mAh battery, manual draw activation, and 2ml pod capacity, the E600 promises a satisfying vaping experience that is both convenient and user-friendly. In this article, we will delve into the key aspects of this innovative vaping device, including its flavors, pricing, features, customer reviews, and frequently asked questions.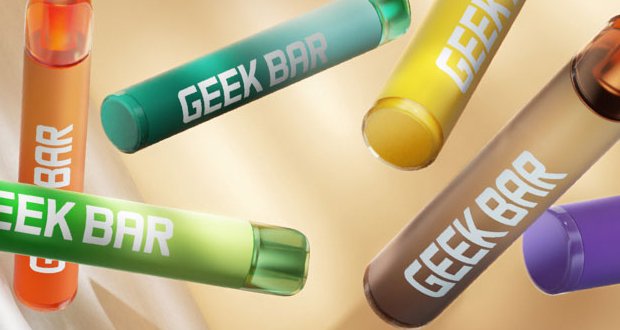 Flavors: A Sensory Delight
The Geek Bar E600 Disposable Vape is renowned for its diverse range of flavors, providing vapers with an exciting array of choices. Some of the representative flavors include:
Apple Peach: The perfect combination of sweet and tart, offering a refreshing vaping experience reminiscent of biting into a juicy apple.
Apple Peach Pear: A delightful blend of apple, peach, and pear, creating a symphony of fruity goodness that will tantalize your taste buds.
Grape: For those who enjoy the classic taste of grapes, this flavor provides a luscious and authentic grape essence with every puff.
Pink Lemonade: A summery favorite, this flavor brings the zesty tang of lemons combined with a hint of sweetness, resulting in a balanced and refreshing vape.
Strawberry Kiwi: A classic pairing of ripe strawberries and tangy kiwi, creating a harmonious blend that captures the essence of these two popular fruits.
White Peach Razz: Offering a fusion of white peaches and raspberries, this flavor delivers a unique and delectable vaping experience.
Each flavor is crafted with precision, ensuring a consistent and enjoyable taste with every puff. Vapers can explore different flavors to find their perfect match and indulge in a sensory delight.
Price: Affordable Vaping Pleasure
One of the most appealing aspects of the Geek Bar E600 Disposable Vape is its affordable price range, typically ranging from £4.95 to £5.99. This competitive pricing makes the E600 an excellent choice for both seasoned vapers and newcomers alike. Despite its budget-friendly cost, the device does not compromise on quality, offering a premium vaping experience without breaking the bank.
Product Specifications & Features: Innovation at Its Finest
The Geek Bar E600 Disposable Vape is packed with features that enhance its performance and usability. Some of the key specifications and features include:
400mAh Built-In Battery: The ample battery capacity ensures prolonged use and allows for up to 600 puffs depending on the user's vaping style.
Manual Draw Activation: The device is designed to be inhale-activated, making it simple to use without any buttons or settings to adjust.
LED Battery Life Indicator: The LED indicator conveniently shows the battery life, ensuring you never run out of power unexpectedly.
2ml Pod Capacity: The generous pod capacity provides ample e-liquid to keep you vaping for an extended period.
Organic Cotton Wick: The Geek Bar E600 utilizes organic cotton wicks, ensuring clean and pure flavors with every puff.
20mg Nic Salt E-liquid: The device is pre-filled with high-quality nicotine salt e-liquid, delivering a smooth and satisfying nicotine hit.
Customer Reviews: Positive Feedback Galore
The Geek Bar E600 Disposable Vape has garnered positive reviews from satisfied customers worldwide. Vapers appreciate the wide range of flavors and the device's simplicity and portability. Many users have commended the longevity of the battery life, making it a reliable option for all-day vaping. Furthermore, the high-quality flavors have received praise for their authenticity and pleasant vaping experience. The affordability of the E600 has also been highlighted as a significant advantage, attracting both regular vapers and those new to the world of vaping.
Frequently Asked Questions (FAQs)
Below are some common questions and answers regarding the Geek Bar E600 Disposable Vape:
Q1. Is the Geek Bar E600 easy to use for beginners?
Ans: Absolutely! The E600 is designed with simplicity in mind, making it an ideal choice for beginners. It is inhale-activated, so there are no buttons or complicated settings to figure out.
Q2. How long does the battery last on the Geek Bar E600?
Ans: The 400mAh battery can last for an average of 600 puffs, depending on the user's vaping habits.
Q3. Can I refill the Geek Bar E600 pods?
Ans: No, the Geek Bar E600 is a disposable device with pre-filled pods. Once the e-liquid is depleted, you can simply dispose of the device responsibly.
Q4. Are the flavors natural tasting?
Ans: Yes, the Geek Bar E600 is crafted with high-quality ingredients, providing natural and authentic flavors for an enjoyable vaping experience.
Conclusion
The Geek Bar E600 Disposable Vape by Geek Vape is a remarkable addition to the vaping market, offering a wide range of flavors, affordability, and user-friendly features. Whether you're a seasoned vaper or new to vaping, the E600 promises a delightful and satisfying experience.
With its convenience, portability, and exceptional flavors, the Geek Bar E600 Disposable Vape is undoubtedly a must-try for vaping enthusiasts. So, why wait? Embrace the vaping revolution with the Geek Bar E600 and explore a world of flavorful possibilities. Happy vaping!