HQD Cuvie Air is renowned for its premium quality and exceptional vaping experience. With a wide range of flavors to choose from, HQD Cuvie Air offers an exciting and flavorful journey for vape enthusiasts. In this article, we'll delve into the captivating flavors offered by HQD Cuvie Air, highlighting the unique characteristics and taste profiles of each one. Let's embark on this flavorful adventure together!
Delightful Flavors List of HQD Cuvie Air Vape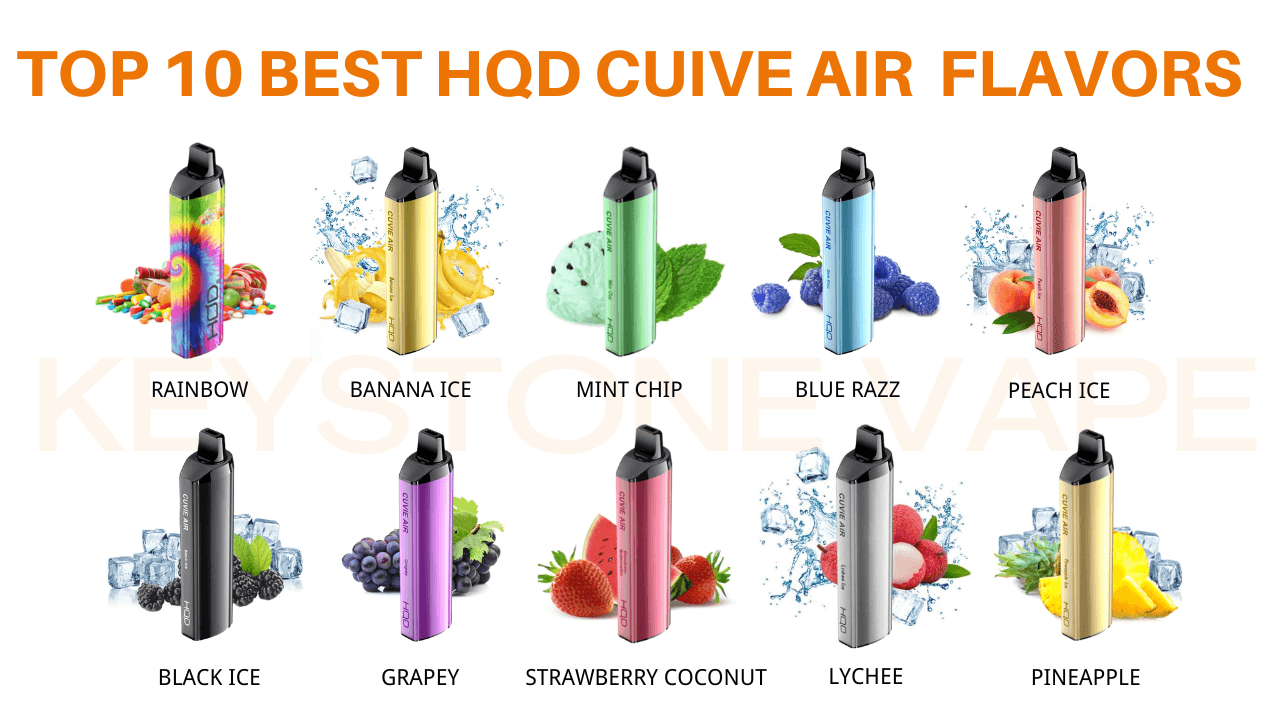 Flavors list:
Blueberry Lemonade: Experience the perfect combination of tangy lemons and succulent blueberries in this refreshing flavor. The sweet and sour notes will invigorate your taste buds, leaving you craving more.
Kiwi Lemonade: Indulge in the tropical and citrusy blend of zesty lemons and juicy kiwis. The Kiwi Lemonade flavor delivers a delightful and refreshing vaping experience that's perfect for a sunny day.
Grapey: For fans of grape-flavored treats, Grapey is a must-try. Immerse yourself in the rich and sweet essence of ripe grapes, providing a satisfying and authentic grape flavor.
Strawberry Mango: The combination of luscious strawberries and exotic mangoes creates a harmonious fusion of sweet and tangy flavors. Let Strawberry Mango transport you to a tropical paradise with every puff.
Sky Mint: Cool down with the crisp and refreshing taste of Sky Mint. This flavor offers a soothing blend of mint leaves, leaving a refreshing sensation in your mouth.
Black Ice: Prepare yourself for a cooling blast with Black Ice. The bold fusion of blackcurrant and icy menthol creates a truly invigorating flavor that is perfect for menthol enthusiasts.
Blue Razz: Indulge in the nostalgic taste of tangy blue raspberry candies with Blue Razz. This flavor will awaken your taste buds with its sweet and tart profile, reminiscent of your favorite childhood treats.
Strawberry Coconut: Transport yourself to a tropical oasis with the tantalizing combination of ripe strawberries and creamy coconut. Strawberry Coconut offers a smooth and exotic vaping experience.
Frozen Choco (USB cable not included for this flavor): For chocolate lovers, Frozen Choco is a decadent delight. This flavor combines rich chocolate with a cool menthol twist, providing a unique and indulgent experience.
Strawberry Watermelon: Enjoy the perfect balance of juicy strawberries and crisp watermelon in this refreshing flavor. Strawberry Watermelon is a crowd-pleaser that offers a burst of fruity goodness.
Lush Ice: Experience the refreshing blend of juicy watermelon and cool menthol with Lush Ice. This flavor provides a satisfying chill with every puff, making it a popular choice among vapers.
Peach Ice: Escape to a peach orchard with Peach Ice. The sweet and juicy peach flavor is enhanced by a refreshing icy touch, creating a well-rounded and invigorating vape experience.
Cola Gummies (formerly Gummies): Relive the joy of childhood with Cola Gummies. This flavor captures the essence of your favorite cola-flavored gummy candies, delivering a nostalgic and delightful vaping experience.
Mint Chip: Satisfy your cravings for something sweet and refreshing with Mint Chip. This flavor combines the invigorating taste of mint with the indulgence of chocolate chips, providing a unique and satisfying vape.
Pineapple Ice: Immerse yourself in the tropical goodness of Pineapple Ice. The sweet and tangy flavor of fresh pineapple is complemented by a cooling menthol twist, making it a perfect summer vape.
Russian Cream: Indulge in the velvety smoothness of Russian Cream. This flavor offers a rich and creamy tobacco blend, providing a sophisticated and satisfying vaping experience.
Honeycrisp Apple: Discover the crisp and juicy taste of Honeycrisp Apple. This flavor captures the essence of biting into a fresh apple, delivering a sweet and refreshing vaping sensation.
Banana Ice: Escape to the tropics with Banana Ice. The creamy and sweet flavor of ripe bananas is enhanced by a cooling menthol finish, creating a smooth and enjoyable vape.
Rainbow: Experience a burst of fruity goodness with Rainbow. This flavor combines a medley of sweet and tangy fruits, creating a vibrant and enjoyable vaping experience.
Lychee Ice: Savor the exotic and delicate flavor of lychee with Lychee Ice. The sweet and floral notes of lychee are complemented by a refreshing icy twist, offering a unique and refreshing vape.
Cotton Candy: Unleash your inner child with the nostalgic taste of Cotton Candy. This flavor delivers the sugary and fluffy essence of carnival cotton candy, providing a sweet and whimsical vaping experience.
HQD Air: Affordable Price, Incredible Features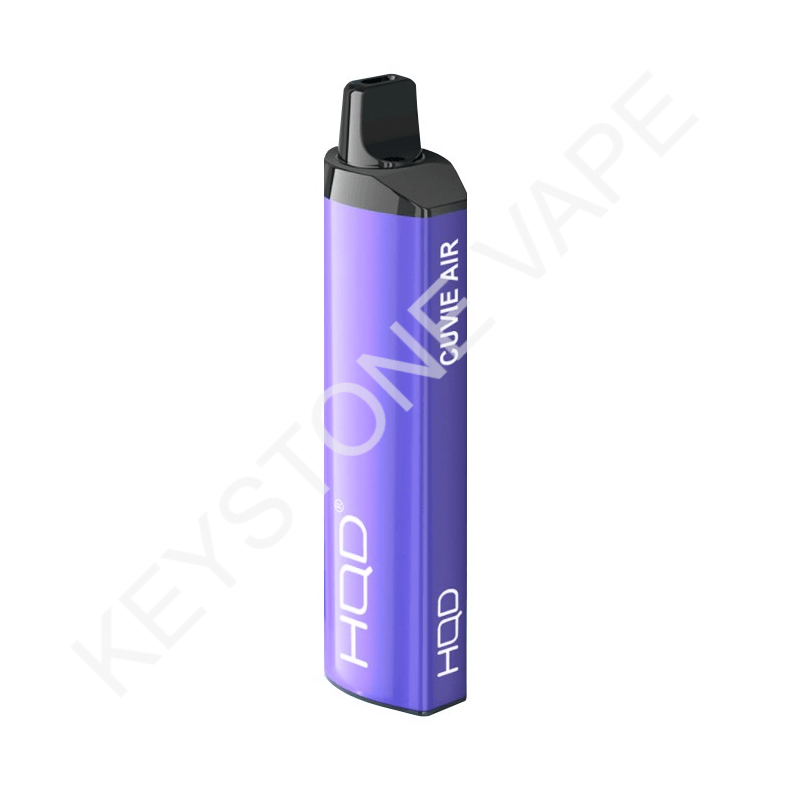 Affordable Pricing: The HQD Air is available at an attractive price range of $10.23 to $15.95, making it a cost-effective option for those who want to enjoy a premium vaping experience without breaking the bank. With its competitive pricing, the HQD Air offers exceptional value for money compared to other disposable vapes on the market.
Impressive Features
Massive Puff Count: The HQD Air stands out with its impressive 4000 puffs per device. This means you can enjoy an extended vaping experience before needing to replace the device, providing excellent value for your investment.
Convenient Portability: With its compact and ergonomic design, the HQD Air easily fits into your pocket or handbag, ensuring portability and convenience on the go. You can take it with you wherever you need it, allowing for hassle-free vaping on all occasions.
Wide Flavor Range: The HQD Air offers an extensive selection of 21 unique flavors to choose from, catering to a variety of taste preferences. Whether you're a fan of fruity, minty, or dessert-inspired flavors, you'll find something to satisfy your cravings within the Air range.
Specifications
Size: 33 x 23.3 x 116mm
E-liquid Capacity: 12ml
Battery: 1600mAh
Input Voltage: 3.7V
Power Range: 7W -12W
Puffs: 4000
Concentration: 50mg/ml
Resistance: 1.4Ω
Mesh Coil
Switch to Vapes
Apart from its attractive price and remarkable features, the HQD Air presents an excellent option for those looking to transition from traditional cigarettes. With vapes, you have more control over your nicotine consumption, allowing you to decide when and how many puffs to take. This control empowers you on your journey to quitting smoking, giving you the freedom to make choices that best suit your needs.
Conclusion
The HQD Air is a top-notch disposable vape that combines affordability, convenience, and a range of delicious flavors. With its impressive 4000 puffs per device, ergonomic design, and competitive price range, it offers exceptional value for money. Whether you're an experienced vaper or someone looking to make the switch from traditional cigarettes, the HQD Air is sure to deliver a satisfying and enjoyable vaping experience. Try it out for yourself and discover the convenience and pleasure of the HQD Air today!
If you want to know more HQD vape news, please visit Keystone Vape.