The HQD Star Rechargeable Disposable is the latest innovation in the world of vaping, offering a seamless blend of convenience and functionality. With an impressive array of flavors to choose from and a host of exciting features, this vape promises an unparalleled vaping experience. In this comprehensive review, we will explore the captivating flavors available, delve into the specifications and features that set the HQD Star apart, analyze customer reviews, and address frequently asked questions to help you make an informed decision.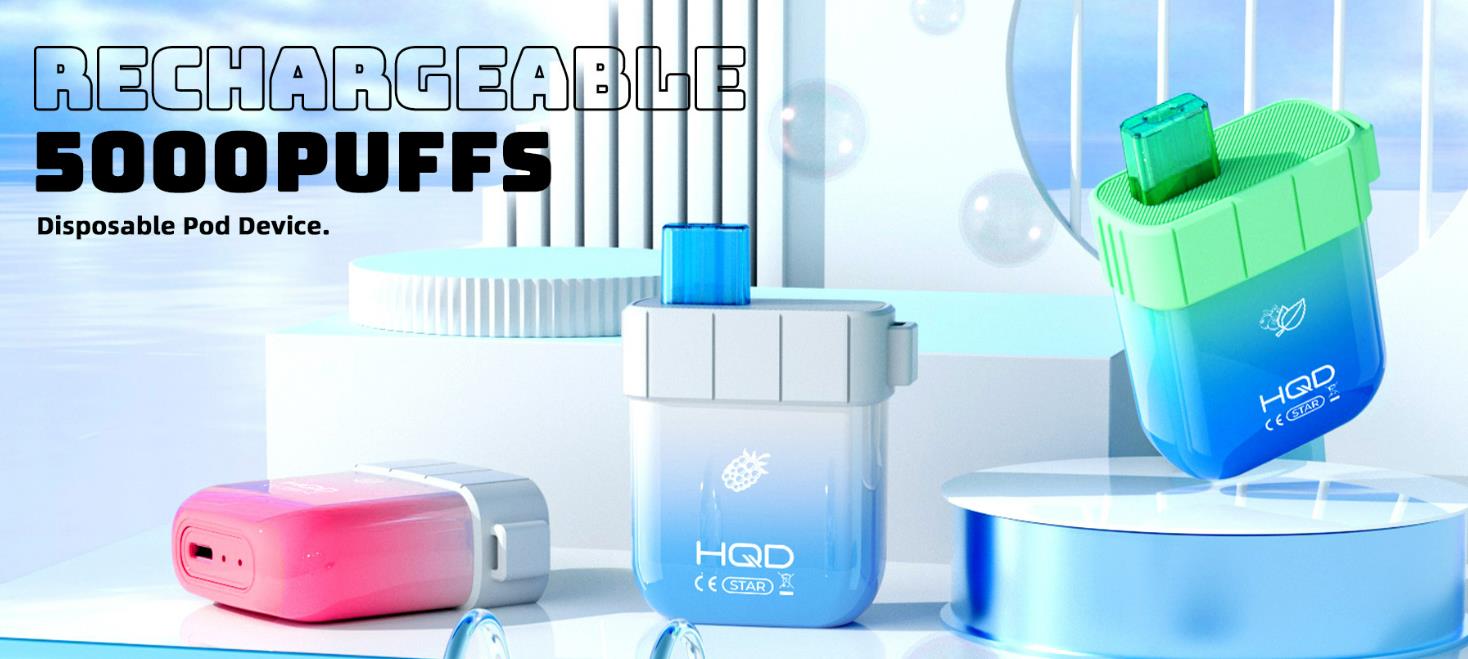 HQD Vape Star Flavors:
The HQD Star Rechargeable Disposable caters to diverse taste preferences with its selection of ten delectable flavors. Each flavor is thoughtfully crafted to ensure a satisfying and enjoyable vaping experience. Here are the tantalizing flavors offered:
Mango Ice: Experience the sweet and juicy goodness of ripe mangoes, enhanced by a refreshing icy twist. This tropical delight is perfect for those seeking a fruity and invigorating vape.
Lush Ice: Cool down with this icy watermelon flavor that's both sweet and refreshing. The combination of watermelon and menthol creates a balanced and delightful vape.
Energy Drink: Embrace a burst of energy with the exhilarating taste of an energy drink. The bold and refreshing flavor will keep you coming back for more.
Blueberry Mint: This unique blend combines the sweetness of blueberries with the refreshing coolness of mint. The result is a harmonious fusion that tantalizes the taste buds.
Peach Ice: Succulent peaches meet icy menthol, delivering a smooth and delightful vape that perfectly balances fruitiness and coolness.
Grape Ice: Enjoy the rich and juicy flavor of ripe grapes, complemented by a chilling icy undertone. A perfect choice for grape enthusiasts and menthol lovers alike.
Blueberry Ice: The classic flavor of blueberries is elevated with a touch of coolness, creating a smooth and delightful vaping experience.
Blue Razz: Embark on a journey of delightful berry goodness with a distinct blue raspberry flavor that leaves a lasting impression.
Blackberry Ice: Experience the bold and juicy taste of blackberries, accompanied by a cool and refreshing menthol breeze.
Strawberry Watermelon: The pairing of succulent strawberries and juicy watermelon results in a delightful vape that's both sweet and refreshing.
Specifications:
The HQD Star Rechargeable Disposable boasts impressive specifications, ensuring a consistent and satisfying performance:
Size: The device measures 502678mm, making it compact and easy to carry around.
Battery Capacity: With a rechargeable 550mAh battery, the HQD Star ensures you can enjoy extended vaping sessions without the worry of running out of power.
Power Range: The device operates at 7W, delivering a smooth and flavorful vape with every draw.
E-liquid Capacity: With a generous 14 ml e-liquid capacity, the HQD Star allows for long-lasting usage, reducing the need for frequent refills.
Resistance: The device features a 1.2-ohm resistance, providing an optimal balance between vapor production and flavor intensity.
Puffs: The HQD Star offers an astonishing 5000 puffs, guaranteeing an extended and enjoyable vaping experience before the need for a replacement.
Price:
The HQD Star Rechargeable Disposable offers exceptional value for money, especially when purchased at wholesale prices. With prices ranging from $5.6 to $6, depending on the "Made in China" designation, this device offers a cost-effective solution for vapers looking to indulge in premium flavors and convenience without breaking the bank.
Features:
The HQD Star Rechargeable Disposable stands out from conventional disposable vapes due to its remarkable features:
Rechargeable Battery: The 550mAh rechargeable battery sets the HQD Star apart from typical disposable vapes. This feature allows users to recharge the device, minimizing waste and providing more value for money.
Long-Lasting Puffs: With an impressive 5000 puffs, the HQD Star ensures extended vaping enjoyment, eliminating the need for frequent replacements and reducing environmental impact.
Large E-liquid Capacity: The 14 ml e-liquid capacity provides ample vape juice, ensuring you can enjoy your favorite flavors for an extended period without the hassle of frequent refills.
Optimal Power Range: Operating at 7W, the HQD Star delivers a smooth and consistent vaping experience, allowing users to savor the full flavor profile of their chosen e-liquid.
Variety of Flavors: The diverse selection of ten enticing flavors ensures that there is something for everyone, catering to a wide range of taste preferences.
Customer Reviews:
To gain insight into the HQD Star's performance and flavors, let's look at some customer reviews:
Review 1: "I absolutely love the HQD Star Rechargeable Disposable! The Mango Ice flavor is my go-to; it's like taking a tropical vacation with every puff. The rechargeable battery is a game-changer; I never have to worry about running out of power during the day. It's hands down the best disposable vape I've tried."
Review 2: "The Blue Razz flavor is fantastic! It's a refreshing and tangy berry flavor that keeps me coming back for more. The 5000 puffs are incredible; I've been using this vape for weeks, and it's still going strong. I highly recommend the HQD Star to anyone looking for a convenient and flavorful vaping experience."
Review 3: "Energy Drink is my favorite flavor by far! It gives me that boost of energy I need to power through the day. The battery life is impressive, and the size is perfect for carrying in my pocket. I'm thrilled with the value for money this vape offers."
FAQs:
Let's address some common questions about the HQD Star Rechargeable Disposable:
1. Is the HQD Star Rechargeable Disposable worth the investment?
Absolutely! The HQD Star offers a unique combination of convenience and functionality. With a rechargeable battery, 5000 puffs, and a variety of delectable flavors, it provides exceptional value for money.
2. Can I find the HQD Star at wholesale prices?
Yes, the HQD Star is available at wholesale prices, making it an affordable option for vapers looking to buy in bulk or retailers seeking cost-effective inventory.
3. How long does the rechargeable battery last?
The 550mAh rechargeable battery provides a long-lasting vaping experience, offering sufficient power to enjoy your favorite flavors throughout the day before needing to recharge.

Conclusion:
The HQD Star Rechargeable Disposable is a game-changing device that combines convenience, exceptional flavors, and impressive features. From its rechargeable battery and large e-liquid capacity to its diverse range of flavors, the HQD Star delivers an unmatched vaping experience. With positive customer reviews attesting to its excellence, this vape is a must-try for anyone seeking a flavorful and hassle-free vaping journey. Elevate your vaping experience with the HQD Star Rechargeable Disposable today!