In the ever-evolving world of vaping, finding the perfect device that combines tantalizing flavors and advanced features is a quest for many enthusiasts. The Hyde Vape Icon emerges as a frontrunner in this endeavor, boasting an impressive array of flavors and innovative specifications. In this comprehensive review, we will delve into the extraordinary assortment of flavors offered by Hyde Vape Icon, explore the device's standout features, and analyze customer reviews and FAQs to understand why this salt nicotine disposable device is causing a sensation in the vaping community.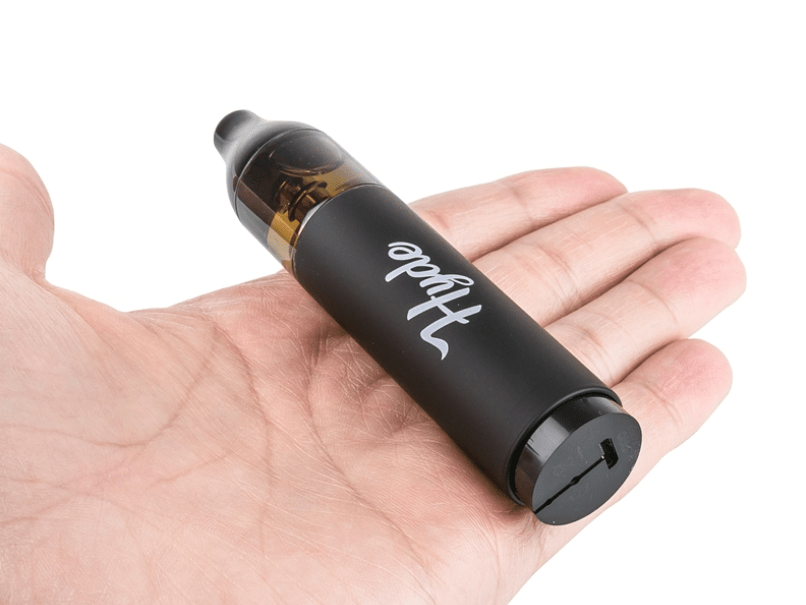 Flavors:
Aloe Grape: A unique fusion of succulent aloe vera and luscious grape that delivers a refreshingly smooth and flavorful experience. Ideal for vapers seeking a cool and mellow sensation.
Banana Ice: The classic tropical taste of ripe bananas complemented by a cool ice undertone. This flavor combination is perfect for those who enjoy a delightful balance of sweetness and chill.
Blue Razz Ice: An exhilarating mix of blue raspberry with an icy twist, providing an explosion of fruity and cooling flavors that will invigorate your taste buds.
Honeydew Punch: A symphony of juicy honeydew melon blended into a punchy concoction, creating a delightful tropical medley that transports you to a beachside paradise.
Peach Mango Watermelon: A trio of delectable fruits, combining the sweetness of peach and mango with the refreshing essence of watermelon. An instant hit among fruit lovers.
Pina Colada: A classic cocktail-inspired flavor that captures the essence of creamy coconut and ripe pineapple, ensuring a vaping experience reminiscent of a tropical vacation.
Pineapple Ice: The zesty tang of pineapple is perfectly balanced with a hint of coolness, making this flavor a go-to choice for vapers who crave an exotic yet refreshing taste.
Pink Lemonade: A delightful twist on a timeless favorite, offering a burst of zingy lemonade with a touch of pink sweetness, delivering a refreshing all-day vape.
Sour Apple: Experience a mouth-puckering tartness blended with the crispness of fresh green apples, providing a tangy and tantalizing vaping adventure.
Spearmint: For those who prefer a clean and minty sensation, this flavor delivers the coolness of spearmint leaves, leaving you feeling revitalized with every puff.
Strawberry Banana: A classic combination of ripe strawberries and creamy bananas that results in a smooth and luscious vaping experience.
Strawberries & Cream: Satisfy your dessert cravings with the rich and creamy fusion of fresh strawberries and velvety smooth cream.
Energize: Need an extra boost? This invigorating flavor combines bold coffee notes with a touch of sweetness, perfect for early mornings or afternoon pick-me-ups.
Cola Ice: A nostalgic trip down memory lane with the classic cola taste, infused with a refreshing ice element for a fizzy and revitalizing vape.
Bananas and Cream: Another take on the delightful banana flavor, enhanced with a creamy twist for a more indulgent experience.
Raspberry Watermelon: A dynamic duo of juicy raspberries and watermelon, creating a burst of fruity goodness with every puff.
Tropical: Immerse yourself in a tropical paradise with this flavor, blending various exotic fruits into a harmonious vaping symphony.
Strawberry Kiwi: The perfect balance of sweet strawberries and tangy kiwi, delivering a mouthwatering and flavorful encounter.
Hyde ICON Recharge Device Specifications and Features:
The Hyde Vape Icon is a groundbreaking salt nicotine disposable device that elevates the vaping experience to new heights. Here are the key specifications and features that set this device apart from the competition:
Salt Nicotine Disposable Device: The Hyde Vape Icon is a disposable vaping device, eliminating the need for maintenance, charging, or refilling. This user-friendly aspect makes it an ideal option for both beginners and experienced vapers.
Salt Nic E-liquid: Each disposable salt contains 50MG of Salt Nic, providing an authentic cigarette-style throat hit that many vapers crave. The high nicotine concentration ensures a satisfying experience with every puff.
Pre-filled Convenience: With no need for messy refills or complicated setups, the Hyde Vape Icon comes pre-filled with its e-liquid, ready to use straight out of the box. This simplicity guarantees a hassle-free vaping experience.
Extended Puff Capacity: The Hyde Vape Icon boasts an impressive 10mL e-liquid capacity, which translates to over 3300 puffs per disposable. This long-lasting feature ensures extended usage without the need for frequent replacements.
Powerful Battery: Equipped with a 600mAh battery, the Hyde Vape Icon delivers consistent power to support extended vaping sessions without compromise. The battery's efficiency ensures a stable and satisfying performance throughout its lifespan.
Micro USB Charger Compatibility: While the Hyde Vape Icon does not come with a charger, users have the flexibility to charge the device using compatible micro USB chargers. Hyde brand chargers can be purchased separately for added convenience.
Compact and Portable: The Hyde Vape Icon's sleek and compact design makes it easy to carry anywhere, fitting comfortably in pockets or purses. Its portability ensures that you can enjoy your favorite flavors on the go without any inconvenience.
Customer Reviews and FAQs:
Positive Customer Reviews: The Hyde Vape Icon has garnered an overwhelmingly positive response from users worldwide. Customers praise its extensive flavor options, easy-to-use design, and long-lasting performance. Many vapers particularly appreciate the high nicotine content, delivering a satisfying hit that closely resembles traditional cigarettes.
User-Friendly Nature: The Hyde Vape Icon is hailed for its simplicity and user-friendly design. Its pre-filled feature and disposable nature make it an excellent choice for vapers who prefer convenience and do not want to deal with complicated setups or maintenance.
Flavor Variety: One of the standout features of the Hyde Vape Icon is its diverse range of flavors. Customers appreciate the wide selection, ensuring that everyone can find a flavor that suits their preferences, whether they enjoy fruity, menthol, dessert, or beverage-inspired tastes.
Long-lasting Performance: With an impressive puff capacity, the Hyde Vape Icon offers exceptional value for money. Users report that a single disposable can last for days or even weeks, making it a cost-effective and practical choice for daily use.
Versatility and Portability: Vapers who lead an active lifestyle appreciate the Hyde Vape Icon's portability. Its compact size allows for discreet vaping, while the absence of maintenance ensures hassle-free use wherever they go.
FAQs:
a. Can I recharge the Hyde Vape Icon?
No, the Hyde Vape Icon is a disposable device and cannot be recharged. Once the battery is depleted or the e-liquid is consumed, you will need to replace the entire disposable device.
b. How many puffs can I expect from a single Hyde Vape Icon?
Each Hyde Vape Icon offers over 3300 puffs, depending on usage patterns. This ample capacity ensures extended vaping enjoyment.
c. Are there any health concerns associated with using the Hyde Vape Icon?
As with any vaping product, it is essential to use the Hyde Vape Icon responsibly and in moderation. While it eliminates many of the harmful substances found in traditional cigarettes, nicotine-containing products are not suitable for non-smokers and individuals under the legal age.
d. Are there any age restrictions for purchasing the Hyde Vape Icon?
Yes, the Hyde Vape Icon is intended for use by adults of legal smoking age only. Vaping products should be kept out of reach of children and young adults to prevent any potential risks.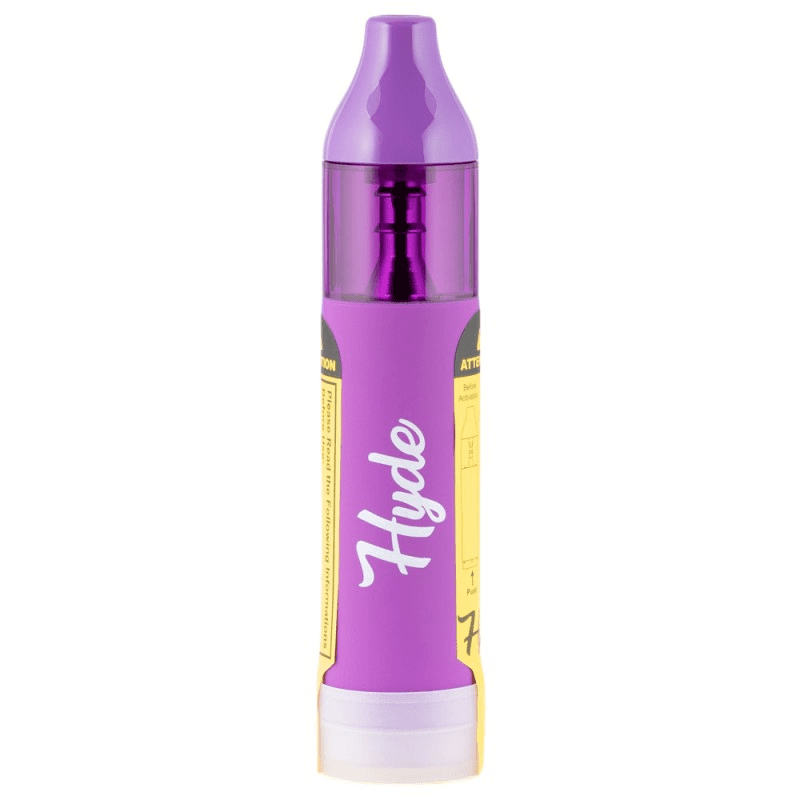 Conclusion:
The Hyde Vape Icon is undoubtedly a standout player in the world of disposable vaping devices. With an extensive range of delectable flavors, user-friendly design, and impressive features, it caters to both new and experienced vapers alike. Its hassle-free operation and long-lasting puffs make it an attractive option for those seeking a convenient and flavorful vaping experience. Whether you're a fruit fanatic or a dessert devotee, the Hyde Vape Icon has a flavor to suit your preferences.
So, if you're looking for an exceptional vaping experience without the hassle of maintenance and refilling, the Hyde Vape Icon might just be the perfect choice to satisfy your cravings and elevate your vaping journey to new heights. Remember to choose your favorite flavor wisely and enjoy the delightful experience that the Hyde Vape Icon has to offer!