In the fast-evolving world of vaping, finding the perfect e-liquid can be a challenging task. With countless options flooding the market, vapers are often left wondering which one will suit their preferences best. Among the myriad choices, Hyde Vape Edge stands out as a brand that offers a wide range of flavors, affordability, and convenience. In this comprehensive review, we will delve into the various aspects that make Hyde Vape Edge a sought-after choice for vapers worldwide. From its diverse flavor selection to its pocket-friendly price range and impressive battery capacity, we will leave no stone unturned in examining what this vaping brand has to offer.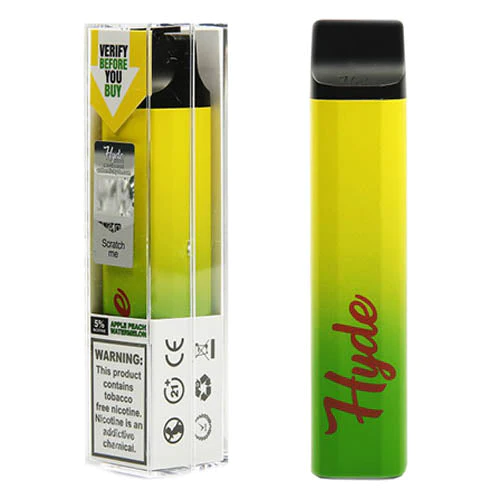 Hyde Vape Edge Flavors:
One of the most enticing aspects of Hyde Vape Edge is its diverse range of flavors. With a plethora of options to choose from, vapers can easily find their perfect match. Here are some of the standout flavors offered by Hyde Vape Edge:
Pink Lemonade: A refreshing blend of cool pink lemonade that awakens your taste buds.
Blue Razz: A delightful combination of blue raspberry with a hint of sour and sweet notes.
Cherry Lemonade: Squeezed cherries and lemons perfectly blended into a zesty lemonade.
Honeydew Punch: A fruity punch of honeydew and other delightful fruits.
Spearmint: A minty flavor that leaves your breath fresh and clean.
Peach Mango Watermelon: A tropical explosion of peaches, mangos, and watermelon.
Lush Ice: A candied watermelon flavor with a refreshing menthol twist.
Strawberries & Cream: A classic combination of sweet strawberries and creamy goodness.
Mango Ice: Ripe mangos with a cool icy finish.
Pineapple Ice: Juicy pineapples infused with icy menthol.
Banana Ice: Sweet bananas mixed with a chilly menthol touch.
Strawberry Banana: A delightful blend of strawberries and bananas.
Pineapple Peach Mango: A tropical trio of pineapples, peaches, and mangos.
Aloe Grape: Unique fusion of aloe vera and chopped grapes.
Blue Razz Ice: Blue raspberry flavor with an icy menthol twist.
Neon Rain: A mix of strawberries, cream, and a touch of blue raspberry.
New Flavors:
Energize: A reminiscent of a classic energy drink to keep you going.
Tropical Gummy: Tropical flavors with a delicious gummy finish.
Bananas & Cream: Sweet bananas with a creamy touch.
Cola Ice: The classic cola flavor with a refreshing menthol finish.
Sour Apple Ice: Sour apples combined with a cool menthol sensation.
Cherry Peach Lemonade: A fusion of cherries, peaches, and lemonade.
Minty O's: A delightful candied mint flavor.
OJ: The best of orange juice in a vape.
Pina Colada: A perfect blend of coconut and pineapple.
Power: Sweet strawberries with a tangy twist.
Raspberry Watermelon: A fruity paradise of raspberries and watermelon.
Strawberry Kiwi: A smooth blend of strawberries and kiwis.
Summer Luv: A mix of sweet and citrus fruits.
Pink Drink: Freshly-squeezed watermelon juice with strawberries.
Watermelon Ice Cream: The fusion of watermelon and sweet vanilla cream.
Apple Peach Watermelon: A medley of apples, peaches, and watermelon.
Dragonfruit Lemonade: Dragonfruit infused with ice-cold lemonade.
Strawberry Ice Cream: A delightful blend of strawberries and vanilla ice cream.
Strawberry Orange Ice: Strawberries and oranges with a cool menthol kick.
Price Range:
Price is often a decisive factor for vapers looking for a new e-liquid brand. Hyde Vape Edge offers an attractive price range that caters to vapers with different budgets. The e-liquids from this brand are available at a reasonable price, with most flavors falling within the range of $7.99 to $9.99 per 10mL pre-filled e-liquid. This competitive pricing makes Hyde Vape Edge a cost-effective choice for both seasoned vapers and those new to the world of vaping.
Features:
Apart from its wide array of flavors and affordable price range, Hyde Vape Edge boasts several noteworthy features that elevate the overall vaping experience:
Pre-Filled E-Liquid Capacity: Each Hyde Vape Edge cartridge comes pre-filled with 10mL of e-liquid, ensuring an extended vaping duration before needing a refill.
Battery Capacity: The 600mAh rechargeable battery in Hyde Vape Edge devices provides ample power for extended vaping sessions without frequent recharging.
Puff Count: With approximately 3300 puffs per device, vapers can enjoy a long-lasting vaping experience before needing a replacement.
Nicotine Strength: Hyde Vape Edge offers a nicotine strength of 50mg, catering to vapers who prefer a higher concentration of nicotine for a more satisfying hit.
Charging: The Hyde Vape Edge devices are equipped with a convenient Micro USB charger, making it easy to charge the battery with widely available charging cables.
Customer Reviews:
Customer feedback is a crucial factor in determining the reliability and quality of any product, and e-liquids are no exception. Hyde Vape Edge has garnered a considerable amount of positive reviews from its customers. Vapers praise the brand for its extensive flavor selection, smooth throat hit, and affordability. Many customers appreciate the 10mL pre-filled cartridges, which make refilling hassle-free and convenient. Moreover, the long-lasting battery life ensures that vapers can enjoy their favorite flavors without frequent interruptions.
FAQs:
Are Hyde Vape Edge e-liquids suitable for beginner vapers?
Hyde Vape Edge offers a wide range of flavors, making it suitable for both beginners and experienced vapers. With a variety of options available, beginners can experiment to find their preferred flavor profile.
What nicotine strength does Hyde Vape Edge offer?
Hyde Vape Edge e-liquids are available in a nicotine strength of 50mg, catering to vapers who prefer higher nicotine concentrations for a more substantial throat hit.
How long does the battery last on a Hyde Vape Edge device?
With a battery capacity of 600mAh, Hyde Vape Edge devices can last for a considerable amount of time before requiring a recharge. On average, vapers can expect around 3300 puffs before the battery needs recharging.
Is the Micro USB charger included with the device?
The Micro USB charger is not included with the Hyde Vape Edge device, but it can be easily found and purchased separately as it is a standard charging cable.
Are the Hyde Vape Edge e-liquids compatible with other vaping devices?
Hyde Vape Edge e-liquids are designed to be used with Hyde devices. While some flavors may work with other devices, it is recommended to use them with Hyde Vape Edge devices for the best performance and flavor experience.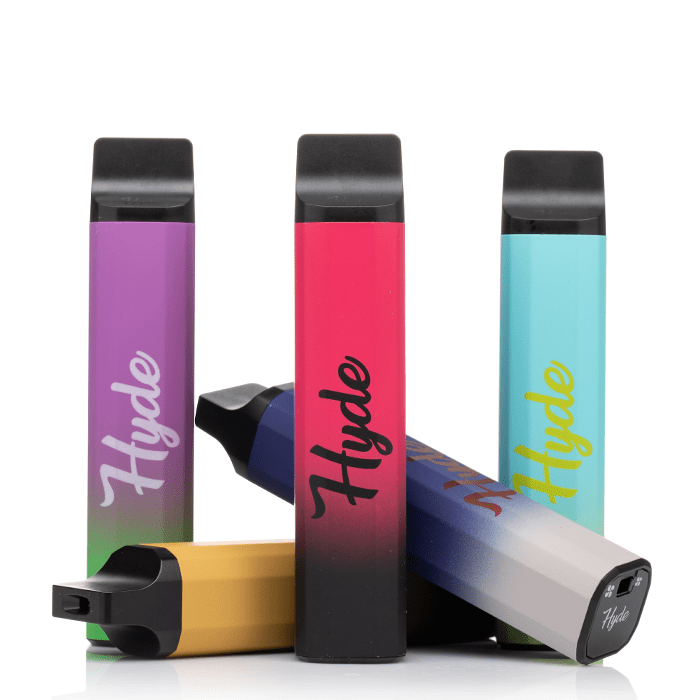 Conclusion
In conclusion, Hyde Vape Edge proves to be a standout brand in the vaping industry, offering an extensive selection of flavors, a cost-effective price range, and impressive features such as a 10mL pre-filled e-liquid capacity, 600mAh rechargeable battery, and approximately 3300 puffs per device. With positive customer reviews and a diverse range of flavors to cater to all palates, Hyde Vape Edge is an excellent choice for vapers seeking an enjoyable and convenient vaping experience. Whether you are a beginner or a seasoned vaper, Hyde Vape Edge is worth considering for its high-quality e-liquids that promise a flavorful journey into the world of vaping.