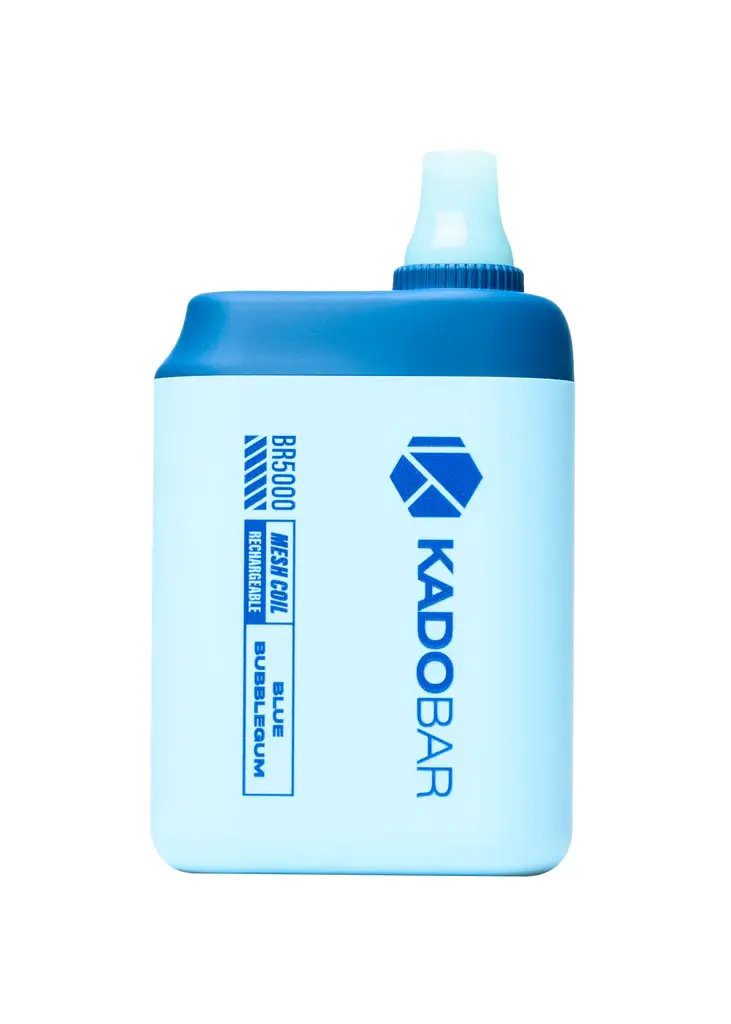 In the ever-evolving world of vaping, innovation and convenience are at the forefront of every vaper's mind. The Kado Bar BR5000 Disposable Vape is a testament to this ethos, promising an unparalleled vaping experience that combines style, performance, and convenience. With an impressive 5000 puffs, dual-mesh coils, a user-friendly design, and fast charging capabilities, this device is poised to become a game-changer for both beginners and experienced vapers alike.
Specs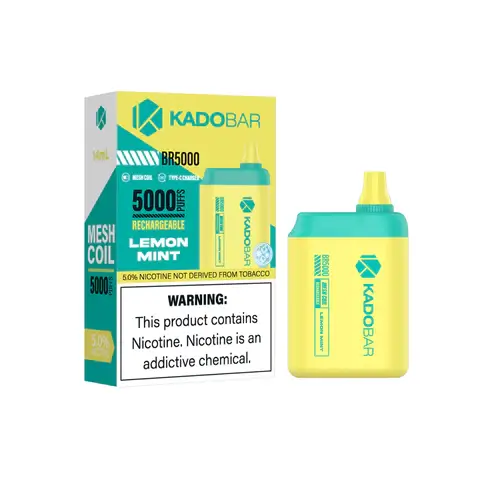 Box Style Disposable Vape Design
Integrated Mesh Coil
Estimated 5000 Puffs
No Maintenance Required
Classic Automatic Style
Ultra Lightweight and Compact Design
Non-Refillable Design
50mg Nicotine Salt Based E-Liquid
Type-C Charging Port
Flavors by Kado
Flavor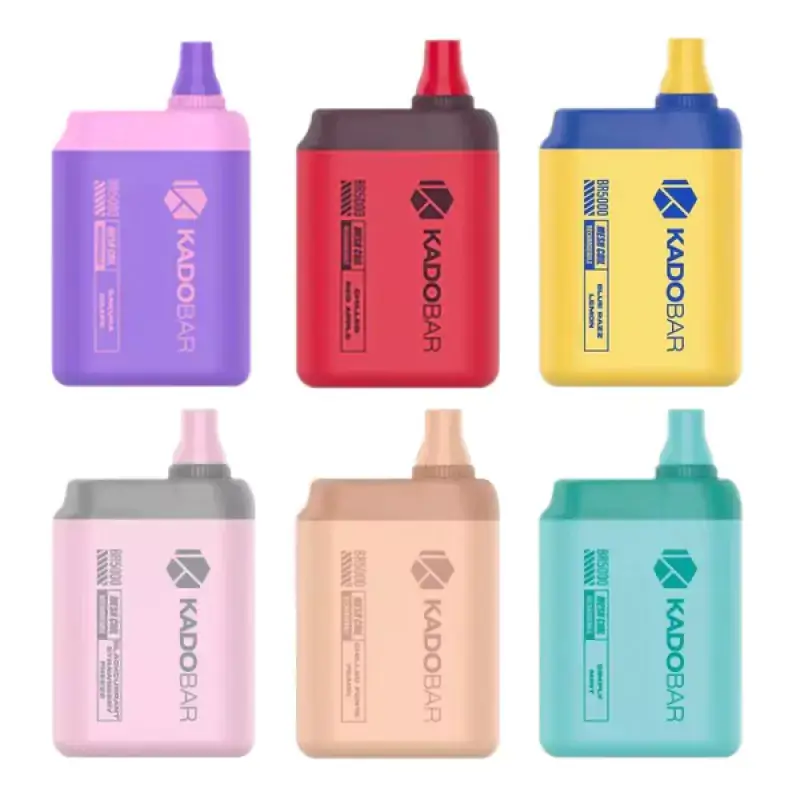 Aloe Mango Ice
Black Currant Strawberry Freeze
Black Ice
Blue Bubble Gum
Blue Razz Lemon
Clear
Chilled Aloe Mango
Chilled Red Apple
Cran Apple
Elderberry Mint
Fenta Peach Ice
Fresh Mint
Fuji Melon Freeze
Lemon Mint
Rainbow Candy
Sakura Grape
Simply Mint
Strawberry Kiwi Ice
Strawberry Milk
Strawberry Snowcone
Strawberry Watermelon Freeze
Watermelon Berry
Watermelon Ice
White Gummy Bear
One of the standout features of the Kado Bar BR5000 is its use of mesh coils, a technology that intensifies the flavor with every hit. From the very first draw, you'll notice the difference in flavor quality. The mesh coils ensure that you can savor even the most nuanced flavor notes, creating an intense and satisfying vaping experience that leaves you craving for more.With 20 excellent flavors to choose from, the Kado Bar BR5000 ensures that your taste preferences are catered to. Whether you're a fan of fruity delights, indulgent desserts, or refreshing menthols, this device offers a diverse selection of flavors that will keep your taste buds intrigued and satisfied.
Design and Aesthetics
One of the most striking features of the Kado Bar BR5000 is its compact and ergonomic design. This device is engineered to be both visually appealing and incredibly portable. It fits comfortably in the palm of your hand, allowing for a discreet and comfortable vaping experience. The designers have paid meticulous attention to detail, ensuring that every curve and contour of the device contributes to its overall aesthetic appeal.
The Kado Bar BR5000 strikes a harmonious balance between sophistication and practicality. Its design doesn't just aim to look good; it's built to meet the demands of real-life vapers. This device is a prime example of how aesthetics and functionality can coexist seamlessly. It's the ideal companion for those who appreciate both form and function in their vaping devices.
The addition of a rubberized body is a thoughtful touch that enhances both the aesthetics and functionality of the Kado Bar BR5000. The rubberized texture not only adds to its visual appeal but also provides a secure grip. This is particularly beneficial for on-the-go vapers who need a device they can confidently hold, even in challenging conditions. Whether you're out and about or simply relaxing at home, the Kado Bar BR5000 feels comfortable and secure in your hand.
For vapers who are constantly on the move, the Kado Bar BR5000's design is a game-changer. Its compact size, combined with the rubberized grip, makes it the perfect choice for on-the-go enthusiasts. Whether you're commuting, traveling, or simply enjoying outdoor activities, this device slips easily into your pocket or bag, ready to deliver a burst of flavorful clouds whenever you desire.
Impressive Puff Count
Imagine a vaping device that lasts not just for a few hours, but potentially for days or even weeks, depending on your usage. That's precisely what the Kado Bar BR5000 brings to the table. Whether you're embarking on a long road trip, a weekend getaway, or simply want the peace of mind that your vaping pleasure won't be disrupted by low battery warnings, this device has you covered.
One of the most significant advantages of the Kado Bar BR5000's impressive puff count is the peace of mind it offers. You won't have to constantly monitor your remaining battery life or e-liquid levels. Instead, you can focus on enjoying your vaping experience to the fullest, knowing that you have thousands of puffs at your disposal.
The Kado Bar BR5000 isn't just about longevity; it's also designed with nicotine satisfaction in mind. It boasts a 50mg (5%) nicotine strength, making it an ideal choice for those who crave a potent and deeply satisfying nicotine hit. This concentration provides a robust throat hit and ensures rapid nicotine absorption, catering to both former smokers looking to transition to vaping and experienced vapers who prefer a stronger nicotine experience.
For smokers who are considering making the switch to vaping, the Kado Bar BR5000's nicotine strength offers a familiar and satisfying sensation. It replicates the throat hit experienced with traditional cigarettes, making it easier for smokers to embrace vaping as a satisfying alternative.
Even for vapers who have already made the switch, the higher nicotine concentration of the Kado Bar BR5000 can be a welcome change. Whether you're in need of a quick and satisfying nicotine fix or simply enjoy the intensity of a stronger nicotine hit, this device has you covered.
Conclusion
In the world of disposable vapes, the Kado Bar BR5000 stands out as a revolutionary device that combines style, convenience, and impressive performance. Its sleek design, compact size, and rubberized body make it a perfect companion for those constantly on the move. With an astounding 5000 puffs, dual-mesh coils for exceptional flavor, a user-friendly draw-activated design, and fast USB Type-C charging, it caters to the needs and preferences of vapers of all levels.