The vaping world is evolving rapidly, with new devices constantly hitting the market. Among them, the Aokit Drift Star Vape stands out as a unique and stylish option designed with newcomers in mind, featuring a light nicotine content of 20mg. In this comprehensive review, we'll delve into what makes the Aokit Drift Star Vape a compelling choice for both new vapers and experienced enthusiasts.
Specifications
Model: Aokit drift star
Nicotine Strength: 5% 2%
Approximately Puffs: Up to 600puffs
Battery: Built-in 650MAH
Flavors: 16 kinds
Product Size: 25mm(D)*123 mm(H)
Design and Appearance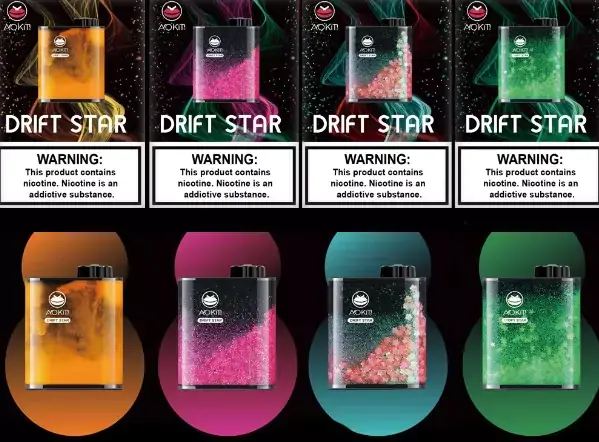 In the realm of vaping, it's not just about satisfying your nicotine cravings or producing impressive vapor clouds; it's also about making a statement. Enter the Aokit Drift Star Vape, a device that commands attention from the moment you lay eyes on it. This pod system is not merely a functional vaping tool; it's a work of art, a testament to the fusion of design and functionality.
At first glance, the Aokit Drift Star captivates with its remarkable design. It's a head-turner, no doubt about it. The sleek and compact form factor immediately establishes it as a fashion-forward choice for vapers who value aesthetics as much as they do the vaping experience.
What sets the Aokit Drift Star apart in terms of design is its construction. Crafted from PC plastic material, this vaping masterpiece strikes an impeccable balance between lightweight design and remarkable durability. You won't have to compromise on build quality for the sake of portability. It's a device that can stand up to the rigors of daily use while remaining impressively light in your hand.
The pièce de résistance of the Aokit Drift Star is undoubtedly its transparent midsection. This unique feature offers a window into a world of wonder, where captivating patterns and shimmering elements swirl and dance like quicksand. It's a visual spectacle that transforms the act of vaping into an art form, an experience that transcends the ordinary.
But the allure of the Aokit Drift Star doesn't end there. Aokit recognizes that personal style is a crucial element of the vaping journey. That's why they offer four distinct versions of the Drift Star, each showcasing its own unique textures and designs. This variety empowers you to choose a style that resonates with your personality and preferences. Whether you're drawn to the cosmic allure of starry patterns or the elegance of other textures, there's a Drift Star that perfectly complements your individuality.
And if you're a fan of a little extra flair, you'll love the luminous quicksand effect inside the transparent shell. It's like having a captivating light show right in your hands, making every vaping session a mesmerizing experience.
Performance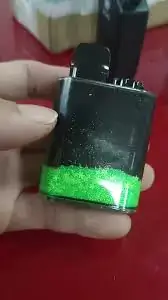 The Aokit Drift Star Vape may be small, but it packs a punch when it comes to battery life. With a 550mAh battery capacity, this compact device can keep you vaping for up to two days on a single charge. The convenience of extended use without frequent recharging is a significant advantage for vapers on the go.
Additionally, the Drift Star incorporates a USB Type-C fast charging port at the bottom of the pod, ensuring rapid recharges. In less than 45 minutes, your Drift Star will be fully charged and ready to provide you with uninterrupted vaping enjoyment.
Ease of Use
The Aokit Drift Star Vape is designed with user-friendliness in mind. Its straightforward operation makes it an excellent choice for both novice and experienced vapers. There's no need for complex settings or adjustments; simply fill the pod, and you're ready to vape.
The top-fill design simplifies the e-liquid refilling process, while the transparent pod allows you to monitor your e-liquid levels easily. This transparency also adds to the device's overall aesthetic appeal.
Pros
Stylish and unique design
Lightweight yet durable construction
Extended battery life with fast charging
Impressive flavor variety with 16 options
User-friendly operation, ideal for beginners
Transparent pod for easy e-liquid level monitoring
Variety of texture options to suit personal style
Cons
Limited to light nicotine content (20mg), which may not suit those who prefer higher nicotine levels.
Some users may desire even more texture options for added variety.
Flavor Variety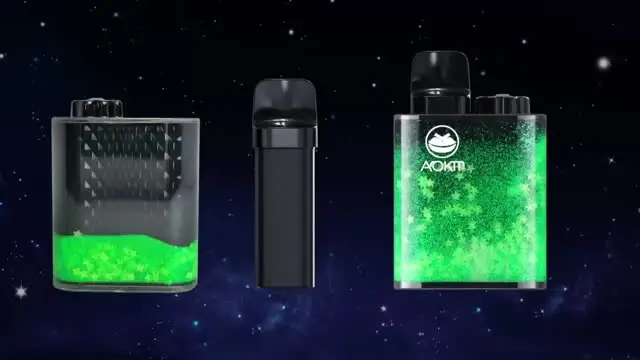 One of the standout features of the Aokit Drift Star Vape is its impressive flavor variety. With 16 unique flavors to choose from, this device caters to a wide range of taste preferences. Whether you're a fan of fruit-infused blends, classic tobacco flavors, or more adventurous options, the Drift Star has something to satisfy your palate.
Some notable flavor options include:
Mint Ice
Hami Melon
Blueberry Raspberry
Orange Soda
Kiwi Fruit Passion Fruit
Buttered Tobacco
Watermelon Bubble Gum
Popcorn
Coffee Cream
Sour Apple
This extensive flavor selection ensures that you'll never grow tired of your vaping experience, and you can easily switch between flavors to suit your mood.
Conclusion
The Aokit Drift Star Vape is a visually stunning and flavorful addition to the world of vaping. Its stylish design, impressive flavor variety, and user-friendly operation make it a standout choice, especially for newcomers looking to explore the world of vaping.
With extended battery life and rapid charging capabilities, the Drift Star ensures that you can enjoy your vaping experience without frequent interruptions. While its nicotine content may not cater to heavy smokers, it's an excellent option for those looking to transition into vaping or for vapers who prefer a lighter nicotine hit.
The Aokit Drift Star Vape combines style, performance, and flavor variety into a compact and attractive package. If you value aesthetics and enjoy exploring a diverse range of e-liquid flavors, the Drift Star is a solid choice that won't disappoint. Elevate your vaping experience with the Aokit Drift Star and savor the unique taste it has to offer.