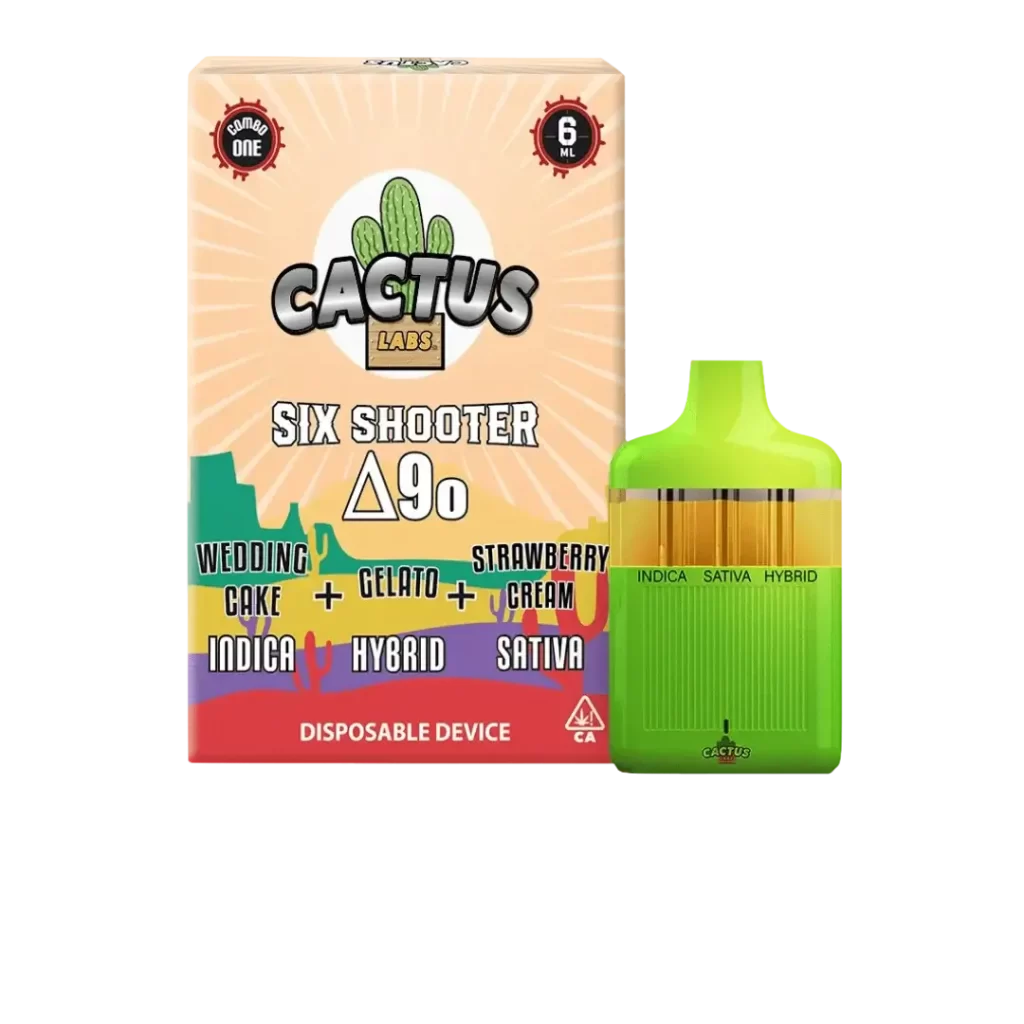 The Cactus Six Shooter is a convenient and enjoyable option for those seeking an all-day vape pen. With three strains packed into one cartridge, it offers a dynamic experience like no other. Carefully curated with 2 grams each of sativa, hybrid, and indica, this disposable ensures a versatile vaping session. The ability to switch strains on the go adds to its appeal. Powered by a 650mAh rechargeable battery and featuring a built-in USB charger, the Cactus Labs Delta 8 Six Shooter Disposable stands out as the first 6 gram delta 8 THC disposable, offering a unique and satisfying vaping experience.
List of available strain combinations
Blueberry Cookies (Indica) x Grape Ape (Hybrid) x Pineapple Express (Sativa)
Purple Punch (Indica) x White Widow (Hybrid) x Blue Dream (Sativa)
Sour Tangie (Sativa) x AK47 (Sativa) x Dubian Poison (Sativa)
Zkittles (Indica) x Birthday Cake (Indica) x OG Kush (Indica)
Blue Dream (Hybrid) x LA Kush Cake (Hybrid) x Gorilla Glue (Hybrid)
OG Kush (Indica) x Gorilla Glue (Hybrid) x Bruce Banner (Sativa)
Purple Punch (Indica) x OG Kush (Indica) x Gushers (Indica)
Rainbow Candy (Sativa) x Sour Diesel (Sativa) x Super Lemon Haze (Sativa)
Wedding Cake (Indica) x Gelato (Hybrid) x Strawberry Cream (Sativa)
Specifications
• Compliant with the 2018 Farm Bill
• First ever 6 gram disposable
• Rechargeable
• 3 different strains per disposable
• Made in the USA with industrial hemp
• Naturally derived terpenes
• Third-party lab tested 
Cons
Limited Flavor Selection: Some users might be disappointed by the limited range of flavors available.
No Adjustable Wattage: The absence of adjustable wattage might not cater to vapers who prefer customization in their vaping experience.
Coil Burning: Overcharging for extended periods can lead to coil burning issues.
Design and Build Quality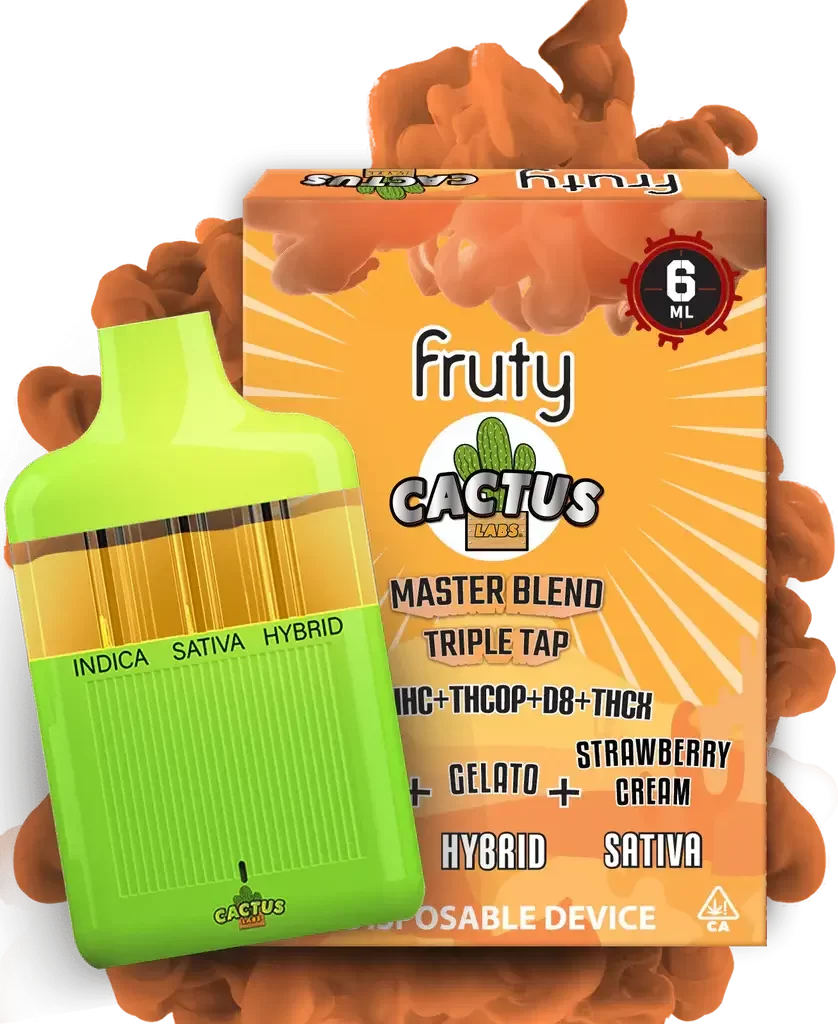 The Cactus Labs Delta 8 Six Shooter Disposable Vape stands out as a sleek and stylish device that promises an enjoyable vaping experience. Its curved design, smooth finish, and comfortable fit in the hand make it a pleasure to hold and use.
One of the standout features of this disposable vape is its ease of use. With a simple cap removal and an effortless draw on the mouthpiece, activating the device is a breeze. This simplicity makes it an excellent option for both beginners and experienced vapers.
Performance is where the Delta 8 Six Shooter Disposable truly shines. The draw resistance is finely tuned to ensure a smooth and flavorful experience. What's even more impressive is how quickly the effects of the Delta 8 become noticeable after just a single puff. These effects are not only immediate but also long-lasting and calming, creating a satisfying experience for users seeking a variety of effects. The inclusion of three strains, each carefully selected to provide unique sensations from energizing to euphoric to relaxing, offers versatility that caters to different moods and preferences.
Battery Life
The device's use of Delta 8 distillate derived from hemp, along with other cannabinoids like CBD, CBG, and CBN, adds to its appeal. This diverse cannabinoid profile contributes to a well-rounded experience for users looking for a comprehensive range of effects.
With approximately 250 puffs per disposable, the longevity of the Delta 8 Six Shooter is notable. Its battery life combined with the array of strains ensures that users can enjoy a consistent experience for an extended period.
In the realm of pros, the Delta 8 Six Shooter Disposable Vape boasts a massive 6-gram tank, delivering substantial value to users. The inclusion of 2 grams each of Sativa, Indica, and Hybrid strains within a single vape is a remarkable offering. The sleek design, low draw resistance, and long-lasting battery further enhance its appeal.
How to Use
Take the device out of its package.
Remove the mouthpiece's silicone cap.
Place the mouthpiece into your mouth.
To switch on the device, press the button five times. The button is on the side of the device.
By clicking the button at the device's bottom, you can choose the strain you want to vape.
Inhale from the mouthpiece. After 8 seconds of continuous use, the device will automatically switch off.
Activating the continuous vaping mode is as easy as clicking the button twice in quick succession.
When you're done vaping, appropriately dispose of the device.
FAQs
1.What is Delta 8 THC?
Delta 8, also known as delta-8-tetrahydrocannabinol, is one of the many cannabinoids in the cannabis plant. While you may have never heard of it, you are most likely more familiar with it than you realize! Delta 8 is a strain of THC very closely related to the stain we are all familiar with, Delta 9, which has given THC its claim to fame.
While many people assume that THC provides the psychoactive effects it is known for, the specific strain, Delta 9, causes these effects THC is best known for.
2.Where Does Delta 8 THC Come From?
As we mentioned, Delta 8 is a different strand of THC. However, it occurs in tiny doses in the cannabis or hemp plant. Because the compound is so rare within the plant, it cannot be extracted in large enough quantities to be used in products. For this reason, Delta 8 is made in a laboratory setting by altering other cannabinoids found in the hemp plant.
3.How many puffs will I get from the Delta 8 Six Shooter Disposable?
The Delta 8 Six Shooter Disposable will last for approximately 250 puffs.
Verdict
Moreover, the positive feedback from users about the flavors of the Cactus Labs Delta 8 Six Shooter Disposable is worth noting. The consistent and delicious flavors, like OG Kush, Blue Dream, and White Widow, demonstrate the manufacturer's commitment to providing a satisfying taste.
The inclusion of a button for strain switching is innovative and convenient, enhancing the user experience by allowing quick transitions between Indica, Sativa, and Hybrid strains.
The Cactus Labs Delta 8 Six Shooter Disposable Vape presents a stylish and user-friendly option for Delta 8 enthusiasts. While it might not definitively claim the title of the best delta 8 disposable on the market, its sleek design, versatile effects, and rechargeable feature make it a compelling choice. The variety of flavors and innovative strain-switching button add to its appeal, though the absence of adjustable wattage and limited flavor options might be minor drawbacks for some users. Overall, this disposable vape delivers a smooth and flavorful experience, making it an excellent option for those seeking a convenient and potent vaping journey.