As vaping continues to evolve, finding a device that offers ease-of-use without compromising on quality can be a daunting task. Enter the Cartisan Button VV 900, a variable voltage vaporizer that stands out in a crowded market. With its slim and elegant form, it not only makes your 510 cartridges look great but also offers a substantial 900mAh battery for long-lasting use. This vape pen brings together the best of both worlds, featuring dual eGo and 510 threading, making it a universal companion for your vaping journey. Designed with user experience in mind, its variable voltage settings are a breeze to adjust with just a triple-click of a button. Keep reading as we delve deeper into what makes this Cartisan vape pen a must-have for vapers, from its beautiful retail-ready packaging to its smart protect USB-C charger.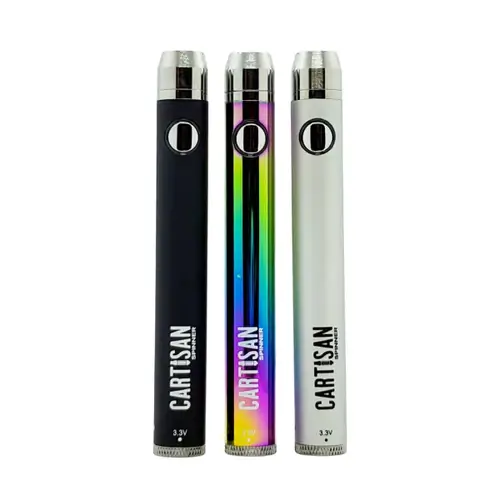 What Can We Expect From Cartisan Vape Pen?
If you're a first-time vaper, you'll find the Cartisan vape remarkably user-friendly. Gone are the days of pushing multiple buttons and complicated settings. With its auto-draw mechanism, all you have to do is take a puff to activate it. It's that simple. For those who hate the hassle, this feature is a game-changer.
With the Cartisan vape, you have the freedom to tailor your vaping experience. It offers two variable voltages: 3.3v and 4.8v, accessible by a simple twist of the dial at the bottom of the pen. Whether you prefer milder or stronger hits, this vape pen accommodates your preferences with ease.
A potent 900mAh battery powers the Cartisan vape, assuring that you won't be left high and dry in the middle of your day. The battery is not just powerful; it's also durable, often lasting days before requiring a recharge. Trust me, nothing kills the vibe faster than a dead battery, and Cartisan ensures that's one less thing you have to worry about.
When it comes to portability and convenience, the Cartisan vape scores high marks. Its slim profile fits effortlessly in your palm and slides into your pocket like it was always meant to be there. It's the perfect companion for the on-the-go vaper.
Product Overview
Cartisan Ego Twist Battery 650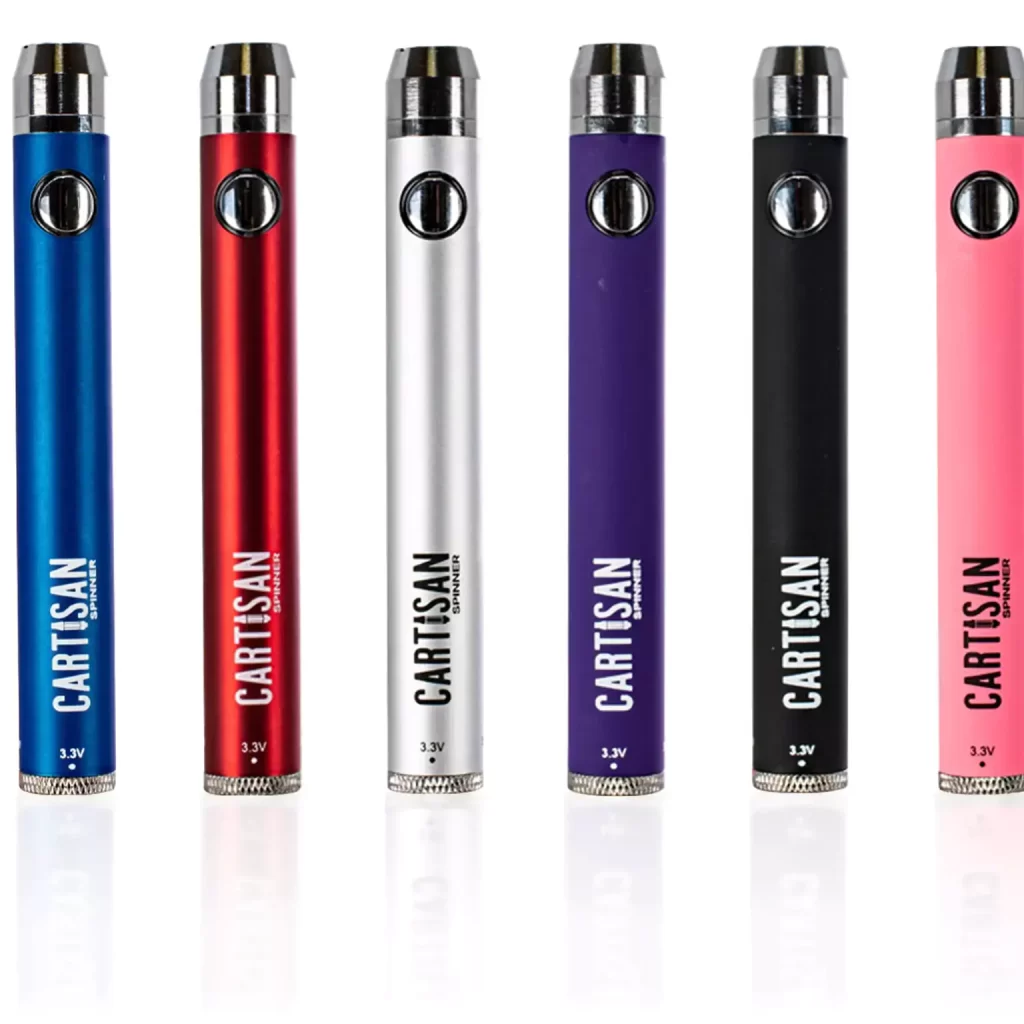 The Cartisan Ego Twist Battery 650mAh is a game-changer for both newbie and veteran vapers. Its sleek design makes it ultra-portable, fitting perfectly into pockets for on-the-go vaping. What sets it apart is the adjustable voltage, easily changed via a bottom dial, ranging from 3.3V to 4.8V. This allows for customized vaping experiences, whether you like a softer or more robust hit.
Safety is also top-notch. Equipped with overcharge, short-circuit, and over-discharge protections, this battery ensures your vaping sessions are secure. Universal 510-threading is another perk, allowing compatibility with a wide array of cartridges.
One more thing that makes life easier is the Micro USB charging port—no more worries about losing a specific charger. Any Micro USB cable will do. The battery also includes a skirt adapter for aesthetic alignment of your cartridge, adding a sleek finish to your setup.
But what truly elevates it is the 650mAh battery cell. It offers long-lasting power, meaning less time spent charging and more time enjoying your vape. Add Cartisan's luxurious branding, and you've got a battery that's not just functional but also stylish.
Features
Battery Capacity: 650 mAh
Threading: EGO, 510
Includes USB Charger: No
Includes Skirt Adapter: Yes
Power Method: 5 button click on/off
Variable Voltage: Adjustable Twist Dial (3.3V-4.8V)
Cartisan Button VV 900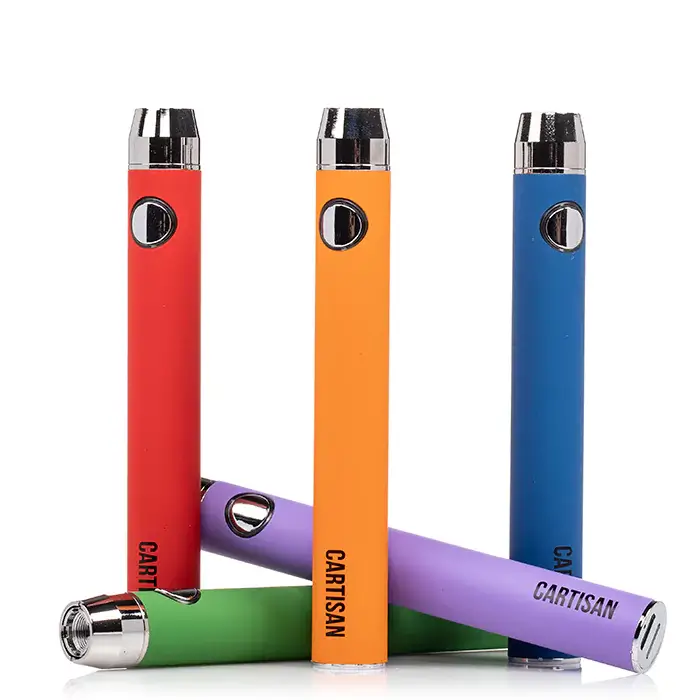 The Cartisan Button VV 900 is a versatile vape battery that offers both convenience and performance. Featuring a slim, tapered design, it makes any 510 cartridge look sleek and stylish. With a generous 900mAh battery, it ensures you're not constantly reaching for the charger. Speaking of charging, it comes with a USB-C charger included, offering quick and efficient recharging.
One of the standout features is its easy-to-use variable voltage settings. A simple triple-click of the button lets you adjust your vaping experience, providing a customizable session each time. The inclusion of dual threading—both eGo and 510—amplifies its versatility, allowing you to use it with a wide array of cartridges and tanks.
The package is retail-ready and elegantly designed, adding an extra layer of aesthetic appeal. In addition to the 510 compatibility, the package includes a skirt adapter, making it compatible with eGo threaded tanks while maintaining a sleek appearance.
Safety is also a priority with the Cartisan Button VV 900. It features a 5-button click on/off power method and smart protect charging, giving you peace of mind during use.
Features
Battery Capacity: 900 mAh
Threading: 510
Charging: Micro-USB or Lightning Cable (included)
Includes Skirt Adapter: Yes
Power Method: 5 button click on/off
Variable Voltage: 3 button click Variable Voltage
FAQs
1.How do I turn my battery on?
To turn this battery on/off click the button repeatedly 5 times
2.How do I change the voltage of my pen battery?
Click the button 3 time repeatedly to change the voltage, these batteries have three different voltage settings GREEN=3.4V BLUE=3.7V RED=4.0V
3.Why does my battery blink with the cartridge attached?
Chances are your cartridge is not making a proper connection to device. Try using a different cartridge, if your battery does not work with ANY cartridge please contact your retailer for a replacement battery. If the battery works without a cartridge, it is not a defective and will not be replaced.
4.How do I know if my battery is charging/charged?
While the battery is charging the light on the charge will be red and the light on the battery will be on. Once charging is complete, the light on the charger will turn green and the light on the battery will turn off.
5.How to Use the Battery?
Press the ON/OFF button five times to activate the battery.
Attach the 510-threaded battery to your Cartisan vape pen.
Adjust the voltage dial at the bottom to your preferred setting.
Take a puff to activate and begin your vaping session.