In the world of wellness, the search for natural remedies to combat anxiety has led many individuals to explore the potential benefits of CBD, or cannabidiol. Derived from the cannabis plant, CBD has gained significant attention for its non-psychoactive properties and its potential to alleviate anxiety and stress. One popular method of CBD consumption is through vaping, using CBD vape pens. In this article, we delve into the world of CBD vape pens and their potential to provide relief from anxiety.
Understanding CBD
CBD, or cannabidiol, is a prominent cannabinoid found in the cannabis plant. Unlike its well-known counterpart THC (delta-9 tetrahydrocannabinol), CBD does not induce psychoactive effects, meaning it doesn't get you high. Since the 1940s, CBD has been the subject of extensive research, leading to the discovery of the endocannabinoid system—an intricate network within the body that uses cannabinoid-like chemicals to facilitate communication between different systems.
The endocannabinoid system's role is broad, affecting processes such as neurotransmitter release and immune responses. CBD usage has been shown to stimulate this system, contributing to the regulation of various bodily functions.
CBD Oil Varieties
CBD Isolate: These products contain pure CBD extracted from the hemp plant.
Broad-Spectrum CBD: These products contain CBD, as well as flavonoids and terpenes found in the hemp plant, but no THC.
Full-Spectrum CBD: These products encompass all compounds present in the hemp plant, including trace amounts of THC.
The Benefits of Vaping CBD for Anxiety Relief
Relaxation and Anxiety Reduction: Vaping CBD provides a sense of relaxation and calmness, reducing feelings of anxiety without inducing a high or drowsiness. CBD helps regulate neurotransmitters, potentially leading to lower stress levels, decreased heart rate, and blood pressure.
Pain and Inflammation Alleviation: CBD is recognized for its anti-inflammatory properties. Besides calming the mind, it may alleviate bodily pain and fatigue. Athletes and individuals with pain-related conditions often turn to CBD vape juice to manage symptoms, benefiting from its pain-relieving and relaxing effects.
Mood Enhancement: CBD can elevate mood by increasing serotonin levels, which regulate emotions. This mood-lifting effect can offer a quick pick-me-up on challenging days or during bouts of depression, similar to antidepressants.
Potential Side Effects and Considerations
While vaping CBD holds promise, it's important to be aware of potential side effects, including diarrhea, dizziness, drowsiness, impaired memory, nausea, and more. Additionally, combining CBD w
Best 3 CBD Vape Pens
1. CBDfx Disposable CBD Vape Pen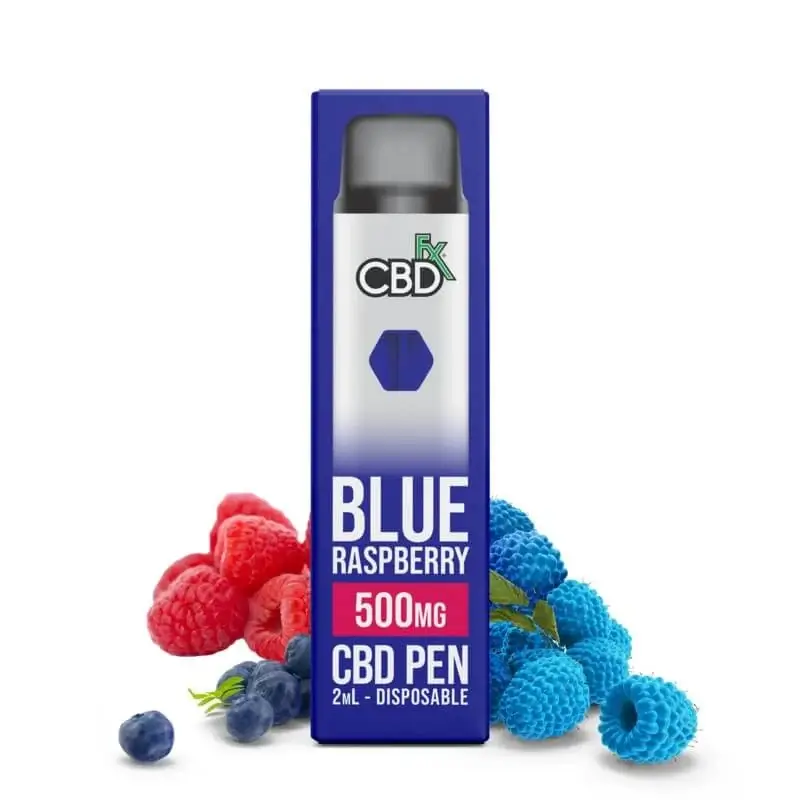 The CBDfx Disposable CBD Vape Pen shines as the best overall option in our lineup. Its unassuming yet sleek design resembles a Juul-style device, providing a discreet and portable solution for CBD users. Despite its minimalist appearance, its performance speaks volumes. This pen delivers an impressive vape-like flavor profile that delivers CBD's relaxing effects quickly. While not tailored for those seeking a terpene-rich experience, its simplicity, affordability, and ease of use make it a standout choice. What sets CBDfx apart is their commitment to quality, using only USA-grown, 100% organic hemp in their broad-spectrum CBD formulations. The disposable pen holds 500mg of broad-spectrum CBD, ensuring a rich cannabinoid profile. With tantalizing flavors like Strawberry Lemonade, Blue Raspberry, and Tropic Breeze, CBDfx offers both taste and effectiveness in a compact package.
2. Extract Labs CBD Disposable Vape Pen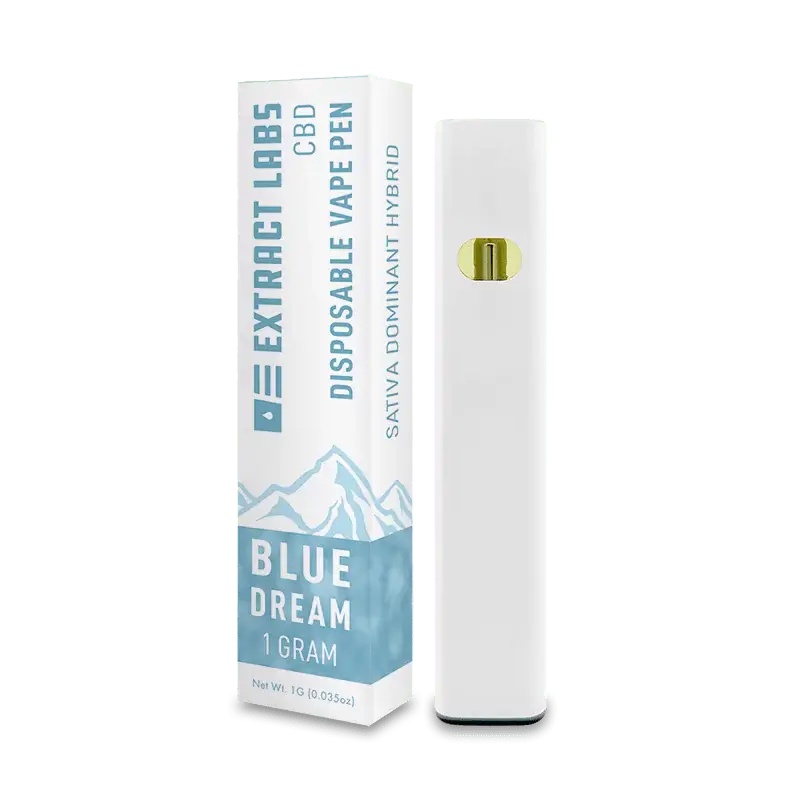 The Extract Labs CBD Disposable Vape Pen presents a Sativa-dominant option designed to enhance focus, creativity, and productivity. Containing 1000mg of full-spectrum CBD oil, this vape pen delivers an uplifting experience that promotes a better mood and mental clarity. The carefully crafted terpene-rich formula, sourced from the Blue Dream hemp strain, offers a delightful taste and aroma with each puff. With a built-in ceramic coil for superior flavor and vapor production, this pen is ideal for users seeking acute or spot relief. Extract Labs' commitment to purity is evident, as their disposable CBD vape pens contain only full-spectrum CBD distillate and terpenes, without any additives or fillers. The user-friendly design and consistent effects make this pen a top choice for those embracing CBD's potential benefits.
3. Koi CBD Disposable Vape Bar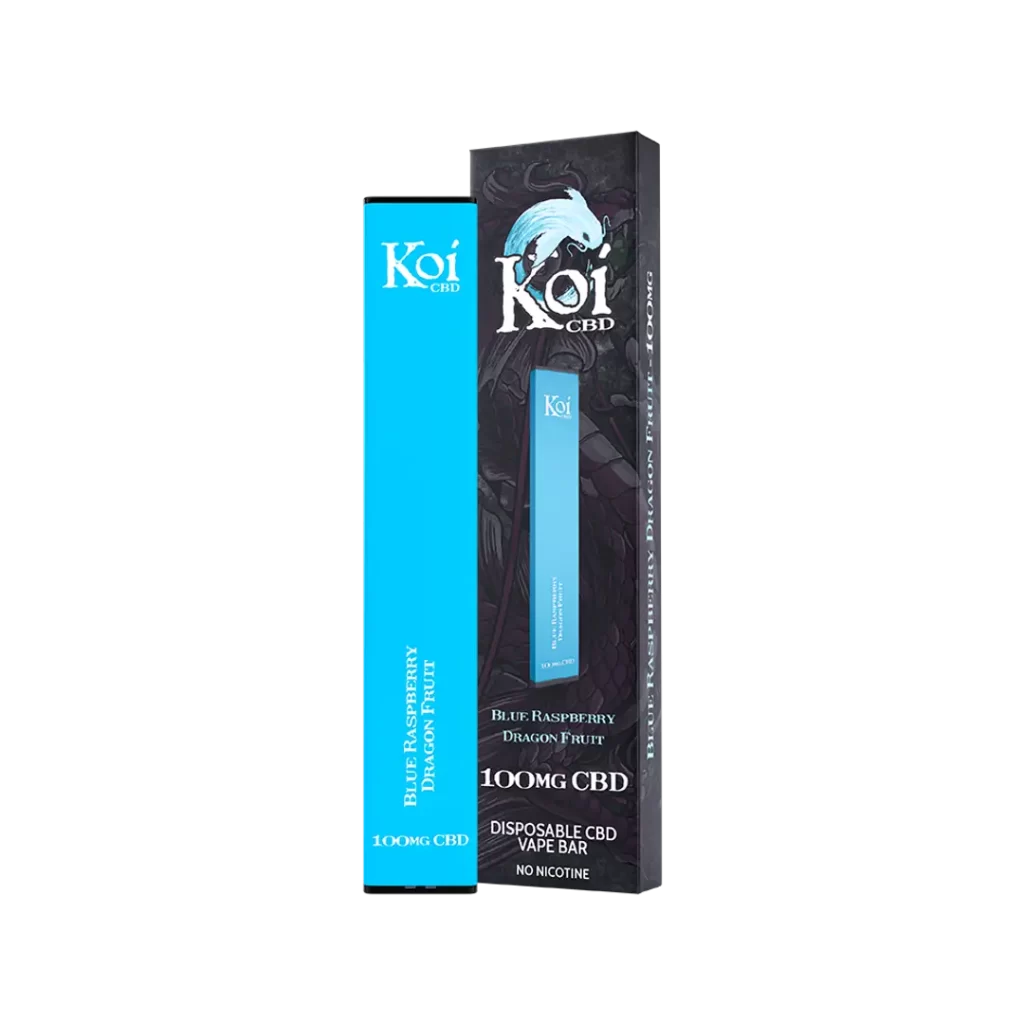 The Koi CBD Disposable Vape Bar stands out for its exceptional flavor options and ease of use. Available in Tropical Popsicle, Strawberry Milkshake, and Blue Raspberry Dragonfruit, these pens offer a diverse range of tastes to suit various preferences. Made with CBD isolate, these vape pens minimize the hemp taste while delivering up to 300 puffs of high-quality CBD e-liquid. Each flavor's lab test results are accessible on Koi's website, ensuring transparency and safety. The rechargeable feature adds convenience, and the flat bar shape of the pen fits comfortably in hand and pocket. With each Koi CBD Disposable Vape Bar containing around 200 to 300 puffs, these pens provide a flavorful and hassle-free CBD experience.
In Conclusion
CBD vape pens offer a potentially effective way to manage anxiety. By targeting the endocannabinoid system and promoting relaxation, pain relief, and mood enhancement, vaping CBD can be a valuable addition to anxiety management strategies. As with any supplement, it's essential to consult a healthcare professional before introducing CBD into your routine, especially if you're currently taking medications or have underlying health conditions. The world of CBD continues to unfold, and as research advances, more insights into its potential benefits will emerge, providing individuals with a natural alternative for finding relief from anxiety.