In the ever-evolving world of vaping, Voopoo remains a prominent player, consistently releasing devices that cater to both style and functionality. Today, we bring two contenders to the spotlight: the Voopoo Drag S and the Voopoo Drag 4. These siblings in the Drag lineup share the brand's commitment to quality and innovation, yet each possesses its unique attributes. Join us as we dive into a head-to-head comparison of these two devices, uncovering their specifications, performance, and what sets them apart in the world of vaping technology. Whether you're an experienced vaper seeking an upgrade or a newcomer on the hunt for the perfect device, this showdown promises to reveal which Drag Vape stands as your ideal companion on your vaping journey.
Drag Vape: New Voopoo DRAG 4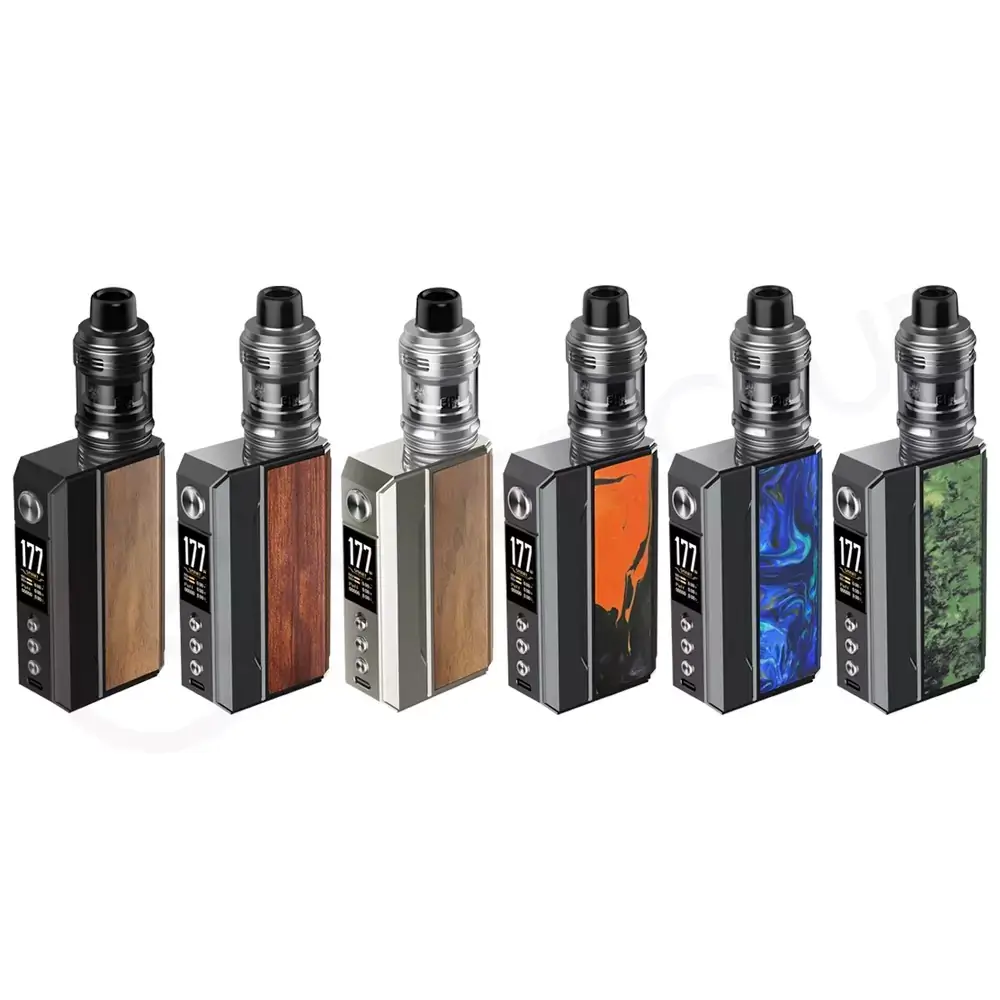 Specifications
Size: 87mm x 52.4mm x 25.4mm
1.5" Full Color Display
Maximum Output Voltage: 8.4V
Output Wattage: 5-177W
Output Modes: SMART/RBA/ECO/TC (Ni200, TI, SS316, SS430).
Resistance Range: 0.05-3Ω
Battery: Dual 18650
Type-C Port
What's In the Box?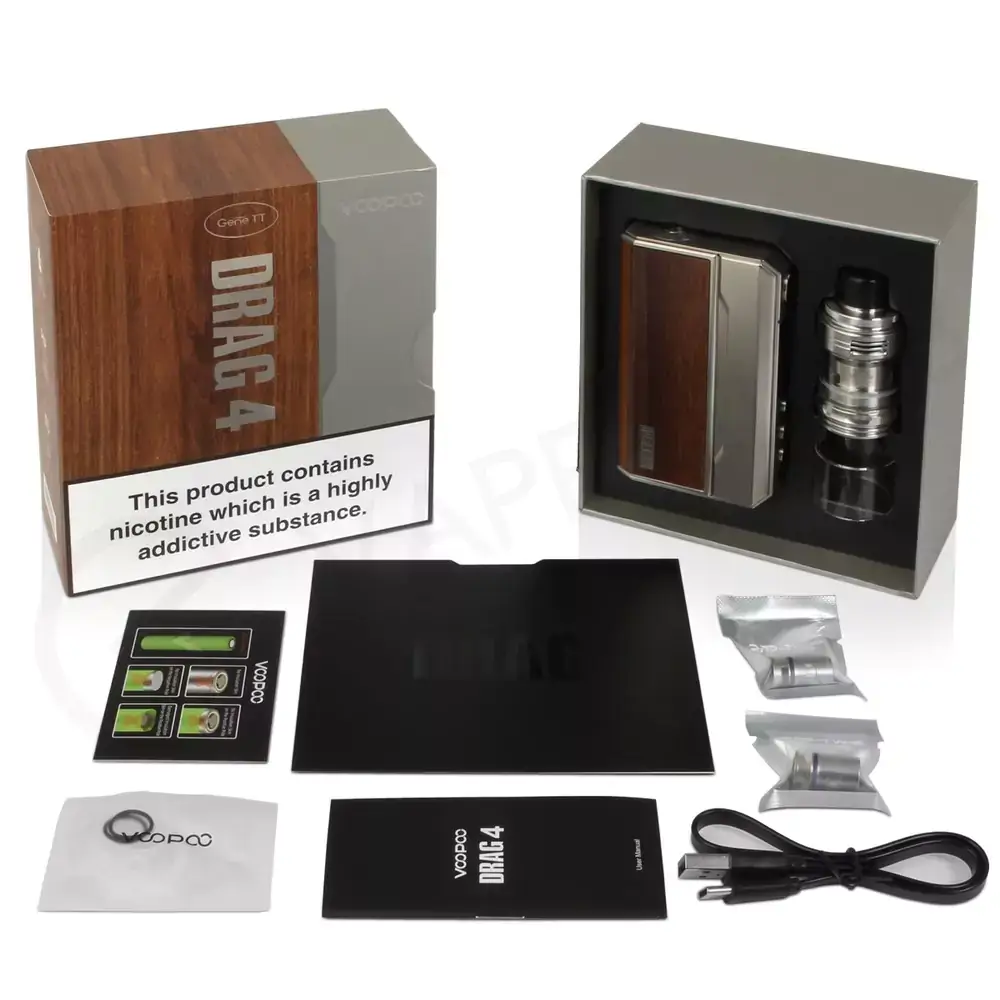 DRAG 4 device
UFORCE L tank (4ml)
PNP TW20 coil
PNP TW15 coil
Type C USB charging cable
Spare glass (5.5ml)
Bag of spare silicone O rings
User manual
Battery warning card
Performence
The mod offers four distinct modes: Smart, RBA, Eco, and TC. The TC mode supports Ni200, Titanium, SS316, and SS430 materials. The Smart mode ensures a safe vaping experience by limiting the wattage range based on coil resistance, making it particularly suitable for new vapers. The RBA mode, on the other hand, empowers experienced users with customizable wattage settings.
A unique addition is the ECO mode, conserving battery life by offering an extended usage time of up to 10% when the battery level reaches 20%. While not an everyday requirement, this feature could prove invaluable in certain scenarios. Unfortunately, the lack of a TCR mode might disappoint some enthusiasts, but the available TC modes should suffice for most users.
The Drag 4's large circular fire button, locking switch, and well-placed adjustment buttons make navigation and operation intuitive. The switch's multiple functions allow users to personalize their experience, whether it's locking specific buttons or the entire device.
In summary, the Voopoo Drag 4 Mod continues the brand's legacy of delivering a stylish, well-crafted device with a host of useful features. Its refined design, improved UI, and versatile modes make it a strong contender in the dual battery mod market. Whether you're a seasoned vaper or a newcomer, the Drag 4 caters to a wide range of preferences and needs.
Drag Vape:The Voopoo Drag S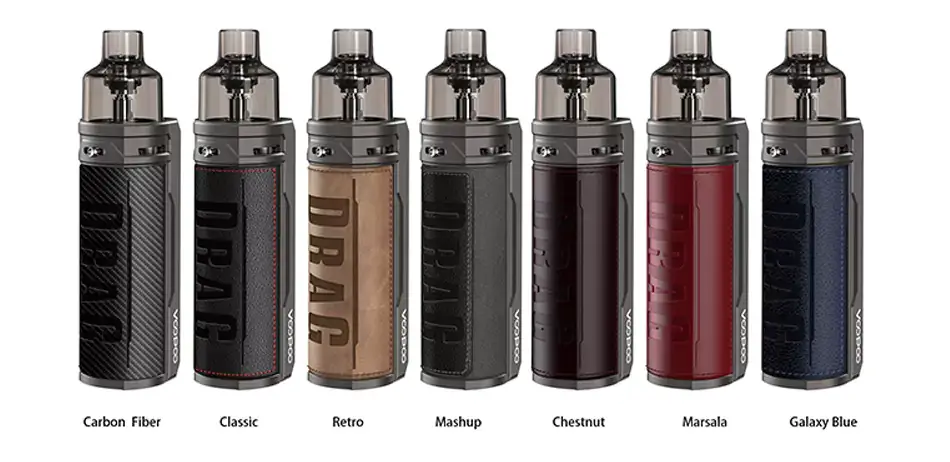 Specification
Dimensions: 87 mm x 33 mm x 28 mm
Material: Alloy and leather
Output power: 5-60 watts
Output voltage: 3.2-4.2 volts
Resistance: 0.1Ω – 3.0Ω
Battery: 2600 mAh internal
Pod capacity: 2 ml
Material: PCTG
Filling: Bottom fill
What's In the Box?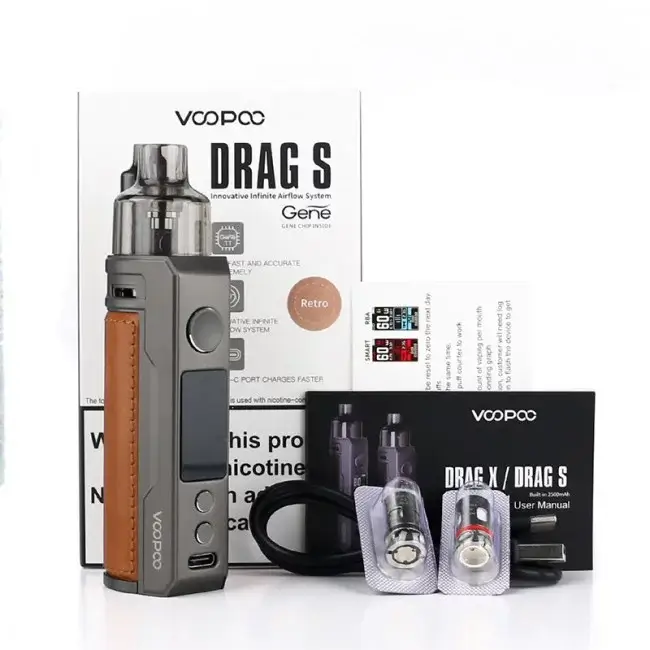 1 x Drag S Device
1 x Drag S Replacement Pod (2ml)
1 x PnP-VM1 0.3Ω Mesh Coil
1 x PnP-VM5 0.2Ω Mesh Coil
1 x USB-C Cable
1 x User Manual
1 x Warranty Card
1 x Chip Card
Performence
The Voopoo Drag S sets a new standard for ease of use and comfort in a lightweight design. Its rounded shape not only enhances the aesthetics but also ensures a superior hand feel. Measuring 87 mm x 32.5 mm x 28 mm, the Drag S's slightly taller profile is surprisingly lighter than its counterparts like the Voopoo DRAG X and Vinci X, making extended vaping sessions a breeze.
The standout feature of the Voopoo Drag S is its user-friendly pod system. The bottom-filled pod boasts a generously sized filling port that accommodates even droppers with ease. Replacing coils is a hassle-free affair—simply remove the old coil and insert the new one. Both the Drag X and Drag S automatically adjust the wattage once the pod is attached, simplifying the vaping experience further.
The pod's construction offers noticeable improvements over the Vinci pods, particularly with its sturdy plug design and rounded built-in mouthpiece that mimics the feel of large 510s designed for Direct-to-Lung vaping. These thoughtful details contribute to the overall robustness of the device, promising longevity.
In terms of power and features, the Voopoo Drag S doesn't disappoint. It comes equipped with a 0.3-ohm coil and a specialized 0.2-ohm mesh coil rated for 40-60 watts. The new coil design incorporates smaller wick holes that might appear deceivingly compact but excel in managing high VG e-liquids efficiently.
The performance of the 0.2-ohm coil is noteworthy for its exceptional flavor production and impressive cloud production. Adjusting the airflow to halfway not only enhances flavor but also warms up the vapor, albeit at the cost of a slightly warmer mouthpiece..
Final Verdict
We've delved into the intricacies of these two remarkable devices of drag vape. From their specifications to performance, each Drag Vape offers a unique blend of style and functionality. The Drag 4's legacy continues with its refined design, versatile modes, and improved UI, making it a formidable contender in the realm of dual battery mods. On the other hand, the Drag S sets a new standard for ease of use and comfort with its lightweight build, user-friendly pod system, and exceptional coil performance. As vaping technology advances, these siblings in the Drag lineup showcase Voopoo's dedication to innovation and quality. Whether you're a vaping veteran seeking an upgrade or a newcomer embarking on your journey, the decision between the Drag S and Drag 4 ultimately rests on your personal preferences and requirements. Whichever Drag Vape you choose, Voopoo ensures that you're equipped with a device that aligns perfectly with your vaping journey.