In the world of vaping, innovation is a constant. One such innovation that has taken the vaping community by storm is the CRAVE Max Disposable device. With its powerful 1300mAh battery, generous 6.5mL pre-filled vape juice, and remarkable ability to deliver a premium vaping experience, the CRAVE Max is poised to redefine the way we view disposable devices. In this comprehensive review, we'll dive into the various aspects of this groundbreaking product, from its tantalizing flavors to its exceptional features, all the way to its pocket-friendly price. So, without further ado, let's explore the CRAVE Max Disposable device in all its glory.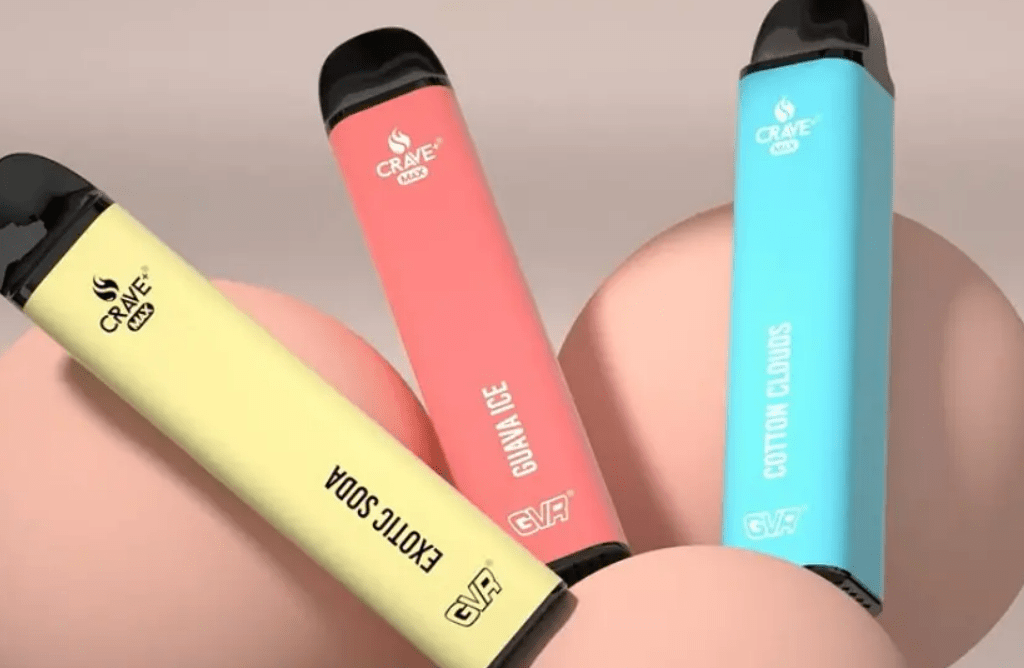 Flavors: A Symphony of Vaping Pleasure
One of the most exciting aspects of the CRAVE Max is its diverse range of flavors. From classic fruit combinations to unique blends, the CRAVE Max offers a flavor for every palate. Let's take a closer look at some of the delectable options available:
Blueberry Ice: A refreshing burst of blueberries combined with a cooling menthol twist.
Banana Melon: The sweetness of ripe bananas paired with the juiciness of melons.
Ultra Clear: A clean and crisp flavor that's perfect for those who enjoy a minimalist vaping experience.
Watermelon Apple Ice: The crispness of apples mixed with the juiciness of watermelons, finished off with a cool menthol breeze.
Black Ice: A mysterious blend of dark berries with an icy undertone.
Guava Mango Lime: A tropical delight featuring the fusion of guava, mango, and zesty lime.
Strawberry Watermelon Ice: The summery combination of strawberries and watermelon, with a refreshing menthol finish.
Banana Vanilla Ice Cream: Creamy vanilla ice cream meets the sweetness of ripe bananas.
Shake Shake: A playful mix of creamy milkshake flavors that will leave your taste buds dancing.
Mango Lychee: Exotic mangoes paired with the unique sweetness of lychee.
Mango Ice: A straightforward yet tantalizing blend of ripe mangoes and icy menthol.
Mint: The timeless freshness of mint for a clean and invigorating vape.
Grape Ice: The rich, bold flavor of grapes is complemented by a cooling menthol sensation.
Mango Berry Frost: A fusion of ripe mangoes and assorted berries, finished with a frosty touch.
Summer: A symphony of summer fruits that evoke the essence of the season.
Red Apple Ice: Crisp red apples with a chilly menthol exhale.
Lush Ice: A watermelon-infused flavor with a menthol kick, perfect for a cool vape.
Guava Ice: The tropical delight of guava, is made even more refreshing with icy menthol.
Passionfruit Lemon: Tangy passionfruit combined with zesty lemon for a citrusy delight.
Strawberry Ice: Juicy strawberries with a frosty menthol twist.
Dr. Soda: A nostalgic blend of soda flavors that brings back memories of your favorite fizzy drinks.
Exotic Soda: A mix of exotic fruits and soda, creating a unique and fizzy vaping experience.
Guava Mango: A tropical paradise with the fusion of guava and mango.
Banana Ice: The delightful sweetness of bananas infused with a refreshing menthol breeze.
Lemonade Mint: A classic lemonade flavor enhanced by the coolness of mint.
Gummy Bear: A playful and nostalgic vape that captures the essence of gummy bear candies.
Blue Razz Lemonade: The tanginess of blue raspberry blended with the zing of lemonade.
Features: Power and Convenience Combined
The CRAVE Max Disposable device boasts a range of features that set it apart from the competition:
1300mAh Battery Capacity: The impressive battery capacity ensures that the device can keep up with your vaping needs, lasting through multiple sessions.
6.5mL Pre-Filled CRAVE Vape Juice: Each device comes pre-filled with 6.5mL of premium CRAVE vape juice, ensuring a consistent and flavorful experience.
Up to 2500 Puffs: With the ability to provide up to 2500 puffs, the CRAVE Max offers exceptional value for its users.
Compact and Discreet Design: The device's sleek and discreet design makes it a perfect companion for on-the-go vaping.
No Maintenance, Charging, or Refilling: The convenience factor cannot be overstated. Simply open the package, start vaping, and dispose of the device when done. No need for charging, maintenance, or refilling.
Price: Premium Quality Without Breaking the Bank
The affordability of the CRAVE Max is undoubtedly one of its standout features. Priced at around $18, this disposable device delivers premium-quality vaping without straining your wallet. Whether you're a vaping enthusiast or a retailer looking to offer an enticing product to your customers, the CRAVE Max's price point makes it an attractive option.
Customer Reviews: Real-Life Experiences
Customer reviews offer invaluable insights into the actual user experience. The CRAVE Max has garnered a loyal following, with vapers praising its flavors, longevity, and convenience. Many users are delighted with the variety of flavors available, catering to different taste preferences. The long-lasting battery life and generous e-liquid capacity have also been highlighted, showcasing the device's reliability. Users appreciate the simplicity of use – no buttons, no settings, just a seamless vaping experience. The overall positive reception indicates that CRAVE Max has successfully addressed the needs and desires of the vaping community.
FAQs: Addressing Common Queries
How long does the CRAVE Max battery last?
The 1300mAh battery can provide ample power for multiple vaping sessions. Depending on your usage, the battery could last for days before needing a replacement.
Can I refill the CRAVE Max once the e-liquid is finished?
No, the CRAVE Max is designed to be 100% disposable. Once the e-liquid is depleted, simply dispose of the device responsibly.
Are there nicotine options available?
Yes, the CRAVE Max is available in various nicotine strengths to accommodate different preferences, including nicotine-free options.
Are the flavors natural tasting?
CRAVE takes pride in crafting authentic and natural-tasting flavors, ensuring a satisfying vaping experience with each puff.
Is the CRAVE Max suitable for beginners?
Absolutely! The CRAVE Max's simplicity and convenience make it an excellent choice for both experienced vapers and beginners.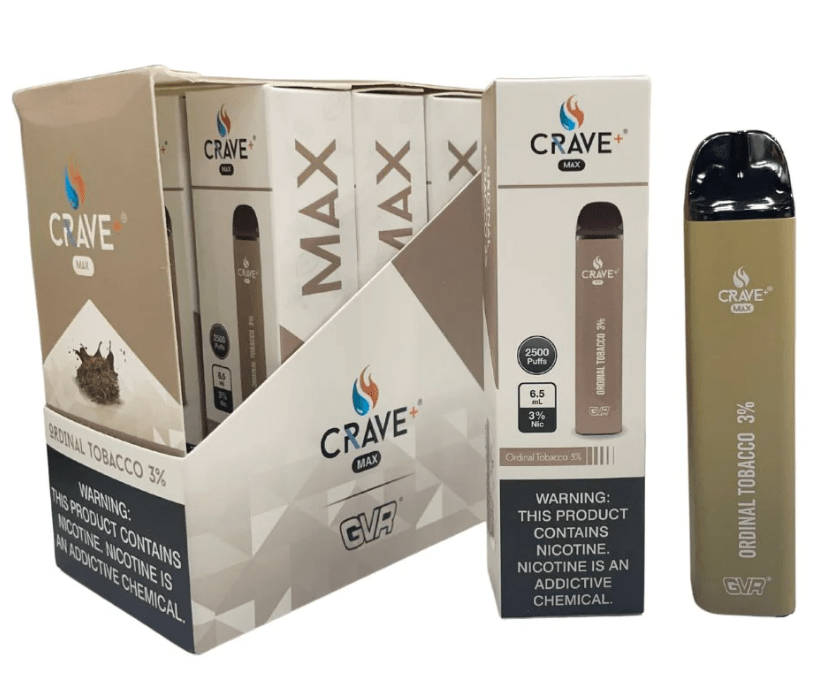 In conclusion, the CRAVE Max Disposable device has made a significant impact in the world of vaping. Its exceptional flavors, powerful features, affordable price, and positive customer reviews make it a standout option for those seeking a hassle-free and satisfying vaping experience. Whether you're a vaping enthusiast or a retailer looking to offer a top-tier product, the CRAVE Max has the potential to become your new vaping companion. With its promise of flavor-packed puffs and convenience without compromise, the CRAVE Max truly lives up to its name – a crave-worthy experience in every puff.