If you're in the market for a convenient and hassle-free vaping experience, disposable vape brands offer an enticing solution. These compact devices have gained popularity for their ease of use, wide flavor variety, and pocket-friendly designs. In this article, we'll delve into some standout options in the world of disposable vapes, exploring their unique features, pros, and cons.
1.Elf Bar BC5000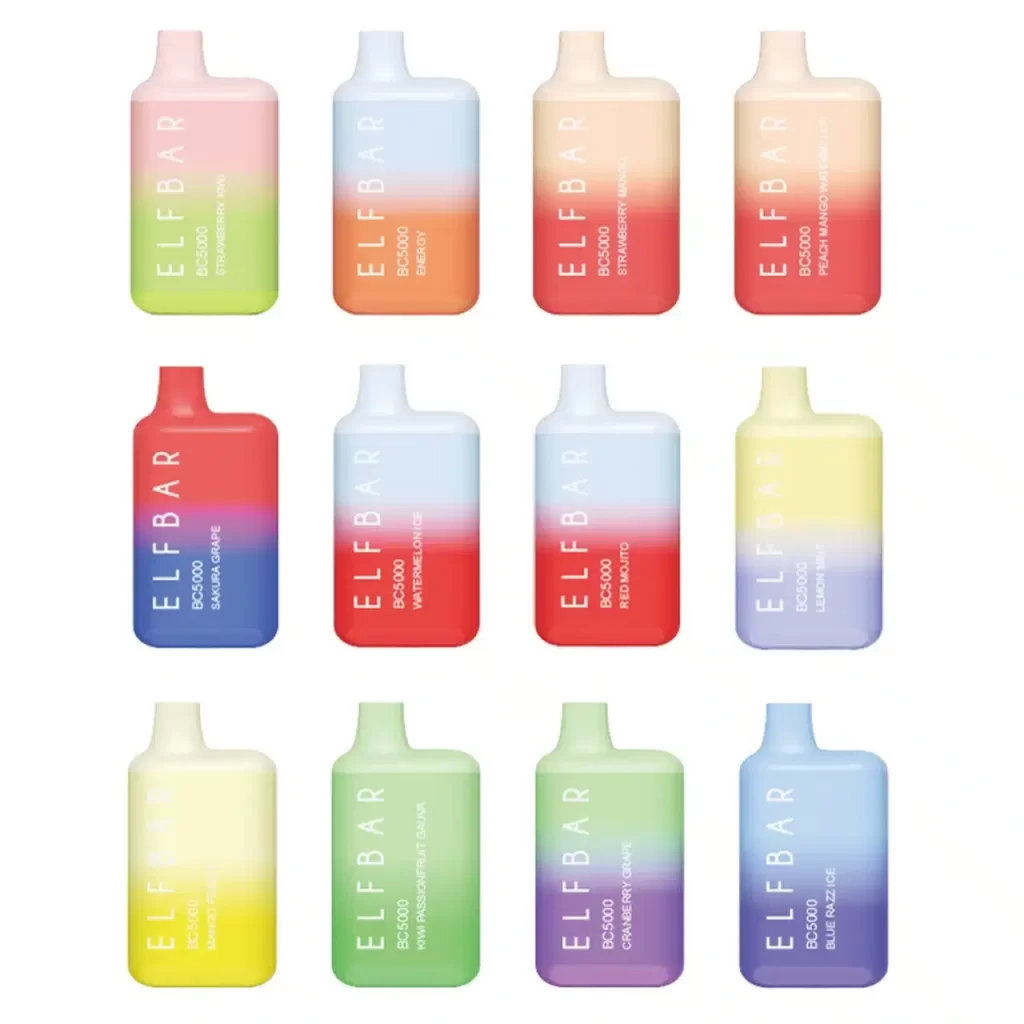 The Elf Bar BC5000 stands out as a remarkable disposable vape with exceptional longevity. Despite its compact 650mAh battery, its rechargeable nature via USB Type C allows for an impressive extended use. Boasting a massive 13ml pre-filled juice capacity and an astonishing 5000 puff capability, it offers both style and substance. The variety of delicious flavors adds to its appeal, catering to diverse preferences. Its compact size combined with the ability to deliver such a high puff count is a commendable advantage. With a smooth draw and satisfying performance, the BC5000 is a standout choice. Its flavor-rich experience and USB-C charging make it an adult vaper's delight.
Pros
5000 puffs capacity
Massive 13ml pre-filled juice
Rechargeable via USB-C
Dual coil setup ensures strong performance
Wide array of great flavors
Cons
Less pocket-friendly compared to some alternatives (though smaller versions are available)
Bright, vibrant two-tone colors might not appeal to everyone
Separate purchase required for battery charger
Slightly higher price point than some options
2.Lost Mary OS5000 Disposable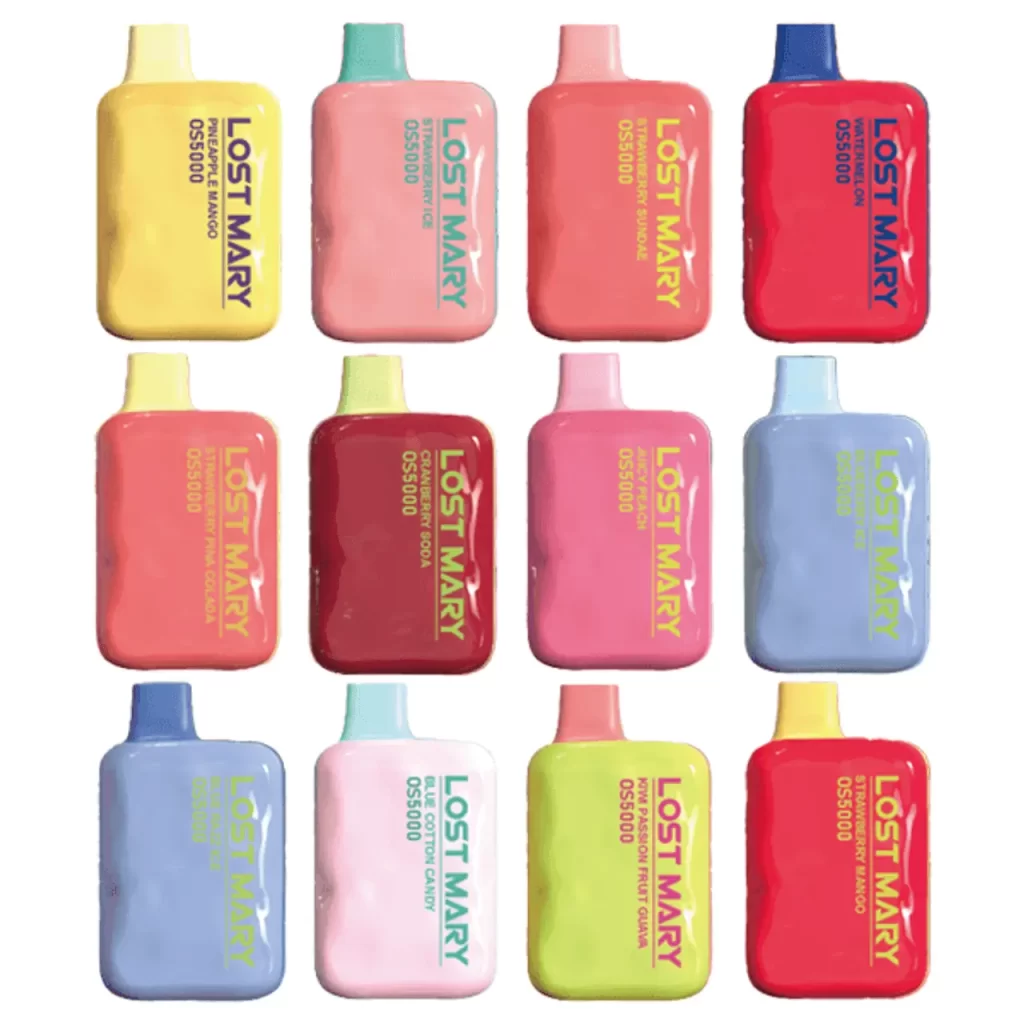 The Lost Mary OS5000 disposables combine eye-catching design with exceptional performance. Crafted by the creators of Elfbar/EBDESIGN disposables, their quality is undeniable. Prefilled with a remarkable 13ml of ejuice – more than most disposables – and available in 50mg(5%) or 20mg(2%) nicotine strength, they deliver a smooth, potent throat hit. Boasting 5000+ puffs, their flavors span 25 unique options, including standouts like Blueberry Ice and Pineapple Mango. The three-color battery indicator prevents unexpected power loss. With a 650mAh battery and Type-C charging, these disposables promise quality and convenience. A stellar offering from Elfbar's creators, Lost Mary OS5000 redefines disposable perfection.
Pros
5000 puffs capacity
Generous 13ml pre-filled juice
Rechargeable via USB-C
Available in 2% & 5% nicotine strengths
Excellent overall performance
Three-level battery indicator
Cons
No tobacco flavors
Design might not suit those looking for subtlety
3.Flum Float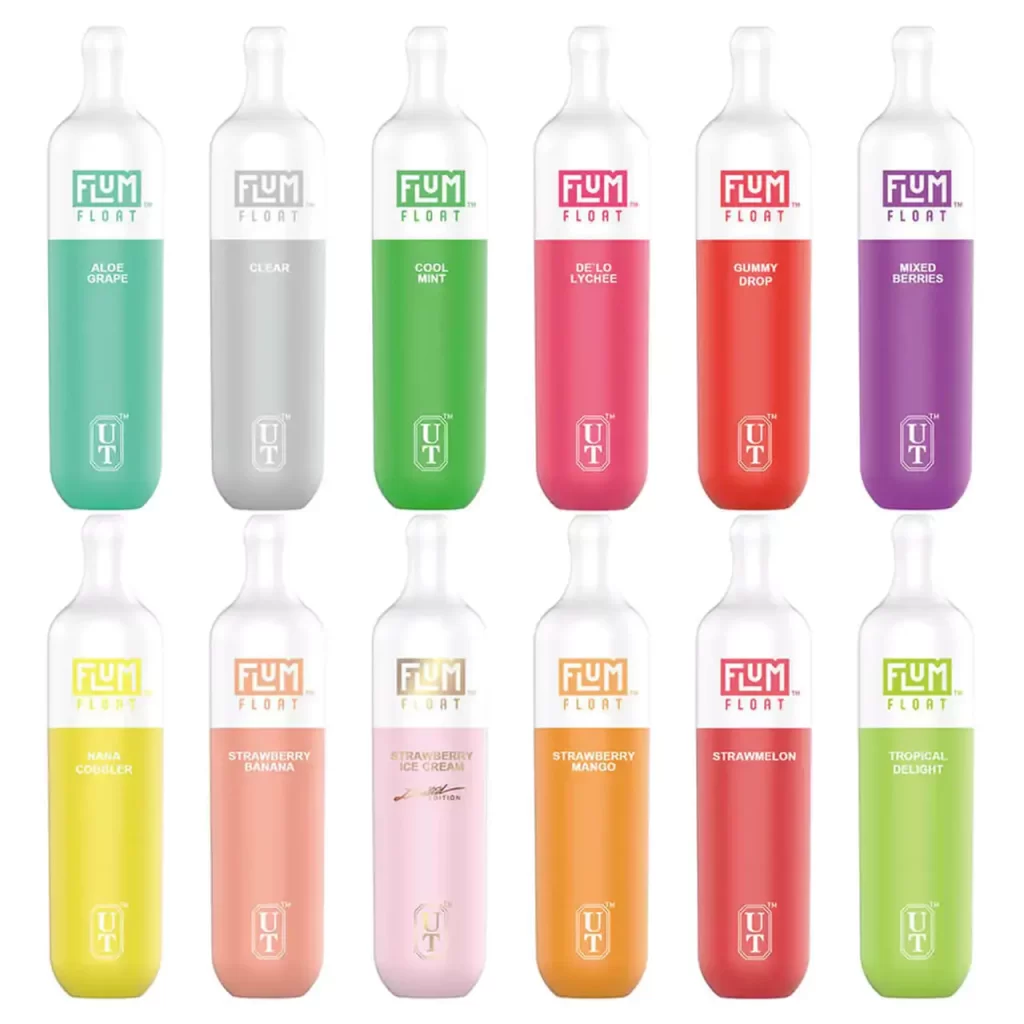 The Flum Float 3000 presents itself as a simple yet effective disposable vape option. Activated with each inhale and lacking a rechargeable battery, it's designed for hassle-free use and disposal. Boasting a respectable 1,100 mAh battery, it comes pre-filled with 8ml of 5% nicotine salt e-liquid, equating to around 3,000 puffs. Its cylindrical shape, smaller mouthpiece, and vibrant two-color design enhance its pocket-friendly nature. With a range of 14 fruit-focused flavors, including a subtle menthol touch, the Flum Float offers variety and refreshment. Although opinions on design vary, its excellent juice and battery capacity make it a strong contender.
Pros
Unique design
MTL-friendly mouthpiece
Excellent flavor options
Strong performance
3000 puffs capacity
Affordable and portable
Easy to use
Cons
Non-rechargeable battery
Limited to fruity flavors
No mesh coil option
4.IVG 2400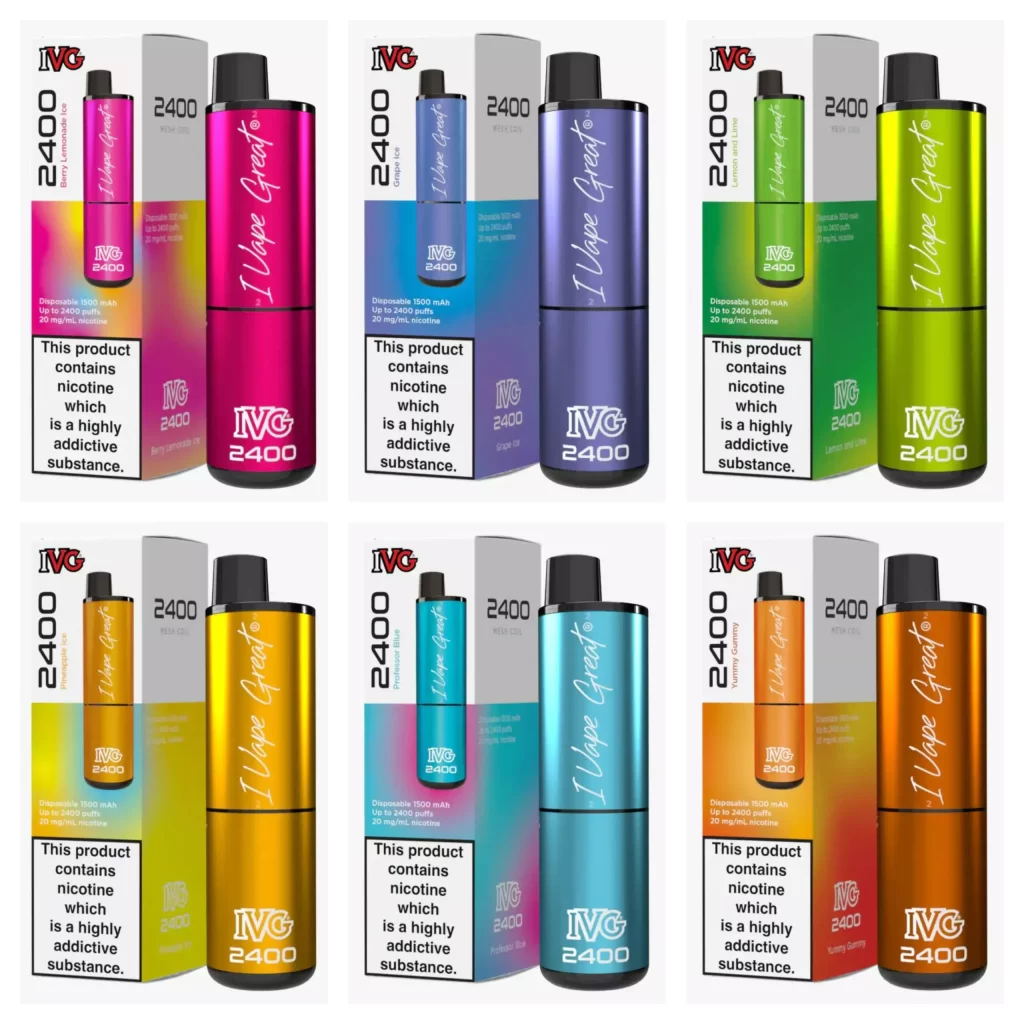 The IVG 2400 Disposable Vape is a true game-changer in the world of disposables. With its impressive 1500mAh battery, it offers an astounding 2400 puffs, setting a new standard for longevity. The closed-pod mechanism flawlessly delivers 8mls of e-liquid while adhering to TPD regulations, showcasing a touch of genius in its design. IVG's array of delightful flavors, from tobacco to menthol, caters to diverse preferences. The 20mg salt nicotine content provides a satisfying and smooth hit. The IVG 2400's exceptional performance and convenience make it a must-try for any vaping enthusiast.
Pros
Ample E-Liquid Capacity: A remarkable 8mls of e-liquid housed in a single disposable device.
Extended Usage: Thanks to the substantial 1500mAh battery, enjoy multiple days of vaping without frequent recharging.
Flavor Variety: Opt for the multi-flavour version to easily switch between different flavors.
Cons
Bulky Design: The notably large build might not be the most pocket-friendly option.
Mechanical Challenges: The battery-turning mechanism can sometimes be tricky to handle.
5.Dinner Lady Vape Pen Pro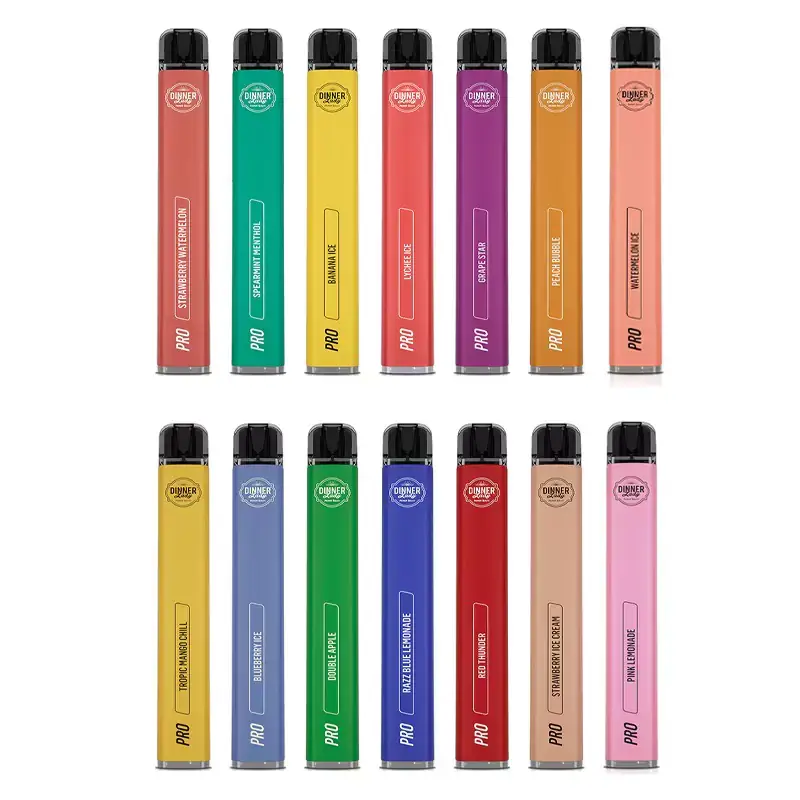 The Dinner Lady Vape Pen Pro offers a sleek, cigarette-like design that stands out among vape pens. Available individually or in convenient packs of three, these pens are user-friendly and budget-friendly.Featuring 20mg nicotine content, the slim design includes an ergonomic mouthpiece for comfortable use, and its leak-free design ensures worry-free portability.Powered by a 350mAh battery, the organic cotton wick and 1.5mg pre-filled e-liquid deliver around 400 puffs. Ideal for discreet vaping, the focus isn't on massive clouds but on aiding ex-smokers in their transition.The Dinner Lady Pro also features a unique steel build that is very comfortable and provides a far better heft than the usual plastic disposable pens and boxes. With a 1.6ohm preinstalled coil you get a smooth and consistent puff, with the materials lasting right up until you've vaped the last drop of cooling e-liquid and a battery that provides stable outputs regardless of charge strength.
Pros
Icy Refreshment: A variety of invigorating ice and menthol flavors offer a cool vaping experience.
Solid Build: The sturdy metal construction ensures durability and a satisfying weight.
Steady Performance: Consistent outputs, even when the battery level is low
Compact and Discreet: Its small form factor makes it easy to carry discreetly.
Leak-Free: The design prevents leaks, enhancing portability.
Flavor Diversity: Choose from an array of options including fruits, desserts, beverages, and tobacco.
Cons
Limited Strength Options: Lacks variety in nicotine strength choices.
Menthol-Centric: Not suitable for individuals who aren't fans of menthol flavors.
Limited Puff Capacity: Provides around 400 puffs before needing replacement.
Modest Vapor Production: Not designed for those seeking large vapor clouds.
FAQs
1.What disposable vape brands are safe?
Consider top brands like Crystal Bar, Elf Bar, and Lost Mary when choosing the best disposable vape. Remember to prioritise safety and authenticity by purchasing from registered vape suppliers. They are suitable for beginners, experienced vapers, and those looking to quit smoking.
2.What is the most famous disposable vape?
BC5000 by Elf Bar
The BC5000 by Elf Bar is one of the bestselling disposable vapes out there – and it's not hard to see why.
3.What are the top 5 vape brands?
These five vape brands offer top-tier devices that have earned the trust and recognition of the vaping community. VOOPOO, VAPORESSO, ALD, Elf Bar, and Smok continue to innovate and deliver exceptional vaping experiences.
4.What flavors are available in disposable vapes?
There are many flavors of disposable vapes. Popular options include tobacco, menthol, fruit, dessert, and beverage flavors. The flavor options vary depending on the brand and product.