Exxus Vape, born in California, USA in 2014, has embarked on a journey that has revolutionized the vaporizer landscape. Fueled by a resolute dedication to excellence, innovation, and affordability, Exxus Vape has swiftly established itself as a trusted beacon within the vaping community.
From its inception, a small team of vaping enthusiasts ignited the spark that birthed Exxus Vape. Their shared ardor for crafting top-tier vaporizers, blending effectiveness, reliability, style, and ease of use, laid the foundation for the brand's rise. The result: Exxus Vape, a name synonymous with ingenuity and quality.
and materials, they've ensured that their creations are not only efficient and enduring but also safe.
Exxus Vape:Exxus Vape Slim VV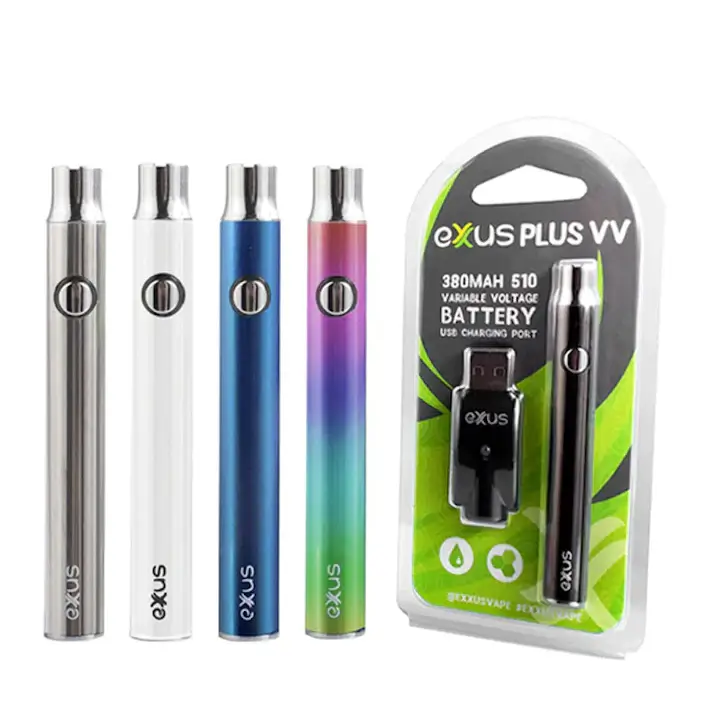 Features
Easy-to-Use
Variable Voltage
Magnetic Thread Adapters
Enhanced Functionality in a Compact Package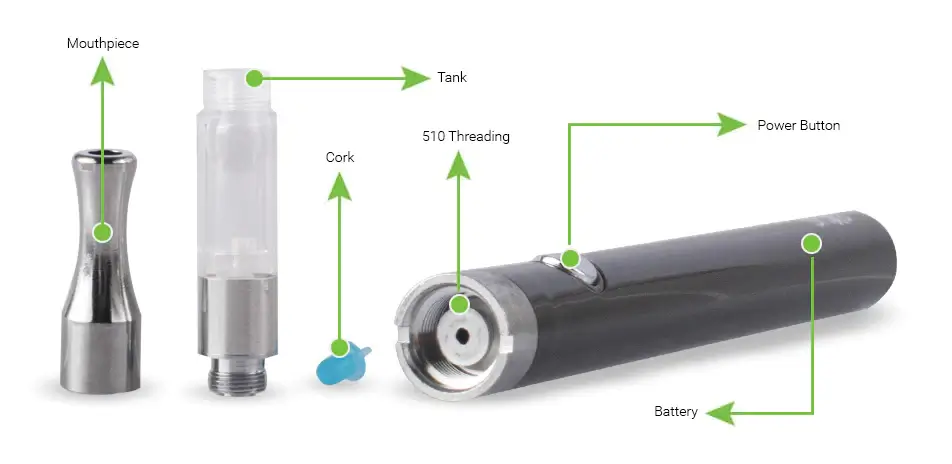 Box Contents
1 x Exxus Slim VV Battery
1 x USB Charger
Pros
Variable Voltage: Adjustable voltage (2.6V – 4V) allows personalized vaping.
Quick Heat-Up: Ten-second heat-up time ensures fast sessions.
Compatibility: 510 thread attachment works with various tanks.
Streamlined Design: Combines pen unit aesthetics with battery mod capabilities.
User-Friendly: Single-button operation suits all experience levels.
Transparent Voltage: Halo light indicates voltage (Red – 4V, Green – 3.2V, Blue – 2.6V).
Convenient Charging: USB charger and top port for easy recharging.
Pairing: Works well with Exxus EX4 Oil Cartridge for optimal performance.
Cons
Limited Features: Lacks advanced modes found in more complex devices.
No Temperature Control: Absence of temperature settings may restrict customization.
Single-Button Interface: May not appeal to users preferring more control options.
Overall, the Exxus Slim VV offers quick, versatile vaping with a streamlined design, suitable for users prioritizing simplicity and customization.
The Exxus Slim VV Cartridge Vaporizer offers a fusion of streamlined design and versatile power, making it a seamless addition to any vaping arsenal. Its 510 thread attachment port ensures compatibility with a wide range of tanks, while its variable voltage capability allows users to fine-tune the output voltage between 2.6V and 4V for personalized vaping experiences. With a swift ten-second heat-up time, this device is perfect for those seeking quick yet satisfying sessions.
The Exxus Slim VV strikes a harmonious balance between the simplicity of a pen unit and the capabilities of a battery mod. The included USB charger rejuvenates the pre-installed rechargeable lithium-ion battery, effortlessly connected to the top 510 thread attachment port. This same port accommodates tanks, boasting near-universal threading for easy pairing.
Paired perfectly with the Exxus Slim VV is the Exxus EX4 Oil Cartridge, known for its easy disassembly for cleaning and refills, as well as its stainless steel core, glass tube, and ergonomic mouthpiece for smooth draws and dense vapor.
Operating the Slim VV is straightforward; a single button activates the device, adjusting voltage with three clicks and initiating preheating with two. A halo light encircling the utility button visually indicates the voltage output. Red for 4V, green for 3.2V, and blue for 2.6V, ensuring transparency in functionality.
FAQ
1.How do you use Exxus slim VV?
Two compresses of the button starts the preheating process. One click makes the unit stop its functions and shut down. The Exxus GO Concentrate Vaporizer is the perfect unit for vapers that are looking for a self contained, concentrate vaporizer.
2.What is the VV mode on a vape?
Variable Voltage Mode, or VV mode, is a setting on your vape device that lets you define the precise voltage (Volts) running through your device. VV devices don't require a very advanced vape chip, so they tend to be slightly cheaper than VW devices.
3.What voltage is Exxus Plus VV?
The Exxus Plus VV Cartridge Vaporizer by Exxus Vape has a simple design quality and thoughtfully crafted user-friendly features. Because this is a variable voltage, pen-style battery, the Exxus Plus' voltage can be adapted to a range of anywhere between 2.6V and 4.0V.
4.How does the Exus slim work?
The lithium ion battery is easily recharged with the included USB component. The attachment slot has a 510 threading which is a near universal standard within the vaping industry. Because the Exxus Slim is an automatic device, a few puffs starts the priming process for vapers.
Customer Reviews
"The size is perfect, and delivers the hits that one would expect for a device like this."
"This is my favorite out all the others that I have bought over the years. Smooth draw, easy use, no battery issues."
"The light indicator couldn't be any smaller. Literally the smallest possible light ever. What level is it on? What color is the light? No clue! 3 inches tall and the light is smaller than a sharp pencil tip…" "We've had lots of pens and this is the best one except for the light indicator."
"Very handy and nice looking vape battery. It charges surprisingly quick and its working great so far. Hopefully it lasts. Other brands tend to fizzle out after several months."
Final Thoughts
The Exxus vape Slim VV Cartridge Vaporizer embodies the brand's commitment to quality and performance. With its streamlined design and versatile power, it seamlessly joins any vaping arsenal. From the variable voltage capability to the harmonious balance of pen-like aesthetics and mod-like capabilities, the Exxus Slim VV exemplifies the brand's dedication to user-friendly excellence.
For a more comprehensive understanding of Exxus vaporizers and essential information before making your purchase, be sure to watch this informative video.