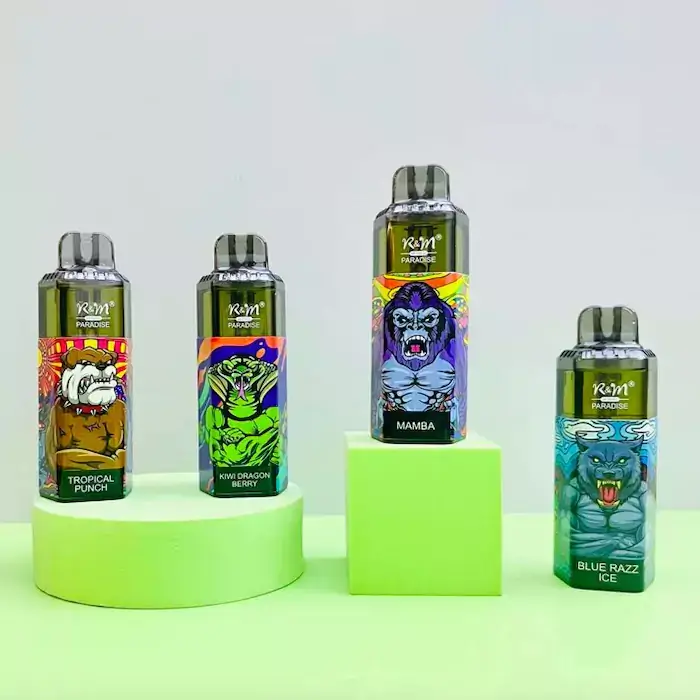 One of its standout features is the choice of salt nicotine strengths, ranging from 5%, 2%, to 3%. This allows you to tailor your vaping experience to your exact nicotine needs, making it suitable for both those looking to transition from traditional cigarettes and experienced vapers.
With an astonishing 8000 puffs per device, the Paradise Vape ensures that you won't run out of vapor anytime soon. The generous 15ml e-liquid capacity guarantees extended use without the need for constant refills.
Equipped with a 600mAh rechargeable battery and a convenient USB Type-C port, recharging is a breeze. The device can be charged quickly, ensuring minimal downtime between vaping sessions.
For those who appreciate customization, the Paradise Vape features bottom airflow control, allowing you to fine-tune your vaping experience to your liking. Whether you prefer a tighter draw or a more open airflow, this device has you covered.
Adding a touch of flair to your vaping experience is the RGB flashlight feature, which not only enhances the device's aesthetics but also provides a visually appealing element to your sessions.
Design & Quality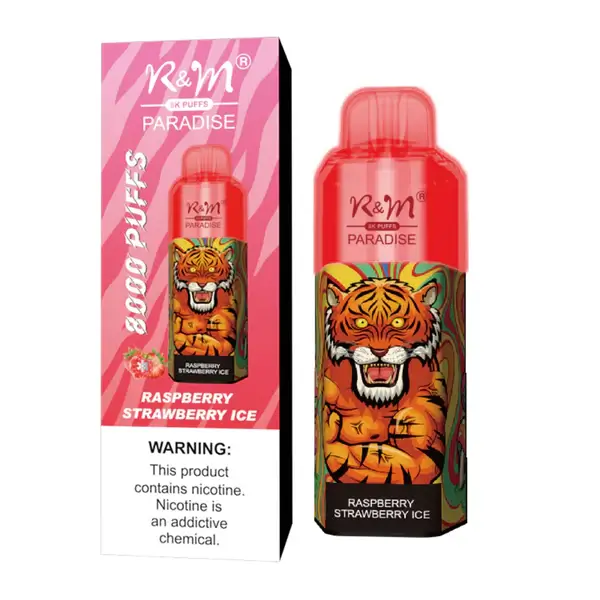 At the heart of its design is the innovative Oil-Coil Separated structure, a game-changing feature that ensures a consistently cool and satisfying vaping experience. This design innovation prevents any unwanted mixing of oil and coil, resulting in pure and enjoyable flavor with every inhale.
But this vape pen doesn't stop at functionality; it's also a testament to aesthetic excellence. The flat tip of the vape pen isn't just for aesthetics; it's designed with your comfort in mind, delivering an ergonomic and satisfying draw every time you use it. However, what truly sets this vape pen apart is the inclusion of an eye-catching visual tank with RGB flashlight integration. This unique feature not only adds a visually appealing element to your vaping experience but also provides crystal-clear visibility of your e-liquid level, ensuring you're always in control of your vape.
The transparent fuel tank, positioned on the top of the pen, allows you to easily monitor your e-liquid levels, so you'll never be caught off guard by an empty tank. Additionally, the monster pattern design on the bottom of the pen adds a touch of coolness and uniqueness to its overall aesthetic.
Flavors
The R&M Paradise 8000 Vape Pen doesn't disappoint. It offers a delectable array of flavors that cater to a wide range of preferences. Whether you crave the sweet and tangy notes of blue razz ice or the refreshing coolness of watermelon ice, there's a flavor to satisfy your taste buds. With options like kiwi dragon berry, raspberry peach ice, and tropical punch, you can explore a world of tantalizing tastes.
Here is a glimpse of the flavors available:
Blue Razz Ice
Snow Cone Ice
Kiwi Dragon Berry
Berry Fusion Ice
Peach Mango Pineapple
Raspberry Peach Ice
Raspberry Strawberry Ice
Mamba
Watermelon Ice
Tropical Punch
Performance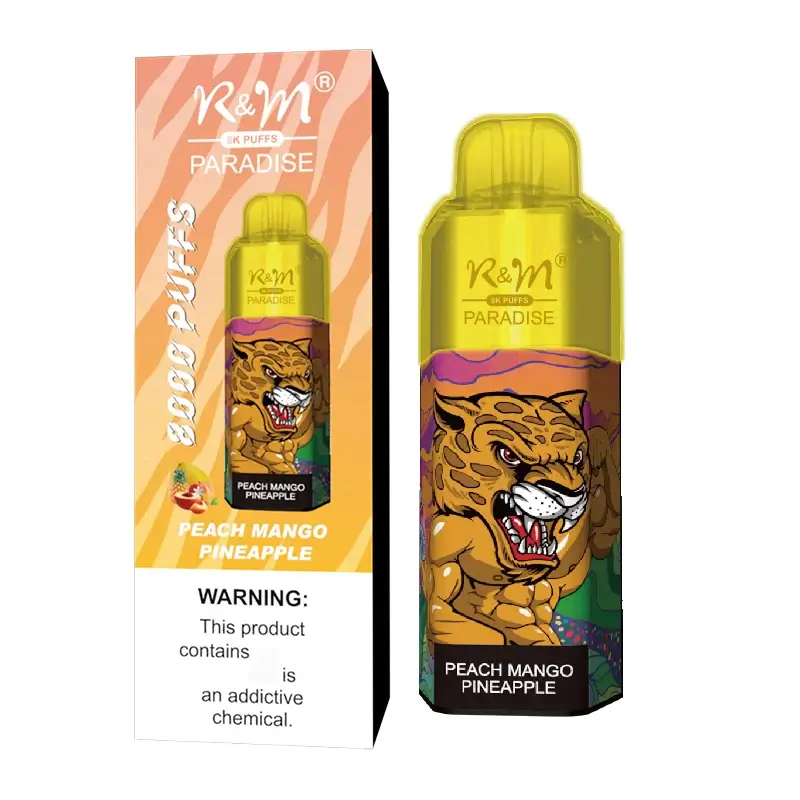 The mesh coil design not only enhances the flavor of your e-liquids but also produces voluminous clouds that take your vaping to a whole new level of satisfaction.
The mesh coil's ability to optimize flavor means that every puff is an explosion of taste. Whether you're enjoying a fruity blend or a rich dessert flavor, the R&M Paradise 8000 Vape Pen brings out the full spectrum of notes in your e-liquids. It's a sensory delight that allows you to savor the nuances of your chosen flavors with every inhale.
But this vape pen isn't just about flavor; it's also a cloud chaser's dream. The mesh coil's design generates massive clouds of vapor that add a theatrical element to your vaping sessions. Whether you're showing off your vape tricks or simply relishing in the immersive cloud production, this vape pen delivers on every front.
To further enhance your vaping experience, this device incorporates a bottom airflow control mechanism. This feature empowers you to fine-tune your draw, catering to your personal preferences. Whether you prefer a tight, restricted draw for a more intense flavor experience or a wide-open airflow for cloud chasing, the adjustable airflow control has you covered. It's a level of customization that ensures this vape pen suits both flavor enthusiasts and cloud chasers alike.
The R&M Paradise 8000 Vape Pen adds an element of excitement to your vaping sessions with its built-in RGB flashlight. Beyond its aesthetic appeal, the RGB flashlight elevates the overall atmosphere of your vaping experience. It's not just about vaping; it's about creating an ambiance that enhances your enjoyment.
Powering this vape pen is a robust 600mAh rechargeable battery, a true workhorse that ensures you can enjoy extended vaping sessions without worrying about running out of power. What's more, it features a Type-C port for charging, addressing the common gripe of long charging times. With quick-charging capabilities, you'll spend less time waiting and more time indulging in your favorite pastime. Whether you're on the move or relaxing at home, the combination of a high-capacity battery and fast charging makes the R&M Paradise 8000 Vape Pen an ideal choice for all vaping enthusiasts.
Verdict
With its oil-oil-separated structure, flat tip, and RGB visual tank, it offers a level of design and quality that sets it apart in the world of vape pens. The staggering 8000 puffs ensure you'll enjoy an extended vaping experience without constantly refilling.
The mesh coil technology provides rich flavor and voluminous clouds, satisfying both flavor enthusiasts and cloud chasers. The versatile bottom airflow control lets you fine-tune your draw, adding an extra layer of customization to your puffs. And with an enticing array of flavors to choose from, you're sure to find your vaping paradise among the options.
Whether you're a seasoned vaper or new to the world of vaping, the R&M Paradise 8000 Vape Pen offers a remarkable journey into the world of flavors and clouds. Every puff is a glimpse of heaven.