What is a Pop Vape Disposable Pen?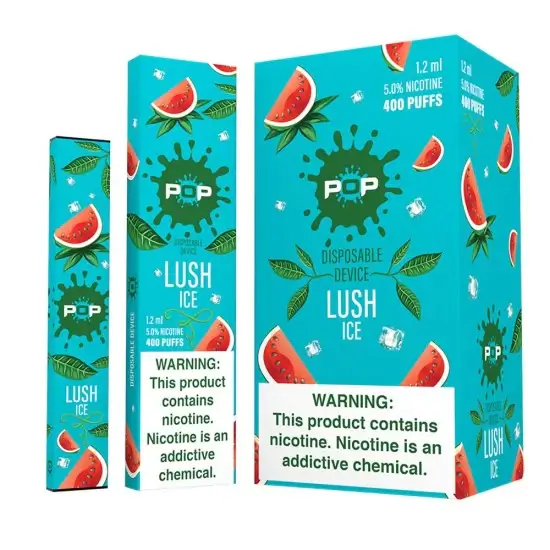 Pop vape pens have swiftly become a prominent player in the realm of disposable vapes. These sleek devices, introduced in 2018, offer a modern and user-friendly approach to vaping, particularly for those seeking alternatives to traditional combustible cigarettes.
The standout feature of Pop disposable vapes lies in their utilization of nicotine salts, ensuring an efficient distribution of nicotine content. The company's commitment to quality is evident as they continually refine their products, aiming to provide users with the best possible vaping experience.
Simplicity is at the heart of Pop disposable vapes' design philosophy. With a wide array of fruit flavors and high-quality extracts, each puff offers a satisfying and delightful experience. The convenience factor is elevated by the fact that these devices are meant to be discarded once their content is exhausted, eliminating the need for refills or maintenance.
Vapors takes a step further by offering their popular juice flavors in disposable form, catering to those with busy lifestyles. Each disposable carries 1.2ml of liquid with a potent 50mg salt nicotine strength. Boasting around 400 puffs per device, these disposables are draw-to-fire operated and non-rechargeable, making them ideal for on-the-go vaping without the hassle of upkeep. POP! Vapors successfully combines convenience and flavor, providing authentic tasting blends in a portable format.
What Can We Expect From Pop Vape?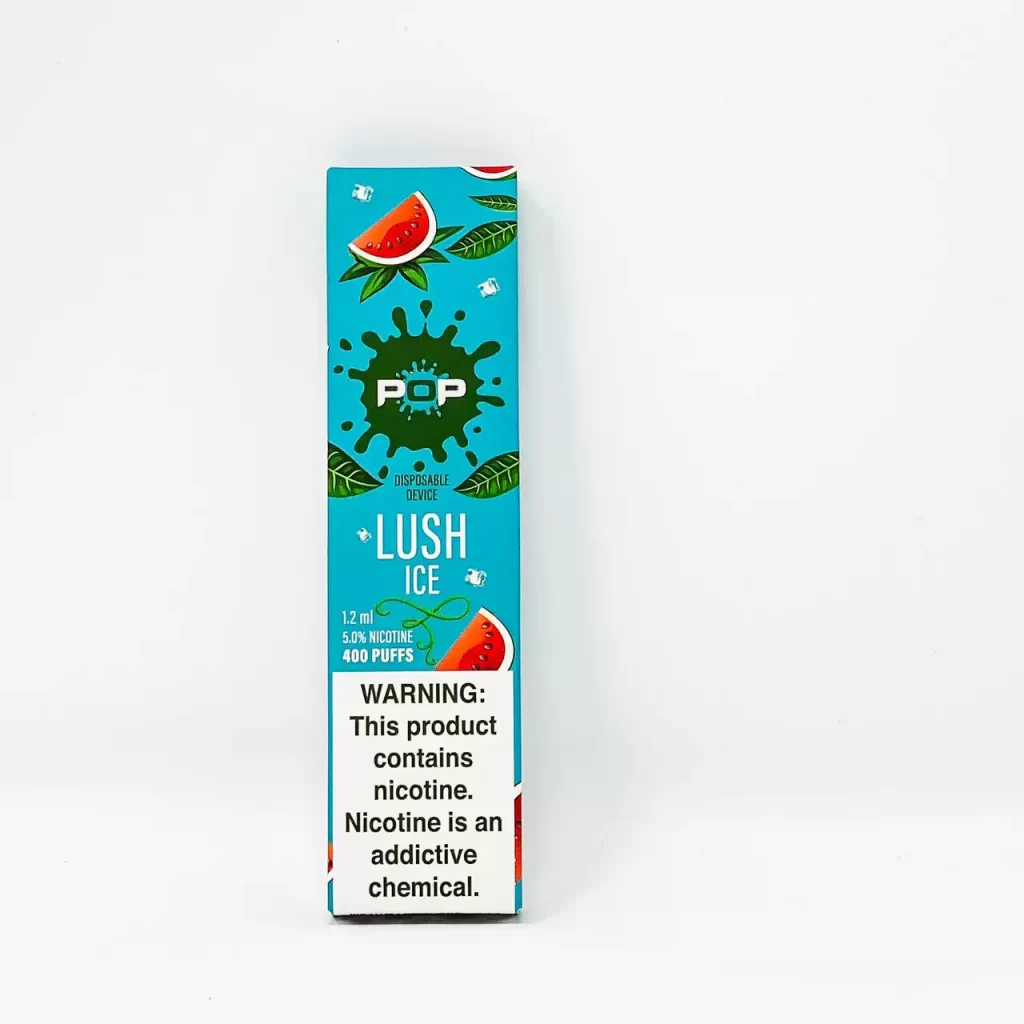 Robust Battery Performance: Equipped with a powerful 280mAh battery, the Pop vape pen delivers around 400 puffs per device, ensuring extended vaping sessions without interruptions.
Exceptional Flavor Quality: Pop vape pens stand out for their commitment to delivering unparalleled flavor quality. With a variety of flavors available, users can savor their preferred taste sensations.
Versatile Vaping Styles: Accommodating both mouth-to-lung and direct-to-lung vaping styles, Pop pens cater to diverse preferences for a personalized experience.
Compact and Lightweight: Designed for portability, Pop vape pens feature a compact and lightweight build, making them convenient for on-the-go use.
User-Friendly Design: Disposable and non-refillable, Pop pens simplify the vaping process. Their pods, featuring a battery and e-juice-filled cartridge, eliminate the need for complex maintenance.
Effortless On-the-Go Usage: Pop pens fit easily in pockets or bags, making them ideal for busy lifestyles and travel.
Practical and Disposable: With a focus on the disposable pods, Pop vape pens offer a practical, hassle-free vaping experience.
Pros
The pros of the Pop disposable vape pens are manifold. Their simplicity liberates users from dealing with complex coils, cartridges, and firing buttons. These pens are discreet and compact, allowing for stealthy vaping anywhere and anytime. Thanks to the 280mAh battery, consistent and uninterrupted puffs are guaranteed throughout your vaping session. Their lightweight nature ensures effortless portability, fitting seamlessly in pockets or purses. Affordability is another highlight, particularly in comparison to purchasing refillable vaporizers, as users can explore various flavors without the financial burden of acquiring refillable pods.
Cons
While the Pop disposable vape pens boast several merits, it's important to note a few drawbacks. The lack of distinct flavor profiles could potentially make the flavors seem indistinguishable from those offered by other brands.
Features
Size: 1.2ml
Nicotine strength: 50mg
Flavor options: Blue Razz, Lush Ice, Iced Lychee, Mango Peach Pineapple, and Fresh Tobacco
Draw to fire
Non-rechargeable
Disposable
Specifications
All in One Device
Draw: Activated System
Capacity: 1.2ml
Nicotine Strength: 5% (50mg) Salt Nicotine
Disposable: Non-Refillable
Puff Count: + 400 Puffs
Flavors: 22 Available Flavors
Pop Flavors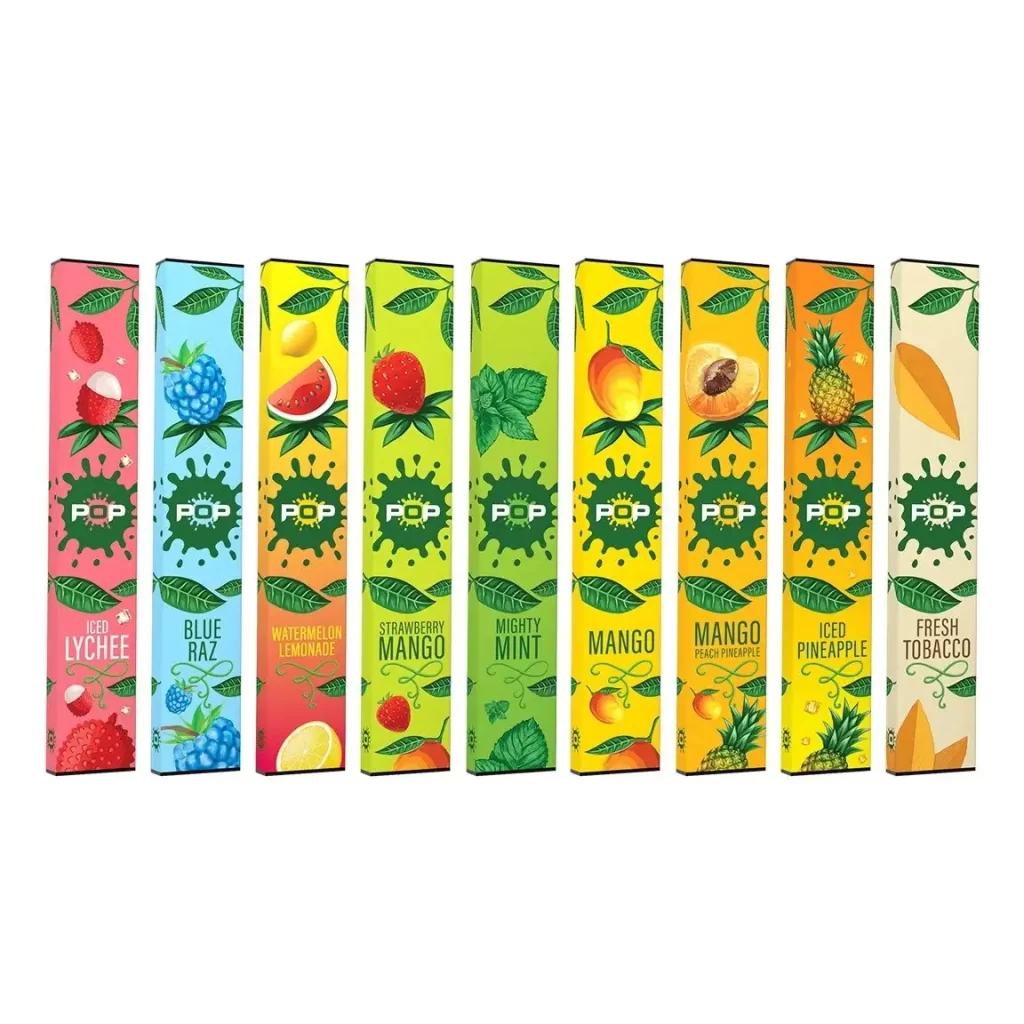 Mango
Lush Ice
Iced Lychee
Strawberry Mango
Blue Raz
Mighty Mint
Fresh Tobacco
Iced Pineapple
Mango Peach Pineapple
Peach Lemonade
Strawberry Lemonade
Watermelon Lemonade
In Conclusion
The Pop disposable vape pens provide a user-friendly and satisfying vaping experience. With their simplicity, portability, and variety of flavors, they cater to a wide range of users. The long battery life, compact build, and focus on preventing leaks further enhance their appeal. The inclusion of a warranty ensures users can enjoy their devices with peace of mind. Whether you're new to vaping or a seasoned enthusiast, the Pop disposable vape pen offers a convenient and enjoyable way to indulge in your favorite flavors.