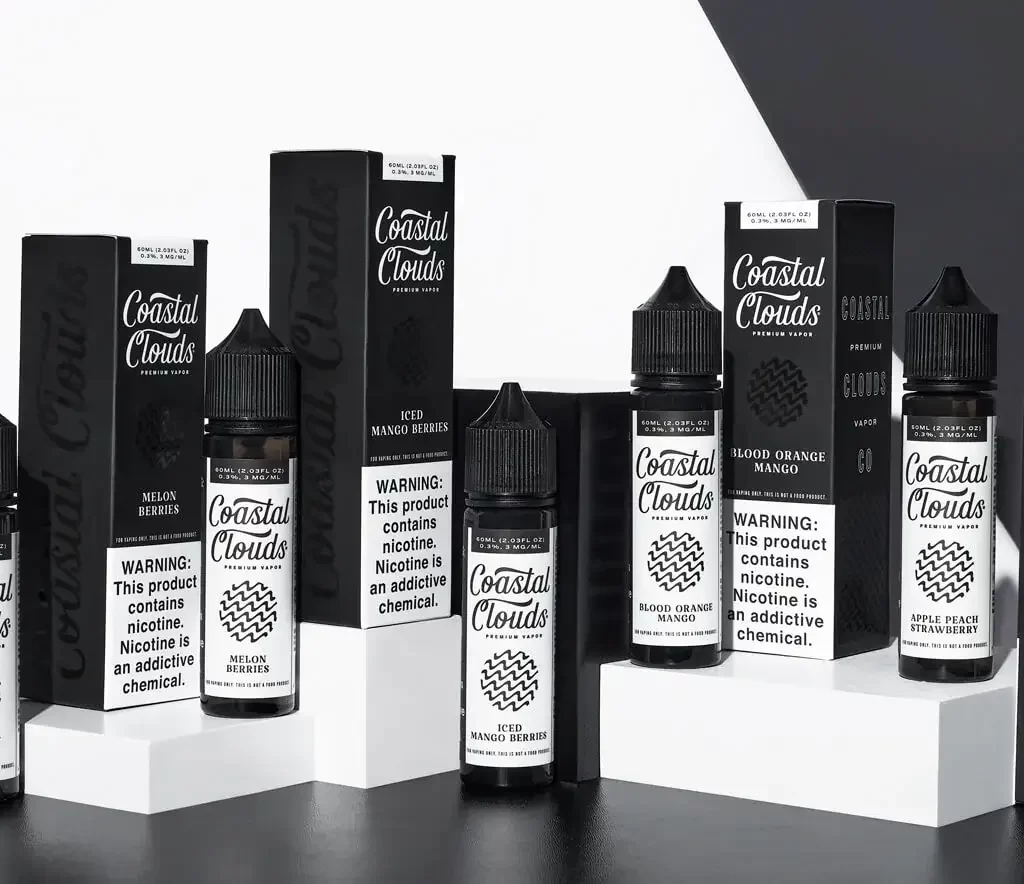 As a vape enthusiast, the quest for the perfect flavor is a journey of pleasure and discovery. In the vibrant world of vape juices, Coastal Clouds emerges as a prominent player that captures the essence of premium vaping. With its headquarters nestled in Irvine, Southern California, Coastal Clouds has garnered attention for its exceptional vape juices, captivating packaging, and premium vapor production.
Stepping into the realm of Coastal Clouds is like stepping into a paradise of flavors. With a legacy of crafting top-tier vape juices spanning years, this brand has recently unveiled an array of captivating new flavors that have sparked excitement within the vaping community. From lusciously sweet to indulgently creamy, Coastal Clouds' latest lineup caters to a spectrum of palates.
What are Coastal Clouds?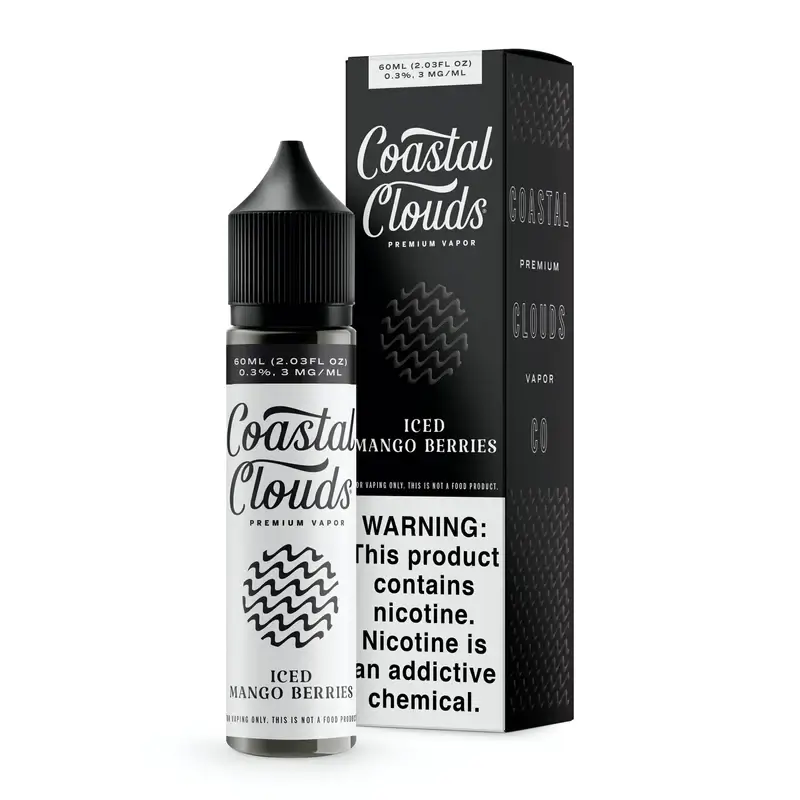 For both seasoned vapers and beginners, the top 4 Coastal Clouds vape juice flavors of 2023 promise an unforgettable experience. With each inhale, these flavors entwine innovation and satisfaction, leaving a lasting impression that beckons for more. Prepare your taste buds for a tantalizing journey as you delve into the world of Coastal Clouds vape juice flavors.
The excellence of Coastal Clouds vape juice rests on several pillars. Foremost, the brand prides itself on using only the finest quality ingredients, ensuring a smooth and enjoyable vaping encounter. The extensive range of flavors caters to diverse preferences, granting vapers the freedom to explore a wide spectrum of tastes.
Coastal Clouds Vape Juice flavor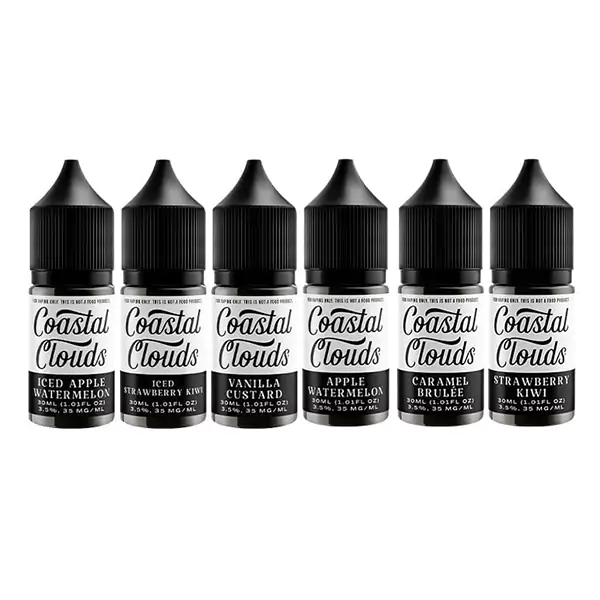 Experience a world of flavor with Coastal Clouds e-juice. From Apple Peach Strawberry to Iced Mango Berries, their diverse range offers a delectable journey for vapers worldwide. Smooth hits make it perfect for beginners and experts alike. Revel in the natural, refreshing taste that Coastal Clouds guarantees. Say goodbye to burnt hits and bitterness, and embrace a truly authentic vaping experience. With flavors like Melon Berries and Iced Blood Orange Mango, Coastal Clouds takes you on a global flavor adventure.
There are many different flavours of Coastal Clouds vape juice available. Some of the most popular flavours include:
1 Mango berries: This flavour is a mix of ripe mangoes and mixed berries.
2 Blueberry lemonade: This flavour mixes fresh blueberries and tart lemonade.
3 Strawberry kiwi: This flavour mixes ripe strawberries and juicy kiwis.
4 Pineapple paradise: This flavour mixes sweet pineapples and exotic fruits.
5 Island punch: This flavour mixes tropical fruits and juicy berries.
6 Coastal Clouds original: This flavour mixes different fruits, including oranges, lemons, grapefruit, and limes.
7 Sour sunset: This flavour mixes sour citrus fruits and sweet berries.
8 Tobacco: This flavour mix is rich in tobacco and smooth vanilla.
9 Menthol: This flavour mix is cool menthol and refreshing mint.
Top 4 Coastal Clouds Vape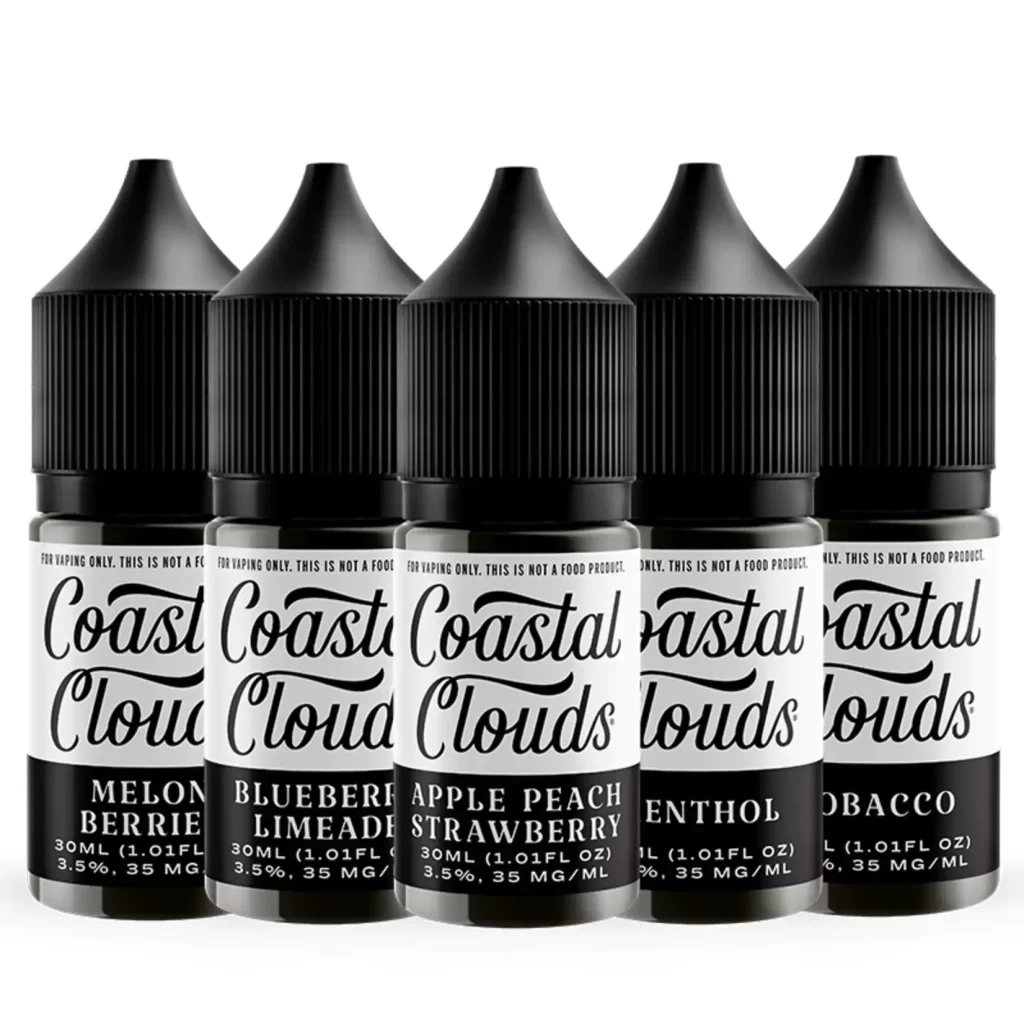 1.Apple Peach Strawberry
Indulge in the delightful fusion of crisp apples, juicy peaches, and luscious strawberries with Coastal Clouds' Apple Peach Strawberry e-liquid. This premium blend captures the essence of all three fruits in one bottle, providing an ultra-smooth vaping experience. Available in 30ml or 60ml bottles with a VG/PG ratio of 70/30, and nicotine strengths of 35mg and 50mg. Enjoy the harmonious taste of this exceptional blend all day long.
"Just bought this today cause my regular flavor was out. Store manager recommended it. Now THIS is my new favorite flavor!"
"Just bought this from my local vape shop ond OH MY GOD. One of the best flavors ive ever had. The flavor is so potent. And delicious. All day vape for sure."
2.Blueberry lemonade
Indulge your senses in the juicy blend of Blueberry Limeade ejuice from Coastal Clouds Oceanside. This eliquid artfully combines the flavors of succulent blueberries and tangy limeade, resulting in a refreshingly authentic taste. Packaged in a 60ml unicorn bottle with a child-resistant cap, it boasts a 70% VG and 30% PG ratio, perfect for producing impressive vapor clouds. With nicotine levels of 0mg, 3mg, and 6mg available, you can tailor your experience to your preference. Experience the vibrant burst of wild blueberries and zesty lime in every satisfying puff.
"This is a great.refreshing ejuice that can easily be an all day vape."
"never thought limeade would taste this good till it was mixed with berries
Number one on my list."
3.Strawberry kiwi
Experience the perfect fusion of sweet strawberries and flavorful kiwis with Strawberry Kiwi by Coastal Clouds Premium Vapor. This premium vape juice delivers a burst of sun-ripened strawberries on the inhale, followed by a juicy flow of kiwi flavor. The exhale leaves a smooth aroma of sweet strawberries, accompanied by a tangy strawberry and kiwi duet that lingers on the palate. Available in 60ml squeeze bottles with nicotine options of 0mg, 3mg, and 6mg, Strawberry Kiwi offers a delightful blend of fruitiness for a satisfying vaping experience.
"Strong kiwi notes on this one with a splash of strawberry. not a bad flavor at all. If anything it is a little on the weaker side but its nice during a hot day. would enjoy something like this with a touch of cream in it!"
"I love Coastal Clouds! It's my go to vape juice!! Apple Watermelon is my favorite flavor but the Strawberry Kiwi comes in second for me. I have been trying new flavors every time I buy to see which one I like best so far the fruit flavors have been my favorite. Will continue to buy!"
4.Iced Mango Berries
Savor the cool sensation of Iced Mango Berries by Coastal Clouds, a blend of succulent mangoes, sweet strawberries, and juicy kiwis, all enhanced with a refreshing menthol finish. This vape juice captures the essence of tropical fruits enveloped in a chilly breeze, delivering a harmonious blend of flavors. With nicotine options of 0mg, 3mg, and 6mg, and a VG/PG ratio of 70/30, Iced Mango Berries guarantees a flavorful experience with dense clouds that will leave you craving more.
"I can see the reason why this brand is so popular. All the flavors that I have tasted are great. This has a smell exactly like real fresh mango and the ice is nice "
"I love the balance of the tastes of the mango and berry flavors mixed with a hint of menthol. The juice has a great consistency and price point as well."
In Conclusion
Coastal Clouds vape juice stands tall. From their SoCal headquarters, they craft liquid art that captures diverse palates. With ingredients of the highest caliber, Coastal Clouds promises a smooth vaping experience. From Apple Peach Strawberry's fusion to Iced Mango Berries' cool embrace, their flavors are a symphony of satisfaction. Discover more than just vape juice; uncover a realm of taste and sensation. Coastal Clouds isn't just a brand; it's an odyssey of flavor.