When it comes to vaping, VooPoo is a name that resonates with quality, innovation, and outstanding performance. Since their inception in 2014, VooPoo has established itself as a world-leading manufacturer of high-quality vaping products, and their reputation is synonymous with impressive design and top-notch performance. Whether you're a beginner or an experienced vaper, VooPoo offers a wide range of options to cater to all levels of expertise.
In VooPoo's extensive product portfolio, you'll find powerful box mods in their renowned Drag series, some of which deliver up to a staggering 200W of power. They also offer user-friendly pod systems like the Vinci and Argus series, as well as a recent addition to their lineup – the disposable Dragbar vapes, specifically designed for adult smokers transitioning into the world of vaping.
In 2022, VooPoo teamed up with ZoVoo to introduce a higher-quality range of Dragbars aimed at the UK market – the Dragbar Z700 SE range. These disposable vapes elevate the game in the competitive world of disposable vaping devices by incorporating an advanced Gene Tree ceramic coil technology, promising a vaping experience that's seldom found in the disposable vape market.
Specifications
Battery: 380mAh battery
Capacity: 2ml e-liquid capacity
Puffs: Up to 1400 puffs per pack
Activation: Draw activated
Flavours in range: 18
Nicotine: 20mg
Nicotine Type: Nic Salt
E-liquid Ratio: 50/50 PG/VG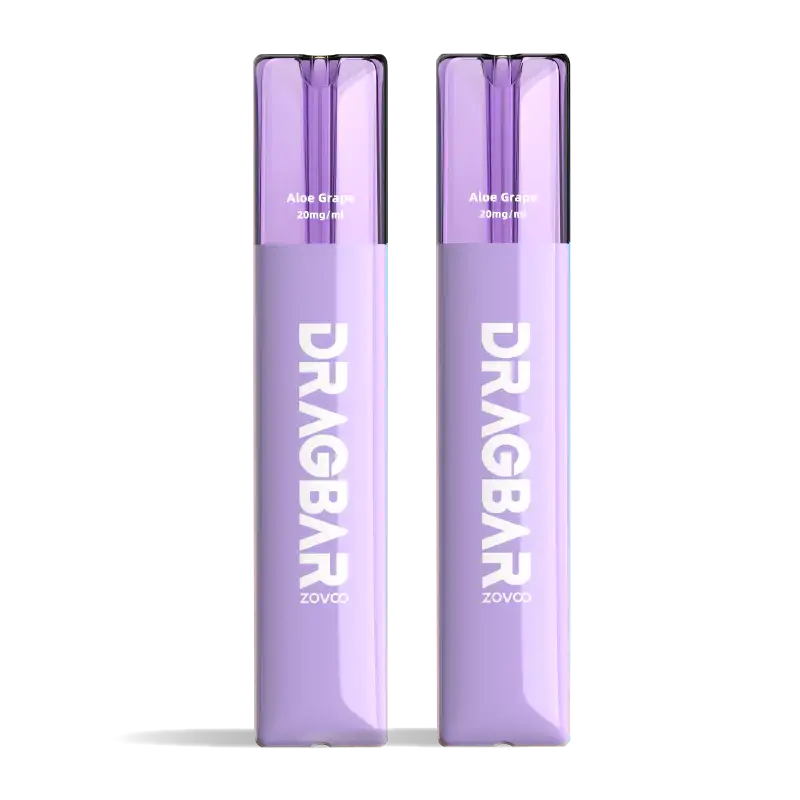 With a powerful 380mAh battery, this vape delivers consistent performance throughout the day.
This device boasts a 2ml e-liquid capacity, providing enough vape juice to keep you satisfied. What sets it apart is its impressive puff count, offering up to 1400 puffs per pack, ensuring you won't run out of enjoyment anytime soon.
The Dragbar Z700 operates on a draw-activated mechanism, making it incredibly user-friendly. No buttons to press, simply inhale, and you're ready to enjoy your chosen flavor.
Speaking of flavors, you'll be spoiled for choice with 18 delightful options, catering to a wide range of taste preferences. The use of 20mg Nic Salt nicotine ensures a smooth and satisfying vaping experience. With a balanced 50/50 PG/VG e-liquid ratio, you can expect great flavor and vapor production.
Design and Build Quality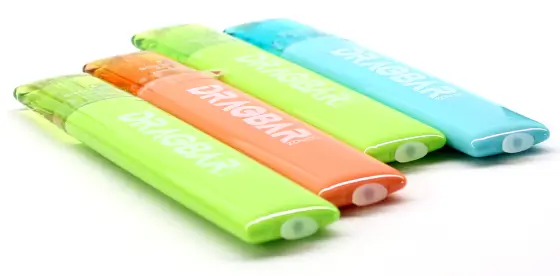 Its smooth and attractive 'one-color' design sets it apart from the standard disposable vapes. In terms of performance, it goes a step further by offering up to 700 puffs, which is notably more than the average 500-600 puffs you'd expect from disposable vapes. What makes it even more unique is that it comes in a pack of two, advertised as providing up to 1400 puffs per pack.
The transparent mouthpiece is a practical addition. It allows users to check the e-liquid level within the sealed unit, ensuring you never experience a 'dry hit' due to depleted e-liquid. Unlike most disposable vape ranges, the device's color theme isn't necessarily tied to the flavor, and there are some shared colors across the various flavors in the range.
As expected from a disposable vape, the Dragbar Z700 SE is non-rechargeable. It houses an internal pre-filled tank containing 2ml of nicotine salt-based e-liquid, with a nicotine strength of 20mg. While VooPoo may release different strengths in the future, the current offering is limited to 20mg.
Despite the vibrant colors in the range, the Dragbar Z700 SE remains an attractive unit with smooth surfaces and rounded corners, ensuring comfort during use. The packaging of the Dragbar is hard to miss, with a vivid yellow background on every box, making it easy to spot. Each box displays essential warnings, safety information, and the ingredients list. Inside, the two vapes are sealed in individual foil packs, preserving the flavor and protecting them from external elements until use.
Flavor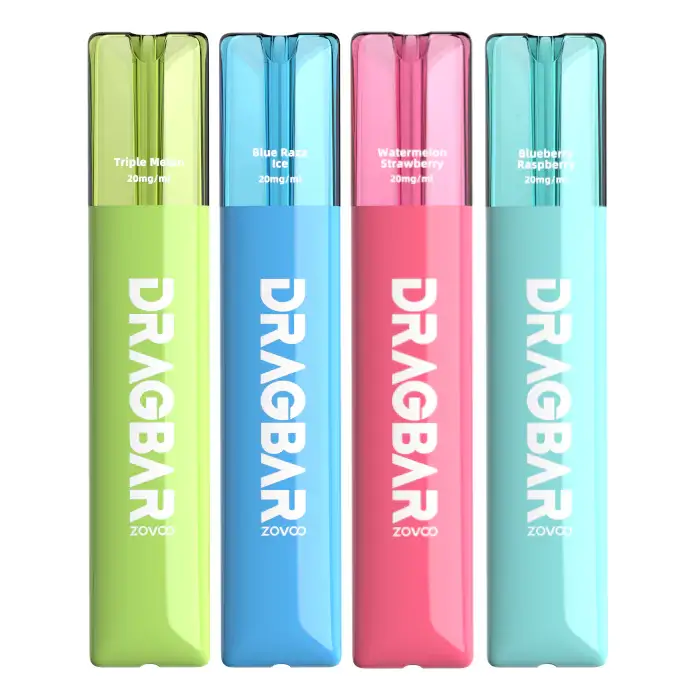 For those who enjoy sweet vapes, the Dragbars offer a delightful selection. All 18 of the available flavors are intensely sweet and fruity. Among those sampled, the Lemon and lime, Cola Ice, and Pineapple Ice flavors were particularly impressive. Even the Mango Ice, a flavor that might not typically appeal to everyone, tasted exceptionally realistic.
One notable feature is the transparent mouthpiece, allowing you to view all remaining e-juice. This design choice is reminiscent of the IVG Calipro disposable vapes and adds practicality to the vaping experience.
The Dragbar Z700 SE boasts the GENE TREE Special Edition ceramic core technology. Ceramics can withstand higher temperatures, allowing this coil technology to eliminate issues like spitting, popping, or leakage into the mouthpiece. Moreover, the smaller aerosol particulates result in a 36% increase in vapor density. The faster and more even heating not only enhances flavor but also extends battery life. With these improvements, you can expect around 700 puffs from the integrated 380mAh battery, a notable increase compared to rival disposable vape brands.
Blue Razz Ice
Blue Razz Ice is a sweet treat for your taste buds. It offers a chalky sweetness that adds depth to the vape, a characteristic that's often rare in disposable vapes. The sweetness is upfront, but as you exhale, the raspberry notes emerge, blending with the textured sweetness. The icy element remains prominent and lingers on your throat, providing a cooling sensation.
Green Apple Ice
Green Apple Ice impressively replicates the flavor of a Granny Smith apple. Initially, you might find the inhale a bit wet and turbulent, with a bubbly sensation. However, this wetness subsides after a few puffs. The icy menthol becomes a prominent feature, and the exhale maintains the authenticity of the green apple's sweet and tart notes.
Performance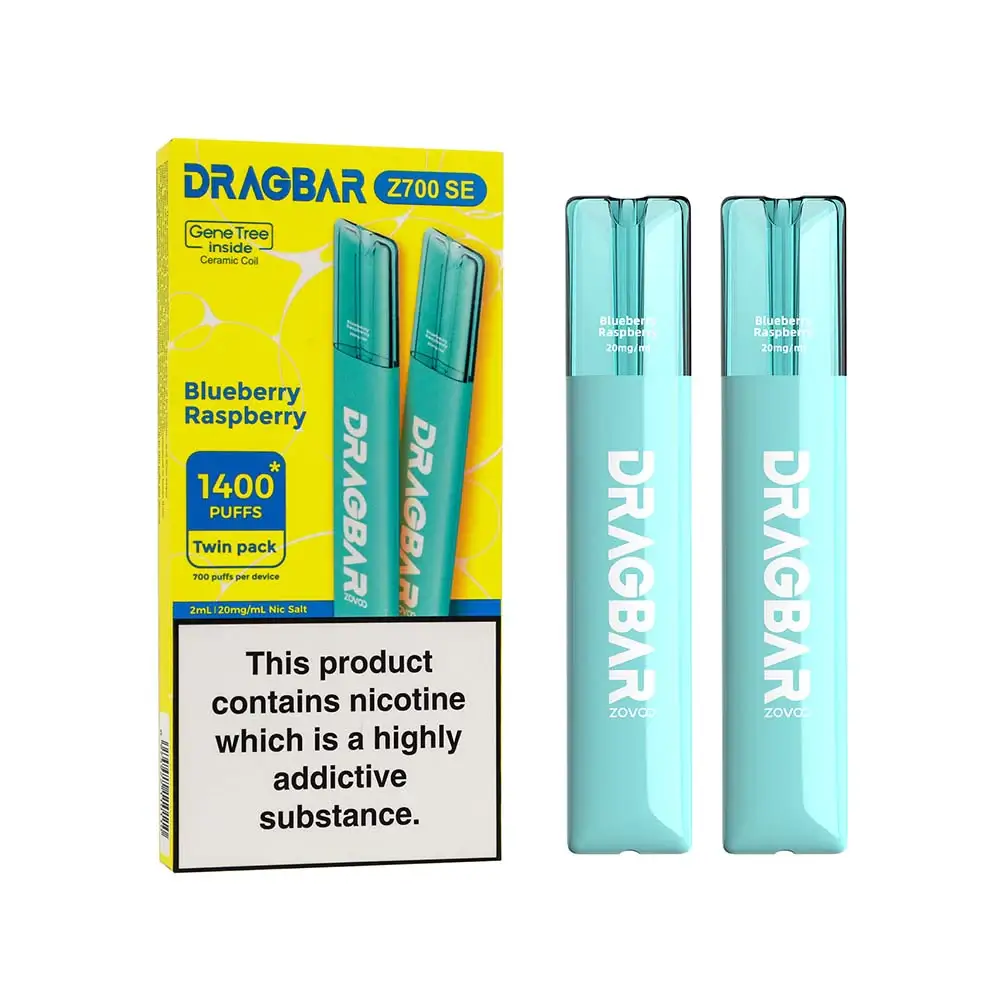 While the UK range currently lacks traditional flavors like Tobacco, Menthol, or Mint, which might limit its appeal to smokers, the single-note, fruit menthols, and mixed fruit blends are outstanding. For instance, the Pineapple Ice flavor tastes like genuine pineapple juice, and the Cherry Ice flavor captures the aroma of fresh cherries.
The research and development invested in the Gene Tree coil and airflow system are evident in the outstanding performance. The technology ensures a consistent and smooth fruity flavor with every puff, elevating the vaping experience to a new level.
Comparing the Dragbar Z700 SE to similar products is challenging. If we focus solely on flavor profiles, the sweet and fruity variants of the SKE Crystal Bar range or the Elf Bar 600s could be reasonable alternatives. However, when you factor in price, the Dragbar Z700 SE stands out.
Despite being packaged in a pack of two, the price per unit is attractive, especially considering the quality of flavor and the claimed longevity in puffs from the battery. It presents an excellent value proposition for vapers looking for a high-quality disposable vape.
In Conclusion
It combines sleek design, extended battery life, and exceptional flavor delivery, setting new standards for disposable vaping devices. While the flavor range leans towards sweetness, it excels in replicating fruit flavors realistically. The GENE TREE Special Edition technology ensures consistent and satisfying vapor production, making it a top choice for vapers seeking an outstanding disposable vape experience.
Please note that performance may vary, and some users may experience occasional issues, but overall, the Dragbar Z700 SE offers a compelling option for those who appreciate quality and innovation in disposable vapes.