With exclusive flavor options that will tantalize your taste buds. With a generous e-liquid capacity of 13ml, you can enjoy an impressive 5000 puffs on a single device, making it perfect for extended vaping sessions.
One of its key strengths is the integrated 650mAh rechargeable battery, utilizing the convenient Type C charging port for quick and efficient recharging. The Evo Bar Vape features a mesh coil heating system, ensuring consistent and satisfying vapor production with every puff.
What sets this device apart is its user-friendly draw-activated firing mechanism, eliminating the need for buttons and providing a seamless vaping experience. The nicotine strength of 50mg (5%) ensures a satisfying hit with each inhalation.
Specifications
Original and Black Edition – Exclusive Flavors
E-liquid Capacity: 13ml
5000 Puffs Approx.
Integrated 650mAh Rechargeable Battery (Type C)
Mesh Coil Heating
Draw Activated Firing Mechanism
Nic Strength: 50mg Strength (5%)
A Proud American Product
Design and Build Quality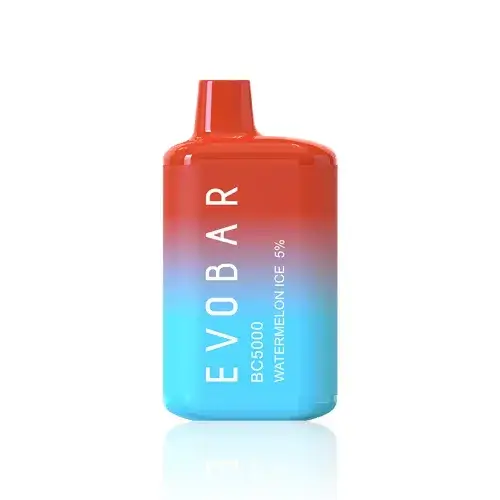 It offers an aesthetic and ergonomic delight. Designed to be sleek and stylish, this vaping device boasts a slim and ergonomic profile that fits comfortably in your hand. Its two-color gradient design with rounded corners exudes modernity and sophistication, making it an ideal accessory for vapers who appreciate both form and function.
Available in two editions – the Original and the Black Edition, each featuring exclusive flavors – the Evo Bar Disposable Vape 5000 caters to the diverse tastes of vaping enthusiasts. Beyond aesthetics, the build quality of this device is top-notch. High-quality materials have been employed to ensure durability and longevity, ensuring that they can withstand the rigors of daily vaping without compromising on style.
However, it's essential to note that the Evo Bar Disposable Vape 5000 comes with a potent 5% nicotine content, which may not be suitable for vapers who prefer low-strength nicotine options. This high nicotine strength caters to those who crave a robust nicotine hit.
Battery Life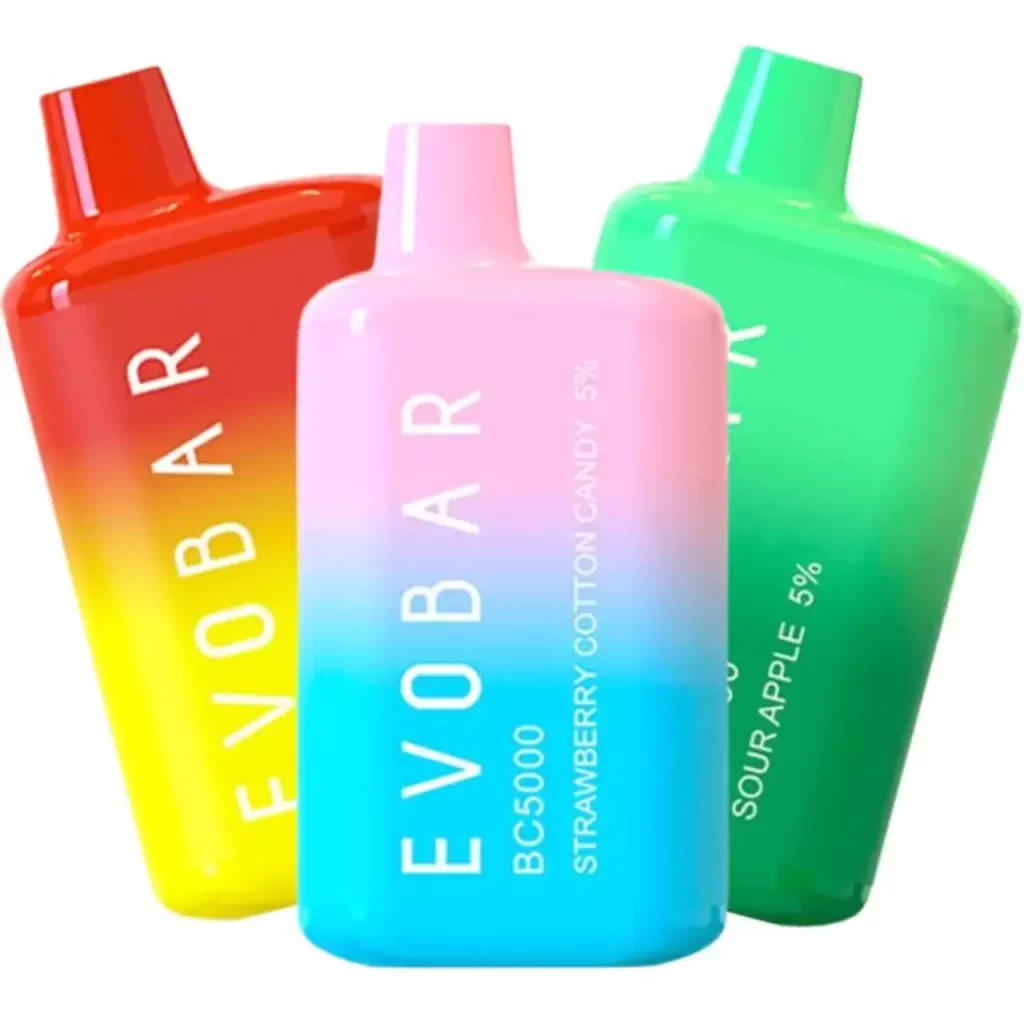 The Evo Bar Disposable Vape 5000 excels in this regard with its integrated 500mAh rechargeable battery. This battery capacity is impressive for a disposable device, and it's indicative of the manufacturer's commitment to offering users a longer-lasting vaping session.
With the Evo Bar, you can enjoy more puffs before needing to recharge compared to many other disposables on the market. The convenience of a rechargeable battery is further enhanced by the inclusion of a Type C charging port, which ensures faster and more efficient recharging. You can keep vaping without prolonged interruptions, making this device an ideal choice for vapers who want a reliable and extended vaping experience.
Performance
Its impressive 13ml vape juice capacity. This capacity is significantly higher than what many other disposable vaping devices on the market offer. With the Evo Bar, you can indulge in extended vaping sessions without the constant need to refill the device.
The substantial vape juice capacity not only provides convenience but also ensures that you can enjoy a more satisfying and prolonged vaping experience. It's a welcome relief for vapers who find frequent refilling to be a hassle.
The heart of any vaping device lies in its heating system, and the Evo Bar Disposable Vape 5000 features a remarkable mesh coil heating system. This technology is designed to elevate your vaping experience by enhancing flavor delivery and vapor production.
With each puff from the Evo Bar, you can expect a perfect airy note and a top-notch flavor profile that tantalizes your taste buds. The mesh coil ensures that every puff is consistent and smooth, eliminating any unpleasant surprises that can sometimes occur with disposable vapes. Whether you're new to vaping or a seasoned vaper, the Evo Bar Disposable Vape 5000 is engineered to provide a reliable and satisfying vaping experience from the very first draw.
Wide Range of Flavors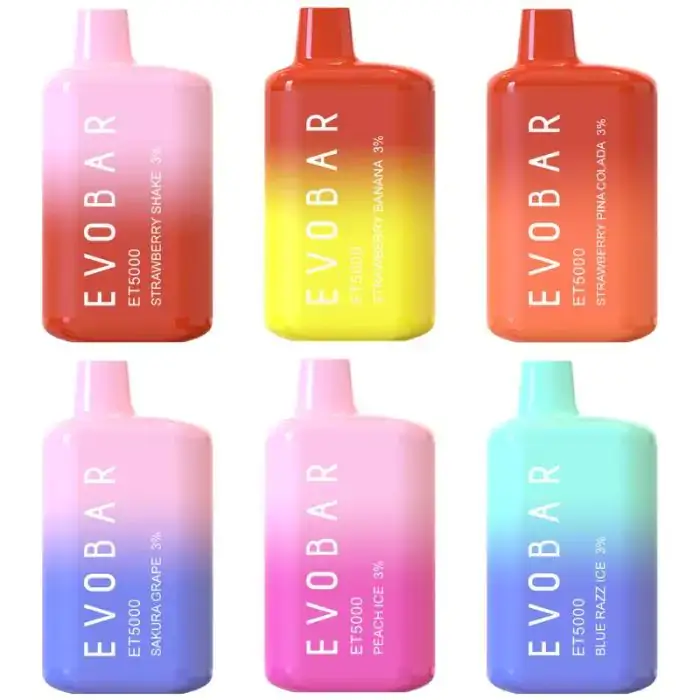 Evo Bar Disposable Vape 5000 certainly embraces this philosophy when it comes to flavors. This vaping device offers an extensive array of flavors that cater to a wide range of taste preferences. From fruity and minty options to classic tobacco flavors, there's something for everyone in the Evo Bar lineup. Here are some of the mouthwatering flavors available:
Watermelon Ice
Strawberry Pina Colada
Sour Apple
Cool Mint
Peach Ice
Blue Razz Ice
Blueberry Lemonade
Mango Strawberry
Sakura Grape
Strawberry Ice
Lemon Mint
Strawberry Kiwi
Strawberry Banana
Peach Kiwi
Strawberry Shake
Rainbow Candy
Apple Watermelon
Kiwi Passion Fruit Guava
Watermelon Bubblegum
Strawberry Cotton Candy
Aloe Grape
Tobacco
Clear
This extensive flavor selection ensures that every vaper can find their perfect match. Whether you prefer the tropical allure of Watermelon Ice or the classic taste of Tobacco, the Evo Bar has you covered. Additionally, the inclusion of unique options like Aloe Grape and Kiwi Passion Fruit Guava adds a touch of excitement to the lineup, making it a standout choice in the disposable vape market.
Verdict
Its 13ml vape juice capacity sets it apart, ensuring that you can enjoy longer vaping sessions without the constant need for refills. The inclusion of a rechargeable 500mAh battery and a Type C charging port adds to the convenience of using this device, allowing you to keep vaping without prolonged interruptions.
The mesh coil heating system enhances the vaping experience by delivering exceptional flavor and vapor production. The extensive flavor selection ensures that vapers of all preferences can find their ideal flavor profile. While the 5% nicotine strength may not be suitable for those who prefer lower nicotine options, it caters perfectly to individuals who seek a robust nicotine hit.