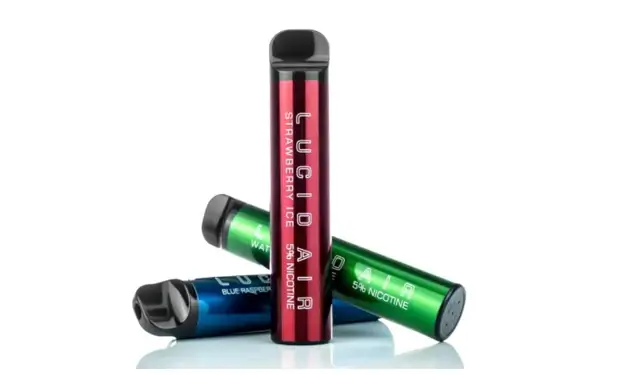 The Lucid Air Vape Pen introduces a new era of vaping convenience and satisfaction. Packed with innovation, this disposable vape redefines the vaping experience. Offering an impressive 5% Tobacco-Free Nicotine content, the Lucid Air stands out in a market flooded with options. The integration of mesh coil technology ensures every puff is a flavorful journey, producing up to a whopping 5000 puffs per cartridge. With two 16.7ml E-Liquid cartridges included, you're ready to relish your vaping adventure right out of the box.
Specifications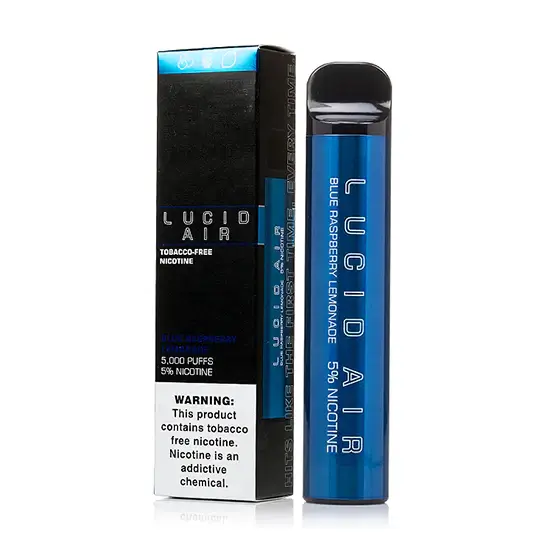 Manufactured by: Lucid Air
E-Juice Quantity: 16ml
Nicotine Content: 5.0% / 50mg (Tobacco-Free Nicotine)
VG: 50%
PG: 50%
Battery Type: Rechargeable
Operation: Automatic
Available Flavors: Aloe Grape Ice, Banana Ice, Blue Razz Lemonade, Honeydew Ice, Peach Ice, Rainbow Sherbet, Strawberry Ice, Watermelon Ice
Length: 4.5 Inches (114 mm)
Diameter: 0.75 Inches (19 mm)
Features
Smooth and Satisfying Hit
Provides Ideal Throat Hit
50mg Synthetic Nicotine Concentration
All-in-One Configuration
Automatic Operation
Operates Straight Out of the Box
No Skill or Knowledge Required
Deliver the Sensation of Traditional Cigarettes
Long-Lasting – Approximately 5,000 Puffs
Eight Fantastic Flavors to Choose From
Lucid Air Disposable Vape Flavors
The sweetness of vine-ripened grapes meets the refreshing smoothness of aloe. This remarkable flavor is then finished with a kick of cool menthol, for a truly exhilarating finish.
Sweet, ripe bananas are enhanced with the perfect amount of cool menthol, for a crisp and refreshing finish.
Refreshing homemade lemonade is enriched with delicious blue raspberries, resulting in a smooth and refreshing flavor that never seems to get old.
Sweet, juicy honeydew melons are complemented with brisk blast of cool menthol, for a rejuvenating exhale that will have you coming back for more.
Juicy, orchard-fresh peaches are picked at the peak of ripeness and kicked up a notch with just the right amount of cool menthol, for a refreshing finish you will love.
Smooth, rich, and creamy rainbow sherbet ice cream shines through with every hit of this delightful blend. With layer upon layer of mouthwatering taste, it's no wonder why this flavor is so popular.
Sweet, mountain-fresh strawberries are blended with refreshing menthol, for an enlivening experience like no other.
Juicy and sweet watermelons are mixed with the ideal amount of cool menthol, making for a deliciously refreshing all-day-vape that will never tire the taste buds.
What Can We Expect From lucid Air Vape?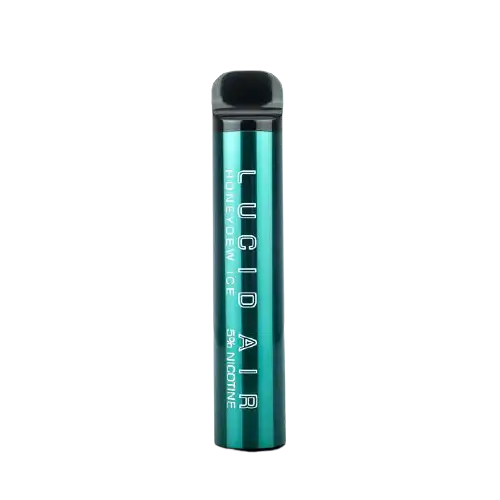 The star of the show is the battery life. Sporting an impressive 2,200 mAh battery, the Lucid Air can easily last several weeks before needing a recharge. This makes it a cost-effective choice, appealing to those who value prolonged usage without compromising quality.
A remarkable feature of the Lucid Air is its sleek charging case, perfect for those on the move. The charging case ensures you enjoy over 5000 puffs from a single Lucid Air disposable vape, making it an economic and efficient choice. Shijin, a reputable name in the vaping industry, has crafted this gem to perfection. Measuring at a compact 4.5 inches in length and 3/4 inches in diameter, the Lucid Air is designed for easy portability while delivering a gratifying throat hit.
Each Lucid Air Disposable Vape Pen integrates a sizable 16ml e-juice tank and a robust 2,200 mAh battery. This power duo ensures an astounding 5000 puffs, extending your vaping pleasure. Simplicity meets performance, as the Lucid Air is pre-set for optimal usage, eliminating the need for manual adjustments. The variety of 8 delectable flavors adds a layer of enjoyment to your vaping experience, from Aloe Grape Ice to Strawberry Ice.
Moreover, the Lucid Air's hybrid ceramic heater heats up in a mere 15 seconds, allowing for swift, efficient hits. With a battery life capable of up to 400 puffs on a single charge, even seasoned users will find satisfaction. Its compatibility with THC and CBD concentrates, along with its 0.5-gram capacity, caters to both beginners and experienced cannabis enthusiasts.
PROS
Wide array of vibrant flavor options
Sleek and compact design
ideal for on-the-go use
Impressive battery life and juice capacity
Easy to use, making it suitable for beginners
CONS
No option to recharge or refill
May not be available in regions with strict vaping regulations
In Conclusion
The Lucid Air Vape Pen emerges as a game-changer in the world of vaping, delivering unparalleled convenience and satisfaction. With its innovative features, including a 5% Tobacco-Free Nicotine content, mesh coil technology, and a staggering 5000 puffs per cartridge, it redefines the vaping experience. The range of eight delicious flavors and the all-in-one configuration ensure that every puff is a flavorful journey, ready to relish straight out of the box.
Lucid Air Vape Pen is a remarkable addition to the vaping landscape, offering a seamless blend of innovation, flavor, and performance. As vaping technology continues to evolve, the Lucid Air stands as a testament to the ongoing pursuit of enhancing the vaping experience for enthusiasts everywhere.