For dedicated vapers, the pursuit of the perfect e-liquid is a never-ending journey filled with trials and errors, hits and misses. Bad Drip Vape Juice has risen as a significant player in this quest, gaining the kind of notoriety that turns heads and provokes curiosity. Its robust lineup of flavors promises not just variety but complexity, taking the vaping experience to a whole new level. In this comprehensive review, we're unpacking everything you need to know about Bad Drip Vape Juice—from its standout flavors to the meticulous craftsmanship of Bad Drip Labs. So, does Bad Drip Vape Juice live up to its glowing reputation, or is it all just smoke and mirrors? Let's dig in and find out.
What is Bad Drip Vape Juice?
Bad Drip Vape Juice is more than just another name in the crowded e-liquid market; it's a brand that stands out for its complex and enticing flavors. Ranging from the comforting notes of vanilla to the tart kick of pomegranate, each flavor is designed to offer a unique vaping experience. With such a wide variety of options, it's no wonder that the brand has developed a dedicated following.
The team behind this beloved brand is Bad Drip Labs, a company that has cemented its reputation for quality and innovation. They've taken the art of e-liquid crafting to new heights, consistently delivering products that go beyond simply meeting the standard criteria for good vape juice. Their commitment to excellence is evident in each bottle they produce, exceeding the expectations of even the most discerning vapers.
When it comes to the taste profile, Bad Drip Vape Juice offers a multi-layered experience. Imagine the joy of inhaling a delicious blend of strawberry and bubble gum, which is then rounded off by the tartness of green kiwi. The balance of flavors is carefully calibrated, making every puff an opportunity to discover something new. It's the kind of experience that leaves you eagerly anticipating the next hit.
Bad Drip Vape Juice List
1.Bad Blood Vape Juice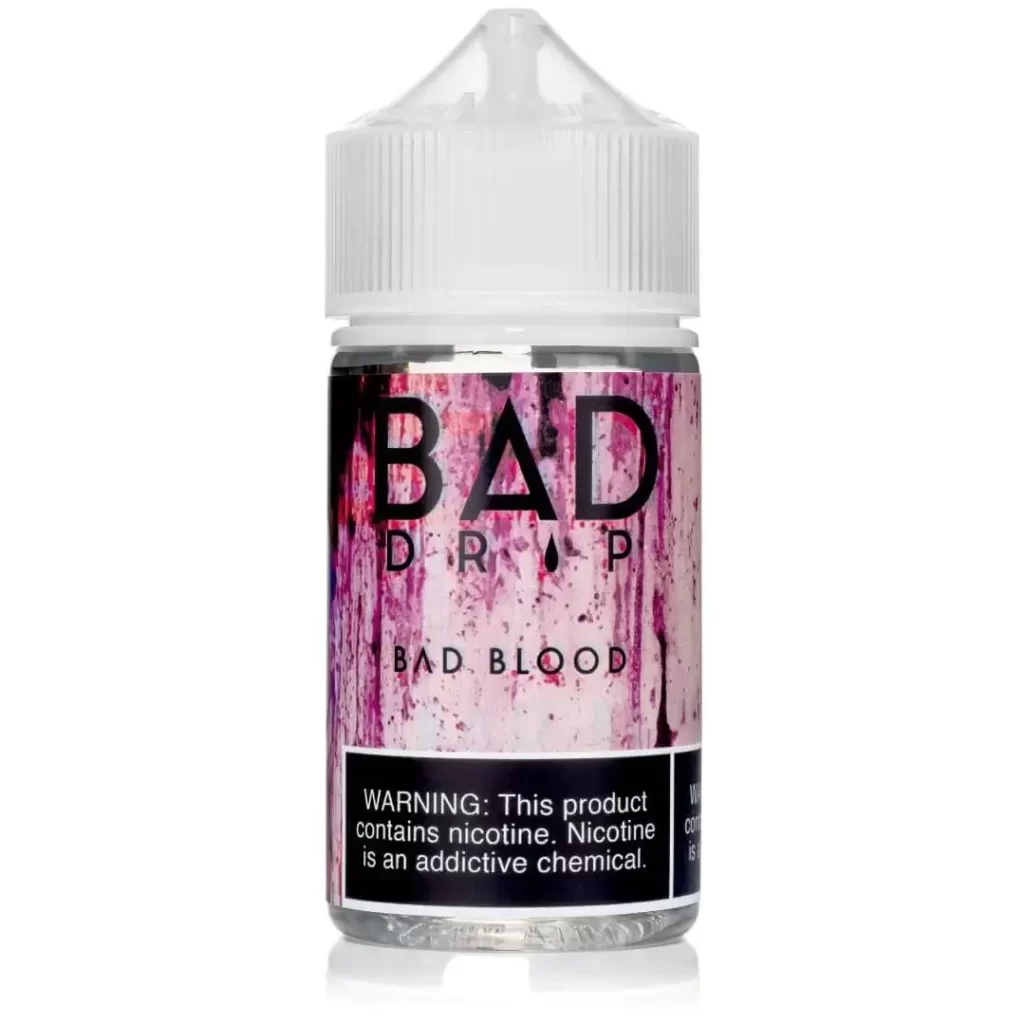 A sophisticated blend that skillfully combines the sweetness of ripe blueberries, the smoothness of vanilla, and the tartness of pomegranate. It offers a sublime vaping experience that goes beyond mere taste; it's a sensory journey. What sets it apart is its high VG content, providing an ideal base for cloud chasers who take their vaping seriously. Each puff produces rich, voluminous clouds that are as satisfying to create as they are to taste.
2.Ugly Butter Vape Juice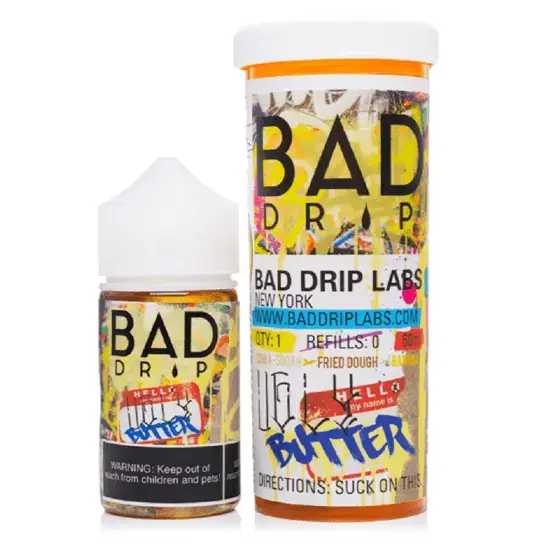 An e-liquid that contradicts its name with every puff. Featuring a decadent mix of cinnamon, banana pudding, and pastry dough, it's an e-liquid that proves ugly can be beautiful. The best part? Its formulation ensures a smooth throat hit, making the experience comfortable and enjoyable from start to finish.
3.Cereal Trip Vape Juice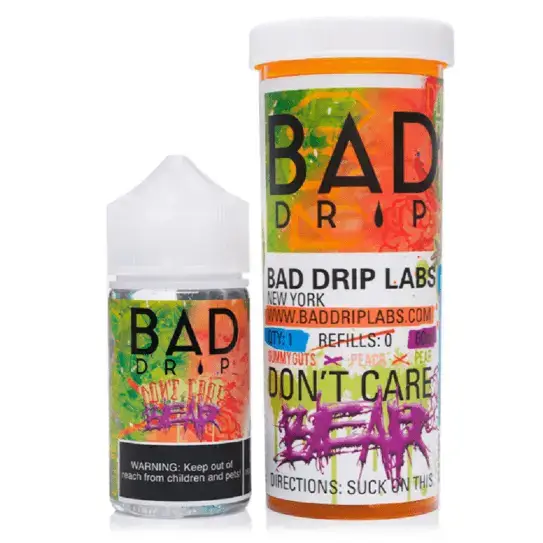 For those who prefer their vaping to be an adventure, Cereal Trip Vape Juice offers a complex tapestry of flavors. As you take the first inhale, you're greeted with a robust cereal undertone that serves as a foundation for the remaining notes. This is quickly followed by the sugary goodness of a glazed donut that ties everything together. The different nicotine level options make it accessible to vapers of all experiences, from beginners to long-time enthusiasts.
4.Don't Care Bear Vape Juice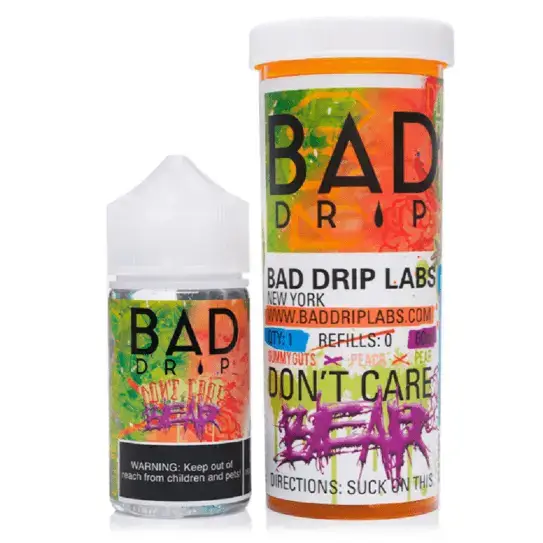 The whimsical name might lead you to believe this is just another kitschy flavor, but one puff will prove you wrong. The dominant taste is of gummy candies, perfectly balanced with a dusting of crystallized tangy sugar. It offers a harmonious blend of sweet and sour notes that make every hit truly rewarding.
5.Farley's Gnarly Sauce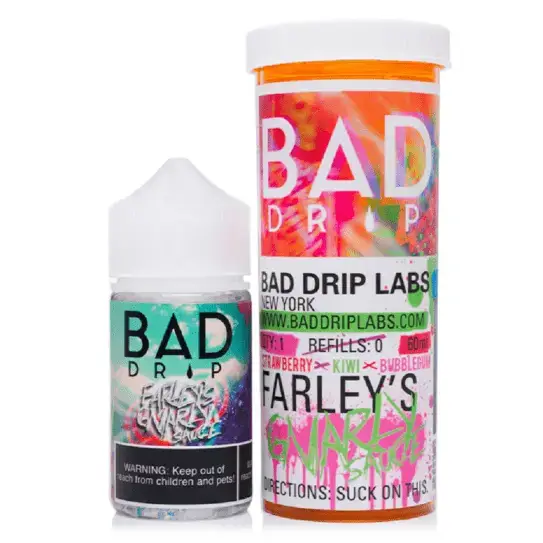 It's not often that we find an e-liquid disappointing, but this one falls short of expectations. Despite the intriguing mix of tangy kiwi and strawberries enveloped in a bubblegum nectar, the flavor profile lacks the depth we've come to expect from a premium e-liquid. It's not a terrible choice, but compared to the other offerings, it doesn't quite stand up.
Pros
High VG content caters to cloud chasers, offering voluminous and satisfying clouds.
The complex and multi-layered flavors make for an engaging vaping experience.
The availability of various nicotine levels adds a layer of customization to suit different vaping needs.
Cons
Not every flavor lives up to the brand's high standards; some could use refinement.
The wide variety of flavors means not all are going to be universally appreciated.
So there you have it—a detailed look at some of the most talked-about flavors from Bad Drip Vape Juice. From the mature complexity of Bad Blood to the delightful contradiction that is Ugly Butter, this brand offers a range of options that cater to diverse preferences. Whether you're looking for something sweet, tangy, or a little bit of both, Bad Drip Vape Juice has something for everyone.
In Conclusion
Bad Drip Vape Juice has a lot going for it, although it's not without some shortcomings. While flavors like Bad Blood and Ugly Butter are standouts in their categories, others like Farley's Gnarly Sauce might not be everyone's cup of tea. What's indisputable is that the brand has carved out a niche in the competitive vaping landscape, offering a rich sensory experience that extends beyond mere flavor.Bad Drip Vape Juice provides a plethora of options that are bound to appeal to a diverse vaping community. However, it might be wise to start off with a smaller bottle to test whether a specific flavor aligns with your taste. Regardless of minor setbacks, the brand offers a unique and rewarding vaping journey that is worth taking at least once.