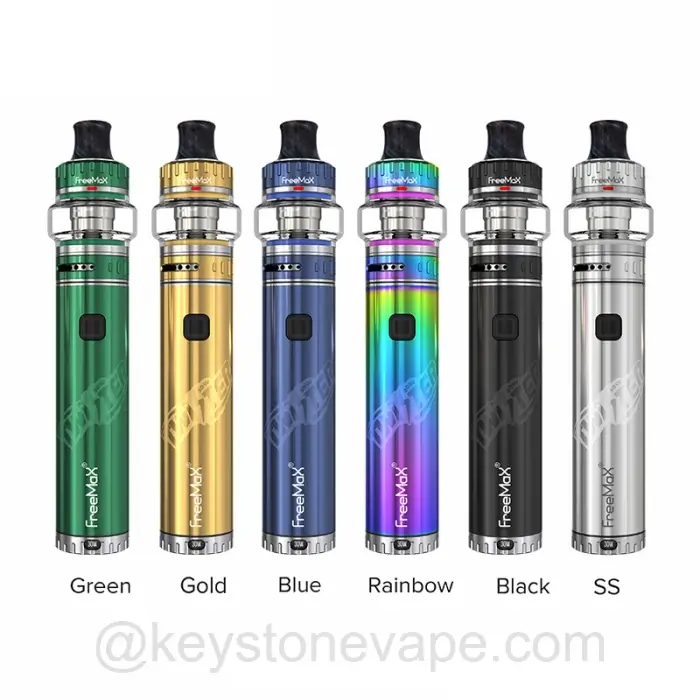 Among the top-tier vape brands, Freemax shines as a beacon of innovation, ceaselessly advancing the vaping landscape to redefine the experience for enthusiasts worldwide. With an unwavering commitment to pushing the boundaries of what vaping can offer, Freemax has firmly established itself as a trailblazer in the industry. Through a steadfast dedication to innovation, Freemax has continuously elevated the art of vaping, crafting products that not only meet but exceed the expectations of vapers
Preview
At the heart of the FreeMax Twister 30W Kit lies the Fireluke 22 Tank, boasting the innovative COILTECH 4.0 technology. Equipped with SS904L Mesh and Tea Fiber Cotton formula, this tank offers unparalleled flavor and vapor production. With its selection of 0.5ohm DTL Mesh Coil and 1.0ohm & 1.5ohm MTL Mesh Coil, it caters to both direct-to-lung (DTL) and mouth-to-lung (MTL) vaping styles, accommodating various e-liquids and nicotine strengths.
Enhanced convenience and safety are key features of the Fireluke 22 Tank, incorporating a child-proof top-fill design and a leak-proof mechanism. This ensures a hassle-free and secure vaping experience, allowing you to focus on what truly matters: enjoying the rich flavors and satisfying clouds.
Complementing the tank is the Twister 30W VW mod, an elegantly designed battery with a twist-style adjustment that offers wattage ranging from 7.5W to 30W (2.5W per click). Powered by a robust 1400mAh built-in battery with 1.5A fast charging, the Twister 30W mod guarantees all-day vaping prowess and a swift 80-minute charging time.
Safety and ease of use are paramount with the Freemax Twister chip, equipped with protective measures like short-circuit protection and low-power protection. The LED light embedded within the firing button provides clear indicators of various working conditions, ensuring a seamless and controlled experience.
In summary, the FreeMax Twister 30W Kit stands as a testamen
Specs
TWISTER 30W VW MOD
Size: 78.3 * 22mm
Built-in Battery Capacity: 1400mAh
Output Wattage Range: 7.5-30W
Output Voltage Range: 1.9-7.5V
Max Output Current: 8A
Resistance Range: 0.5-3.0ohm
Power Efficiency: 90%
Wattage Adjustment Method:
Twist the base to adjust from 7.5W to 30W (2.5W per click)
FIRELUKE 22 TANK
Size: L51.41*D22.0mm
Capacity: 3.5ml/2ml
Material: Steel/SS904L/Tea Fiber Cotton/Resin
Working Wattage: 8-30W
Thread: 510
Drip tip: 510
Features
FM COILTECH 4.0
SS904LMesh and Tea Fiber Cotton Formula
Child-Proof Top Fill Design
Leak-Proof Mechanism
Twist to Change Wattage from 7.5W to 30W
1400mAh Built-in Battery
5V/1.5A Fast Charging
Inside The Box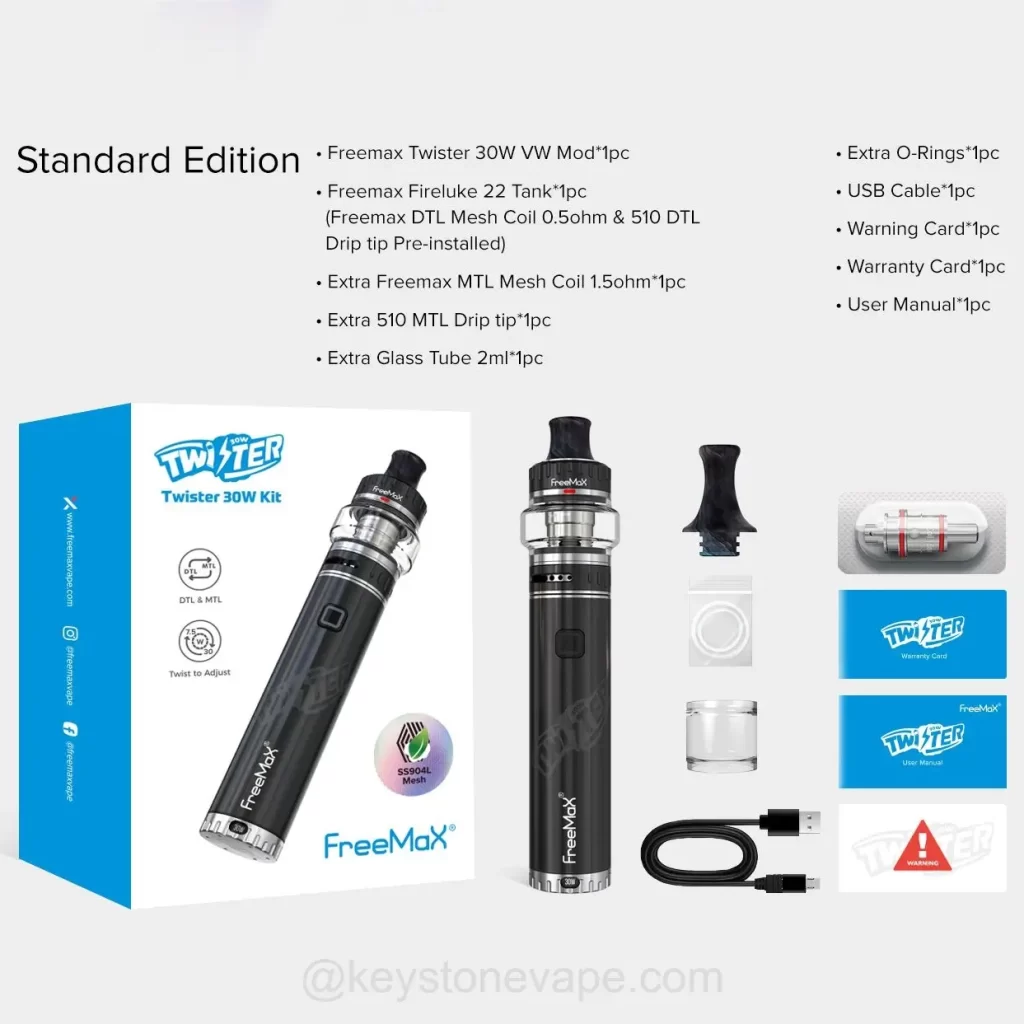 Freemax Twister 30W VW Mod
Freemax Fireluke 22 tank (Freemax 1.5ohm MTL mesh coil installed)
510 MTL drip tip (installed)
Freemax 0.5ohm DTL mesh coil
510 DTL drip tip
Spare glass tube
USB cable
Warning card
Warranty card
User manual
For those inclined towards direct-to-lung vaping, the package also includes the Freemax 0.5ohm DTL mesh coil, accompanied by a 510 DTL drip tip. A spare glass tube ensures you're prepared for any unforeseen mishaps, while the USB cable allows you to conveniently charge the device. The inclusion of a warning card, warranty card, and user manual completes the package, ensuring you have all the necessary information and resources at your disposal to make the most of your FreeMax Twister 30W Kit.
Design and Build Quality
The FreeMax Twister 30W Kit exhibits a sleek and practical design, ideal for both beginners and experienced vapers seeking a compact yet versatile device. The mod's wattage adjustment dial and the tank's leak-proof mechanism are standout features that contribute to the kit's user-friendly nature. While the tank offers various coil options for DTL and MTL vaping, the overall performance is reliable, making the Twister 30W Kit a suitable choice for vapers on the go.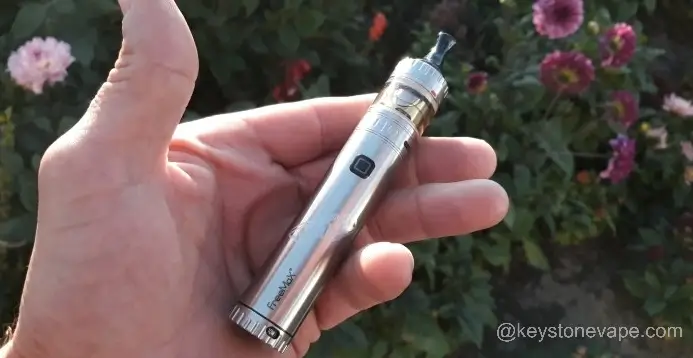 Freemax Twister 30W Mod
Size and Design: The Twister 30W is considerably smaller than its predecessor, the Twister 80W, with dimensions of 78mm in height and a 22mm diameter. Its compact size makes it highly portable and pocket-friendly. The device is available in solid colors, departing from the graffiti designs of the Twister 80W.
Construction: The Twister 30W features a solid-colored exterior with stainless steel accents on the 510 plate and the wattage adjustment dial. The design is simple and minimalistic, displaying only a "TWISTER 30W" logo on both sides of the mod.
Wattage Adjustment Dial: The wattage adjustment dial is a notable feature, offering a tactile click when turned to a new wattage setting. The deep notches on the dial make it easy to grip and twist. Despite frequent adjustments, the dial remains firm and secure.
Fire Button: The small square fire button is made of plastic and requires a deliberate press to activate, preventing accidental firing. An LED indicator within the button displays battery levels upon each press.
Battery: The built-in 1400mAh battery provides all-day power and supports 1.5A fast charging through a micro-USB port. The LED indicator offers visual cues of the battery's charge status, using different colors for varying levels.
Fireluke 22 Tank
Size and Capacity: The Fireluke 22 Tank, though smaller than FreeMax's other tanks, remains recognizable as a Fireluke tank. With a 22mm base diameter, it seamlessly fits onto the Twister 30W mod. The tank offers a 2ml capacity with the straight glass and 3.5ml with the bubble glass.
Design and Airflow: The tank's design is simplistic yet functional, boasting notches on the top cap and airflow control ring that mirror the wattage adjustment dial of the mod. These notches facilitate easier gripping and adjustments.
Fill Method: The Fireluke 22 Tank employs a push-to-fill mechanism that ensures secure and leak-proof refilling. The top cap must be lifted before pushing to open the fill port, preventing accidental leaks in pockets.
Coils: The Twister 30W Kit includes two COILTECH 4.0 coils: a 0.5ohm DTL mesh coil and a 1.5ohm MTL mesh coil. These coils offer excellent flavor and are designed to push into the tank's bottom without requiring threading.
Leak-Proof Mechanism: An innovative feature of the Fireluke 22 Tank is its leak-proof mechanism, which automatically seals the e-liquid feed holes when a coil is removed, allowing for hassle-free coil changes even with a full tank.
Final Verdict
Freemax vape products stand as a testament to the brand's unwavering commitment to innovation and excellence. As a pioneer among top-tier vape brands, Freemax has consistently redefined the vaping experience through groundbreaking technologies and forward-thinking designs. The FreeMax Twister 30W Kit encapsulates the brand's dedication to delivering an exceptional vaping journey.
At its core, the Fireluke 22 Tank with COILTECH 4.0 technology epitomizes flavor and vapor production, offering versatility with both DTL and MTL options. The kit's user-centric features, such as the child-proof top-fill and leak-proof mechanism, prioritize convenience and security.
In essence, the FreeMax Twister 30W Kit not only showcases Freemax's prowess in engineering and design but also symbolizes the brand's commitment to enhancing the vaping journey. For enthusiasts seeking innovation, reliability, and top-notch performance, Freemax vape products continue to be an epitome of excellence in the vaping industry.