As the demand for vape coils surges, vapers are on the lookout for efficient alternatives that spare them from the labor-intensive and often frustrating task of building intricate coils like Stapled or Clapton coils. Geekvape, a reputable name in the vaping industry, has emerged as a game-changer by offering easily affordable, premade coils that deliver exceptional performance. This detailed review unveils the essence of Geekvape coils and whether they are the right fit for your vaping needs.
What is Geekvape Coils?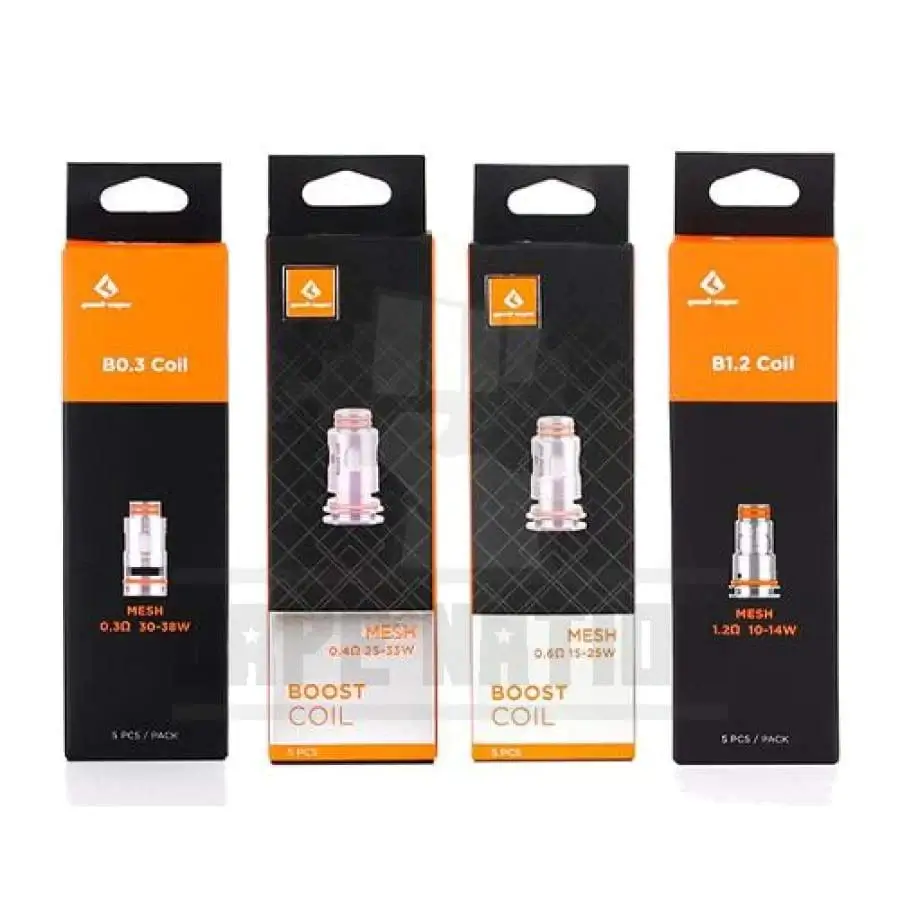 A vape coil serves as the crucial heating element within vaping devices, responsible for transforming e-liquid into vapor through controlled heating. Geekvape coils, crafted from a variety of materials such as Titanium, stainless steel, and nickel chrome, are enveloped in a cotton wick. The cotton wick efficiently absorbs e-liquid, which is vaporized upon heating. Placed within vape tanks, these coils, when powered by the device, convert energy to heat, leading to vaporization of e-liquid within the cotton wick.
Geekvape has been a pioneer in manufacturing pre-made coils, offering over 18 replacement pods and coils for 18 distinct vape devices. Their commitment to producing durable and reliable hardware extends beyond coils, encompassing tanks, mods, and vape kits. The brand's relentless pursuit of perfection has solidified its position as a leading provider of high-quality vaping products.
What Can We Expect From GeekVape Coils?
Affordability Redefined: The hallmark of Geekvape's product lineup is affordability without compromise. The brand's emphasis on producing high-quality items ensures that vapers can enjoy the best of both worlds—a high-grade vape coil at a reasonable price. This affordability sets Geekvape apart from other pricier options that might not deliver optimal performance.
Durable Design: Geekvape coils are designed for durability, exemplified by their sleek and straightforward design. The incorporation of push-and-pull coil technology streamlines coil replacement, making the process hassle-free. Their user-friendly installation and structural integrity contribute to an elevated vaping experience.
Versatility Unleashed: Recognizing the importance of catering to diverse preferences, Geekvape offers an extensive array of coil options. These coils boast an extended lifespan, and many are compatible with various tanks. The multitude of coil choices allows for customization, ensuring that every vaper can find the perfect coil match.
Top-Notch Performance: Performance is where Geekvape coils truly shine. Their commitment to maintaining efficient vapor production results in a superior vaping experience. It's important to note that coils are consumable products and require eventual replacement, with their lifespan contingent on factors such as materials, resistance, and usage. Geekvape coils uphold their reputation by consistently delivering robust flavor production.
1.GeekVape Zeus Z Coil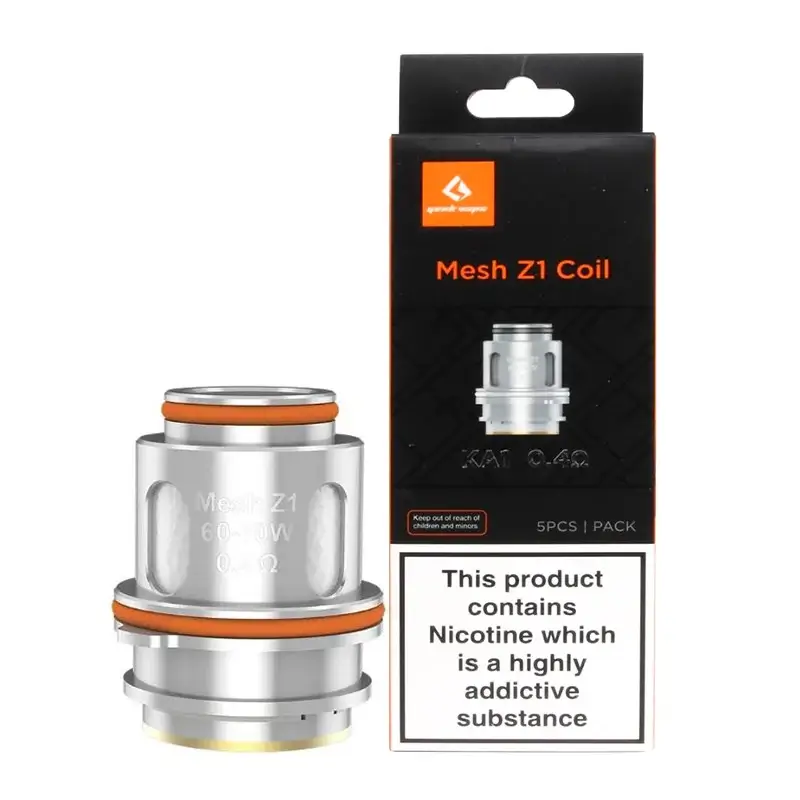 The Geek Vape Zeus Mesh Z Replacement Coils offer a robust vaping solution for the new ZEUS Sub-Ohm Tank. Available in 0.15 ohm, 0.2 ohm, 0.25 ohm, and 0.4 ohm variations, these kanthal mesh coils deliver top-tier performance. Effortless plug-and-play installation from the bottom threaded tank base simplifies usage. Embracing mesh coil technology and medical-grade cotton, they promise clean flavor and a seamless vaping journey. Each pack boasts 5 coils for extended satisfaction.
Pros: The Geekvape Zeus Z coil series is revered for its compatibility with various devices, including Geekvape Aegis Max Vape and Geekvape Obelisk Tank. Renowned for longevity and consistent performance, they provide ample airflow and minimal restriction. These compact coils deliver impressive results with diverse e-liquids, ensuring a satisfying experience.
Cons: While the coil's durability can be questioned, and it may absorb excessive juice, the Geek Vape Zeus Mesh Z Coils remain a commendable choice for those seeking quality and a compelling vaping encounter.
Specifications
Z0.15 Coil – 0.15ohm Mesh – rated 80-90W
Z0.4 Coil – 0.4ohm Mesh – rated 50-60W
Z0.2 Coil – 0.2ohm Mesh – rated 70-80W
Z0.25 Coil – 0.25ohm Mesh – rated 45-57W
Features
Multiple resistances
They are compatible with High VG e-liquids
Sub-ohm coils
Direct-to-lung vaping capability
Mesh build
2.Geekvape M Coils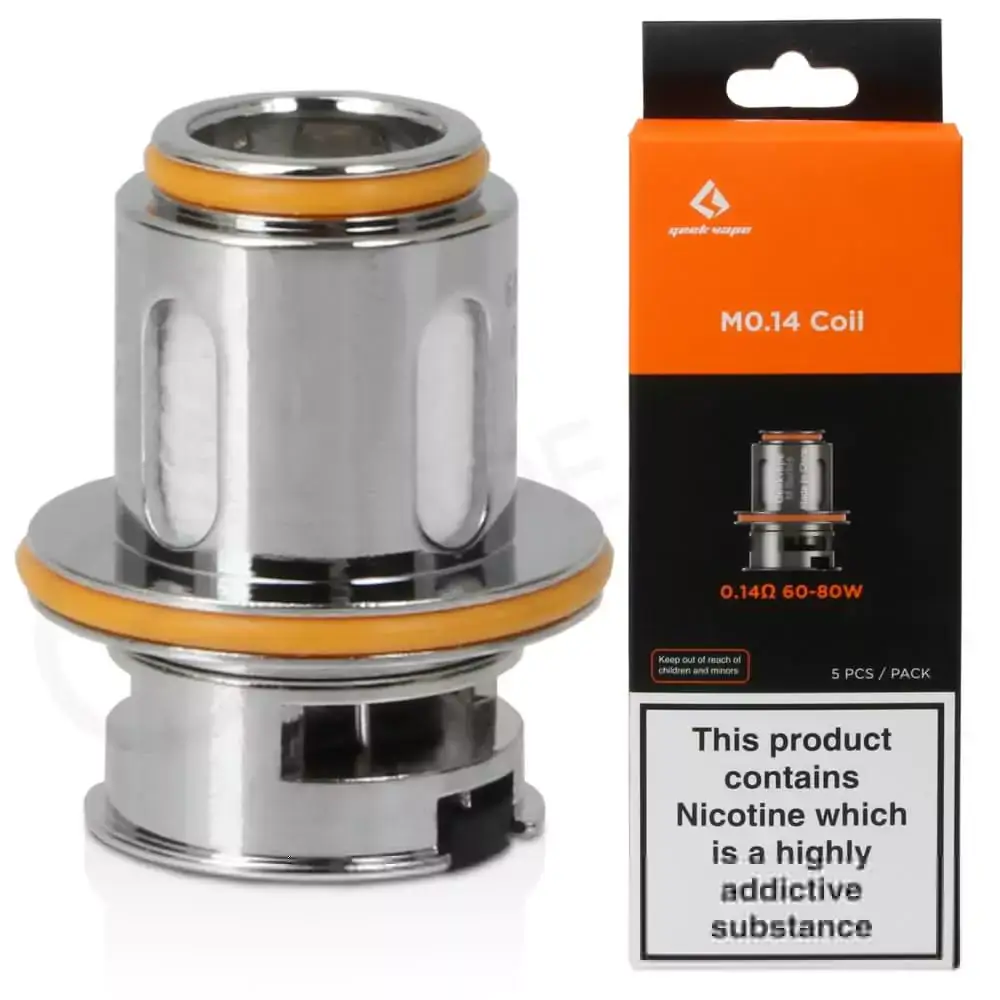 The GeekVape M Series coils present an exceptional option for vapers seeking enhanced vapor production. With four distinct versions, these coils boast varying mesh builds that facilitate rapid e-liquid heating, resulting in an amplified flavor experience. One notable iteration is the GeekVape M Series Triple Coil, impressively rated 5.0 stars by 2 vapers and compatible with the GeekVape Z Max tank. Designed for direct-to-lung vaping, these coils accommodate diverse power outputs for a tailored experience.
Pros: The Geekvape M Series offers impressive flavor enhancement, a leakproof design, and effortless coil replacement. The coils' high-quality build showcases sleek simplicity, ensuring a satisfying and streamlined vaping encounter.
Cons: It's important to acknowledge that the product contains addictive substances. However, the GeekVape M Series coils remain a notable choice for vapers seeking elevated vapor production and enriched flavor profiles.
Specifications
M Series 0.14 Ohm Mesh
Power Range: DTL 60 – 80 watts
M Series 0.2 Ohm Triple Mesh
Power Range: DTL 70 – 85 watts
M Series 0.3 Ohm DC Mesh
Power Range: DTL 55 – 65 watts
M Series 0.15 Ohm Quadra Mesh
Power Range: RDTL 85 – 100 watts
Features
Sub Ohm Coils
Mesh Build
Multiple Resistances
DTL Vaping
Compatible With High VG E-Liquids
In Conclusion
Geekvape coils stand as a testament to innovation and practicality in the vaping realm. As vapers seek efficient alternatives to complex coil building, Geekvape emerges as a beacon of simplicity and performance. Offering a range of affordable premade coils, Geekvape redefines affordability while maintaining the utmost quality and durability.
The diversity within Geekvape's coil offerings provides vapers the freedom to customize their vaping experience, ensuring that every preference is catered to. The brand's commitment to producing high-grade coils that deliver consistent, robust flavor production sets it apart from the competition. Whether you opt for the Geek Vape Zeus Mesh Z Coils or the Geekvape M Series, you're guaranteed an elevated vaping journey.