In the rapidly evolving world of vaping, where innovation is the driving force, the R&M Paradise 10,000 Puffs Disposable Vape has emerged as a shining star. With its impressive list of features, sturdy design, and a delectable array of flavors, this vape device promises to redefine your vaping experience. In this in-depth review, we will explore the multitude of reasons why the R&M Paradise is making waves in the vaping community.The R&M Paradise 10,000 Puffs Disposable Vape is more than just a vaping device; it is a commitment to excellence. Manufactured in state-of-the-art facilities and subjected to rigorous testing to meet federal regulations, this device sets a new standard in quality and innovation. It's a breath of fresh air in the world of vaping.
Specifications
Capacity: 17ml
Nic-Concentrate: 5%
Resistance: 0.5Ω Mesh
Battery: 650mAh rechargeable
Puffs: 10000
Flavors: Tiger Blood, Spearmint, Magic Oil, Raspberry Peach Ice, Strawberry Ice, Neon Rain, Mixed Berries, Kiwi Dragon Berry, Watermelon Candy,
Big Bang Fruit, Blast Energy, Blue Razz Bubble Gum
Pricing:The R&M Paradise at just over $4 is undoubtedly one of its most attractive features. This budget-friendly cost positions it as an incredibly accessible and affordable option for vapers looking for both performance and value for their money.
Despite its low price point, the R&M Paradise doesn't compromise on quality or performance. It offers a range of features and innovations that are typically found in more expensive vaping devices, making it an exceptional deal for budget-conscious vapers.
Design and Build Quality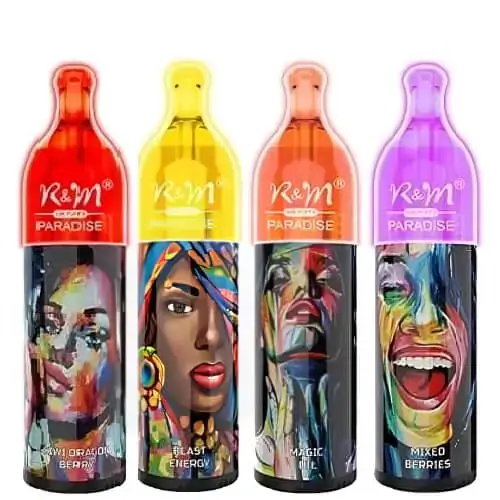 The R&M Paradise is a vaping device that not only delivers outstanding performance but also excels in terms of design and build quality. From the moment you lay eyes on it, you can tell that this device is something special.
One of the standout features of the R&M Paradise is its stylish RGB display. This display not only serves a functional purpose but also adds a touch of elegance and flair to your vaping sessions. With six different eye-catching display colors to choose from, you can easily customize your vape to match your personal style. Whether you prefer a subtle and sophisticated look or something bold and vibrant, the R&M Paradise has you covered.
In addition to its stunning display, the R&M Paradise boasts a sleek and compact design. It's incredibly easy to carry with you wherever you go, thanks to its super portable and ultra-lightweight build. You can slip it into your bag without adding any extra weight or bulk, making it the perfect companion for vaping on the go. The device's design is so sleek that it resembles a high-end bottle, adding to its overall aesthetic appeal.
Furthermore, the build quality of the R&M Paradise is top-notch. It feels solid and durable in your hand, assuring you of its longevity. The device is also user-friendly, with well-placed buttons and a clear interface that makes it easy to navigate and customize your vaping experience.
Performance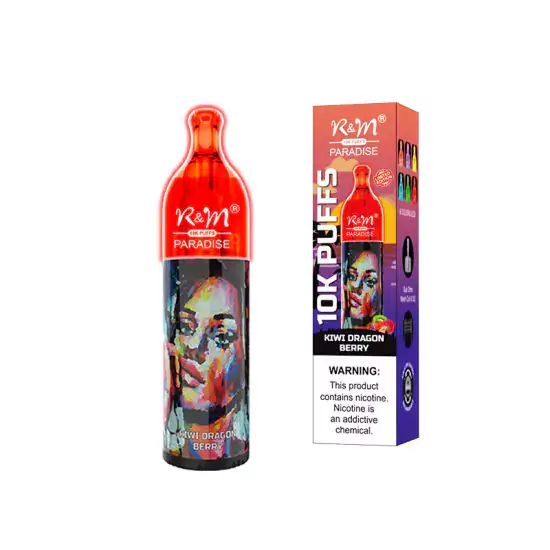 One of the key performance-enhancing features of the R&M Paradise is its advanced oil-sealing technology. This technology ensures that your vaping experience remains leak-proof, eliminating the frustration of e-liquid wastage or messy leaks. It's a game-changer, providing peace of mind and hassle-free enjoyment during your vaping sessions.
Another standout feature is the device's customizable airflow control. The R&M Paradise puts you in control of your vaping experience, allowing you to fine-tune the airflow to match your desired preference. Whether you prefer a smooth and airy draw for a relaxed vaping session or a tighter and more intense hit for a quick nicotine fix, the adjustable airflow feature caters to your unique taste. It's like having a personalized vaping concierge, offering a level of customization rarely seen in vaping devices.
What truly elevates the R&M Paradise to a league of its own is its rechargeable 1000mAh battery. In a world dominated by disposable vapes, this device takes convenience to the next level. Say goodbye to the anxiety of running out of battery mid-vape. The included Type-C charger ensures swift and hassle-free recharging, guaranteeing uninterrupted vaping pleasure. It seamlessly blends the convenience of disposables with the longevity of rechargeable devices, giving you the best of both worlds.
The flavor experience provided by the R&M Paradise is nothing short of remarkable. It offers a diverse selection of delectable flavors, and the best part? They're all nicotine-free. Whether you're craving the sweetness of fruits or the indulgence of dessert, there's a flavor to tantalize your taste buds. The R&M Paradise promises a flavor-packed journey, making each puff a delightful experience.
Durability is a hallmark of this device. It's built to last, designed to withstand the rigors of daily use and then some. The coils, in particular, are engineered for exceptional longevity. With two coil options—the blue and the red—you can select the one that aligns with your battery life and flavor preferences. The blue coil, featuring a 50 mesh screen with a resistance of 0.5-1.0 ohms, provides a satisfying vaping experience, while the red coil, equipped with a 36 mesh screen and a resistance of 0.18-0.32 ohms, offers a different but equally impressive performance.
Simple Steps to Vaping Bliss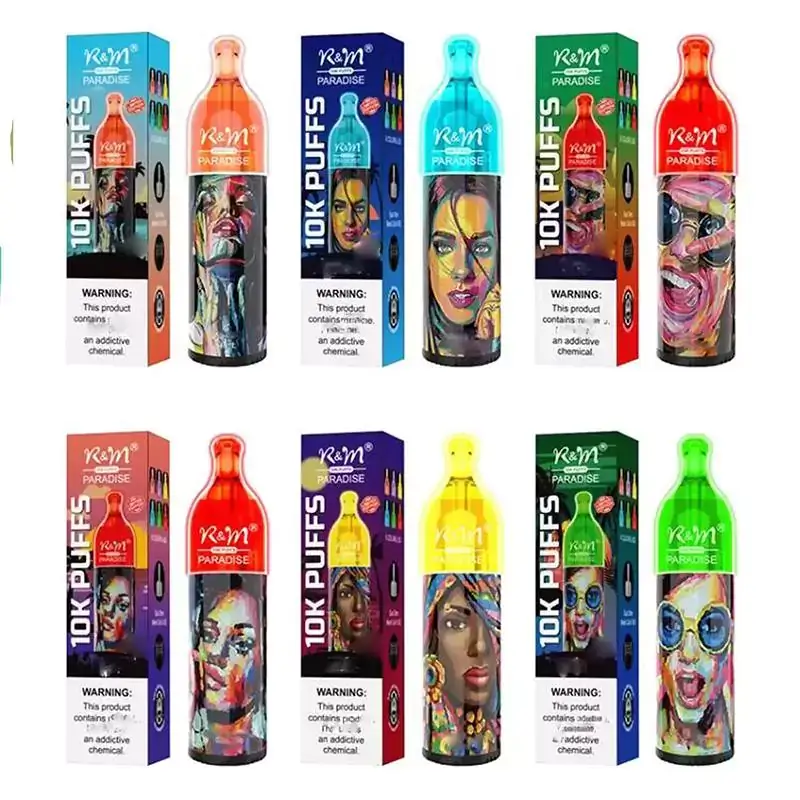 Using the R&M Paradise 10,000 Puffs Disposable Vape is a breeze. Just follow these simple steps to enjoy your vaping journey.
Ensure your R&M Paradise is adequately charged before use.
Insert the premade coil and e-liquid, screwing them onto the top of the device, and then attach the mouthpiece.
Unscrew the base of the vape device from its bottom piece and fill it with your favorite e-liquid.
Replace the base and securely screw it onto the bottom piece, ensuring a tight fit.
FAQs
1. What Is Sub Ohm Coil in R&M Paradise 10000 puffs?
A Sub Ohm Coil inside the R&M Paradise vape can produce a larger number of vapour clouds and it is far better than the other disposable vape available in the market.
2. How long does it take to Charge the Battery?
A: The R&M Paradise disposable vape comes with a type C port which enables the user to charge their battery quickly.
3. Why does R&M Paradise Vape stand out from other vapes?
The Mesh coil technology, 28 amazing flavours, rechargeable battery and 10000 puff capacity make stand out from other disposable vapes. The sub ohm of 0.5 resistance and 17 ml prefilled e-liquid make the best hit in the disposable vape.