MYLE Vape Brand Introduction
MYLÉ (pronounced "my-lee") is recognized worldwide as one of the fastest-growing and most affordable nicotine delivery systems. They have set the global market standard by providing consumers with a premium vaping experience through modern design and technology.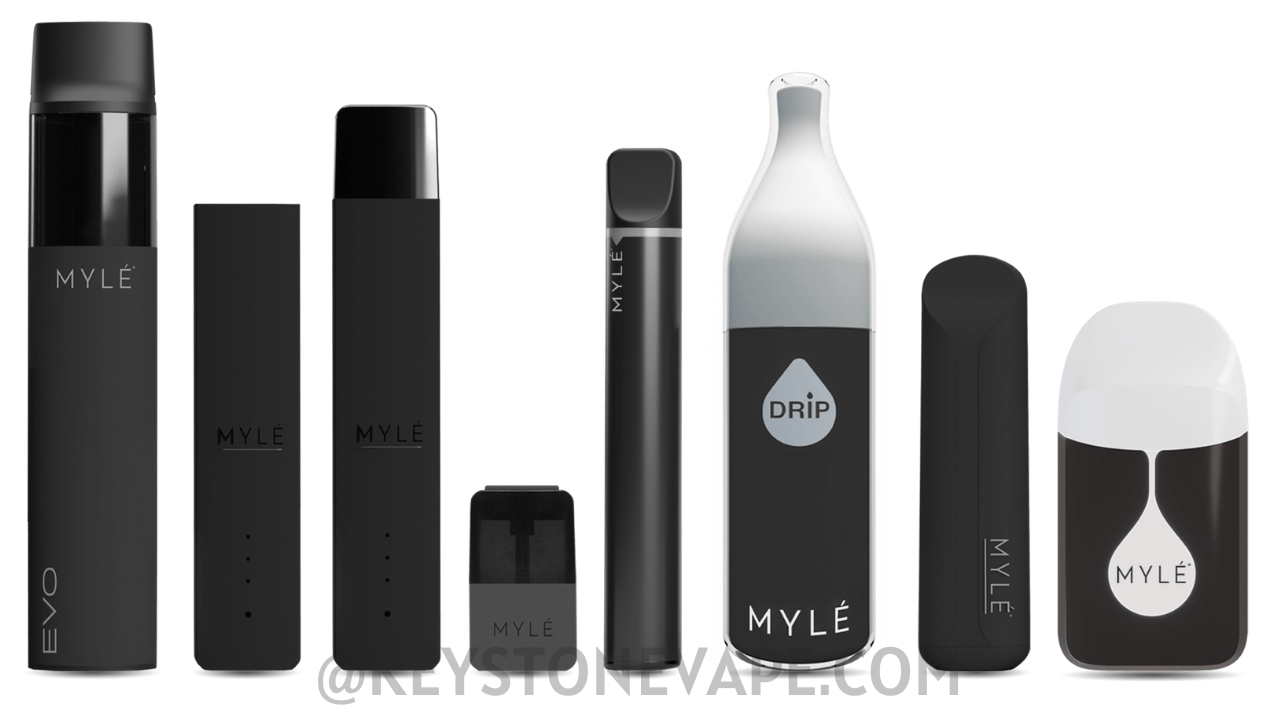 Through the development of modern vaping device technology and scientifically based e-liquid formulas, MYLÉ has achieved its goal of becoming a world leader in the e-cigarette industry. They offer a safe and desirable alternative to combustible cigarettes that is pleasurable for consumers, with a focus on ease of use, customization, durability, and safety.
Additionally, MYLÉ has implemented an online safety protocol that prevents illegal online sales to minors. Their checkout process requires a 21+ age verification, and adult (21+) signature confirmation is necessary upon delivery of all MYLÉ products. As a leader in the vape industry, their goal is to set a high standard for preventing underage consumers from accessing nicotine products and to eliminate issues related to youth vaping.
With global distribution and over 50 years of experience, MYLÉ prides itself on delivering dependable products that provide a fantastic look and feel, great taste, and consistent functionality. They are committed to meeting the expectations of customers and continuously strive for excellence in design and research and development.
MYLE Vape Flavor List
It seems like you have provided a list of flavor options for MYLÉ Vape. MYLÉ offers a wide range of delicious flavors to cater to different preferences. Some of the flavors available include:
Apple
Banana
Blueberry
Churro
Coconut
Coffee Cubano
Energy
Grape
Lemon
Lush Ice
Lychee
Mango
Mint
Mixed Berries
Mojito
Peach
Pear
Pound Cake
Quad Berry
Raspberry
Strawberry
Tobacco
Tropical Fruit Mix
Watermelon
In addition to these flavors, MYLÉ also introduces seasonal flavors to provide variety and exciting options for their customers. Whether you enjoy fruity, dessert, or classic tobacco flavors, MYLÉ strives to deliver an exceptional vaping experience with its diverse flavor selection.
Best MYLE Vape Devices
MYLÉ Vape offers a range of exceptional vape devices that have gained popularity among vaping enthusiasts. Let's take a closer look at some of the best MYLÉ Vape devices available on the market.
MYLÉ Mini Disposable Vape
The MYLÉ Mini Disposable Vape is a convenient and compact option for those seeking a hassle-free vaping experience. Each pack contains two disposable devices featuring a sleek black color. With a 1.2mL built-in pod and 5% nicotine by volume, it offers approximately 320 puffs per pod. The MYLÉ Mini is designed for portability, measuring just 2.96 inches in height, 0.77 inches in width, and 0.42 inches in depth.
MYLÉ V4 Starter Kit
For vapers who prefer a more versatile option, the MYLÉ V4 Starter Kit is an excellent choice. The kit includes a rechargeable ND Vape device, four empty pod varieties, a micro USB charger, and a user manual. The rechargeable device provides convenience and cost-effectiveness, as it can be used with different flavors of MYLÉ magnetic vape pods. The MYLÉ V4 boasts extended battery life, anti-leak technology, and a 1-year warranty. Its size, including the pod, measures 3.93 inches in height, 0.74 inches in width, and 0.28 inches in depth.
MYLÉ Drip Disposable Vape
The MYLÉ Drip Disposable Vape is an affordable and lightweight option that offers a satisfying vaping experience. With a 1.75-ohm coil, 850mAh battery, and 6ml built-in reservoir, it delivers a smooth and flavorful vape. The device comes pre-filled with a selection of delightful e-liquids and is available in 20mg or 50mg of tobacco-free salt nicotine. The MYLÉ Drip Disposable Vape is perfect for those seeking convenience without compromising on quality.
MYLÉ Vape devices are designed with user satisfaction in mind. Their products prioritize functionality, reliability, and ease of use. With the MYLÉ Mini Disposable Vape, vapers can enjoy the simplicity of a disposable device that provides a consistent and enjoyable vape. The MYLÉ V4 Starter Kit offers versatility, allowing users to customize their vaping experience by choosing from a variety of flavors with empty pods. The MYLÉ Drip Disposable Vape combines affordability and performance, making it an ideal choice for those who are always on the go.
No matter which MYLÉ Vape device you choose, you can expect outstanding performance, quality, and satisfaction. MYLÉ is committed to delivering innovative and reliable vaping solutions to meet the diverse needs of vapers. Their devices are crafted with precision and attention to detail, ensuring a smooth and enjoyable vaping experience.
FAQs
1. Is MYLÉ Vape FDA approved?
MYLÉ Vape products are not FDA-approved. The FDA has sent warning letters to several companies, including Myle Vape Inc., for selling or distributing unauthorized tobacco products. It's important to check the latest updates from regulatory authorities regarding the approval status of vaping products.
2. Why is MYLÉ discontinued?
It is unclear from the information provided whether MYLÉ has been discontinued. However, if MYLÉ Vape devices or products have been discontinued, it could be due to various reasons such as changes in market demand, regulatory compliance, or company decisions. For more information, it is recommended to contact MYLÉ Vape directly for clarification.
3. Is MYLÉ better than JUUL?
The preference between MYLÉ and JUUL may vary depending on individual preferences. Both brands offer unique features, flavors, and device designs. It is recommended to try different products and decide which one suits your vaping needs and preferences better.
4. How long should a MYLÉ pod last?
The lifespan of an MYLÉ pod depends on various factors such as frequency of use, inhalation duration, and personal vaping habits. On average, a MYLÉ pod may last for approximately 200 to 300 puffs, but individual experiences may vary.
5. Does the MYLÉ Vape have nicotine in it?
MYLÉ Vape products are available in different nicotine strengths, including options with nicotine content. It is important to read product descriptions and labels to determine the nicotine concentration before use. MYLÉ Vape offers various flavors and nicotine levels to cater to different preferences and needs of vapers.