From the moment you lay eyes on the PHIX Vape, you know you're dealing with something different. This isn't just another pod system that fades into the background. Boasting dimensions of 110mm by 19mm by 10.75mm, it fits comfortably in the hand, while its ceramic finish offers a luxurious tactile experience. Designed with portability in mind, this device effortlessly tucks into pockets and purses. Its 280mAh rechargeable battery may sound modest, but it consistently delivers 220 high-quality puffs, fully monitored by an LED light battery indicator. The Plug-and-Play Ecosystem and draw-activated firing mechanism make it user-friendly, ideal for both vaping novices and veterans. This is a device that promises convenience without skimping on performance, evidenced by its cCell ceramic coil and voltage-based output. In this article, we'll delve into the PHIX Vape's intricate features and why it's setting a new standard in the vaping world.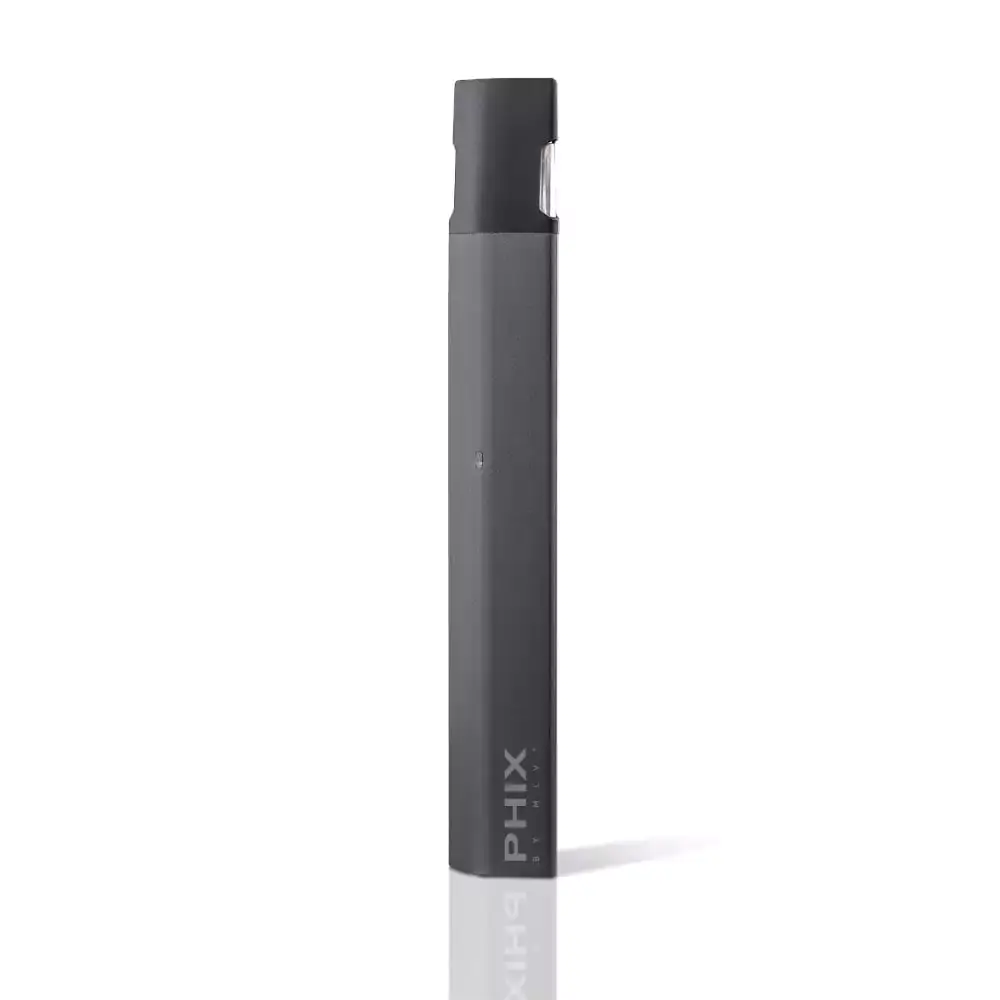 Features
Dimensions: 110mm by 19mm by 10.75mm
Plug-and-Play Ecosystem
Integrated 280mAh Rechargeable Battery
Full Charge Lasts About 220 Puffs
LED Light Battery Indicator
Voltage-Based Output
Draw-Activated Firing Mechanism
PHIX Pod System – Integrated cCell Ceramic Coil
1.5mL Pre-Filled Juice Cartridges – Sold Separately
1A Max USB Charging Port
Proprietary Gold-Plated Magnetic Connection
Inside The Box
One Original Tobacco Blend pod in a blister pack
The PHIX battery
USB magnetic charging cable
Build Quality and Design
The moment you unbox the PHIX Vape, you instantly recognize that it's not your run-of-the-mill pod system. The ceramic finish lends the device a luxurious feel that's a joy to touch and even better to hold. Trust me, the tactile experience is part of what makes this vape stand out. It's as if the designers had the user's hand in mind when crafting its sleek contours.
Then there's the compactness—this is a device designed for portability. Whether you're wearing skinny jeans or carrying a small purse, the PHIX Vape tucks neatly away, ready for your next vape session.
Now, let's talk packaging. The see-through panel in the packaging isn't just an aesthetic choice; it's an invitation to behold your new investment. Before you even tear off the plastic wrap, you get a tantalizing preview of what's inside. This subtle feature amps up the anticipation and adds a layer of professionalism that other brands might overlook.
And if you're a stickler for details, the diagrams on the box will catch your eye. These aren't just doodles; they're a quick guide to the PHIX Vape's features and how to charge it using the included magnetic USB charger. It's this kind of thoughtful, user-friendly design that elevates the PHIX Vape above its competitors.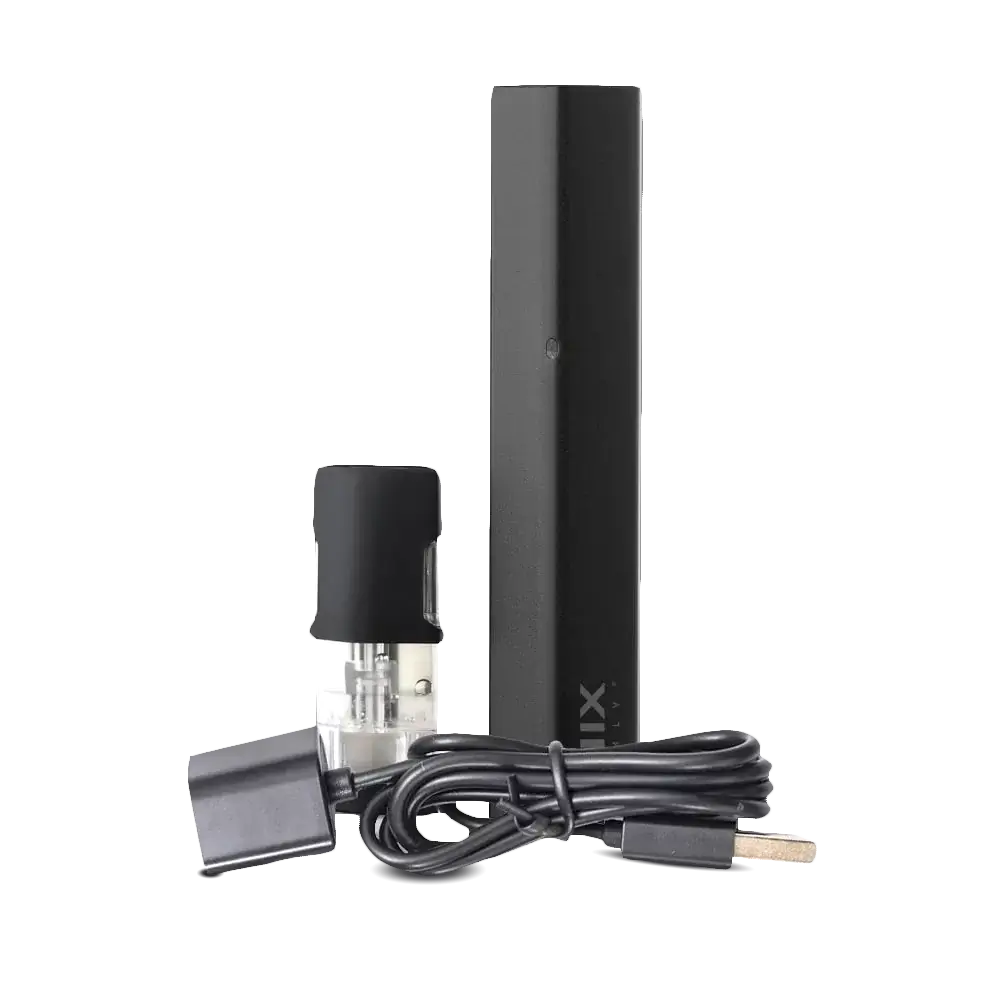 Battery Life
Let's get straight to the point: the PHIX Vape's 280mAh battery may seem modest on paper, but don't let the numbers fool you. This little powerhouse punches above its weight, providing a solid 180-220 puffs before it calls for a recharge. Depending on how you vape, this could easily last you through a busy day—or at least long enough until you find a place to plug in.
Cold weather might drain the battery a bit quicker, but honestly, the overall longevity of the device still outshines many others in its class. Trust me, it's not just about the quantity of puffs but the quality. And in terms of quality, this device delivers.
Speaking of quality, let's talk about the ceramic coil with a resistance of 1.5 Ohms. This isn't just a specification; it's the secret behind each rich, flavorful puff you take. It makes sure that each drag doesn't just taste good, but tastes exactly how it's supposed to.
Now, onto the pods. A capacity of 1.5ml may not seem like much, but again, the PHIX Vape defies expectations. You'll get around 400 puffs per pod, which is significantly more than what you'd expect from similar devices on the market. Add in the 5% (50mg) nicotine level, and you're in for a genuinely satisfying vape experience, complete with a smooth yet impactful throat hit.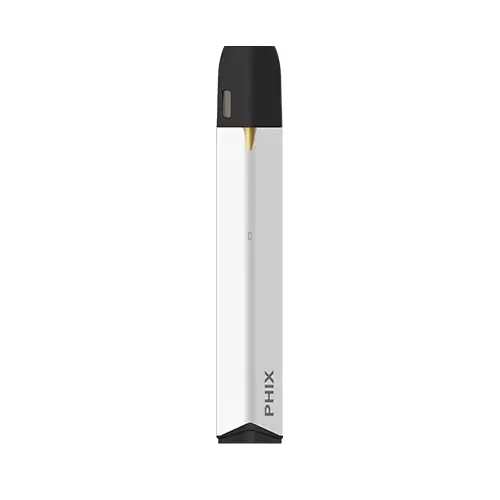 Performance
Let's be honest, not everyone has the time or patience to fumble with complicated devices. The PHIX Vape gets this. With no buttons, no settings, just pure simplicity, this device is a breeze to use. You inhale, it activates. It's that straightforward, making it the ideal companion for busy lives or for those just starting their vaping journey.
But the user-friendliness doesn't stop there. This device employs a magnetic pod system that almost feels like magic. Slide in the pod, hear that satisfying 'click,' and you're all set. No twisting, no aligning, just a seamless magnetic connection that lets you get straight to vaping. The device even confirms your action with a subtle 'click' sound when activated, leaving no room for doubt.
But wait, there's more! The PHIX has a closed-loop system, meaning you don't need to play mixologist with e-juices or waste time cleaning out old flavors. Swap out the Phixpods when they're done, and you're back in business. Trust me, your life just got easier.
Now, let's talk flavors. The PHIX Vape offers a buffet of award-winning flavors, including Cool Melon, Hard Strawberry, Butterscotch, Original Tobacco, Ice Tobacco, and Spearmint, among others. Whether you're a traditionalist or someone with a sweet tooth, there's a flavor with your name on it.
Personally, the Hard Strawberry had me at the first puff. It's like biting into a ripe strawberry, but without the mess. It's a delightful mix of sweet and tangy that keeps your tastebuds dancing.
In Conclusion
The PHIX Vape by MLV is an excellent choice for those looking for an easy-to-use, high-quality vape device. With its sleek design, exceptional build quality, and top-notch performance, it's a device that stands out in a crowded market. The variety of flavors and the ease of use make it ideal for both new and experienced vapers alike. Whether you're looking for a primary device or a secondary one for on-the-go use, the PHIX is a solid investment.