Hidden Hills Club is a brand synonymous with premium alternative cannabis products. Their portfolio encompasses a range of extraordinary blends, from disposable vapes to edibles, all created with meticulous attention to detail and quality. The brand's commitment to excellence shines through in their products, which are meticulously tested to meet the highest standards of quality and potency.
In a market saturated with vaping options, finding a device that combines convenience, reliability, performance, and effectiveness can be a daunting task. However, Hidden Hills has managed to achieve just that with their Delta 11 Live Resin Disposable Vape. This innovative creation boasts an integrated rechargeable battery, a pre-heat function, button operation, and an impressive 2 grams of live resin that includes Delta 11, Delta 9, THC-P, and strain-specific terpenes. Let's dive into the details of this exceptional vaping device.
What Can We Expect From Hidden Hills Vape?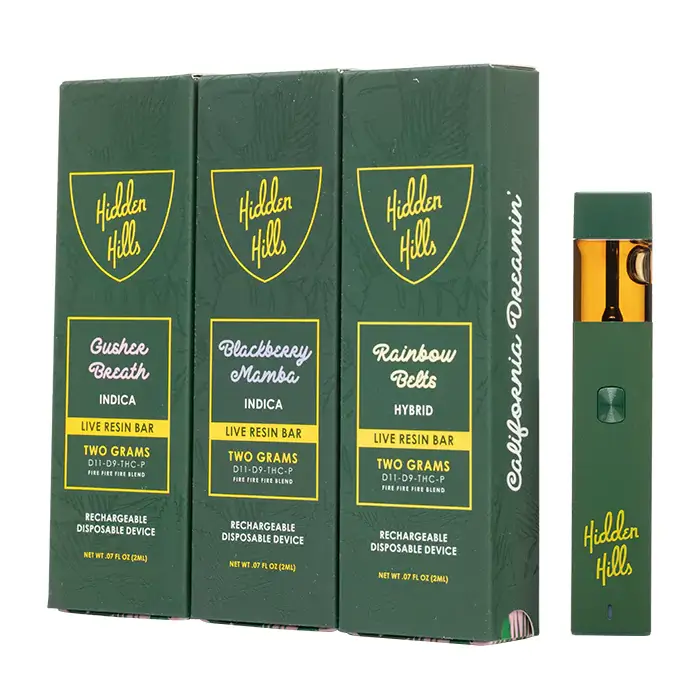 The Hidden Hills Delta 11 Live Resin Disposable Vape is not your average vaping device. It combines cutting-edge technology with user-friendly features to create a vaping experience like no other. The device's disposable design means that once you've enjoyed all of its contents, you can easily replace it with a new one. The compact size, button operation, and integrated rechargeable battery make it a convenient option for both beginners and experienced vapers.
One of the standout features of this device is the inclusion of a pre-heat function, which eliminates the worry of clogging and ensures a smooth draw every time. The device can be activated with a single button press, and five quick clicks turn it on or off. The viewing window allows you to monitor the amount of content remaining, ensuring you're never caught off guard.
Features
Integrated Rechargeable Battery
Type-C Charging Port
Push Button Activated
5-Click ON/OFF
2 Gram Capacity (2000mg)
Live Resin Concentrate
Contains Delta 11, Delta 9, THC-P
Built-In Pre-Heat
Contains Less Than 0.3% Delta 9
Potent and Terpene Specific Flavors
Potent Cannabinoid Blend containing at least 25% THC-P
2000mg Per Disposable
Design and Quality Build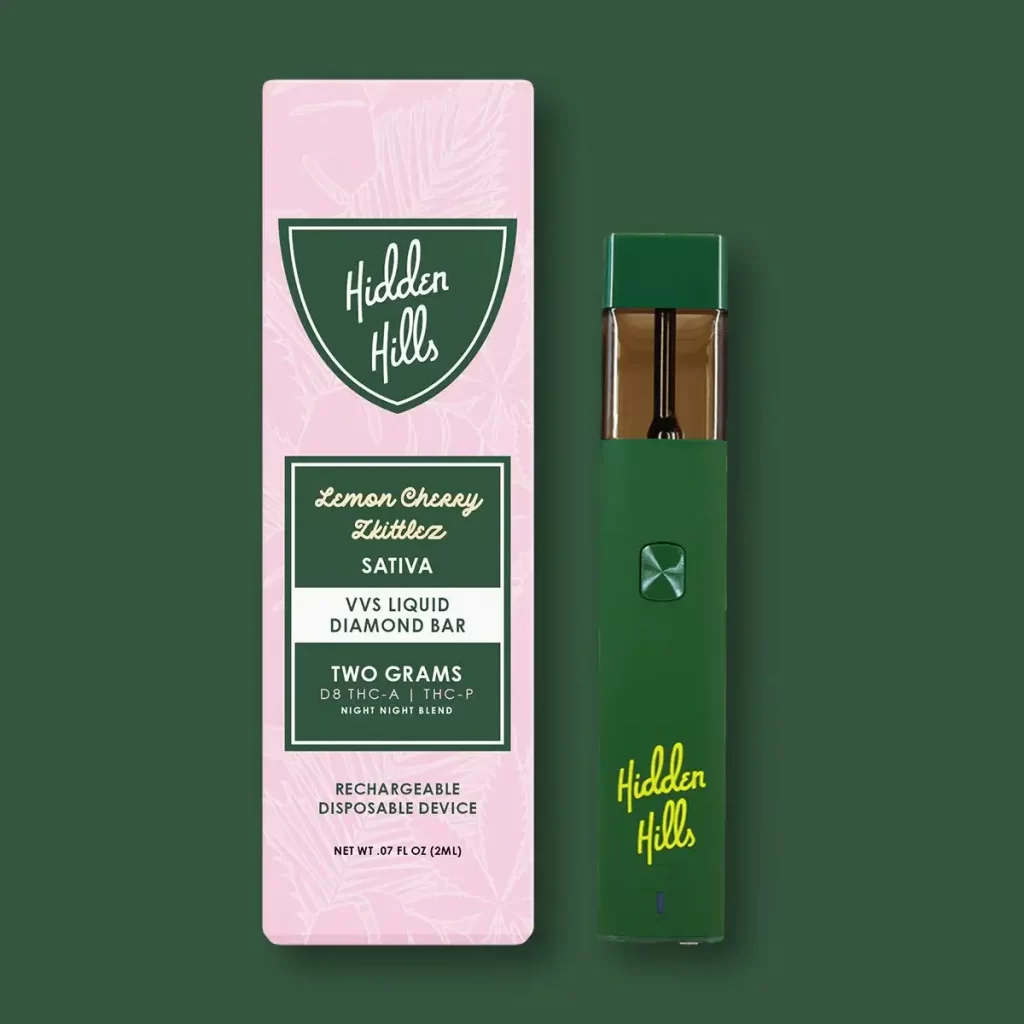 Hidden Hills Delta 11 Live Resin Disposable Vape isn't just about performance—it's also about aesthetics. The device's design features a classic rectangular and petite shape with rounded edges, ensuring a comfortable grip. The sleek green color adds to its visual appeal, making it a device you'll be proud to carry.
The build quality of Hidden Hills devices has always been commendable, and the Delta 11 Live Resin Disposable Vape is no exception. It's a product that not only delivers an unmatched vaping experience but also stands the test of time.
For those seeking a powerful blend of cannabinoids, Hidden Hills Delta 11 Live Resin Disposable Vape is a must-try. With approximately 25% THC-P, one of the strongest hemp-derived cannabinoids, this device delivers an intense experience. It's not just about potency, though—the device is designed to be as enjoyable as it is effective.
The combination of Delta 11, Delta 9, THC-P, and strain-specific terpenes creates a symphony of effects that uplift and exhilarate. The potency of the blend ensures that even users with the highest tolerance levels will find satisfaction.
Flavors
Blackberry Mamba (Indica) – This Indica strain is carefully crafted to offer maximum fruit flavor. Bold berry flavors are like inhaling a fresh bowl of fruit. This delicious blend is a must-try for post-workout or finding some "you" time.
Blueberry Gelato (Hybrid) – This Hybrid strain is a classic that offers a calming balance of blueberry on the inhale paired with slightly earthy undertones. This blend is a perfect companion for afternoon post-work relaxation.
Candy Cane Runtz (Hybrid) – This Hybrid strain delivers a minty, sweet and fruity experience. The bold flavor profile offers an energizing effect perfect for a sweet escape at any time of the day. This blend is balanced for the upbeat "get stuff done" mindset.
Gusher Breath (Indica) – This Indica dominant strain is sweet and fruity. This confection-inspired vape has a profile that will lead you to a sweet escape. A refreshing fruit taste on inhaling & slight candy notes on the exhale make this unique profile a must-try.
London Shaved Ice (Sativa) – This Sativa dominant strain delivers notes of Lemon, and Tropical Berries. The Lemon and slight hint of berries are clear on the inhale and carry through to the exhale.
Rainbow Belts (Hybrid) – This Hybrid strain offers a wide blend of flavors that are carefully crafted for a one-of-a-kind taste experience. Expect hints of citrus paired with sweet and fruity aromas. This is a perfect blend for anyone who wants the best of sweet and citrus flavors.
Final Verdict
Hidden Hills Club has undoubtedly raised the bar with their Delta 11 Live Resin Disposable Vape. This device offers more than just a vaping experience—it offers a journey into the realm of potency, quality, and innovation. From the potent blend of cannabinoids to the ease of use and sleek design, every aspect of this device has been carefully considered.Whether you're an experienced vaper looking for an intense experience or a newcomer seeking a convenient and reliable vaping option, Hidden Hills Delta 11 Live Resin Disposable Vape ticks all the boxes.