In the ever-evolving world of vaping, the Horizon Tech Binaries Cabin Vape stands as a testament to innovation and excellence. With its groundbreaking features and impressive specifications, this disposable vape device is changing the game for vapers. Let's dive into the details that make the Binaries Cabin Vape a true game-changer.
Specifications
Height: 97mm
Width: 53mm
Depth: 26mm
Prefilled Ejuice: 20ml
Puff Count: Up to 10,000 puffs
Nicotine Strengths: 20mg, 30mg, 50mg
Battery Capacity: 650mAh
Coil Type: Mesh coil with 1.0 ohm resistance
Features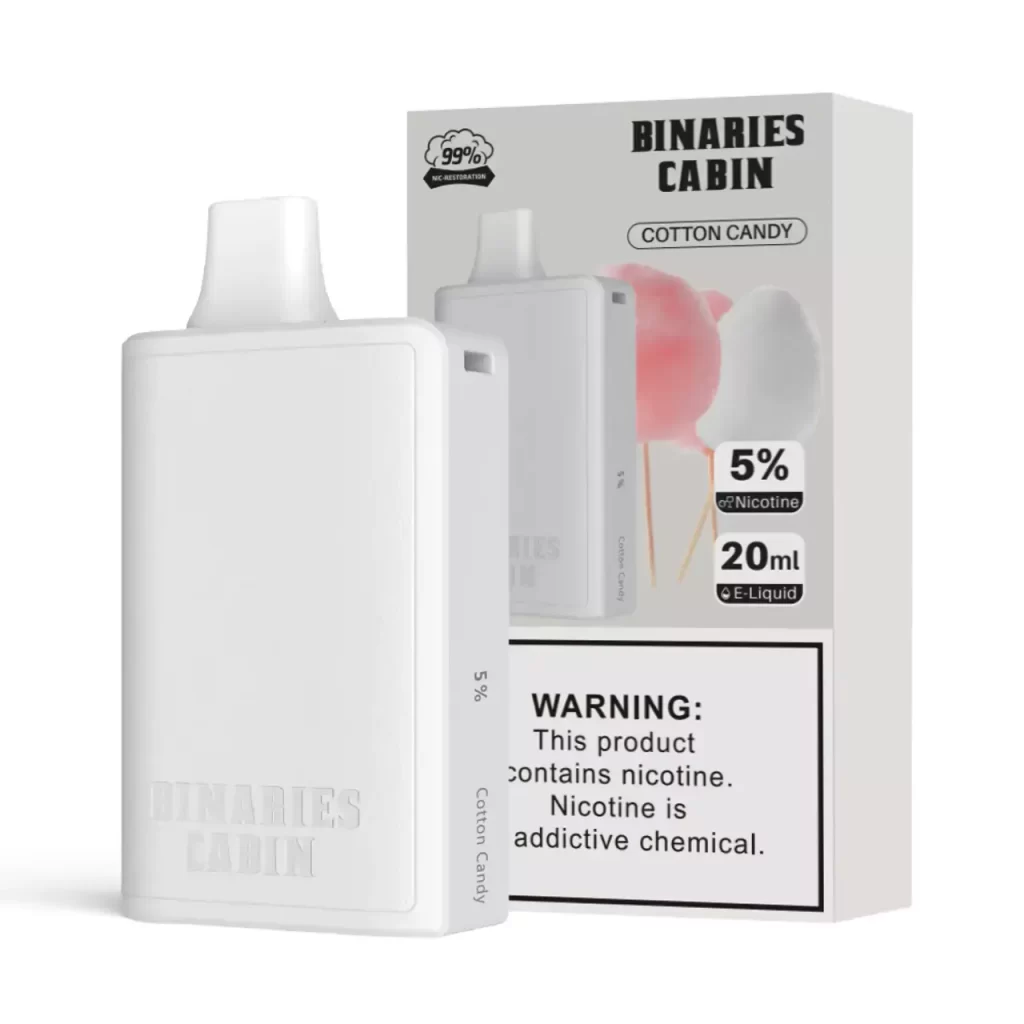 Available in 10 Pack.
50MG (5.0%) Nicotine by Volume.
20ml Pre-Filled E-Liquid.
Approximately 10000 Puffs Per Device.
650mAh Integrated Battery Type-C.
Disposable – Non-Refillable & Rechargeable.
Dual Mesh Coil
Adjustable Airflow
Performance
Dual Mesh Coil and 20ML Juice Reservoir: A New Frontier
One of the most remarkable aspects of the Binaries Cabin Vape is its dual mesh coil technology, a first-of-its-kind innovation in the vaping world. This dual coil setup allows each puff to pass through two coils simultaneously, resulting in a smoother and more flavorful vapor production. But the innovation doesn't stop there—this dual coil setup also provides redundancy in case of coil failure, ensuring that your vaping experience remains uninterrupted.
Complementing the dual mesh coil is the astonishing 20ML juice reservoir, a testament to Horizon Tech's commitment to extending the joy of vaping. With this sizable tank, you can enjoy extended vaping sessions without the hassle of frequent refills.
Customizable Airflow and Rapid Recharge
The Binaries Cabin Vape offers a level of customization rarely seen in disposable devices. The adjustable airflow mechanism, located at the base of the device, allows you to fine-tune your vaping experience. Whether you prefer a loose mouth-to-lung draw or a restricted direct lung hit, this device caters to your preferences.
Keeping you powered up for continuous enjoyment, the Binaries Cabin Vape features a rechargeable 650mAh battery. The inclusion of a USB Type-C charger input ensures swift and efficient recharging, ensuring you spend less time waiting and more time vaping.
Binary Core System: Elevating Nicotine Satisfaction
Horizon Tech has taken nicotine satisfaction to the next level with the Binaries Cabin Vape's Binary Core system. This system is designed to extract salt nicotine liquid more evenly, resulting in a more efficient and rapid nicotine delivery. Whether you're in need of a quick nicotine fix or a more gradual experience, the Binary Core system has you covered.
Moreover, the Binaries Cabin Vape defies convention by retaining up to 80% of its flavor even when it's nearly empty. This means that even as you approach the end of the device's life cycle, you can still enjoy a rich and flavorful vaping experience—a remarkable feat that sets it apart from its competitors.
Pros and Cons
Pros
Sleek and ergonomic design.
Massive 20ml vape tank capacity.
Long-lasting 650mAh rechargeable battery.
Innovative dual mesh coil technology.
Adjustable airflow for a tailored experience.
Binary Core system for efficient nicotine delivery.
Sustained flavor production near the end of life.
Cons
The equipment is large and inconvenient to carry
Design and Build Quality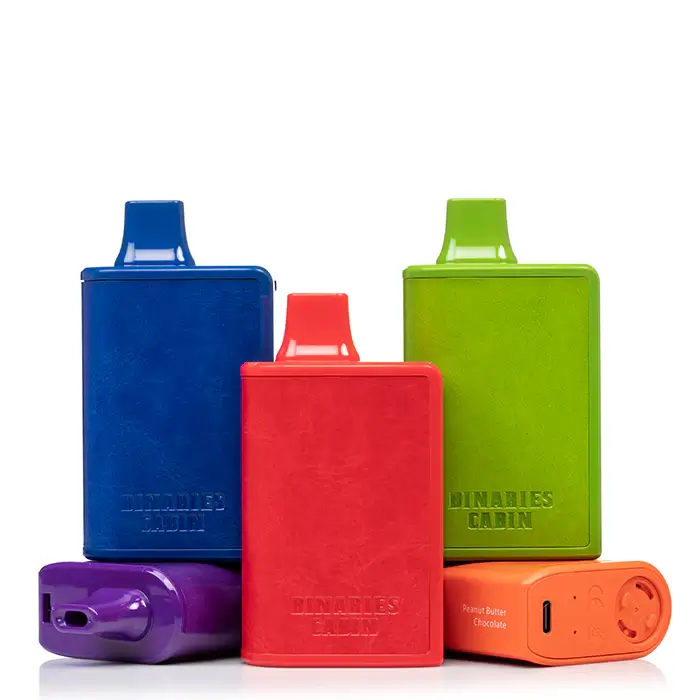 The Binaries Cabin Vape is a statement of sophistication and practicality. Wrapped in leather that matches the device's flavor, this vape device boasts an appealing Aesthetic.anti-skid design.Additionally, its design features a space at the top for lanyard mounting, adding an element of convenience for those on the go.
Size-wise, the Binaries Cabin Vape is larger than your average disposable, showcasing dimensions of 97mm in height, 53mm in width, and 26mm in depth. While this might make it less pocket-friendly, it certainly doesn't compromise on style or performance.
Flavors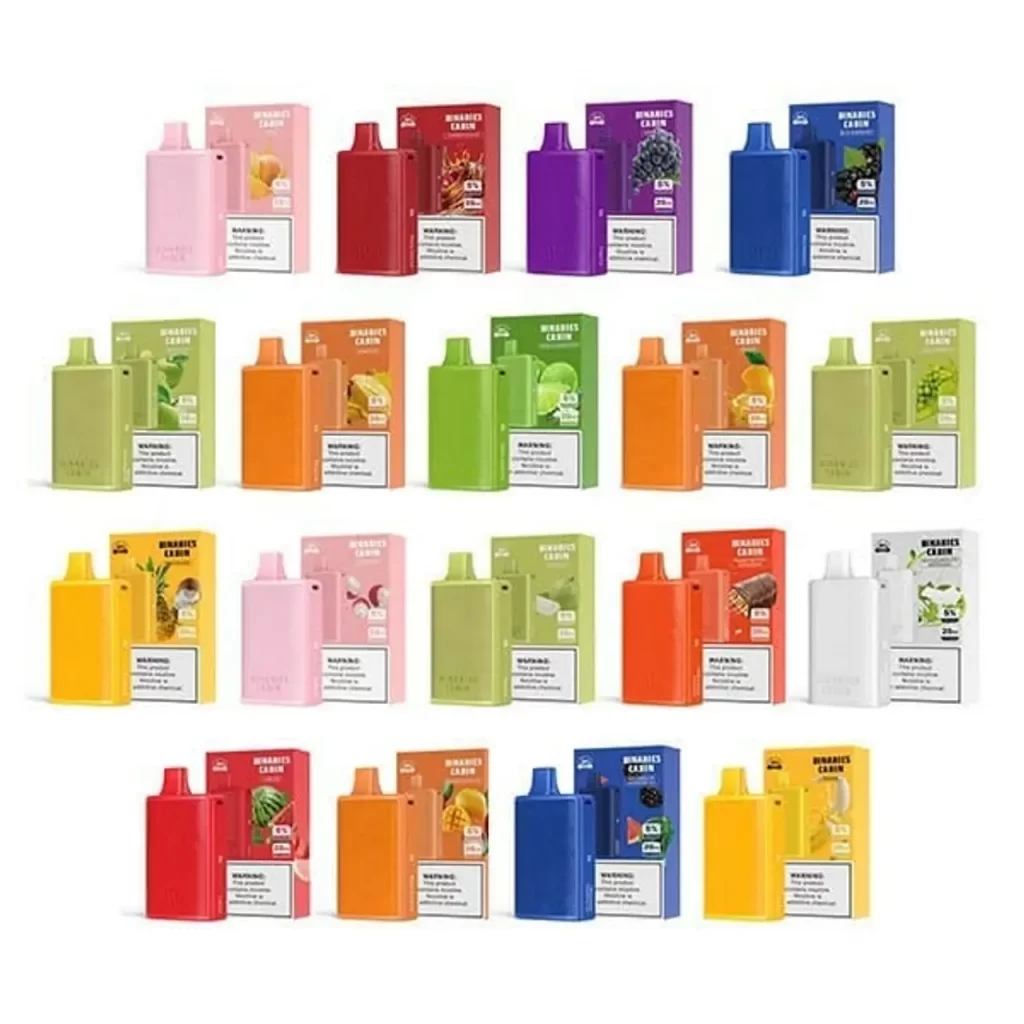 Aloe Mango
Banana
Blue Raspberry
Cherry Cola Ice
Grape Ice
Cotton Candy
Green Grape Ice
Green Grape Apple Ice
Guava Ice
Lush Ice (Watermelon Ice)
Lychee Ice
Mango Ice
Mango Lychee Ice
Mint
Orange
Peach
Peach Blue Razz Bubblegum
Peanut Butter Chocolate (Reeces Flavored)
Pina Colada
Pink Lemonade Ice
Spearmint
Strawberry
Strawberry Banana
Strawberry Sour Belts
Vanilla Ice Cream
Vanilla Lemon Tart
Watermelon Raspberry Ice
White Chocolate Matcha Ice
FAQs of Binaries Cabin Vape
How long does a binaries cabin vape last?
The puff indicator at the bottom of the device lights up each time you take a draw. The 2 blue lights are very small and pretty discreet. The Binaries Cabin comes prefilled with 20ml of ejuice and claims to reach up to 10,000 puffs before the device is done.
Can I use the Binaries Cabin Vape with any e-liquid?
The Binaries Cabin Vape is compatible with both freebase and salt nicotine e-liquids.
Can I adjust the airflow on the Binaries Cabin Vape?
Yes, the device features an airflow control feature that allows you to adjust the airflow to your preference.
What is binaries cabin?
Now at Vape Juice, the Binaries Cabin 10,000 Puff Disposable by HorizonTech is a high-performance vaping device packed with convenience and longevity.
In Conclusion
The Horizon Tech Binaries Cabin Vape is a masterpiece of vaping technology. With its dual mesh coil, massive juice reservoir, and customizable features, it offers a vaping experience unlike any other disposable device. Its Binary Core system and impressive puff count are testaments to its dedication to satisfying nicotine cravings efficiently and providing enduring flavor enjoyment. Whether you're a flavor enthusiast or a nicotine craver, the Binaries Cabin Vape is poised to revolutionize your vaping journey.