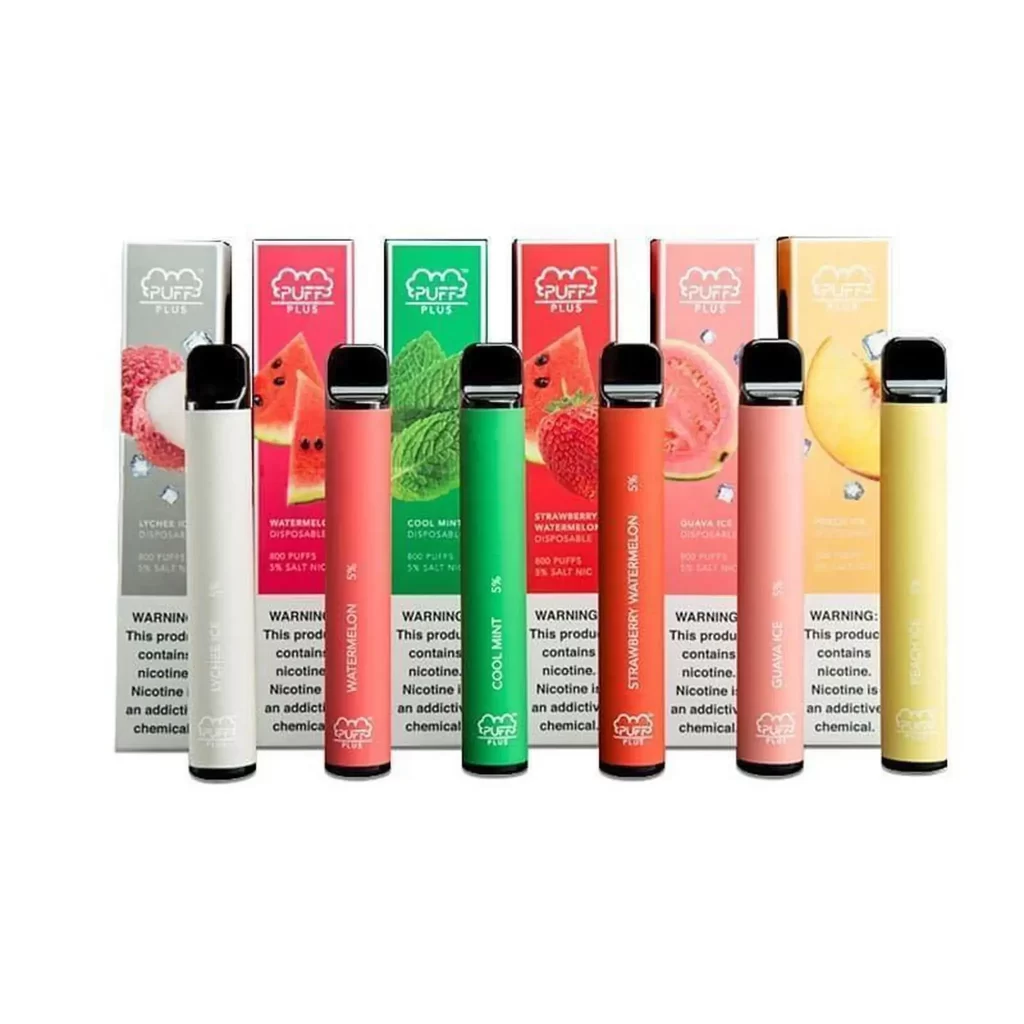 The Puff Plus disposable vape kit emerges as a powerhouse in the realm of pre-filled disposables, boasting amplified features while maintaining its signature compactness and portability. With an upgraded 550mAh battery and a direct draw system, the Puff Plus packs a punch in flavor delivery, all without the hassle of charging or intricate settings. A simple inhale activates the pre-filled device, ready to provide an exceptional vaping experience.
What Can We Expect From Puff Plus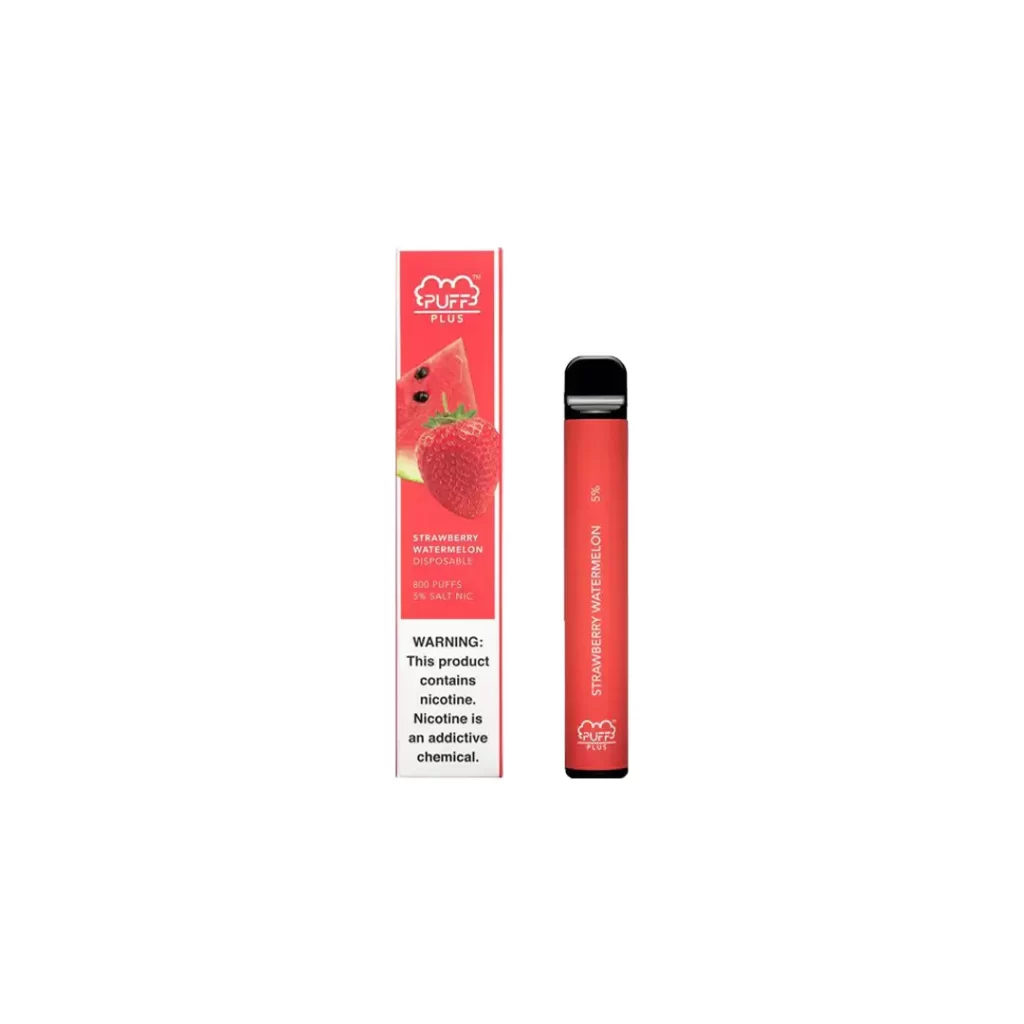 Loaded with 3.2ml of 50mg salt nicotine, the Puff Plus ensures an enduring satisfaction, catering to even the most demanding vapers throughout the day. This impressive volume equates to double the puffs of its predecessor, akin to smoking 40 traditional cigarettes. Seamlessly draw-activated, the Puff Plus offers effortless vaping on demand, making it a seamless transition for smokers seeking an alternative.
Puff Plus surpasses the Puff Bar with its extended longevity, cementing its status as one of the longest-lasting disposables available. Once your Puff Plus runs dry on juice or battery, a hassle-free solution awaits: simply acquire a new Puff Plus disposable pod kit. The allure of eight distinct flavor options further enhances the vaping experience, catering to diverse tastes.
The Puff Bar Plus stands out in the disposable pod mod arena, accommodating a significantly larger liquid capacity compared to counterparts. Infused with substantial nicotine content, it quells even the strongest cravings. Complementing its performance, the device retains a portable and ergonomic design, ideal for vapers in search of convenience and portability.
Design and Build Quality
The Puff Plus vape pen boasts a compact design, measuring 3.7 inches tall and 0.2 inches wide, resembling a short pen. Its smooth and sleek appearance is typical of vape pens, with a plastic outer casing enclosing the device components. Notably, the mouthpiece is integrated and cannot be separated. The color-coded casing indicates flavors, nicotine content, and the Puff Plus logo. Flavors are easily identified by colors: yellow for pineapple lemonade, blue for blue razz, and white for unflavored versions. The device's solid color cannot be disassembled. The Puff Plus arrives in a flip-to-open carriage box with a viewing window for the pen color. Its ergonomic design features a flat-billed mouthpiece for a comfortable vaping experience, while the LED light on the front signals activation and low battery. Available in various colors matching the pod's flavor, the Puff Plus excels in both design and functionality.
Features
Most popular slim bar shape, compact and Portable
Disposable Device requires no maintenance, charging or refilling
Pre-filled, no need for messy refills
Salt Nic inside for an accurate cigarette-style throat hit
Up to 800+ Puffs per disposable, approximately equivalent to 2 pack of cigarettes (40 cigarettes)
Internal Battery: 550mAh
E-juice Capacity: 3.2mL Salt Nic (Pre-filled)
Salt Nicotine: 5%, (50MG)
Puffs: 800+ puffs Per Pod
1 * Puff Plus Disposable Pod Device
Puff Plus Disposable Pod Device 800 Puffs 550mAh comes with
Flavors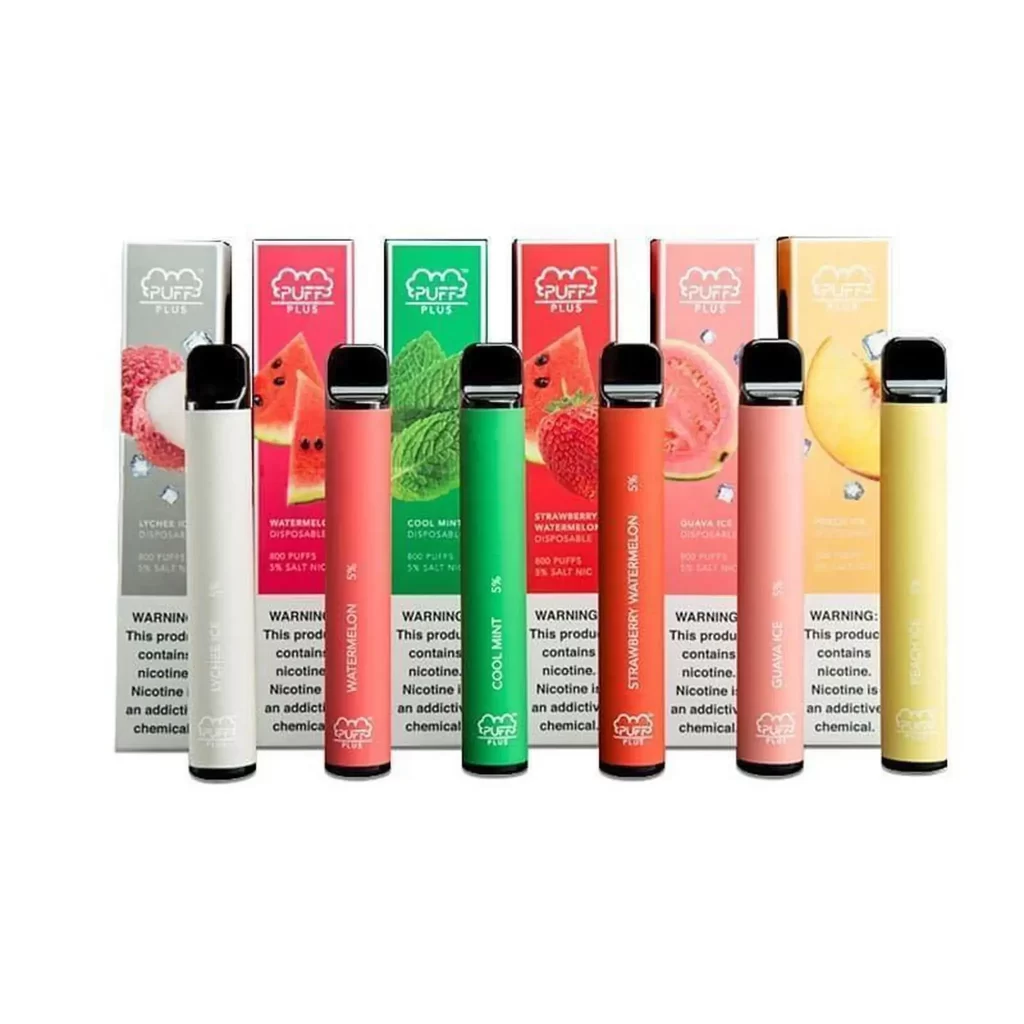 Cool Mint,
Mixed Berries
Peach Ice
Watermelon
Lychee Ice
Guava Ice
Pina Colada
Strawberry Watermelon
Tangerine Ice
Lime Agave
COCO Melon
Fruit Fusion
Banana Ice
Puff Plus Vs Puff Bar
Performance
Puff Plus: Equipped with a more powerful battery
Puff Plus: Boasts a larger nicotine liquid capacity of 3.2ml, surpassing Puff Bar's 1.3ml, resulting in fewer refills.
Vaping Experience
Puff Bar: Provides a tighter draw and enhanced throat hit due to its rectangular body.
Puff Plus: Features a round body, resulting in a looser draw, catering to those who prefer a relaxed inhale.
Flavor Options
Puff Bar: Offers over 20 diverse flavors, ideal for vapers who enjoy trying new options.
Puff Plus: Provides a limited selection of seven flavors, including rich options like Mango and Grape.
Price Difference
Puff Plus: Slightly higher in cost compared to Puff Bar, justified by a larger battery and nicotine liquid capacity.
Conclusion
Puff Plus: Suited for extended battery life, increased nicotine capacity, and a relaxed draw preference.
Puff Bar: Appeals to flavor variety enthusiasts and those seeking a tighter draw.
Both options deliver distinct vaping experiences, catering to various preferences and needs.
FAQs
1.How many cigarettes is a Puff Plus equal to?
Many factors make it difficult to measure the comparison between a single cigarette and the entirety of a Puff Plus. Still, a single cigarette usually amounts to only 15 or 20 puffs from a single Puff Plus bar, based on the 50mg nicotine strength.

2.Is Puff Plus discontinued?
The Puff Plus is not discontinued but may not be available in all states due to regulations and flavor bans.

3.Can you recharge a Puff Bar Plus?
Disposable vapes cannot be recharged. They can only be vaped until they run out of liquid and are thrown away.

4.What Is the most popular Puff Plus flavor?
Our favorite ice flavor was the regular mint. It was not overpowering, but it was icy enough to be satisfying. Our favorite non-ice flavor was their mixed berry vape.

5.Why is my Plus Bar device not hitting?
Disposable vapes stop hitting when the juice and battery run out or because of leaking. If you have been using a disposable for a long time and it dies, it is likely time to throw it away and change to a new one to vape.