Push Carts Vape emerges as a prominent player in the vaping industry, having entered the scene in March 2020 after more than a decade of meticulous research and development. Their rapid ascent is a testament to their status as pioneers and industry leaders, reshaping the cannabis landscape with their exceptional all-glass products. With an impressive track record of over 15 years, Push Carts Vape has set new benchmarks for quality within the cannabis community, earning the distinction of being hailed as one of the most innovative cannabis companies in recent memory.
Push Carts Vape's commitment to innovation and safety shines through in their groundbreaking approach. They've achieved an industry first by introducing full glass, heavy metal-free cartridges to the cannabis market, a move that has restored confidence in vaping's safety. Beyond their dedication to safety, Push Carts Vape caters to the unique tastes of consumers by offering an array of products that stand apart from the crowd. This commitment to delivering unparalleled vaping experiences is what sets Push Carts Vape apart and solidifies their reputation as a visionary force in the cannabis industry.
Best 3 Push Cart Vapes Flavors
All Flavors
Blueberry Kush
Ice Cream Gorilla
La Cake Push Tank
Grape Soda
Tropicana Cookies
Peanut Butter Breath Push Tank
Pina Colada Push Tank
Blue Dream Push Tank
1. Blueberry Kush Category
This Blueberry Kush oil is a powerful blend of Blueberry and OG Kush strains, combining the best aspects of both. Its intense flavor and the Indica strain provide a full-body high, making it ideal for those experiencing stress or chronic pain.
Pros
Full body high
Relaxing
Good for pain
Cons
2. Grape Soda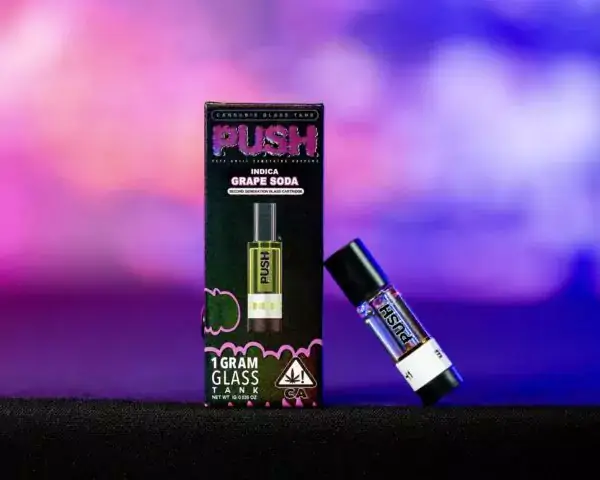 This strain is perfect for evening use, providing a full-body effect that reduces pain and stress without causing excessive drowsiness. It has a high enough THC content to be effective while allowing the user to remain functional. The strain has a pleasant citrus aroma with grape undertones, reflected in its name.
Pros
Alleviates feelings of depression and anxiety
Improves overall mood
Appetite booster
Cons
Can cause headache and dry eyes and mouth
3. Tropicana Cookies
Tropicana Cookies from Harry Palms of the Bloom Seed Company is a hybrid vape oil and is a cross between Tangie and GSC. It has a citrusy flavor with hints of bold cookies. It makes users feel uplifted, euphoric, and happy. It's ideal for parties, celebrations, and gatherings in general.
Pros
Good for stress and social anxiety
Improves mood
Excellent flavor profile
Cons
It can cause headaches and anxiousness in some people
4. Ice Cream Gorilla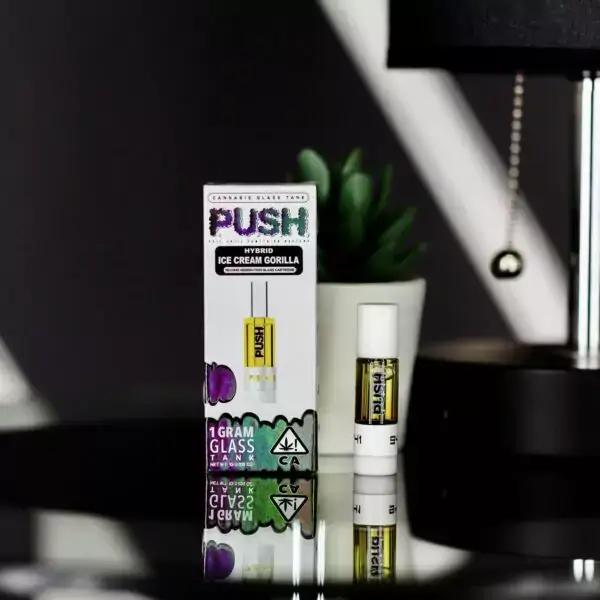 Ice Cream Gorilla is an Indica-dominant hybrid with a sweet taste of vanilla ice cream. It has a high THC content that provides maximum relief from anxiety, depression, and pain. For some, it has been found to create arousal and may be an option for those looking to spice things up in the bedroom.
Pros
High levels of THC
Good flavor profile
Good for improving mood and arousal
Cons
Can cause dry mouth and eyes
Price & Details
Push Carts Vape offers the exclusive PUSH Tanks Series, ranging from $15 to $300. Their limited edition 1100 MG glass cartridge boasts a THC level of 17% to 24%, assuring quality and potency. Free from additives and fillers, these cartridges undergo rigorous lab testing. With a focus on relaxation, Push Carts Vape presents a promising option for those seeking an elevated vaping experience.
About These Cartridges
Push Carts has some very good vape cartridges. They are easy to use, produce a good deal of vapor and flavor, and have pretty high THC content.
But a cannabis company has to do more than offer good products. They also need to be transparent and have good policies.
Not posting information like addresses and phone numbers is a bad idea from a customer service standpoint. Customers need to know that they can contact a live person if necessary. Also, this information lets people know that the business is not hiding something.
As for the policies, they are not clearly explained or unfair. Someone really needs to look at that FAQ and give some more detailed answers or improve the warranty and returns policy.
Other than that, their cannabis oil cartridges are outstanding. If you have any comments about this company, please let us know!
How to Use
The Push Carts Vape proves to be a user-friendly and efficient vaping solution that's backed by thoughtful design and safety measures. With a 500mAh battery capacity and an output wattage of 15W, this device offers a well-balanced vaping experience. The inclusion of four voltage outputs (2.8V, 3.2V, 3.7V, and 4.2V) ensures that users can tailor their sessions to their preferred intensity. The magnetic base with a 510 thread keeps the cartridge securely in place, adding to the overall ease of use.
Operating the Push Carts Vape is a breeze – a rapid press of the power button five times initiates the device. While the user-friendliness is commendable, it's essential to perform this action quickly for proper registration. The step-by-step guide for using the carts is equally straightforward. Unscrewing the bottom cap and removing the top cap unlocks the cartridge, which can then be screwed onto a compatible battery for immediate vaping pleasure.
FAQs About Push Carts Vape
1.Is Push a Real Cart Brand?
PUSH is the first company to introduce a combination of glass and metals to the cannabis market. The company offers unique-tasting products that cater to the needs of its consumers. PUSH is committed to providing the best possible experience for its customers and has established itself as a reputable brand in the industry.
2.How Long Does a Push Cartridge Last?
According to the company, with proper care, most cartridges should last for at least 6 months to a year. For casual users, purchasing one cartridge at a time is best to avoid cannabinoid degradation.
3.How long does a push cart last?
If you're sticking to puffs under three seconds, most 0.5-gram carts will last between 80 and 160 puffs. A typical 1-gram oil cart should keep going twice as long—for 160 to 320 puffs. Based on these numbers, a weed cart can last for as little as a week or two with frequent use.
4.What is a push pen vape?
Push Disposable Wax Pen is a brand of disposable wax pen that is designed for use with waxes, concentrates and other similar substances. These pens are compact, portable, and easy to use, making them a popular choice for those who want a convenient and hassle-free vaping experience
Final Thoughts
Beyond safety, Push Carts Vape's dedication to providing unmatched experiences is evident in their diverse product lineup, catering to unique tastes and preferences. Their exclusive PUSH Tanks Series, priced from $15 to $300, is a testament to their focus on quality and potency. These limited edition 1100 MG glass cartridges undergo rigorous lab testing, showcasing Push Carts Vape's dedication to delivering an elevated vaping experience.
With their commitment to innovation, safety, and exceptional experiences, Push Carts Vape is poised to continue reshaping the vaping landscape and maintaining their status as industry leaders in the years to come.