As a seasoned vape reviewer, I've encountered my fair share of vape devices—each with its own unique selling points and drawbacks. But today, I get to introduce you to something completely different: The Sili Box 6000. This vape device stands out as the first of its kind, being made entirely from full food-grade silicone material, offering an unparalleled soft-touch experience.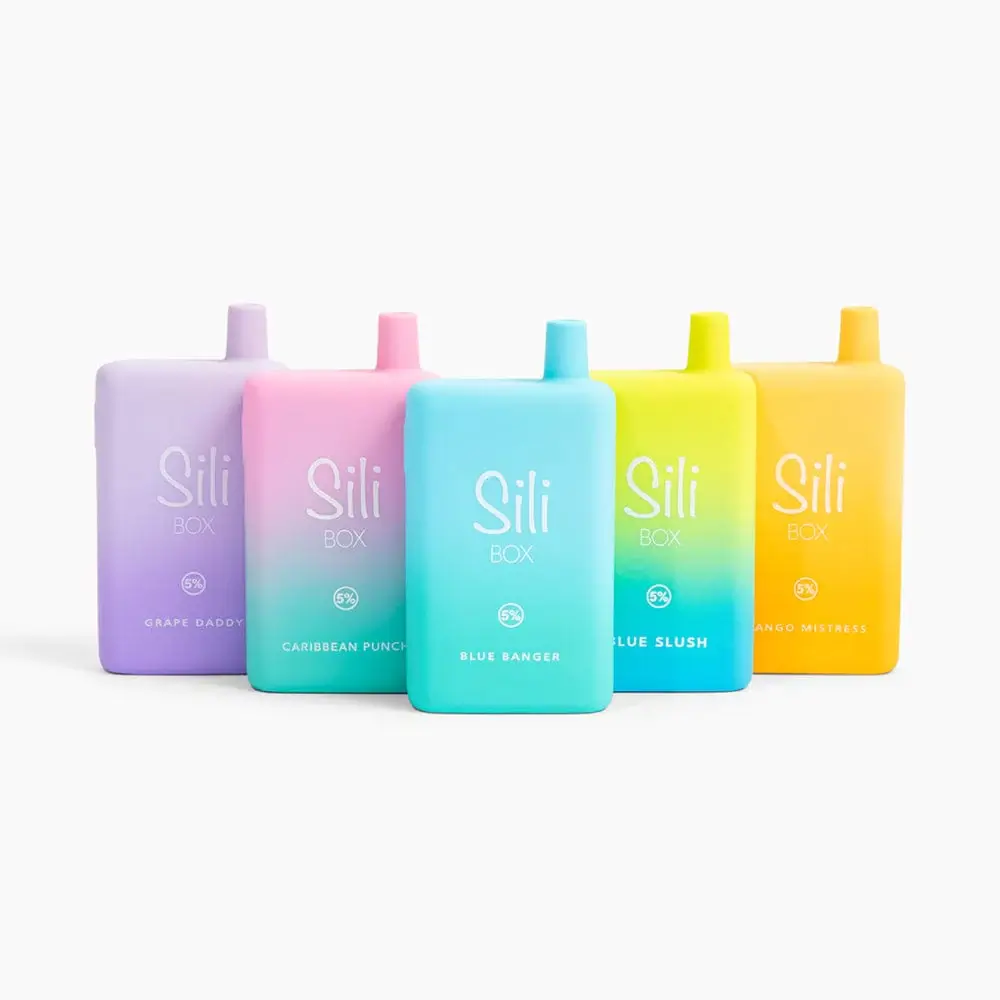 Specifications
Puffs: 6000 Puffs
Battery: Type-C Rechargeable600mAh
E-liquid Capacity: 16ml
Resistance: 1.0Ω (Mesh Coil)
Nicotine strength: 5% Nic Salt optional
Features
Full Silicone skin-friendly material
Switch between Auto-Draw mode and Turbo Hit at any time
Turbo Hitprovides cooler, sweeter flavor, stronger hit and more cloud
USB Type-C rechargeable battery, easy to be charged at any time
Mesh coil and premium e-liquid provides fantastic taste enjoyment
Pros and Cons
Pros
Ergonomic design with food-grade silicone body
Two firing modes: Auto-Draw and Turbo Hit
Large 16ml e-liquid capacity and 600mAh rechargeable battery
A wide array of flavor options
Safety features like overcharge and short-circuit protection
Cons
Disposable nature contributes to environmental waste
Contains nicotine, which is addictive
Design and Style
The first thing that you'll notice is its full silicone exterior—a departure from the standard metal and plastic builds that dominate the market. This material gives the device a velvety, almost addictive touch that elevates each interaction to a luxurious experience. And it's not just about comfort; the silicone enhances your grip, ensuring that the device won't slip out of your hands even when they're wet.
But the Sili Box 6000 doesn't stop at tactile pleasure; it aims to satisfy your visual senses as well. The device comes in a variety of colors and finishes, ranging from understated mattes to vibrant glossies. Whether you're into classic blacks and silvers or prefer a pop of color like electric blue or hot pink, there's something for everyone. This level of customization allows you to match the device with your personal style, making it not just a vaping tool but a fashion accessory as well.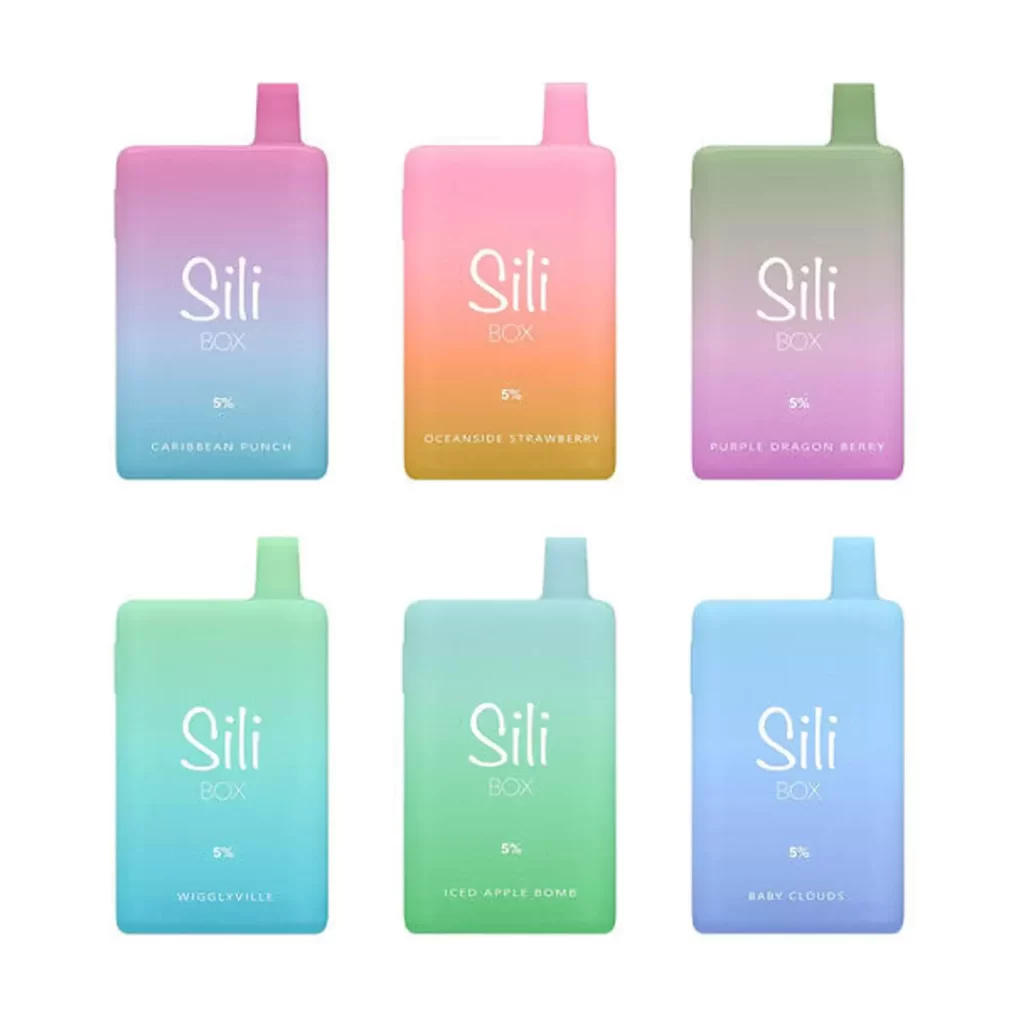 Performance
Performance is where the Sili Box 6000 truly shines. This device is built to impress, not just in terms of aesthetics but also in functionality. Let's start with its adjustable airflow system—a feature I found particularly fascinating. It gives you an unprecedented level of control over the vapor output, effectively personalizing your vaping experience.
Another standout feature is the generous 16ml e-liquid capacity, partnered with a 600mAh rechargeable battery. What this means in practical terms is that you're looking at an unbelievable 6000 puffs before needing a recharge. And speaking of recharging, the inclusion of a Type-C cable ensures that this process is as quick and hassle-free as possible, freeing you to focus on what really matters—the sheer joy of vaping.
Let's talk about the firing modes. The device features two distinct modes: Auto-Draw and Turbo Hit. Auto-Draw is perfect for those who want a quick, effortless draw. No buttons, no complications—just pure convenience. On the other hand, the Turbo Hit mode is a game-changer. Activated by a simple press and hold of the side button, it transforms the vaping experience from mere inhalation to an extraordinary burst of cooler, sweeter, and more intense flavors. It's almost like having two devices rolled into one.
Rest assured, the Sili Box 6000 is well-equipped with safety features, including overcharge and short-circuit protections, giving you peace of mind with every puff. Maintenance is also a breeze, underscoring the device's user-friendly design. In short, the Sili Box 6000 doesn't just meet expectations—it effortlessly exceeds them.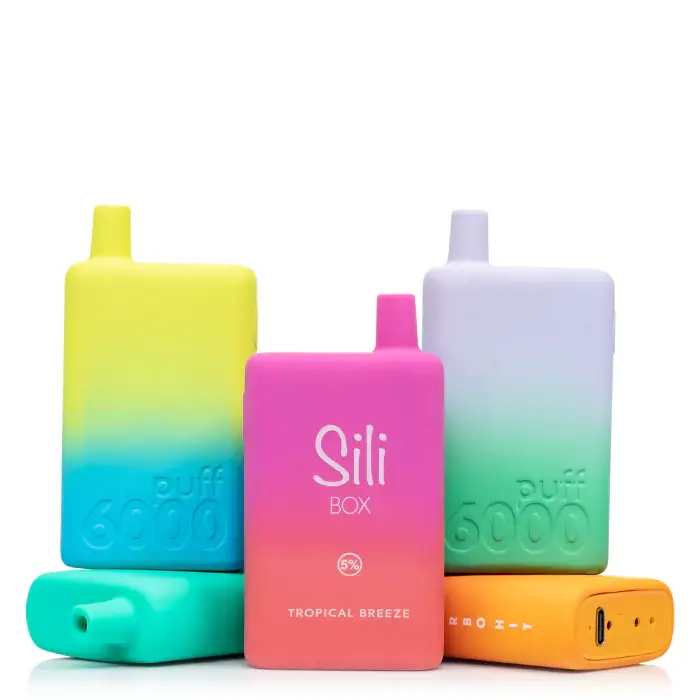 Flavors
List
Caribbean Punch
Oceanside Strawberry
Purple Dragon Berry
Wigglyville
Iced Apple Bomb
Baby Clouds (Sugar Baby)
BLUE SLUSH
PBLS
MANGO MISTRESS
FUZZY GRAPE
BLUE BANGER
JOLLY LUSH
GRAPE DADDY
CANDY POP
JUICY GUSHER
GOOEY GUMMY
MIGHTY MINT
TROPICAL BREEZE
GREEN GHOST
BUBBLE BERRY
Flavor is a crucial aspect of the vaping experience, and the Sili Box 6000 doesn't disappoint in this department. With a diverse lineup of e-liquids, this device aims to cater to a broad range of flavor preferences. You can easily switch between exotic, fruity concoctions like Caribbean Punch to more traditional, full-bodied options like Tobacco and Tobacco Menthol, depending on your mood.
For those who prefer a burst of freshness, Mighty Mint provides a cooling sensation that rejuvenates your taste buds. If you're into the tangy and sweet, Juicy Gusher and Oceanside Strawberry offer a succulent fruit explosion with each puff. And if you want to venture into the truly unique, options like Mango Mistress and Purple Dragon Berry offer complex flavor profiles that are both intriguing and satisfying.
The variety doesn't just end there. Each flavor is expertly crafted to deliver a consistent and high-quality vaping experience. Whether you're using the Auto-Draw mode for a smoother, subtler hit or the Turbo Hit for an intensified flavor burst, the Sili Box 6000 ensures that each puff is a delightful experience.
Moreover, the device's 16ml e-liquid capacity means that you can enjoy your chosen flavors for an extended period, making the device perfect for both short sessions and long, relaxing vapes. In essence, the Sili Box 6000 offers a cornucopia of flavors that can cater to any palate, making it a versatile choice for both flavor chasers and casual vapers alike.
In Conclusion
From its ergonomic, food-grade silicone body to its impressive battery life and generous e-liquid capacity, this vape device is designed for both the seasoned vaper and the curious newcomer. Its dual firing modes—Auto-Draw and Turbo Hit—offer a customized vaping experience, while the extensive range of flavors ensures that there's something to suit every palate.
Safety features like overcharge and short-circuit protection add another layer of assurance, making it a reliable companion for your daily vaping sessions. Yes, there are minor drawbacks, like its disposable nature contributing to environmental waste, but the pros far outweigh the cons.