I recently had the pleasure of trying out the Lost Vape Thelema Solo 100W Box Mod, and I must say, it's a true standout in the world of vape mods. The combination of power, design, and functionality makes it an exceptional choice for both novice and experienced vapers.
Features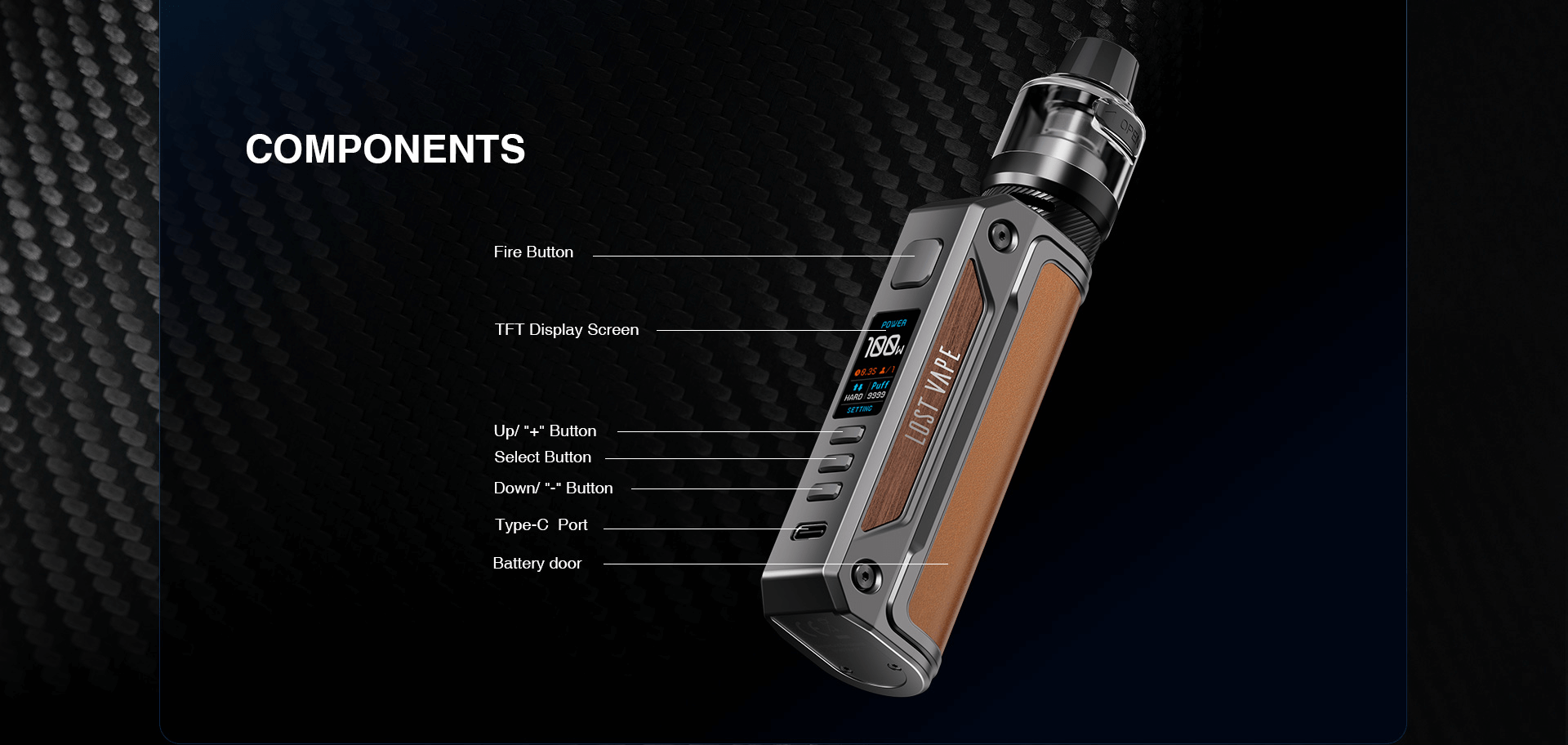 1. Quest 2.0 Chip
2. Wattage/Voltage/Temperature
3. Control/VPC/Bypass Mode
4. Soft/Normal/Hard Firing Mode
5. 3 User Records
6. 100W Max Output Power
7. 21700/18650 battery compatible
8. Fashion&Removable Battery Cover Design
9. Type-C Fast Charging
10. C Frame Design – Compact and Comfort Grip
In the Box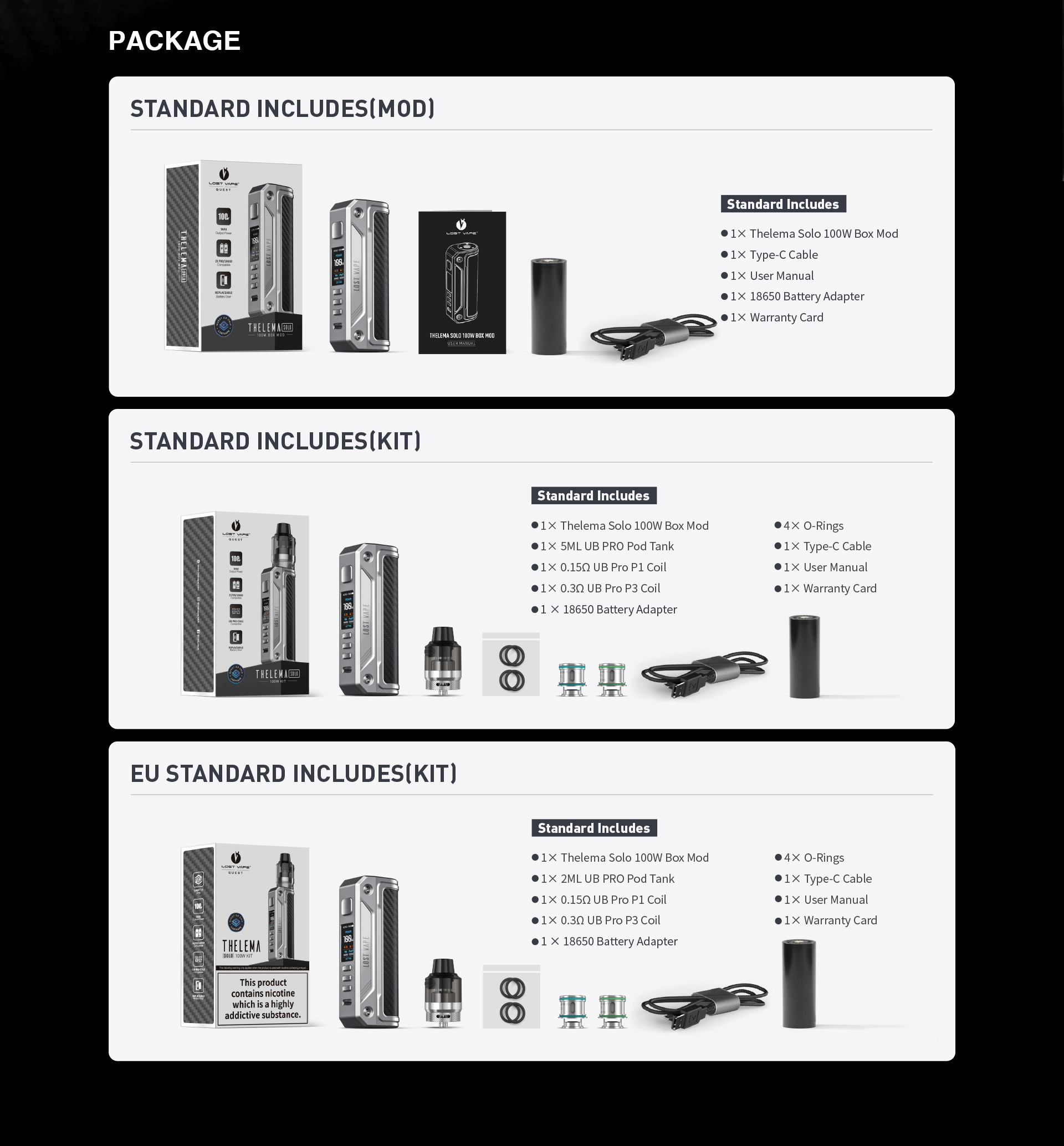 1pc Thelema Solo 100W Box Mod
1pc Type-C Cable
1pc User Manual
1pc 18650 Battery Adapter
1pc Warranty Card
One of the aspects I particularly appreciate about the Lost Vape Thelema Solo is its versatility in modes. It supports VW, Power, TC-SS994, TC-SS316, TC-Ni, TC-Ti, VPC, and Bypass modes, accommodating various vaping preferences and needs. Whether you're a fan of precise temperature control or prefer a straightforward wattage mode, this mod has you covered.
Battery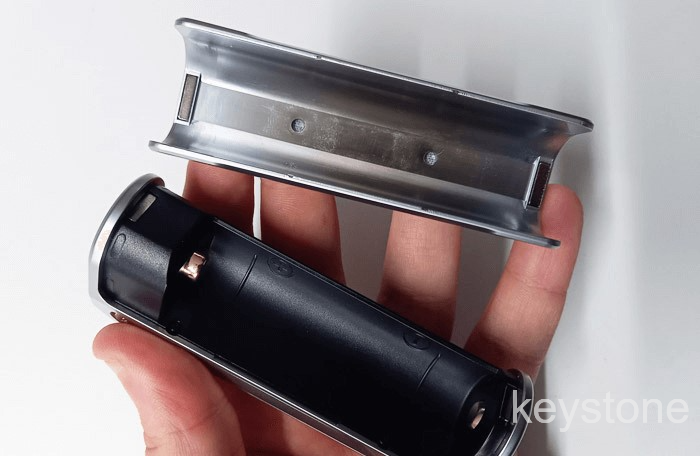 The utilization of a single battery allows for a compact and portable design, making the Thelema Solo 100W Kit Battery an excellent option for on-the-go vapers. Whether you're heading out for the day or traveling, this kit offers the power you need without sacrificing convenience.
The ability to achieve a maximum output of 100W with the 21700 battery option is a game-changer for vapers seeking a robust performance. This level of power opens up a world of possibilities for experimenting with different coil builds, achieving optimal vapor production, and enjoying rich, flavorful draws.
In essence, the Lost Vape Thelema Solo 100W Kit Battery embodies the perfect fusion of power and portability. Its compatibility with both 21700 and 18650 batteries, along with the impressive 100W output, guarantees a rewarding and consistent vaping experience. Whether you're a cloud chaser or a flavor aficionado, this kit has the versatility to meet your preferences, making it a must-have for vapers looking for top-tier performance in a sleek and compact package.
Screen
The inclusion of the Modern Quest 2.0 chip is a pivotal advancement that elevates this kit to new heights. Not only does this chip provide a comprehensive array of safety protections during vaping sessions, ensuring a worry-free experience, but it also significantly contributes to the device's overall performance.
The kit's standout feature is undoubtedly its 0.96-inch TFT color display. This vibrant display serves as a central hub for all essential vaping information, making it easy to keep track of wattage, temperature, and battery life at a glance. With six distinct color schemes to choose from, personalizing the display to match your preferences is effortless and adds a touch of individuality to your vaping setup.
The intuitive and user-friendly navigation through the settings adds to the overall appeal of the Thelema Solo 100W Kit. Adjusting wattage, switching modes, and fine-tuning your vaping experience has never been more straightforward, allowing both seasoned vapers and newcomers to enjoy the device's capabilities with ease.
In summary, the Thelema Solo 100W Kit is a pinnacle of advanced vaping technology. The integration of the Modern Quest 2.0 chip guarantees safety and enhances performance, while the vivid 0.96-inch TFT color display keeps you informed at all times. With its user-friendly navigation and customizable options, this kit is not only a powerhouse of features but also a joy to use. Whether you're a seasoned vaper or just starting your journey, the Thelema Solo 100W Kit offers a remarkable vaping experience that sets a new standard in the industry.
Pod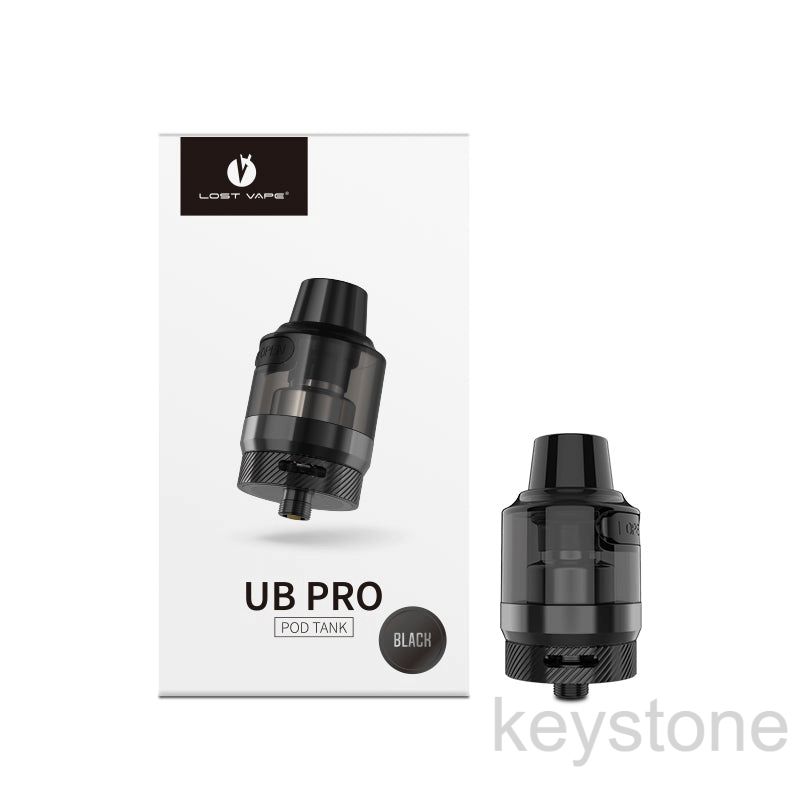 The Thelema Solo 100W Kit's inclusion of the UB Pro Pod Tank adds an exceptional layer of versatility and performance to an already impressive package. Sharing its lineage with the acclaimed Thelema Quest Kit, the UB Pro Pod Tank maintains its reputation for excellence, ensuring vapers an exceptional experience.
A noteworthy highlight is that the UB Pro Pod Tank included in the Thelema Solo kit mirrors the one featured in the Thelema Quest Kit, emphasizing its reliability and popularity. This tank's reputation precedes it, promising an exceptional vaping encounter to users of all levels. If you're keen on a comprehensive evaluation of this tank, Adam's in-depth review of the UB Pro Pod Tank offers valuable insights.
What truly sets the UB Pro Pod Tank apart are the coils it employs, which are identical to those used in the Thelema Quest Kit. This uniformity guarantees consistent performance and flavor delivery, catering to vapers who prioritize reliable and satisfying draws.
In essence, the Thelema Solo 100W Kit UB Pro Pod variant amplifies an already stellar package by including the renowned UB Pro Pod Tank. By sharing the same tank and coils as its predecessor, this kit affirms its dedication to top-notch performance and satisfaction. Whether you're a fan of the previous iteration or new to the experience, the UB Pro Pod Tank's inclusion ensures an outstanding vaping experience that lives up to its reputation.
Final Verdict
The Lost Vape Thelema Solo 100W Box Mod is an exceptional device that delivers on both performance and style. With its powerful battery options, advanced chip, customizable display, and various modes, it's a versatile companion for vapers of all levels. Whether you're chasing clouds, seeking intense flavor, or simply looking for an easy-to-operate mod, the Lost Vape Thelema Solo has something to offer.