Smok Alien Vape Kit 220W. This powerhouse of a mod combines unparalleled versatility with robust performance, setting a new standard for what vapers can expect from a dual-battery device. From its extensive temperature control features to its eye-catching design, the Smok Alien Vape Kit 220W offers a comprehensive vaping experience that caters to both newcomers and seasoned veterans alike. Whether you're chasing colossal clouds or seeking that perfect flavor profile, this kit has got you covered. Read on to discover the ins and outs of this remarkable device and find out why it's a must-have in any vaper's arsenal.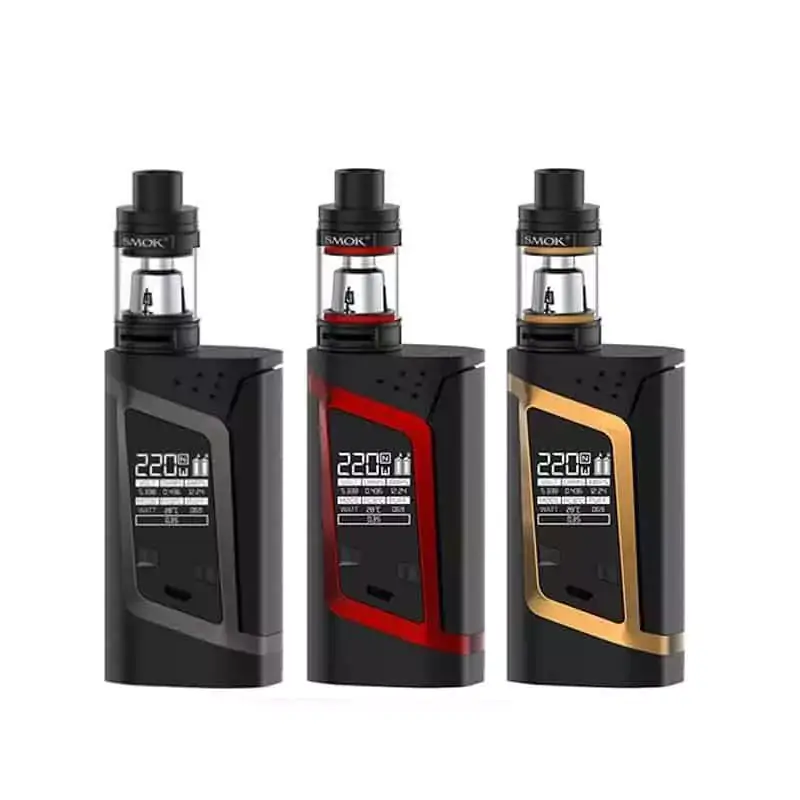 Specifications
Length: 44mm
Width: 30mm
Output Wattage: 6W-220W
Standby Current: 300uA
Intelligent VW/TC Modes
Voltage Range: 0.35V-8V
Resistance Range: 0.1 ohm-3.0 ohm (VW)/0.06 ohm-3.0 ohm (TC)
Temperature Control Range: 200°F-600°F/100°C-315°C
Variable Wattage mode
Temperature Control mode
Zinc alloy build
OLED display
Micro USB charge port
510 threading
Inside The Box
1 X Smok Alien 220W Box Mod
1 X 2 ml TFV8 Baby Beast Tank
1 X Pre-installed V8 Baby-Q2 Core (0.4 Ohm Dual Coils)
1 X Baby-T8 Core (0.15 Ohm Octuple Coils)
1 X Replacement Glass Tube
1 X Spare Parts
1 X User Manual
Design and Build Quality
When it comes to design and build quality, the Smok Alien 220W takes no shortcuts. One of the first things you'll notice is the device's OLED display, which is a cut above the rest. Not only does it serve as a visual delight, but it's also highly functional, displaying all necessary information such as wattage, battery life, and even your puff count in a crisp, clear manner. The UI is organized so intuitively that it doesn't feel overcrowded—something that is crucial for a good user experience.
The Alien 220W is constructed with a zinc alloy frame and accented with carbon fiber inlays, lending it a robust and premium feel. Despite its solid build, the device is surprisingly lightweight, making it comfortable to hold for extended periods. Adding to its visual appeal are gold or red lines that gracefully weave their way across the device, giving it that touch of sophistication we all appreciate.
On the technical side, the Temperature Control mode does not disappoint either. It supports nickel, titanium, and stainless steel coils and allows you to operate within a temperature range of 200°F to 600°F. With a resistance range of 0.06Ω to 2Ω in TC mode, the Alien is compatible with a wide variety of coil types. This flexibility lets you fine-tune your settings to find the "sweet spot" for optimal flavor and vapor production.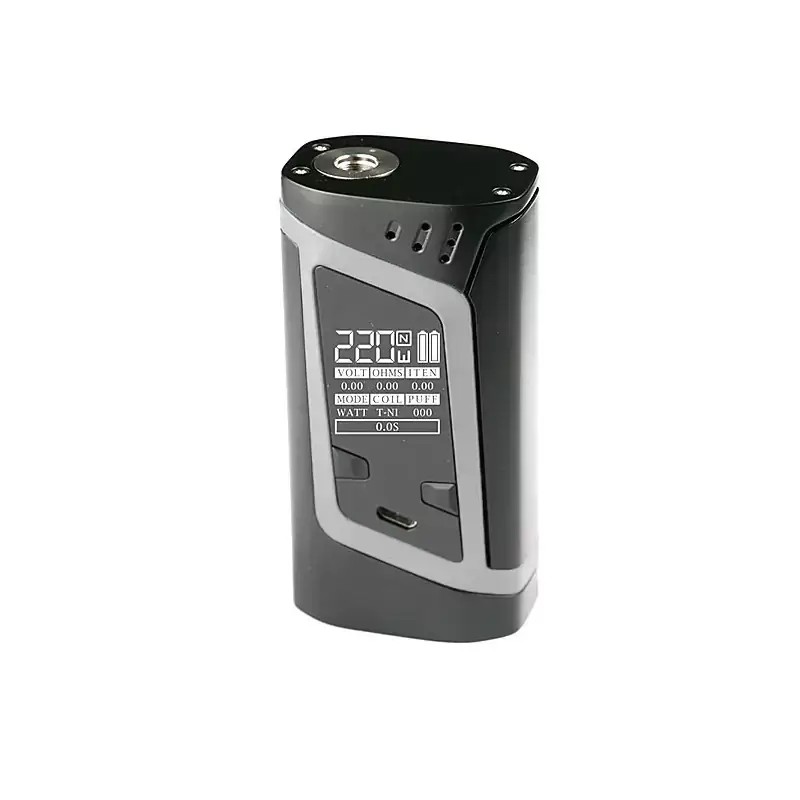 Battery
When it comes to powering a device like the Smok Alien 220W, which offers a plethora of features and customizations, the battery becomes a pivotal component. This mod runs on dual external 18650 batteries, giving it the stamina it needs to go the distance.
For the cloud chasers among us, the Wattage mode offers a staggering range of power outputs, starting as low as 6W and going up to an impressive 220W. With this kind of power at your fingertips, you can create clouds so thick you'll lose sight of the sky!
On the flip side, if you're more of a flavor aficionado, the Temperature Control mode is where you'll find your haven. Supporting coil heads made from nickel, titanium, and stainless steel, the Alien 220W offers a temperature range of 200°F to 600°F. With a resistance range of 0.06Ω to 2Ω in TC mode, it accommodates a wide variety of coil types, giving you the freedom to dial in your settings and find that elusive "sweet spot" for your personal vaping nirvana.
What's especially convenient about the Alien 220W is its charging setup. While the kit doesn't include batteries, it offers onboard charging capabilities. You have the option to charge your 18650s using an external charger or directly through the device by plugging it into a USB wall outlet. Either way, you're covered.
So, whether you're out and about or relaxing at home, the Smok Alien 220W ensures that you're never far from your ideal vape experience. Its dual-battery setup not only provides ample power but also offers the flexibility and customization that today's vapers demand.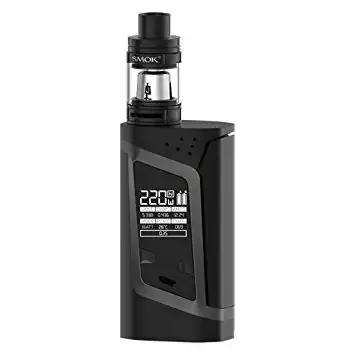 Performance
Variable Wattage: The Smok Alien 220W stands out with a power range of 6W to 220W, offering unmatched flexibility for vapers who crave high wattage.
Temperature Control: Supporting nickel, titanium, and stainless steel coils, the device provides an adjustable TCR setting and a TC range from 200°F to 600°F for customized vaping.
Memory Mode: With 22 memory slots, this mod allows quick access to your favorite wattage and temperature settings, saving time in the long run.
Adjustable Hit Strength: Offering soft, normal, and hard settings, the Alien 220W lets you tailor your vaping experience right from the first draw.
Menu Navigation: The device features an intuitive menu system accessible via the firing bar, facilitating seamless mode switches and settings adjustments.
In Conclusion
The Smok Alien Vape Kit 220W stands as an excellent choice for vapers across the spectrum, from novices to experts. Its versatile features, from variable wattage to comprehensive temperature control, make it a versatile tool in any vaper's arsenal. Safety features are abundant, providing peace of mind alongside a high-quality vaping experience. Whether your focus is cloud production, flavor richness, or a balanced vaping experience, the Smok Alien Vape Kit 220W delivers. Don't miss the opportunity to enhance your vaping journey with this exceptional device. It's not just a step up; it's a leap into the future of vaping.