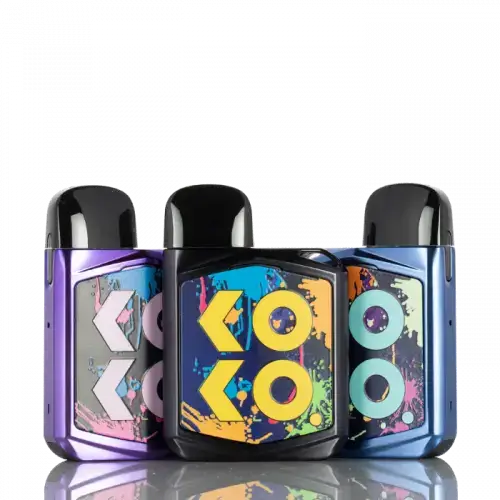 The Uwell Caliburn Koko Prime is the latest jewel in the crown of the highly acclaimed Caliburn series. It's a compact, stylish, and highly functional pod kit that has been designed to cater to vapers of all experience levels. Whether you're a newbie to vaping or a seasoned pro, the Koko Prime promises to elevate your vaping experience to new heights. In this comprehensive review, we'll delve into the various aspects of this exceptional device, from its design and build quality to its performance and coil options.
Specs
Refillable Pod Kit
690mAh Built-In Battery
15W Output
Compact, Lightweight Design
Inhale Activated
Interchangeable Decorative Panels
Dual Airflow System
2ml E-Liquid Capacity
Removable Coils
Top Fill
Compatible With Caliburn G Pod & Coils
Contents
Uwell Caliburn Koko Prime 690mAh Device
Uwell Caliburn G 2ml Pod
Uwell Caliburn G 0.8 Ohm Mesh Coil
Uwell Caliburn 1.0 Ohm Coil
USB-C Charging Cable
User Manual
Design and Build Quality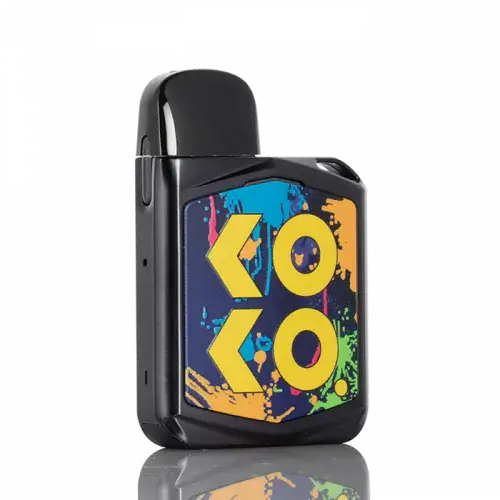 At first glance, the Koko Prime may appear similar to its predecessor, the original Koko, but a closer look reveals subtle design enhancements that make it truly stand out. While it retains the small, square shape of the original, the Koko Prime is slightly wider and thicker, measuring 68mm in height, 45.6mm in width, and 16mm in thickness. It's a compact and lightweight device that fits comfortably in your hand.
One of the most notable design changes is the shift from flat, squared-off surfaces to curved and sloped ones, giving the Koko Prime a modern and upgraded look. This design overhaul clearly distinguishes it from the previous model and adds a touch of sophistication.
The Koko Prime comes in a range of six vibrant colors, including purple, blue, grey, black, green, and red. Each color option features a different frame color and uniquely colored panels. These magnetic panels can be effortlessly swapped out for a customized look, allowing you to change the device's appearance to suit your mood or style. Additionally, you can find these panels available for purchase separately from select online vape stores.
When you remove the panels, you'll discover a hidden message, "Keep On Keeping On," which embodies Uwell's ethos for the Koko Prime. Without the panels, the front of the device features a discreet Koko logo. The design with the panels removed exudes a sense of subtlety and sophistication, in stark contrast to the attention-grabbing panels.
The Koko Prime also incorporates a lanyard anchor spot on the top side of the device, opposite the pod. The included lanyard complements the panels' style with its paint splatter, graffiti writing, and Koko and Uwell logos. This well-crafted lanyard is highly convenient, featuring a quick-detach clip and an adjustable guide for easy use and comfort.
The pod of the Koko Prime is identical to the one used in the Caliburn G. It securely clicks into place and boasts a comfortable rounded shape for an enjoyable vaping experience. When the pod is installed, windows on the side of the Koko Prime allow for easy monitoring of your e-liquid levels. The pod has a 2ml e-liquid capacity and accepts Caliburn G replaceable coils, with two 1.0ohm Caliburn G coils included in the package.
Battery Size and Strength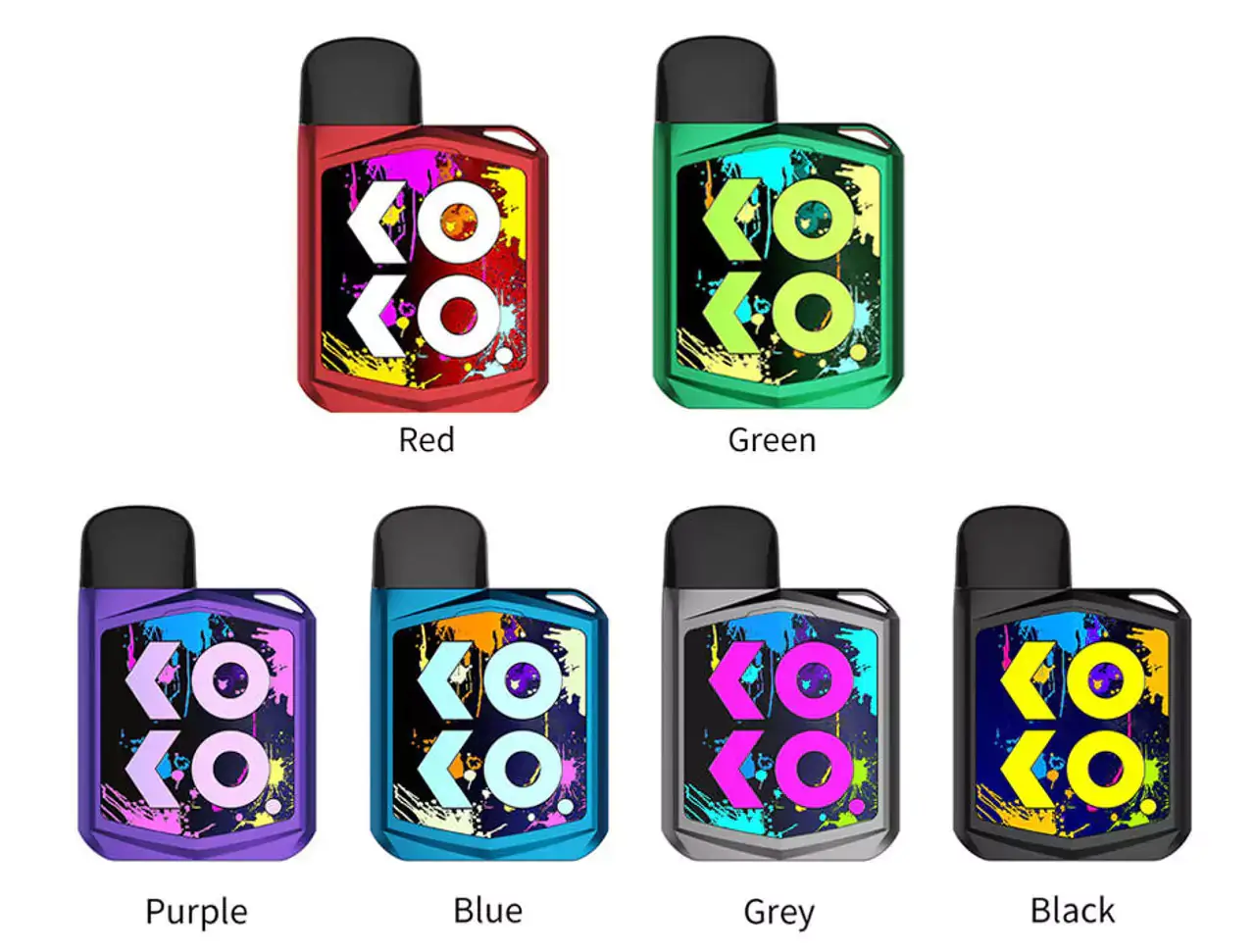 One of the standout features of the Koko Prime is its impressive integrated 690mAh battery. Even better, it supports Type-C charging, a much-welcomed feature in modern vaping devices. Charging the Koko Prime from completely dead to a full charge takes a mere 40-45 minutes. This rapid charging capability adds a significant level of convenience to the device, ensuring you spend less time waiting and more time enjoying your vape. However, it's important to note that the Koko Prime cannot be used while charging.
While the Koko Prime features a higher maximum wattage output than its predecessor (15W compared to 11W), it also boasts an increased battery capacity (690mAh compared to 520mAh). This battery upgrade allows you to vape approximately a pod and a half of e-juice before needing to recharge.
The device is equipped with an LED indicator that lights up when you take a draw, providing a visual representation of your battery level. Green indicates a battery level of 60% or higher, blue indicates 30-60%, and red indicates less than 30%. When the battery is completely depleted, the red light will flash ten times consecutively, and the device will refuse to fire.
Types of Coils
The Koko Prime offers versatility when it comes to coil options, as it supports the Caliburn G coil series. Whether you prefer sub-ohm vaping with the 0.8ohm UN2 Meshed-H coil or favor a smooth MTL (mouth-to-lung) experience with the 1.0ohm FeCrAl coil, the Koko Prime has you covered. The replaceable coils are simple to install, requiring you to align the flat side of the coil with the corresponding notch on the bottom of the pod and push it into place.
In Conclusion
The Uwell Caliburn Koko Prime is a true masterpiece in the world of pod kits. It seamlessly blends design, performance, and convenience to offer an exceptional vaping experience. With its compact and stylish build, customizable panels, and modern design, it's a device that not only performs well but also looks fantastic.
In terms of design, build quality, and performance, the Uwell Caliburn Koko Prime shines brightly. It's a device that not only keeps up with the Caliburn legacy but also adds its unique flavor to the mix. If you're looking for a pod kit that combines style, functionality, and performance, the Koko Prime is an excellent choice that won't disappoint. Keep on keeping on with the Koko Prime and elevate your vaping journey to new heights.