Introducing the VEIIK Airo Vape Pod, a device that merges elegance with simplicity to offer a vaping experience like no other. At first glance, this sleek pod system captivates with its minimalist design, but don't be fooled. Beneath its stylish exterior lies a host of features tailored to both novice and experienced vapers alike. With a 360mAh built-in battery and a straightforward draw-activated mechanism, the VEIIK Airo is a reliable companion for on-the-go vaping. While it may not revolutionize the vaping world, it doesn't have to. What it does promise—and deliver—is an uncomplicated, reliable, and aesthetically pleasing vaping journey.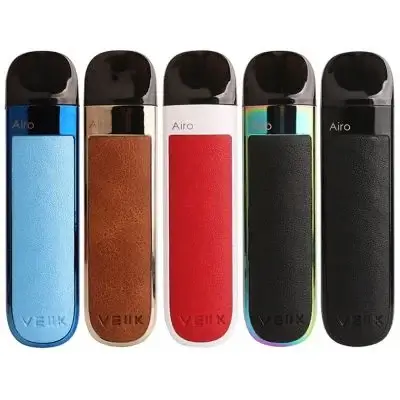 Specifications
Brand: VEIIK
Model: Airo
Material: Zinc alloy + PU sticker + PCTG
Battery: Built-in 500mAh
Charging: Micro USB port
Capacity: 2ml
Coil Resistance: 1.2ohm
Product Size: 2.55 x 1.25 x 10.05cm
Package Size: 6 x 3 x 12cm
Product Weight: 0.05kg
Features
Integrated 500mAh battery, support fast charging by a micro USB port
3-color LED indicator, clear on the real-time battery condition
Constructed in zinc alloy frame and PU sticker, keep the durability and good touching feeling in one
Suitable for vaping with abcde salt
Side filling design with a plug, secure and leakproof
Bottom airflow system, increase the inhaling resistance and enhance the vaping experience
Inside The Box
1 x VEIIK Device
2 x Refillable Pods
1 x MicroUSB cable
1 x User Manual
Design and Build Quality
When it comes to the world of vape pods, it's often the little details that make or break the user experience. The VEIIK Airo Vape Pod is no exception to this rule, aiming to catch the eye and deliver an exceptional vaping session. One look at this luxurious piece of hardware, and it's clear that VEIIK has invested significant effort in the design and build quality.
The PU sticked panels on the Airo are immediately captivating. They don't just serve as eye-candy; they add an additional layer of texture and grip. Even though they are essentially stickers, they could easily be mistaken for genuine leather panels, boosting the pod's aesthetic appeal.
Crafted from zinc alloy, the device feels solid but not overly heavy, balancing durability with portability. The dimensions make it a perfect fit for most hands, and its compact size means it can effortlessly slide into a pocket or purse without causing a bulge. The color combinations are diverse, offering something for everyone, whether you want to keep it simple with white and red panels or go bold with rainbow and black.
As for the actual pod, it holds up to 2ml of e-liquid, a standard capacity that should suffice for moderate use. With a 1.2Ω coil and organic cotton wicking, the Airo is geared towards delivering pure flavor. Filling the pod is straightforward, although the completely detachable silicone plug could be a point of contention. It's easy to lose, so you'll need to be cautious during refill sessions. Fortunately, VEIIK includes extra plugs, showing that they've considered the practicalities of everyday use.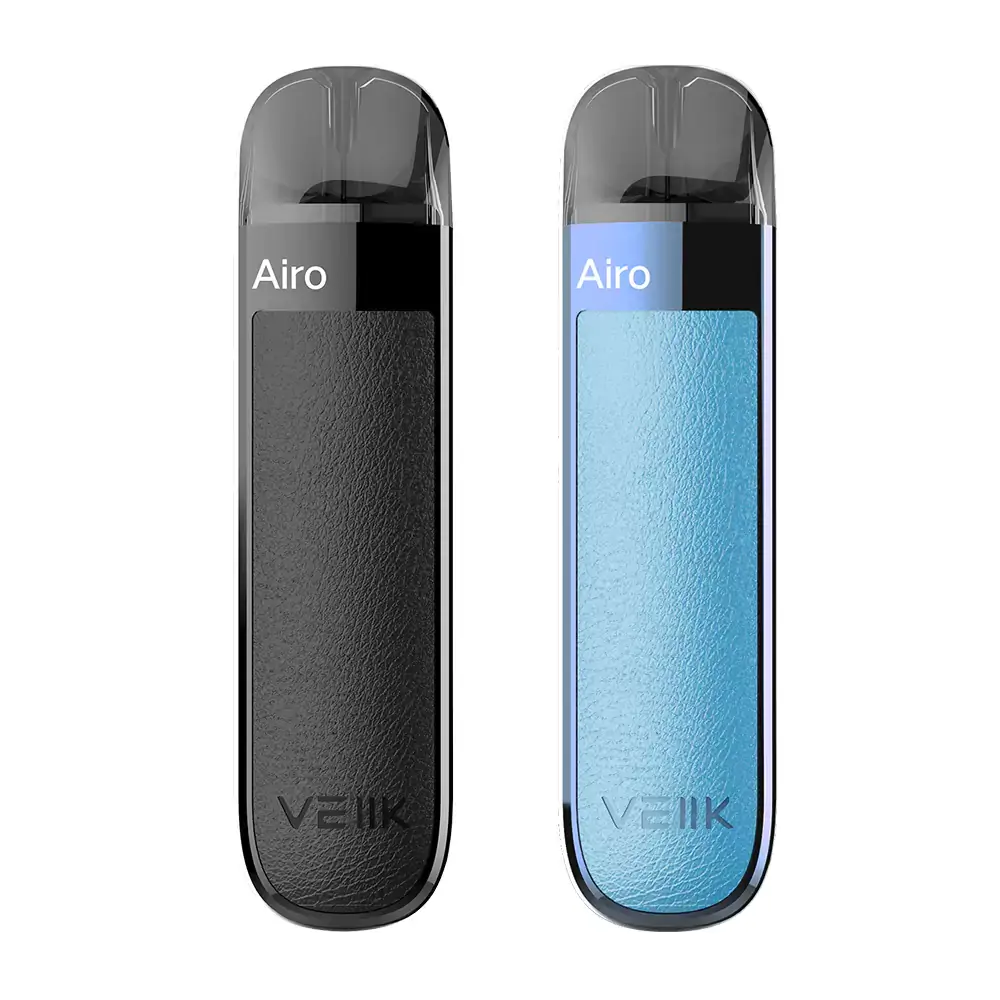 Battery Life
The VEIIK Airo's 360mAh internal battery might not set any records, but it does get the job done for casual vapers. It's worth noting that it does lag slightly behind competitors in terms of battery capacity, especially considering the pod's relatively large size. But let's not overlook its vape-while-charging capability—a genuine game-changer for those long days when you're away from a power source.
One nifty feature I appreciate is the LED indicator located at the bottom of the device. This uncomplicated indicator employs three color codes—white for full, blue for medium, and red for low—allowing you to quickly gauge how much vaping time you've got left before it's time for a recharge.
Performance-wise, the draw of the Airo is a bit on the airy side. It's a subjective issue, but if you're someone who prefers a tighter, cigarette-like draw, this could be a deal-breaker for you. That said, the device excels in other areas. The leak-proof design is a significant benefit, making the VEIIK Airo a reliable option for vapers who want to avoid the mess and hassle associated with leaky pods.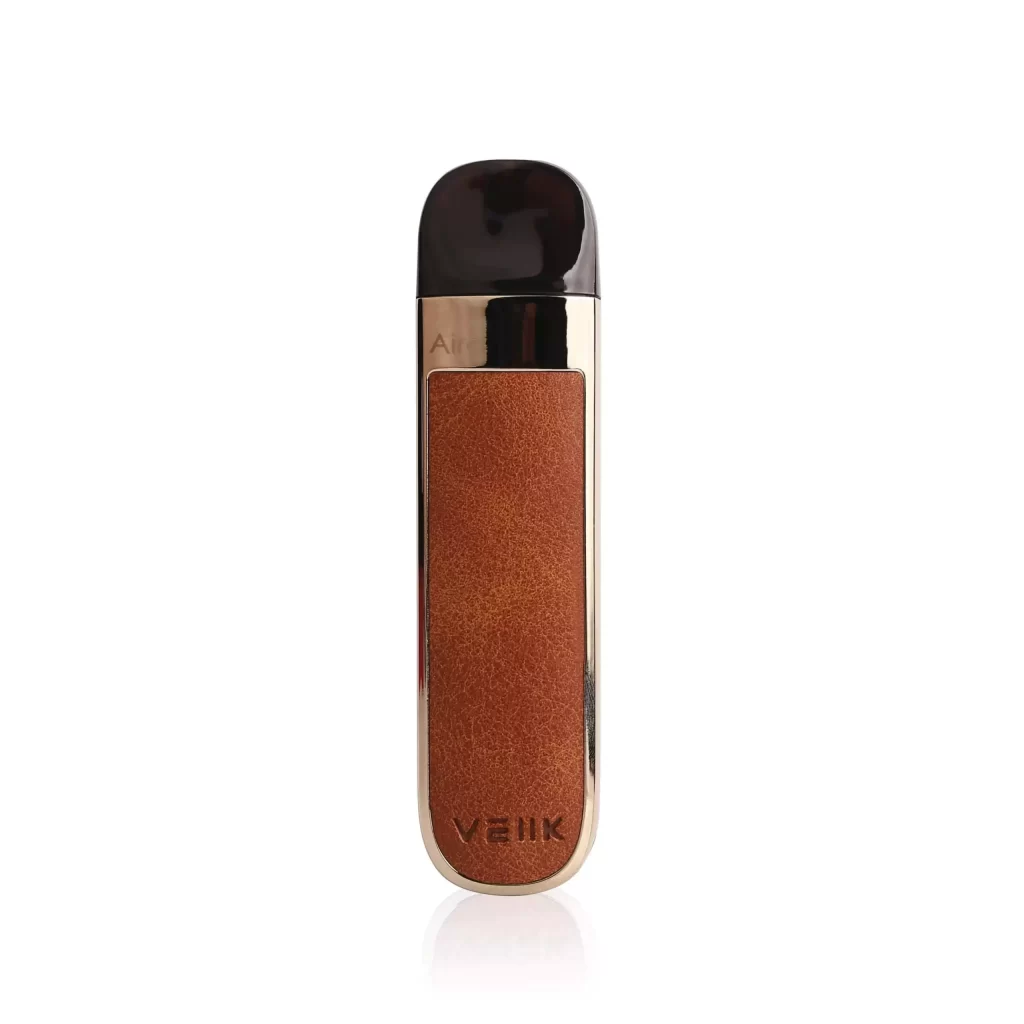 Performance
The VEIIK Airo Vape Pod is as efficient as it is stunning. Its draw-activated mechanism eliminates any learning curve, making it a top choice for newcomers to vaping. The pod kit incorporates a bottom-fed airflow system, ingeniously engineered to flow through the USB port and circulate through the pod. While the airflow is not adjustable, it's configured to offer a smooth draw for the average vaper.
Let's talk battery life. The 360mAh internal battery may not win any endurance contests, but the device does offer vape-while-charging technology. So, if you have access to a USB power source, you're golden. The LED indicator at the base functions as a handy battery life tracker, transitioning from white to blue to red as the battery depletes.
One aspect that might polarize vapers is the airy draw. While it's perfect for direct lung hits, those seeking a tighter, more cigarette-like mouth-to-lung draw may find it a tad too loose. However, I found this to be a minor drawback in an otherwise reliable device.
Where the VEIIK Airo really shines is in its leak-resistant design. I've been using this device intensively for a week, and not once did I experience any liquid seepage or condensation on the bottom of the pod. That's a win in my book.
In Conclusion
The VEIIK Airo Vape Pod establishes itself as a strong contender in the pod vape market, especially for those who value design and simplicity. While it may not boast the most powerful battery or a myriad of features, it does exactly what it promises, offering a hassle-free and enjoyable vaping experience. Its few shortcomings are easily overshadowed by its robust performance, leak-proof design, and elegant aesthetics. If you're on the hunt for a reliable, easy-to-use vaping device that doesn't compromise on style, the VEIIK Airo Vape Pod is well worth your consideration. After all, in a world overflowing with complex gadgets, sometimes less is more, and the VEIIK Airo is a testament to that.