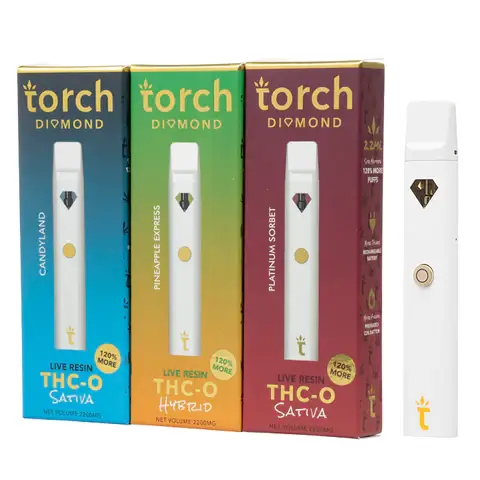 The Torch Disposable Vape introduces a groundbreaking hydrogenated compound derived from hemp, surpassing even Delta 8 THC and Delta 10 THC in potency. With up to 30% more content than other disposable devices, this vape pen delivers a staggering 1200mg of HHC-O in a discreet and portable design.
A collaboration between hemp industry leaders Torch and Extrax brings forth the exclusive Torch Diamond Extrax collection. This partnership marries delectable terpenes and cannabinoids with proprietary ceramic coil technology, ensuring both high quality and a truly distinctive vaping experience. The inclusion of THC-P + THC-O and Oleoresin guarantees a flavorful journey to the very last puff.
Torch Disposable Vape stands as a trusted brand, revered for its reliability. Designed for a wide array of beloved e-liquids, this vape device includes a battery, atomizer, and tank. Though disposable, its small and lightweight design facilitates easy on-the-go use.
Specifications
Sleek and Discreet.
HHC-O Disposable.
Cannabis Derived Terpines.
Hemp Delivered Product.
Wold's Most Advanced Ceramic Coil.
Slim Design.
Perfect for on-the-go use
Featuring a tightly sealed juice reservoir to prevent any leaking and a powerful battery to ensure you can enjoy every last hit
No VG, PG, PEG, Vitamin E, MCT, or any other cutting agent
2.2 grams of highly potent delta 8 and THC-O distillate
Flavors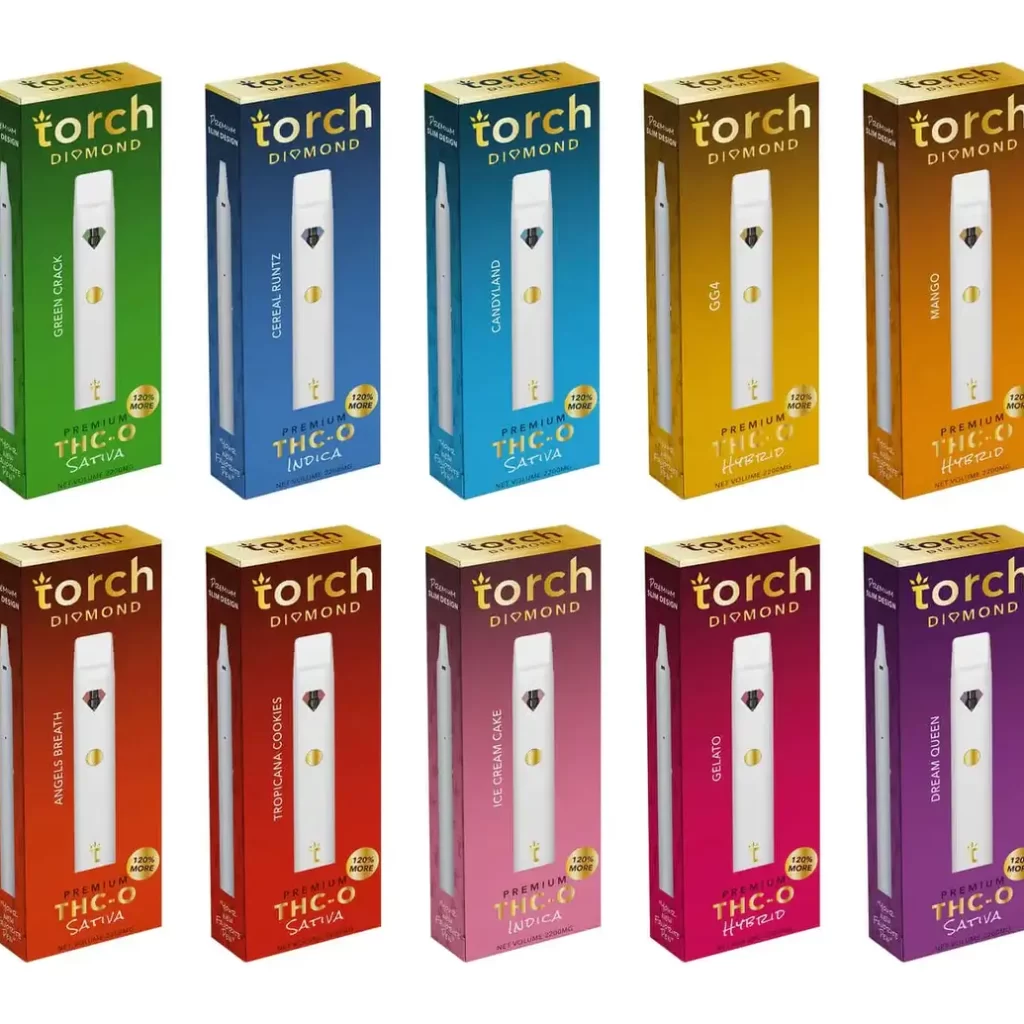 Cherry AK Strain

The GG4 strain

Guava Gelato Strain

Candyland Strain

Wedding Cake Strain

Forbidden Runtz
Performance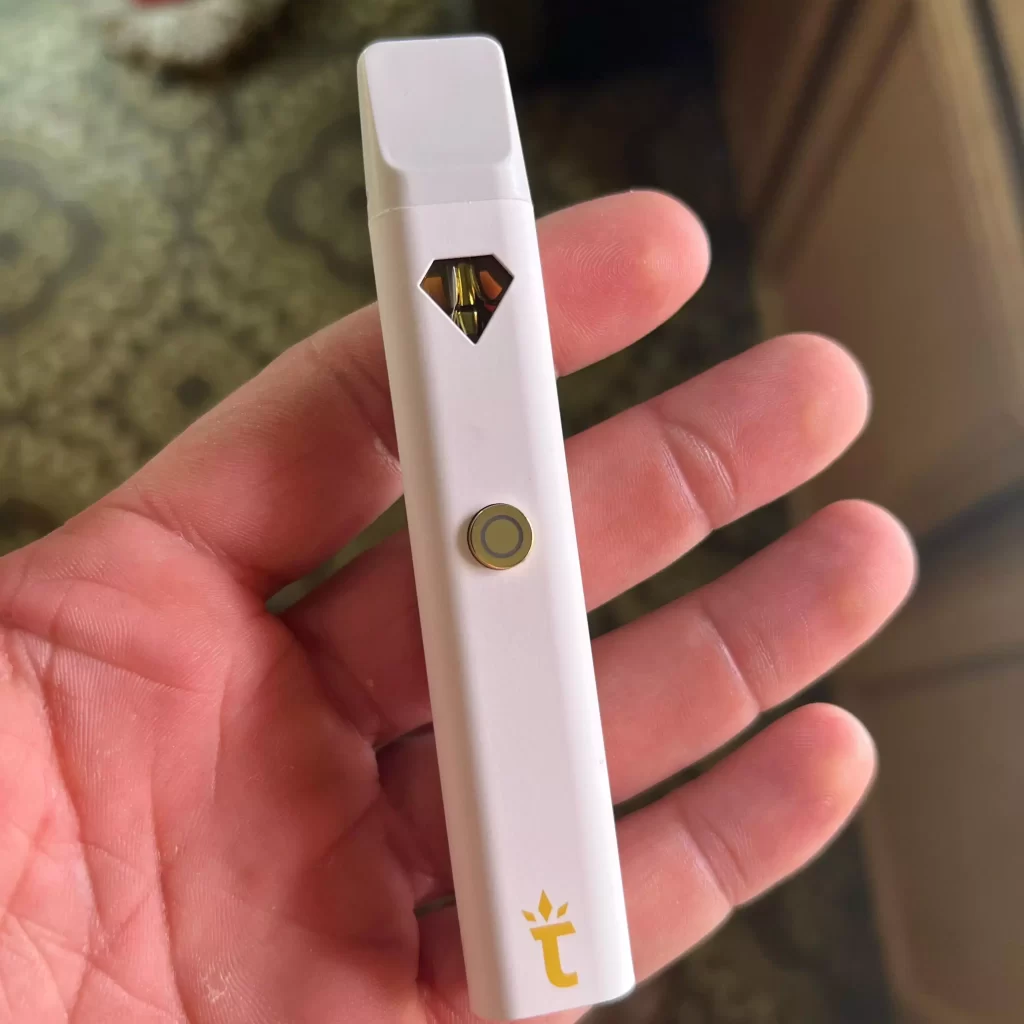 The Torch Disposable Vape Pen delivers a standout vaping experience, driven by its unique features and exceptional performance. Unlike most disposable vapes, it features a rechargeable battery, allowing extended use. Notably, quick-charging technology ensures minimal downtime, making it a convenient choice.
Charging is effortless with the Type-C port, and the LED indicator keeps you informed about battery status. The device's user-friendly design lets you pick your e-liquid flavor and nicotine strength. Its draw-activated mechanism provides instant readiness, while an automatic shutdown conserves battery life when not in use.
Top-notch performance is the highlight, attributed to advanced ceramic coil technology that avoids burnt taste and enhances vapor density. The Torch Disposable Vape Pen's battery life is impressive, offering extended sessions and featuring LED indicators.
The Torch disposable vape brand is hailed for reliability, catering to various e-liquid preferences. Its compact size and lightweight design ensure convenient on-the-go use, while the non-rechargeable battery requires replacement after depletion.
In collaboration with Extrax, the Torch Flow HHC-O Disposable Vape is a revelation, incorporating potent hemp-derived ingredients. This vape pen stands out with its unique blend of terpenes and cannabinoids, combined with proprietary ceramic coil technology, delivering unparalleled quality and flavor.
Pros
Effortless draw-activated usage.
Convenient Type-C charging port.
Prefilled e-liquid for easy enjoyment.
LED battery indicator for tracking power.
Ceramic coil guarantees high-quality pulls.
Durable polycarbonate chassis for longevity.
Perfect for on-the-go use.
Sealed juice reservoir prevents leaks.
Powerful battery for extended enjoyment.
Contains 2.2g potent delta 8 and THC-O distillate.
Cannabis-derived terpenes for enticing aroma and flavor.
Advanced ceramic coil ensures smooth inhales.
Cons
Limited strain variety.
Considerable cost.
How to Use Torch Disposable Vape
Using Torch Disposable Vape for sale is incredibly simple. Follow these easy steps to get started:
Unwrap the device: Remove the packaging and protective cover from your Torch Disposable Vape pen.
Activate the device: There are no buttons or switches on Torch Disposable Vape. Simply take a puff from the mouthpiece to activate the device. The built-in airflow sensor will automatically detect your inhalation.
FAQs
1.Are Torch disposable Vape Pen good?
We believe that the Torch is an outstanding THC pen that can be discarded after use. Affordable, delicious, and efficient, we highly recommend Torch to those looking for a guaranteed-effective cannabis pen.
2.Is there Torch Flow delta 8?
It seems like Torch's Flow disposable vapes are available in delta 8 which is a variation of THC derived from hemp and can be purchased through the internet. Exercise caution while purchasing Torch delta 8 items in order to steer clear of any fraudulent activities.
3.How do I Charge my Torch Disposable Vape Pen?
The Torch Disposable Vape Pen is equipped with a rechargeable battery. In order to fully charge the battery, simply plug the USB-C cable into the Type-C charging port, connect it to a power source, and give it sufficient time to recharge completely.
4.How long does a torch disposable last?
After a full charge, Torch Flow Disposable Vape Pen battery can give you up to 90 minutes of vaping time.
5.How much is a torch disposable vape?
Torch GLOW Live Resin THC-X Disposable 3.5G $19.99.
In Conclusion
The Torch Disposable Vape Pen and its collaboration with Extrax bring a revolution to the vaping experience. With its rechargeable battery, quick-charging technology, and user-friendly design, Torch offers seamless vaping enjoyment. The advanced ceramic coil ensures superior performance, producing satisfying flavors and dense vapors. This vape device's reliability is commendable, catering to various e-liquid preferences.
The Torch Flow HHC-O Disposable Vape introduces a groundbreaking hydrogenated compound derived from hemp, delivering exceptional potency and up to 30% more content than other disposable devices. The collaboration with Extrax adds a unique dimension, combining terpenes, cannabinoids, and ceramic coil technology for an unparalleled experience. Whether for on-the-go use or extended vaping sessions, the Torch Disposable Vape Pen proves itself as a top-tier choice, providing quality, flavor, and reliability in one package.